If your passion is fishing and you are dedicated to the lure and the rod, then a centre console or walkaround boat is the sort of boat that is going to suit you. These are not really boats for family picnics or towing water toys, although they will certainly do the job, but that's not what they are designed for.
These are blokes' boats that you take out in all weathers and you don't mind the wind and spray in your face (well, some of us do!). Their concept, design and layout are all totally focused on their being serious fishing machines.
Okay, so you can fish from anything, be it a bowrider, hardtop or cabin boat. But when you buy a walkaround or centre console your fate is sealed. However, before you do go down the track of looking at what's on offer in the centre console and walkaround market, it might pay to read on to get a better understanding of what you might consider before making your purchase.
Centre Console & Walkaround Boats, Making The Right Choice
Amongst the first things to determine is what sort of fishing boat you require, what size and probably more importantly what size your budget is. As for the style of boat there are a number of clearly defined categories that then can be broken down into small specialist groupings.
The most popular trailer boat is the traditional cabin boat. These account for the majority of all production fibreglass and aluminium trailer boats built in New Zealand and Australia. The cabin boat also comes in a number of forms, from what is referred to as the full cabin, where the cabin space allows for two berths of approx. 2m or more in length. They often have lockable cabin doors and full bulkheads and if generously equipped can be used as 'overnighters'.
One of the growing trends, especially in boats over 6m is the hardtop, which comes in either fully- or semi-enclosed layout. These are more targeted towards the serious fisho who wants a boat that can be taken offshore and offers the necessary protection in almost any weather.
A variation on the cabin boat theme is the walkaround, a style popularised by the Americans and now much favoured by serious fishers. A walkaround boat is a cross between a centre console and a cabin boat or cruiser. Like a centre console boat, it is mostly used for fishing and has a full-length primary deck or cockpit but also has a small cabin (cuddy) for berths and a head in the centre of the boat in front of the console.
If a cabin boat isn't your desire, then there is also plenty to pick from in the centre console market. Gaining popularity in certain sectors is the fibreglass or aluminium centre console option, which has undergone something of a revival with the growth in RIBs (rigid inflatable boats). The basic description of a centre console boat is a single- decked open hull boat where the console of the boat is in the centre of the boat. This is a popular style in boats designed with a fishing aspect, when workable cockpit space is more important than is somewhere to lie down.
However, some centre console boats now available are so big that there is space for a cabin, head and even a shower in the console. The boat deck surrounds the console so you can walk all around the boat from stern to bow with ease.
The console is where all the controls are located, including steering, ignition, trim control, radio and other electronic devices, switches etc. In general there is no weather protection or berths (some exceptions on larger models), making the design ill-suited to cruising. The console may have a T-Top or bimini cover to provide limited relief from the sun and rain, but it's not always popular as it can interfere with fishermen's casting. The addition of front and side clears offers some weather protection. Generally on a bad weather day, centre consoles can be cold, wet and windy, but go out on a great sunny, warm day and it's the total opposite. And that's where centre console boats really come into their own as casting platforms.
With the huge growth in soft baiting, the centre console layout is perfectly targeted towards this style of fishing. The ability to be able to walk around the boat without the restriction of side decks and cabin tops is a real bonus. Centre consoles by design are far more popular in the warmer climates, such as North Queensland and don't have a great following in the deep South such as Invercargill.
Another thing you need to determine early on is what construction material you favour. There are two main options, fibreglass and aluminium, but then let's not forget the inflatable RIBs, moulded polyethylene and even glassed-over plywood.
In actual numbers of trailer boats sold over 3m, aluminium reigns supreme and when it comes to non-trailerable cruisers it's generally all fibreglass. Aluminium boats have a reputation for solid construction and hull thicknesses are traditionally 3mm to 5mm and even 6mm or more depending on the boat's size. Metre for metre an aluminium boat is lighter than a fibreglass boat so has the advantage of requiring less horsepower to achieve a similar performance and is lighter to tow. Aluminium also has a reputation for being capable of handling more abuse, is stronger and requires less maintenance. Unfortunately, all that's not entirely true.
Aluminium still needs the same care and attention as fibreglass. In fact, if it's unpainted, it requires more if you want to maintain that 'as new' shine. A handy hint is  if you buy an unpainted aluminium boat, coat it in Nyalic and that shine will stay on the  boat for a lot longer. Aluminium left to weather not only looks bad, it also causes hidden problems with areas under the cockpit sole, in welded joints and bonded areas. However, like fibreglass, if you make a habit of washing the boat down after use with soapy water, then you won't have a problem. Painted aluminium is now more popular than unpainted and this does require special care, especially if you scratch the hull. As for strength, well maybe if you run up on some rocks at speed you will only dent the hull and not punch a hole in the bottom, but generally a fibreglass boat will take as much punishment as an aluminium one.
GRP (glass reinforced plastic) boats vary in construction quality, but generally are of a consistent standard. In some cases, especially with high performance boats, exotic lightweight materials such as Kevlar and carbon fibre are also utilised. Fibreglass that's never cleaned and left to weather will lose its sheen and eventually look decidedly second-hand. However, there are plenty of fibreglass restoring compounds that will help bring back the shine, by simply  washing and cleaning your boat after every outing – especially in salt water – will extend its life immeasurably.
If you want the soft flowing curves of fibreglass, but favour a plate aluminium hull under you, then there are a number of manufacturers offering a combination of fibreglass decks and alloy hulls. Polyethylene boats are becoming increasingly popular in the smaller sizes. Built-in UV resistant compounds help resist the sun's rays. As the colour goes all the way through the material, scratches are not as noticeable as on GRP boats.
Inflatable RIBs are based on either aluminium or fibreglass hulls, with the tubes – either Hypalon or PVC – attached to the outside. While these boats started as yacht and launch tenders, the market for RIBs has exploded in recent years as manufacturers offer more diverse and larger models. They are especially popular as dive and sports boats, but are also gaining acceptance as family boats for both day tripping and overnighting. The America's Cup did a huge amount to foster the popularity of RIBs in New Zealand.
Other important considerations are the size of the boat, what you are going to do with it, where you plan to use it, where you are going to keep it and if it's a trailerboat, what you have to tow it with. If it's a moored boat then make sure you can find a marina berth of a suitable length or a convenient pile mooring.
And of course, where you are going to use the boat and for what purpose are just as important. Think of the type of water conditions in the area that you propose to use the boat in, and look only at boats that you feel would be practicable. A boat under 5m is great for inshore sheltered water boating, whereas something over 7m is ideal if you want to go more offshore and chase the big fish out wide.
Anything non-trailerable is a whole different thing, with a variety of options from sports cruisers and sedans to enclosed and open flybridge options. The choices are vast, although in recent years have been diminishing as the local production cruiser market has taken a huge hit in the GFC. While locally, brands such as Riviera, Maritimo and Caribbean still remain, there is a growing number of US- and Europeanbased 'fishing boats' that are available. Cabo, Grady White, Robalo, Boston Whaler and Hatteras, to name but a few, produce exceptional fishing machines that are ideally suited to our local conditions. In this issue we take a look at some of the popular centre console and walkaround brands.
It seems that just about every alloy boat manufacturer has a centre console in its range, or at least if it doesn't it will most likely build one for you. That's the beauty of building in alloy – there are no moulds to consider, and so making custom one-offs is not too difficult.
Centre console models are usually always based on standard hull sizes and in the case of alloy that means you can have just about anything you want from 4m to whatever. However, when it comes to walkaround boats with side bulwarks you don't see too many. Although just like a centre console model, building a walkaround is something that most alloy boat builders could handle quite easily. So because of this we have not listed brands or models, as quite honestly we wouldn't have enough pages. With over 60 alloy boat manufacturers in New Zealand alone, plus those in Australia, your choice is huge. We'll let you 'Google' them to find out what's available.
Classic style, practical design, rugged utility, no boat speaks to the heritage and legend of Boston Whaler quite like the Montauk. The range consists of four models, from the 4.7m 150 Montauk, through to the 6.5m 210 Montauk.
The Dauntless range offers a spacious configuration that is also an angler's dream. With plenty of room to cast lines and reel in the fish, from the agile 170 to the larger and all-new 270. Standard fishing features include stainless steel rod holders and spacious livewells to keep bait fresh. Boston Whaler built the Outrage for the serious offshore angler, with a high level of performance features, plus cutting-edge fishing features and options aboard, including capacious livewells, in-floor fish boxes and an integrated hard-top and windshield system. There are eight models in the Outrage centre console range, from the 5.74m 190 Outrage, through to the 11.4m 370 Outrage. www.sportsmarine.com
Anyone who knows anything about production fishing boats will know the name Grady White. Built in the USA, the GW range of fishing battlewagons includes both centre consoles and walkarounds. Every boat has a deep-V hull that is designed for blue water boating and comes fully spec'd with everything from tackle boxes to kill tanks.
The Fisherman centre console range includes the 5.48m 180 Fisherman, the 6.2m Fisherman 209, the 6.9m Fisherman 230 and 7.55m Fisherman 257 The larger twin outboard powered Canyon series includes the 8.18m Canyon 271, the 8.53m Canyon 283, the 9.30m Canyon 306, the 10.21m Canyon 336 and the granddaddy of them all, the 11.15m Canyon 366. The walkaround models are just as extensive, with the smallest being the Adventure 208 at 6.20m, followed by the Seafarer 226/228, Gulfstream 232, Journey 258 and the only twin outboard model, the Chesapeake 290. www.gandlb.com.au
Haines Hunter – Australia
The Haines Hunter Prowler series is designed as an entry level, no-nonsense basic centre console fishing platform, yet without compromising any of the Haines Hunter quality finish and performance.
The boats in this series are an ideal choice in centre console fishing boats, and come fully rigged for fishing. The Prowler range comes in two model sizes – the 400 and 525 – and like all boats in the Haines Hunter range, the Prowler comes backed up by Haines Hunter's legendary seven-year structural warranty. www.haineshunter.com.au
Haines Signature – Australia
Since starting out in the boat building business in the 1960s, the Haines family name has been synonymous with trailer boats in Australia and New Zealand. Today, the company builds under a variety of brand names, but all, including the Signature range, are part of the parent company, The Haines Group.
While the company produces a huge range of fiberglass bowriders, cruisers and cuddys under the Signature brand, there are only two console boats. The smallest is the side console 4.85m 485SF, a hot little runabout that is well suited for sheltered water fishing. The open layout still provides plenty of storage options as well as live bait and kill tanks. The other is the 543CC, a 5.43m centre console fishing boat that offers a huge, stable cockpit working space and a large forward casting deck with three kill tanks. www.hainesignature.com.au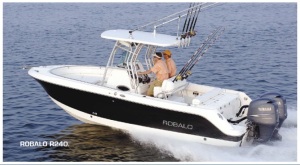 There are seven centre console models in the Robalo range, and all are highly spec'd to suit the fishing enthusiast. Features in all models are a convertible casting platform, extensive rod storage, a huge livewell and a high quality leaning post and console. Even the smallest model in the range, the 5.59m R180, has an enclosed head. That's right, an 18-footer with a private head.
The range extends through four more models to Robalo's R300 centre console flagship. At 8.89m and with a beam of 3.20m, the twin outboard powered R300 is a seriously cool offshore fishing boat that is designed to handle adverse weather off the coast. An interesting Robalo model is the 206 Cayman, a specialist 15° deadrise hull with a shallow water draft designed for getting in close to the mangroves or sand flats. Robalo takes its centre console offerings up a notch for 2014 with the introduction of the new R222. The R222 offers more centreline length, more storage space and more fishing features than previous models. www.chaparralaustralia.com.au
Scout Boats manufactures in the USA a wide range of centre console fishing boats from the very basic 4.4m 151 Series through to the highly spec'd 10.6m 345XSF. In many ways the 345XSF is a crossover between a walkaround and centre console, offering a full cabin with galley, head and even twin berths. Powered by twin V6 outboards, this is a boat you would take out to the most offshore fishing grounds.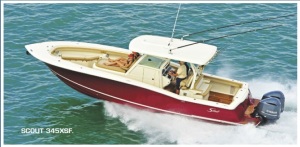 The Sportfish and Bay Scout range are also set up with one thing in mind – serious fishing – with the smaller models featuring forward casting decks and a low profile design for ease of bringing in the fish. There are over a dozen models in the Scout range and all are outboard powered. www.orakeiyachtsales.co.nz
The Smuggler Multisport 570 is the perfect fishing and diving companion. Features a centre console and optional hardtop for protection from the elements, with either a pedestal seat or seat with reversible backrest. The Multisport offers complete access to the whole cockpit area, making fishing or gearing up for diving so easy. It is a fantastic riding hull, completely safe, comfortable and incredibly stable. The new Smuggler Multisport 570 hull was designed by Scott Robson, and is built in NZ using premium materials and products. www.smuggler.co.nz
The Trophy has often been described as one serious fishing machine and it is certainly true. Arguably the first and best known walkaround boat on the market, the Trophy, under the Bayliner branding, virtually introduced the walkaround concept to the mass market way back in the 1980s.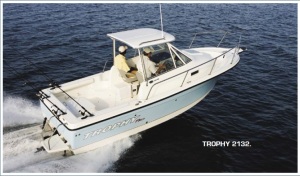 With solid performance, unquestionable quality and a tackle box full of features, the Trophy range of walkarounds and centre consoles are designed for today's demanding fishermen. There are just two models, 1903 and the 2203 in the centre console line up, but four, 2102, 2152, 2302 and 2352 in the walkaround range. In effect the walkaround series is two models with the 2152 being the sterndrive version of the 2102 and the 2352, the sterndrive version of the 2302. The layout in each corresponding model is similar, apart from the transom area. www.trophyfishing.com
In our next issue we look at some cabin boats, hardtops and larger cruisers that fit nicely into the serious fishing category.