Although not regarded as one of the mainstream brands, Challenger is quietly making its presence felt and in the last few years has establishing a loyal dealer and customer base throughout the North Island. Barry Thompson spent a morning on Lake Taupo having a look over their latest addition, the Challenger 565.
As we cruised towards Rangatira Pt for a photo shoot, the waters of Lake Taupo were mirror smooth. Later that day the second round of the New Zealand Offshore Powerboat Championship was to be held, although on this particular day you could have safely raced a GP hydroplane or barefooted around the lake.
The Challenger 565 is not one of the better-known production fibreglass brands, but it is certainly growing in stature and in a few short years, the company has expanded its range to four models. And they don't intend stopping there, with more boats in the planning stages. Local Tauranga designer Terry Reid has designed the 565 as a good wholesome kiwi boat, with an accent on space, sea kindliness and a functional layout. It's practical and useable without too many frills. The base boat comes standard with the usual deck hardware, a pair of rod holders, boarding ladder and handrails, plus there is a good option list if you want to add-on from there. Items such as a ski pole, road cover and canopy are the usual extras being fitted.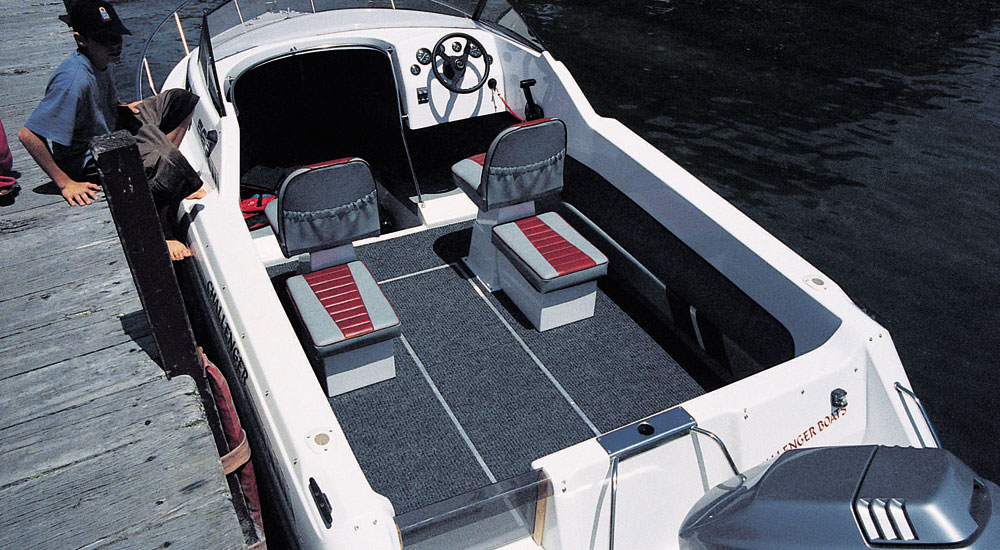 You can't expect to learn a lot when you take a boat like the Challenger onto glassy smooth water, so I have to admit to being unfamiliar as to just how the boat performs in the moderate to rough. According to Aaron Skinner of Manawatu Dive & Marine Centre, who kindly towed the boat to Lake Taupo from Palmeston North for the test, the 565 is an awesome sea boat and a great little performer. Using the Foxton bar and the rugged West Coast as his testing ground, plus 90% of the time being loaded with 2-4 divers and all their gear, he has certainly done the miles and had the experience to confirm the dryness and good handling of the boat.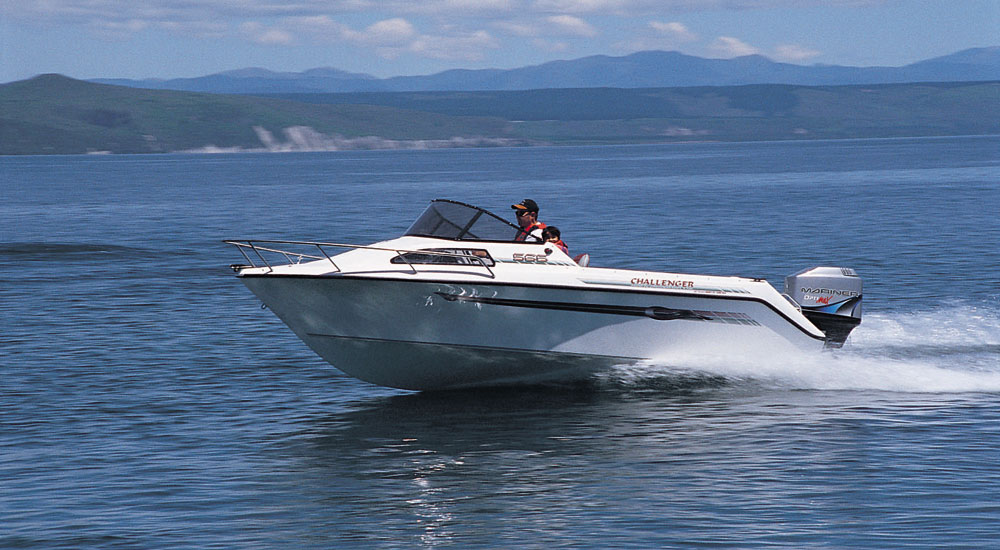 The hull lines of the 565 are conventional in their form but differ from the majority of production grp boats, due to the moderate 18.5 degrees deadrise (20-21 degrees is more common) and the lack of any strakes. On the calm fresh water of Lake Taupo the boat was very nimble, responsive and certainly didn't slide out in hard turns. It backs up well with no excess water pouring in over the transom, although I felt it was a little tender and when underway likes to have the weight distribution just right. A set of tabs would be a bonus.
With the Mariner 135 Optimax, acceleration from idle to maximum rpm was rapid and required only mid range trim to achieve a clean running angle. The boat is rated from 90hp – 150hp, with anything in the 115hp -140hp range being a perfect match. Top speed on the Eagle GPS with two adults and two kids aboard was 46.5 mph @ 5600 rpm, swinging a 19" High Five stainless prop with the engine set one hole up. Considering that was on fresh water you would expect a moderate increase in speed in the salt water. A 21" High Five would be a little slower out of the hole, but there would be a small increase in top end speed. The direct injection engine automatically compensated for the different altitude above sea level of Lake Taupo. According to the manufacturers a 115hp is good for around 40 – 42 mph.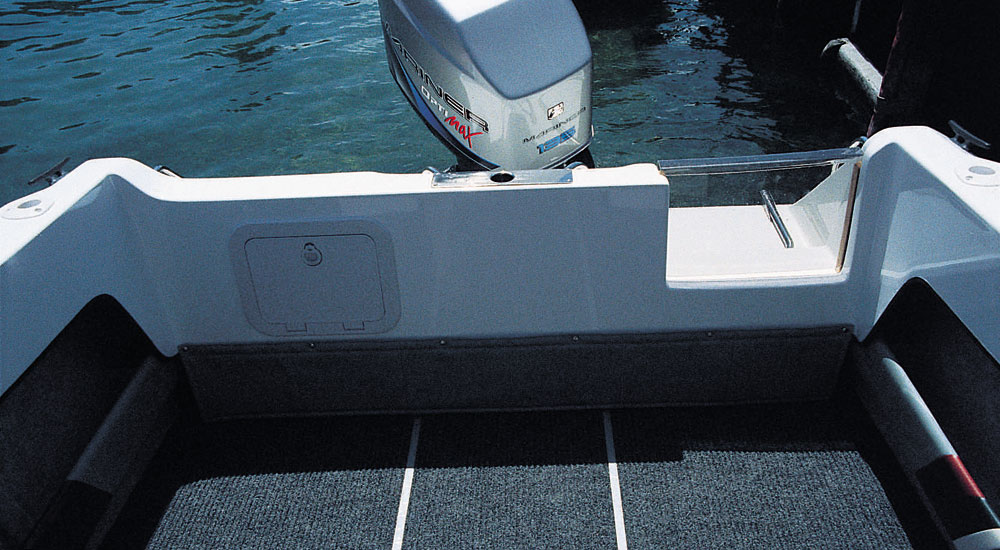 The fully lined low profile cabin may look a little short from the outside but there is surprisingly more room inside than you would expect. There is sitting headroom for 2 – 4 adults, with the twin berths easily long enough for the average sized person to lay on. There is no storage under the squabs, (the space is used for sealed buoyancy) although wide side trays with padded facings are good for stowage. All anchoring can be carried out from within the wide opening hatch, with double lids opening to a deep self draining anchor locker and a solid bollard and fairlead arrangement. There is room for a capstan to be operated from the helm or with a foot/knee pad on the cabin bulkhead.
No rear bulkhead means the cabin and cockpit areas blend together as a cohesive unit and give the boat a larger appeal. The twin swivelling bucket seats are mounted on fibreglass bases, with moveable bin seats and cushions behind. These bases, along with the wide side trays form the main dry storage areas outside. The rear bins also make great icechests for the coldies or keeping your fish chilled. I found the helm seat perfectly placed for both standing or sitting to drive and liked the height of the perspex windscreen and the moulded footrests. Challenger Boats are also developing a new wide clip-in transom chilly bin/rear seat arrangement, which will extend the seating capabilities to six. If you prefer more seating then you have the option of double forward back-to-backs.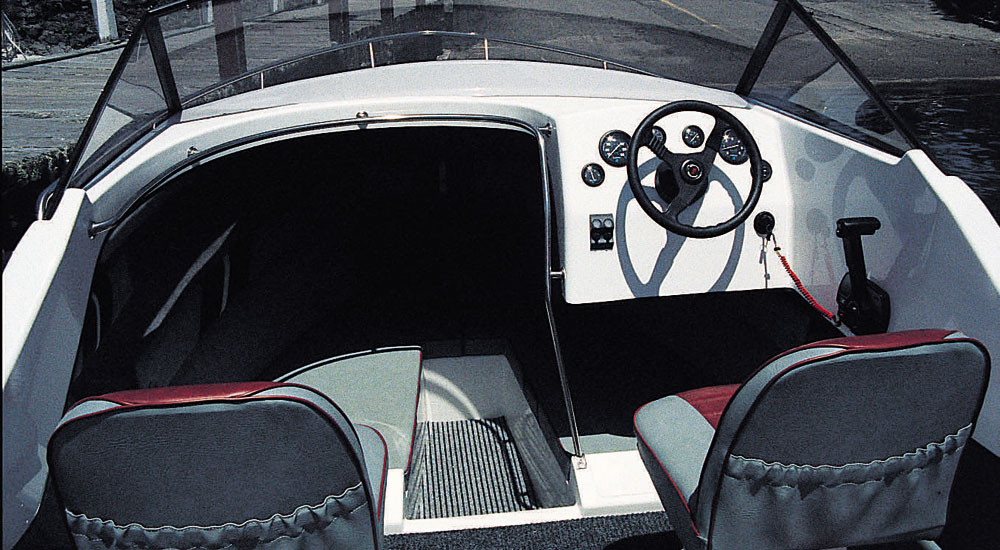 The fascia instruments were a little obscured by the wheel for me, but that's only a matter of positioning. There is plenty of space for a bracket mounted fishfinder or chart plotter/GPS and the VHF is usually fixed across on the port side, where there's also space for a stereo if you're into a few tunes when boating.
Being a boat that is destined to be used a lot for fishing and perhaps diving, the openness of the cockpit is a big attraction. The Challenger 565 gives you plenty of space to change into your dive gear and fishos are not going to be restricted for room. Divers will also appreciate the wide flat coamings when dropping over the side and the stainless boarding ladder with moulded stern platform and opening transom door when coming back aboard. If you don't like the idea of a rocket launcher but still want to carry a brace of rods then there are plenty of options for flush or bracket rod holders across the transom. Dive tanks will fit in the wet lockers under the cockpit sole and the cabin is still the best place for the dive bags.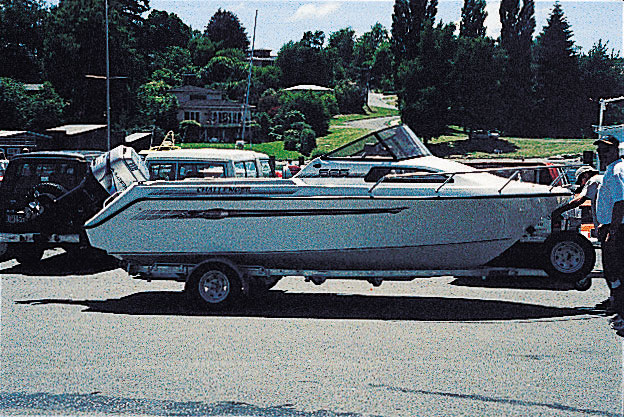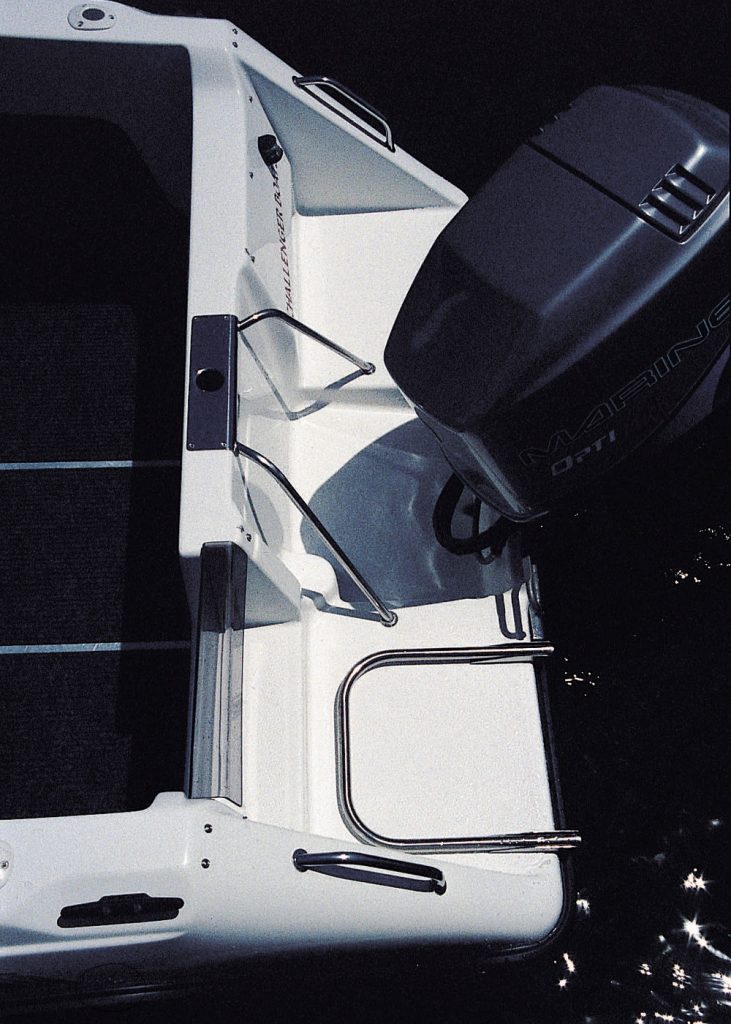 Challenger Boats have purposely designed the area under the portofino stern too low to accept tote tanks, preferring to see them placed in the forward underfloor locker. The reasoning is one of better balance and weight distribution. However if you have the optional underfloor fuel tank then there is probably not the need anyway. The area under the transom can be fitted with light removable plastic storage bins that are slid out when required.
The battery is tucked away in an easily accessible compartment in the transom and the oil tank is hidden behind a full width clip-on vinyl curtain. An external oil filler makes topping the tank a lot easier.
The Challenger 565 would be a good choice for anyone looking for a conventional family style cabin runabout, which combines functional concepts with a practical layout. It's not a hard-core fishing or diving boat, nor is it a whizz-bang ski machine, but it will do all those tasks and more. At $40,000 for the total package, the rig is also very price competitive.
Model: Challenger 565
Price (boat only): $22500 (incl. trailer)
Price As Tested: $39995
Designer: Terry Reid
Material: GRP
Type: Cabin runabout
LOA: 5.65m
Beam: 2.30 m
Hull Configuration: semi deep vee
Deadrise at Transom: 18.5 degrees
Trailerable Weight: 1340 kg
Engine Capacity: 90 – 150 hp
Power Options: Outboard only
Fuel Capacity: Tote tanks
500 rpm       2.5 mph
1000 rpm     4.5 mph
1500 rpm     5.0 mph
2000 rpm     7.5 mph
2500 rpm   10.5 mph
3000 rpm   18.5 mph
3500 rpm   28.0 mph
4000 rpm   33.5 mph
4500 rpm   37.5 mph
5000 rpm   42.0 mph
5500 rpm   46.5 mph
All speeds are recorded using an Eagle GPS and rounded off to the nearest 1/2 mph
NOTABLE STANDARD EQUIPMENT
Navigation lights, bilge pump, boarding ladder and handrails.
NOTABLE OPTIONS ON TEST BOAT
Drop-in ski pole, bowrail and road cover.
Make: Mariner
HP: 135
Model: Optimax
Cylinder config.: V6
Max RPM: 5500
Propeller: 19" High Five
Retail Price: $18356
Make: Active
Braked: No
Suspension: leaf springs
Rollers: multi roller         
Std Features: wind up jockey wheel, spare tyre, sub lights.