Challenger boats are built at a factory in Te Puke and have a steady following from local fishers in the surrounding Bay of Plenty area. Around ten 680 Hardtop Offshore models have been built and this one belonged to a keen fisho from North Auckland. Freddy Foote spent a few hours out from Gulf Harbour finding out more about this serious fishing boat.
The design idea behind the Challenger 680 HT was an allround serious fishing boat that would be able to go through the Whakatane bar and go after the tuna that inhabit its surrounding waters. Then the idea to fit the 680 with a hardtop came after some pressure and persuasion from local fishers who wanted their boats to become a little more serious and so the 680 Hardtop was born. As Alan McNearney from Challenger boats says, "Nothing is impossible!" Firstly, the most important thing about the 680 is fishability. One of the first things that I noticed about the 680 was the huge cockpit – itwas just massive for a 7.2 m boat. Although we didn't have time to do any fishing on our test day, I would guess that you could fish four people very comfortably, and perhaps even fish 5-6 if you were really keen. I'm quite a fan of hardtops and I really liked this one, in the way that it didn't protrude so far into the cockpit that it reduced the workspace too much.
The cockpit features a carpet in the cabin area then a basic type of wash down floor, which is ideal for a purpose built fishing boat. Under the floor was the 200-litre fuel tank as well as a storage compartment, which on this boat was used for storing dive bottles. As you would expect on a fishing boat there are two live bait tanks on the transom for both port and starboard sides, as well as a removable bait board. A handy wee tackle or gear box was also located on top of the transom. The batteries were all located up off the floor on a shelf that could be accessed via two hatches. There were four-rod holders; two on each side, as well as a couple on the bait station which had been installed. This boat was actually also fitted with a rocket launcher, but this had been taken off at the time of the test to undergo some alterations. Rod racks were also located in the side storage pockets, which were deep and wide enough that you could put water skis in there if you so desired. One thing I have noticed about some boats I go on, there are never enough grab rails, for getting on and off the boat, or for holding on in rougher conditions. But as I said to Murray Tonkin from Boats R Us, the Silverdale, Auckland dealer for Challenger, this thing has grab handles for Africa! They were all situated in exactly the right places.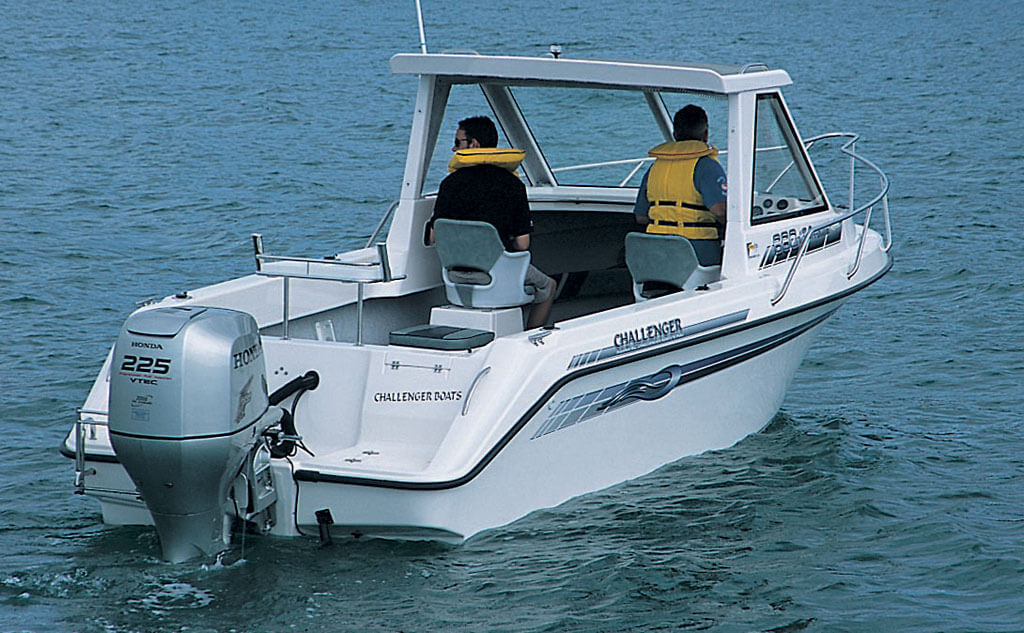 On the transom there was one to grab onto when climbing the boarding ladder. There was even one on the top of the hardtop to use when walking round the side towards the front of the boat. So clambering around the boat was very easy, and when up on the front deck you felt very safe with the large bow rail there. The 680 also featured very high sides, which you would expect on a serious fishing craft like this one, giving good stability while standing. The top of the gunwales also features a 3M product that is a type of protective laminate coating. Giving a little extra protection from bumps and scrapes. Overall the boat was very stable at rest. Moving around the boat from side to side produced very little heel, just as one would expect from a big sturdy boat. The seating arrangement on the 680 came in the form of a king/queen with storage provided underneath the seats. There is however an option for twin pedestal seats if you so desire.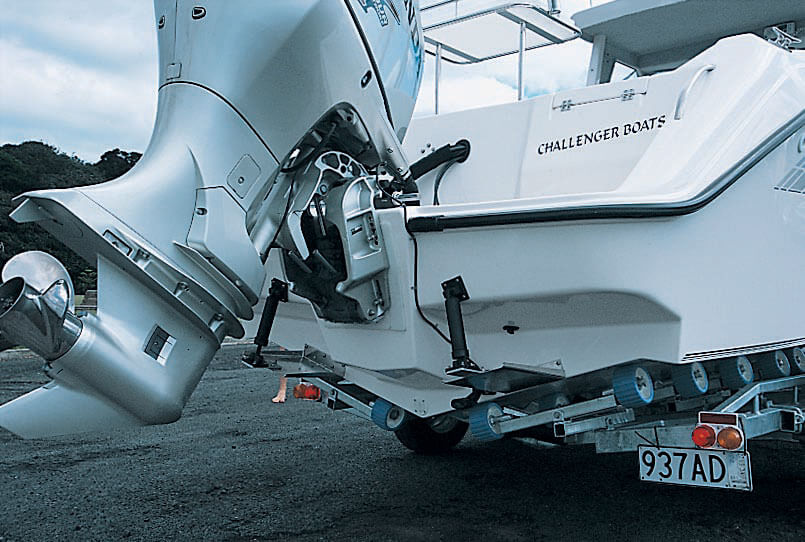 But I thought the king/queen set-up worked very well, as it still gave you plenty of room to work and with having four seats it makes it a good family boat if you choose to take the kids out. Forward in the cabin there was plenty of room for an adult to sit comfortably and to lie down full stretch. Limited storage space was available underneath the squabs. The deck hatch was very easy to open and get through and provided very easy access to the anchoring system with the foot operated anchor control down underneath one of the squabs. The driving position was very good with all the necessary controls within easy reach. The dash itself was relatively small and narrow, but this then gave more access into the cabin area. But there was enough room to have all the electronics you would want. The throttle was in a good position and there was even a place to rest your arm. I found that while driving, it had excellent visibility and I very seldom found the need to stand up.
The windshield and covering hardtop kept us very protected from the wind. As far as handling goes, we managed to experience some varied conditions while cruising around the America's Cup course. The big boat held in the turns very well, with very little ventilation and sliced through the chop with ease, in fact we didn't get a single drop of water on the windscreen. This 680 was also fitted out with a set of trim tabs, which is a good idea, especially with the big cabin on the boat, which would tend to heel into the wind. But I found that I never actually needed to adjust them at all, but with different sea conditions they would definitely become useful. Now it's always hard to get varied sea conditions when doing a test, and the water wasn't as rough as I would have liked, but I felt very confident that the 680 would be easily able to handle rougher conditions. The fact that these boats are used extensively off the Bay of Plenty coast should be testament enough. With a very slight swell developing the 680 cruised best at around 30mph with the 225 Honda pulling around 3500 rpm.
In some flatter conditions we managed to gain a top speed of 47 mph @ 5800 rpm. Murray indicated that 50 mph was probably obtainable once the motor had a few more hours on it. The 680 is rated for 150-225 hp, but you can't beat lots of grunt, so for me personally the big V6 225 four-stroke was a fantastic option. As far as launching and retrieving goes, well, not a problem there! Our test day saw us launching at the Gulf Harbour boat ramp and anyone who knows the ramp, would agree that it can be a bit hairy at times. NZ Propeller Editor Barry Thompson had been telling me stories of his experiences there, so I wasn't that surprised to see that the ramp was the worst ramp I'd ever seen, it just seemed to back straight into the ocean. So loading and unloading a big craft like the 680 could have posed a problem. But luckily for us, the seas and winds were light, so without too much effort, Murray managed to drive it on to the Prescott multi-roller trailer, while I hooked it on. One thing I did notice about the hull and the build of the 680 was how well it was all finished. It's nice and solid, there is nothing light about anything, and it's all been well engineered and well constructed.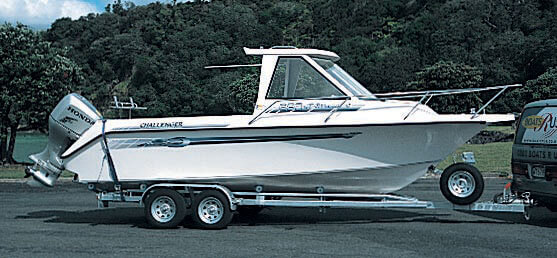 Everything seemed to have been built extra strong and extra thick. The thickness of the transom block was probably around an inch thicker than you would usually expect to find on a boat such as this. So what did I think of the Challenger 680 Hardtop overall? Well, I was very impressed. It is a boat that had been well thought out beforehand, and has obviously had the input from a lot of serious fishos as to what they would like to see in their boat. So when you're at your next boat show, I'd definitely recommend visiting the Challenger stand and having a look for yourself.
Model:Challenger 680 HT Offshore
Price as Tested: $85,000
Price Boat Only: $49,200
Designer: Terry Reid
Builder: Challenger Boats
Material: GRP
Type: Hardtop
LOA: 7.2 m
LOH: 6.8 m
Beam: 2.45 m
Deadrise: 18.5 degrees
Hull Configuration: Medium V
Trailerable Weight: 2200 kg
Height on Trailer: 2.85 m
Engine Capacity: 150-225 hp
Power Options: Outboard
Fuel Capacity: 200 litres
Make: Honda
Model: BF225
Horsepower: 225
Cyl. Type: V6
Max RPM: 6000