The New Zealand boat building industry has undergone considerable changes in recent years, more since the GFC. A country once with a strong presence in the superyacht market, especially sailing yachts, it has re-established itself completely at the other end of the market. In the early 2000' s New Zealand was high up on the super yacht builders list, with yards such as Alloy Yachts, Sensation Yachts, Fitzroy, McMullen and Wing and Yachting Developments busy building boats for the world market. However, even before the GFC, the superyacht industry was struggling and today all that remains are a couple of key players, namely, Yachting Developments and McMullen & Wing. It is the trailer boat sector however, that is now dominating the new build market, with a boom in the aluminium boat sector. Production launches, yachts and cruisers in the 10m to 15m category, are almost non-existent, with most new GRP production boats of this size imported.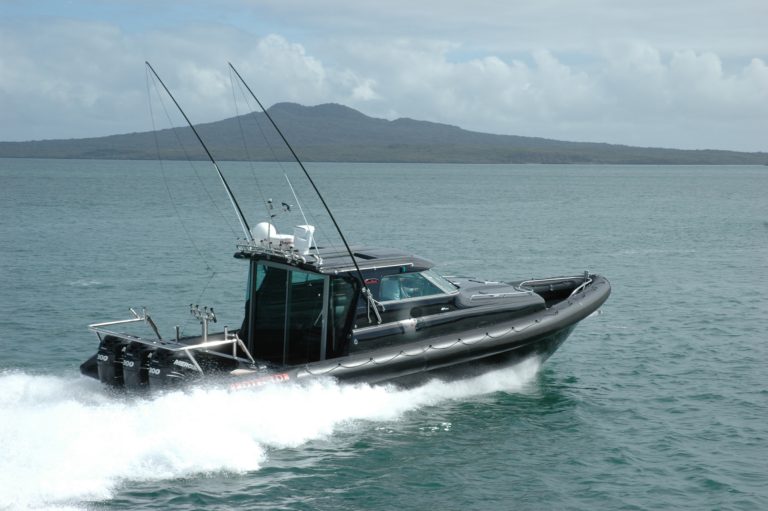 Auckland-based Yachting Developments recently launched, Cygnus Montanus, a 33.5m Frers carbon fibre sailing yacht and are well into construction of a 38.7m Michael Peters sportsfisher, destined for a 2017 delivery. Ian Cook, MD for YDL says, "We have established ourselves in somewhat of a niche market, by specialising in carbon fibre construction and adapting racing yacht technology for the superyacht market". Cook indicates that the level of enquiry is extremely strong right now, especially in the refit market, an area of expertise that YDL is well respected for. He says that with around 50% of the costs of a new build being labour, they can still be competitive with international builders.
 From their new facilities in Hobsonville, they have the capacity to build to around 60m. Across town, McMullen and Wing saw their last superyacht new build launched earlier this year, a $NZ60 million, 50m "Diamond Series" designed by Gregory C Marshall.
The yacht's sister ship, and their only other super yacht in the past few years, the 45m Big Fish, was built by McMullen & Wing in 2010 and spent time exploring the Arctic Circle. Managing Director, David Porter also reports a strong level of interest in both new builds and refits. Currently, the company is into a major refit on the award-winning VvS1, an expedition-style luxury motor yacht, also designed by Gregory C. Marshall.
Demise of Semi Production
Builders such as Salthouse Marine, Formula Boats, Genesis Marine and Next Generation Boats for a while enjoyed both a buoyant local and export economy, but since the GFC that has all stopped. While Salthouse Marine and Genesis Marine went into liquidation a few years back, Formula Boats owners decided to pay all their bills and close the shop rather than try and carry on in a depressed market. 

Next Generation Boats, run by Dean Salthouse was one of the last of the semi-production builders to close their Auckland operation when two years ago he shipped his moulds to Taiwan to be built. There have been no production sailing boats built in New Zealand for many years, with all sales derived from imported brands. While all the previously mentioned brands were strictly semi-custom, the last remaining full production GRP 10m plus model was the 40ft, Rayglass 4000. Before ceasing production in 2006, over 50, 4000s were built. However, that has all changed, with a new Legend 3500 full production model released at the Auckland On Water Boat Show (Sept 2016). David Larsen, CEO of Rayglass Boats says that the economy of scale just didn' t work for the 4000 in the end, as for the number being sold they got too expensive to build in the existing production style. "When we stopped making the 4000 we knew we would one day need to replace it, but never realised that it would take ten years". He adds that the design and layout of the new full production Rayglass Legend 3500– only equipment and upholstery options will be available – was very much owner driven, with discussions with existing Rayglass owners having a lot to do with the finished layout and style of the boat. "It was our customer base wanting something bigger than our Legend 2800, that got the whole project started and with over 20 boats sold even before the first one was launched, they have indeed embraced the new concept", says Larsen. He points out that this is a brand new boat from the keel up and as they have full control of every aspect of the build, from the moulding of the hulls to the final fit out, they can keep a handle on costs. The first Legend 3500 was launched at the Auckland On Water Boat Show in September and the company hope to have five in the water by the end of the year. Production from 2017 should be 1.5 to 2 boat every six weeks.
Custom boat building is alive and well in New Zealand, with a recent survey done by the Marine Industry Association indicating over 40 new boats in build. These vary from 10m one-off designs to monohulls and catamarans more than 20m from some of the leading Kiwi designers. Elite Marine Design currently has four custom designed motor yachts ranging in size from 13.5-18m in length under construction at various yards around New Zealand.
Covering a broad spectrum of styles from sport fisher to semi-displacement cruisers, this design office has been kept busy over the past few years catering for clients after something unique and personalised. Principal designer, Bill Upfold has established an enviable reputation for producing artistically pleasing and efficient high-end vessels mainly for the domestic market with a loyal following.
"Over the past few years post the GFC I have seen a steady increase in discerning customers taking up the custom design and build option to a point that we are currently keeping 4-5 local yards busy building our designs. With several proposals out for pricing and the economy steadily improving, the future looks very healthy for us," says Upfold. Roger Hill (Roger Hill Yacht Design Ltd), reports that 2016 has been one of the busiest periods they have had in the last 20 years. Design projects underway at various stages include a pair of 18m foiling power cats, a 17m alloy ferry cat, a 12m alloy work boat cat, a 14m composite flybridge planing cat, a 13.5m alloy/composite displacement cat, an 18m composite open deck sports cat, and an 11.2m composite production cat. These projects are under construction in NZ, China, England, Brazil, and S.A. 
"Enquiry levels are high and there are several more projects pending when time and resources become available to make a start", says Hill. The 17m foiling cat ' Voodoo' recently made a non-stop trip from NZ to Fiji in 50 hours and had previously made a similar voyage to Australia showing how efficiently a foiling power cat can cross oceans at high speed and demonstrates very well the sea keeping ability and comfort that can be achieved. Hill says that the yacht design and boat building industry in NZ is reasonably buoyant and the future outlook seems to be looking good for this trend to continue.
While Roger Hill Yacht Design specialise in power cats and Elite Marine Design in monohulls, South Island designer Scott Robson plays in both mediums. He has been kept busy in the last few years by ICON Custom Boats, who have built a range of aluminium powercats and monohulls for the local market. Currently, he has an 80ft custom alloy power catamaran under construction for a Kiwi owner. It is designed for offshore game fishing with large lower fishing cockpits with a raise and lower platform across the tunnel between the hulls allowing the fisherman to be at water level. "We have also designed a 19m powercat, being built as a new fibreglass production model for one of the largest motor yacht builders in Asia", says Robson. He adds that right now his design boards are busy, with plenty of new projects. These include both commercial and leisure boats, from 6.5m through to over 25m in both alloy and grp.
The New Zealand trailer boat industry is more active than all other markets in the marine industry, with around 5500 new boats sold from either local builders or imported. The industry has also seen a growth in exports, with many of the larger manufacturers reporting as much as 50% of everything they build going overseas. New Zealand has established an enviable reputation for quality aluminium boats, especially when it comes to hardtops and pontoon style boats. Currently, there are over 70 alloy boat builders in New Zealand, building trailer boats from 4m jet boats to 10m offshore hardtops. 
It is unquestionably the 5.5m to 7.5m alloy cabin and hardtop market that is seeing the greatest growth and also the highest concentration of
manufacturers. Aluminium boat building is not localised, with builders throughout the country. This has spawned an alloy boat boom, with many of the smaller brands main sales being concentrated in their local area. The larger builders enjoy sales throughout the country, via a dealer network and excellent exports. Australia and the Pacific Islands are the most active export markets. The fibreglass trailer boat market, once the mainstay of the industry has dwindled to a few, although those that are left are building boats to the highest quality. One such company is Tristram Boats in Hamilton that produce a range of boats to an exceptionally high standard. Lance Fink, CEO of Tristram Boats doesn' t compromise on quality and it shows. "Export and local sales are strong and the company is enjoying one of its best years ever", says Fink. In 2017 they are releasing an entirely new 10m Tristram, which, Fink says will set new standards for boating excellence.
Rayglass Boats have also reported their best year ever and other brands such as Haines Hunter, CSB Huntsman, Fi Glass and Buccaneer are also running to near maximum production capacity. For many the summer rush has started early. Unlike the aluminium boat builders, new model releases from the grp builders have been few in recent years, apart from Buccaneer Boats that bucked the system with two new models in 2015. Overall, the New Zealand boat building industry is in good spirits and with a buoyant local economy, dropping interest rates and an improving dollar, the future ahead looks bright.