The Chaparral 244 Sunesta is like a Swiss Army knife….it's loaded with so many cool things that you're covered for just about any eventuality. Barry Thompson spent a few hours cruising on the Broadwater checking out this truly innovative boat.
For a long time now we have been familiar with the American sport boats that make no compromise for fishing, being pitched towards the all-round entertainer. These are boats that sacrifice rod holders and fish bins for sub woofers and ice chests, rocket launchers for wake towers. They are boats that offer more, lots more than most locally built boats and as the saying goes, "come loaded with beer".
The Chaparral 244 Sunesta is one of four models in the Sunesta range, which starts with the 224 and goes right through to the 284. All four share a similar design platform, with features such as enclosed heads, a cockpit galley, entertainment focused layouts and big open bow riders with space.
When I first saw the 244 Sunesta, I had to completely turn off my own fishing bias and look at the boat in a totally different light. This is a boat that, unlike some of the high profile USA manufactured boats, does have all the right attributes to be suitable for more than the builders probably designed it to be.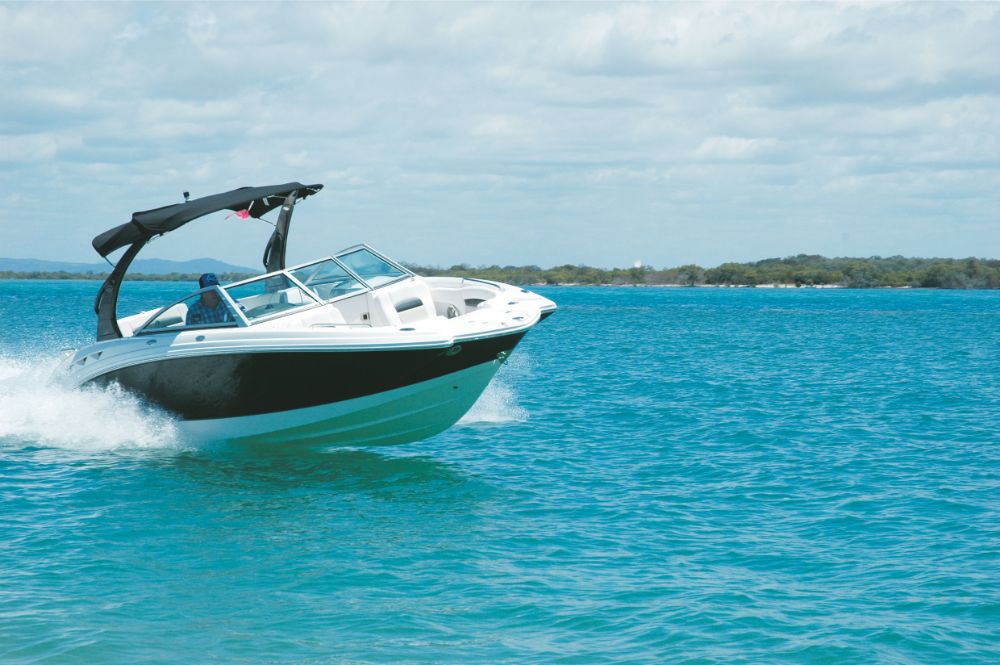 Kiwis and Aussie owners will find even more uses for the 244 than the builders envisaged and they will do it right. So to get the fishing side of things out of the way first the option is really easy. The huge boarding platform off the transom is the ideal fishing platform and by simply adding a transom rail with a clip on bait board complete with a few rod holders you have yourself a 'fishing boat'.
Sirocco Marine North's Tom Carlisle told me that he has already sold a Sunesta to a local client who has made the mods to the transom so he can also enjoy his fishing.
"While it is certainly not designed as a fishing boat, it isn't restricted to just cruising and towing water toys, skiers or wake boarders, and that's what makes this such a versatile boat", says Tom.
If your pre-conceived notion of an American bow rider is a boat suitable for calm seas and predominantly designed for fresh water, then think again. The Chaparral 244 Sunesta can certainly hold its own when it comes to handling and performance. My run in the boat started on mirror smooth water on the way from Sanctuary Cove Marine, all the way to the top of South Stradbroke Island and the area known as JumpinPin. This is where the sea splits South and North Stradbroke Islands and where some of the best fishing in the area is to be found. The deep channel runs onto a shallow bar which extends almost a nautical mile offshore and where bream, flathead, whiting and tailor are just some of the great fish waiting to be caught. However, we weren't there for the fishing……not this time anyway, but Tom was keen to show me how good the 244 performed in a sea.
In the 1m swell the 244 ran smooth and dry both ways, with the 20° patented Wide Tech design hull providing an extremely good ride. The pickle fork style of the 244 alone makes the boat stand out, while still keeping the benefits of a traditional V-shaped hull.
We ran hard, around 35-45 mph in the swells and the 244 loved it, proving to me that the boat is certainly bluewater capable. Wide inverted chines help give the boat a dry ride, but also add a lot to the stability at rest and excellent tracking whilst underway.
Back in the calm, Tom showed me just how nimble the boat was with some reasonably violent high speed turns. When it was my turn on the wheel I found that the Bravo 3 leg hangs on tight and you feel totally in control, even in the most extreme manoeuvers. I found a sweat spot in the calm around 4000 rpm / 40 mph , which was also a reasonably economical cruise speed. The MerCruiser SmartCraft gauge was indicating ???L/h. Top speed was 55mph @ ??? rpm.
Our 244 was powered with a MerCruiser 5.7 350 Mag punching out 300hp. You also have the choice of the MerCruiser 377 Mag @ 320hp or either the Volvo Penta V8 270hp and Volvo Penta V8 320hp.
For wake boarders you need to look no further if you are in the market for this style of boat. The wake at 18 mph tells you that there has been some special attention paid to the running surface. An experienced local wake boarder told me that it was unquestionably one of the best wakes he had boarded on behind a stern drive boat!
Chaparral builds its boats tough and to last, using vinylester resin and everything is hand laid. They have a lifetime hull construction warranty. Kevlar is used in the keel laminates to strengthen and reinforce the area in case of running aground or maybe hitting a submerged object.
The 244's bow section benefits from the broad bow pickle fork design, which Chaparral calls Wide Tech. This not only gives almost half a square metre of extra useable space, it also offers plenty of leg room, both on the top of the seats and between, in the foot well. Both forward facing bow cushions have supportive full height back rest cushions, with conveniently placed elliptical shaped handrails and drink holders. Below is more storage, including an ice box to keep the drinks cold. With a 2.7m-long underfloor locker, all the fishing rods, wake boards and skis can be stowed out of the way until required. LED pin lights are spread throughout the bow and cockpit areas plus there's a bracket ready to take the removable fibreglass table, which is stowed inside the helm console.
The telescopic foredeck bow ladder allows ease of access from the shore when the boat is beached. I tried it and it works great. An anchor locker below holds adequate anchor tackle, although with the central flip up anchor light, you need to do all your anchoring using the side cleats. A bollard could be added if required. Following the Swiss Army knife scenario, there is a separate deck wash and fresh water shower on the foredeck as well. No need to drag in sandy feet when you come back aboard. Included in the bow area also are four self-draining stainless steel drink holders and a couple of waterproof speakers. In all there are 12 drink holders and four speakers plus two sub woofers.
There is a lot more in the cockpit of this boat than you would first realize and while seating is a big part of the design, so too is the practicality of the layout. The 244 Sunesta offers more. More seating, more features and more storage than many boats this size and it is done well.
The passenger console contains a large fibreglass-lined head compartment which includes a Porta Pottie or an optional VacuFlush toilet with macerator. Although a little tight for space and certainly not great for the 'big boys', it does have adequate light and ventilation when closed and is also fully lockable. Got to be a plus when you're selling the idea of buying the boat to your wife or girlfriend. There is also a lockable glovebox built into the door that wraps around the corner to make access easier.
Fully adjustable swivel seats for both the driver and forward passenger are standard on the Sunesta range and also feature fold-up bolster cushions and built-in handholds.
The helm area hides a large 0.189-cu.m storage area behind a pair of doors. The outer door doubles as the wind protection panel from the open bow and the inner one is to keep everything inside when the other door is open – a very neat idea. The Clarion stereo unit is also tucked away on the side of the console.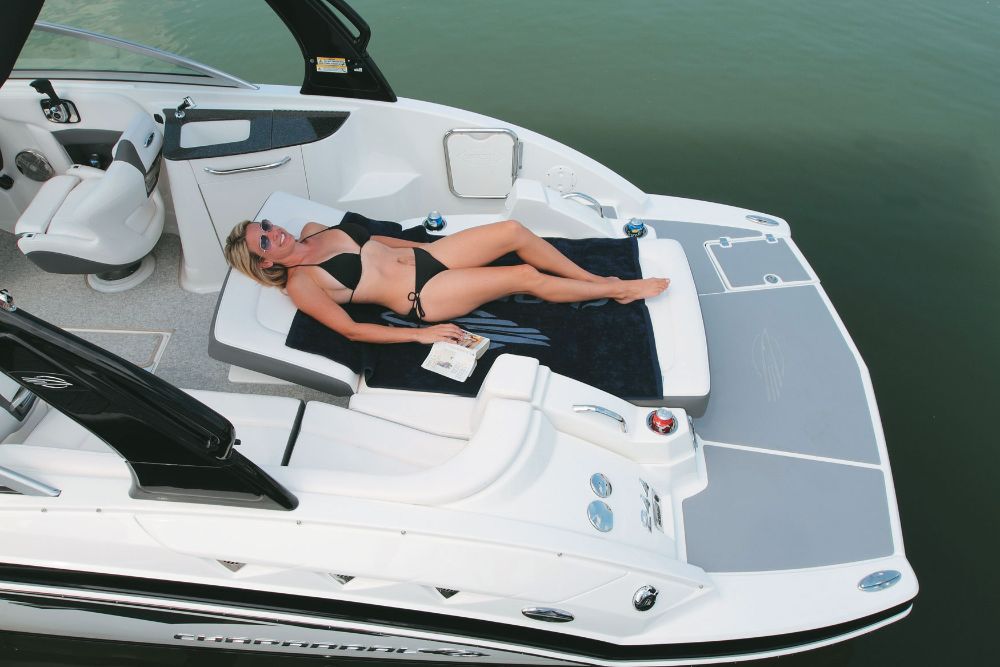 Chaparral provides digital instrumentation on the dash, with easily placed rocker switches either side of the adjustable tilt steering wheel. Central is a glove box which can be replaced by a small sounder such as the Garmin 551S which interfaces with the SmartCraft instruments and is listed in the 244 Sunesta option list. There is also an MP3 holder and USB and IPod connection sockets so you can hook directly into the Clarion stereo.
Aft of the helm is the wetbar with cold fresh water, sink, trash tube and an area under for storage, a small fridge or an esky/chilly bin. The hand held faucet is also good as a fresh water wash-down or as a cockpit shower.
The aft seating area lifts to reveal the engine compartment where there is excellent access for maintenance, with dual gas assist struts to support the hatch. The convertible fore and aft facing bench seat folds flat to become a sun lounger. More storage is provided under the port side bench seat and there is another table mounting bracket available. Drink holders conveniently fill various cavities and extra speakers and sub woofers help keep the music alive.
Our test boat was fitted with the optional heavily constructed alloy deluxe wakeboard tower, which can be hinged forward when you have an issue with height. This also doubles as the soft top bimini mount, although you can do away with the tower altogether and just run a fold down stainless frame for the bimini. Interestingly, the 244 Sunesta is available with a camper pack, something that I would not associate this boat with. However, such is the versatility of the layout, it is a boat a couple could sleep on overnight, with an all-over canvas cover for protection.
Chaparral fits heavy duty clip-on rubberised backed marine grade carpet to the 244 which is much stronger and more UV resistant than some supplied by competitive brands. The cockpit is totally self-draining, with two aft ports intelligently placed at the low points either side in the cockpit. In other words it doesn't matter if your boat is on a lean when parked, the water will still find a drain hole.
The swim platform extends beyond the lower unit even in the up position, which is an important safety consideration. The full-width transom and platform offers plenty of space for pre and post water sports preparation as well as doubling up as the fishing area. The transom gate automatically locks in forward, aft or closed position.
Everywhere you look there is something innovative and the transom area is no exception. There are drink holders, another deck shower, recessed cleats, telescopic ladder and even a sterndrive tilt button. But wait there's more! Should you want to adjust the sound system there's an external waterproof panel at the base of the transom that allows you do it all without even leaving the water.
The Sunesta 244 is unashamedly aimed at the cross-over market where buyers are looking for a boat that they can get the best use out of in one package. Buyers to date have varied, according to Tom, from young couples looking for a fast fun party boat, to young families after a more versatile cruising boat that is safe, well-constructed and offers more than most.
"Our clients vary from hard core wake boarders to families that spend most of their time on the water fishing and general boating" says Tom, adding "It's a boat for all reasons and a boat for all seasons."
The Sunesta range is also the stablemate to the Extreme range, the only difference being that it has different graphics and doesn't come with a wake tower and ballast.
Model: Chaparral 244 Sunesta
Builder: Chaparral Boats
Country of Origin: USA
Designer: Chaparral Boats
Priced From: $A98,000
Price as Tested: $A106,000
Type:   Bowrider
Construction: GRP
LOA: 7.42m
Beam: 2.59m
Deadrise: 20°      
Height on Trailer: 2.67m
Trailerable Weight: 3200kg
Engine Capacity: 270-320hp
Power Options: Sterndrive Only
Fuel Capacity: 238 litres
Water Capacity: 38 litres
Entertainment: Clarion
GPS/Plotter/Sounder: Garmin (Optional)
Notable Standard Features: Enclosed head compartment, GRP interior liner, Flip-up bolster seats, MP3 holder, premium Clarion sound system, pressure water system, stainless steel cupholders, Wide Tech bow, tilt steering helm, Lifetime hull warranty,
Notable Options: Black arch, air pump, fire extinguishing system, VacuFlush toilet.
Make:  MerCruiser 350 Mag
Power: 300hp
Model: 350 Mag
Cyl. Config.: V8
Displacement: 5.7 litres
Max rpm: 5200 rpm
Propellers: 24" pitch
Drive:  Bravo 3
Weight: 460kg
Make:  Magic Tilt
Braked: Dexter hydraulic
Suspension: Leaf springs