The Chaparral 327 SSX is the latest in a growing list of sportboats over 10m and which are incorporating amenities normally associated with express cruisers.
The Chaparral 327 SSX is an outstanding example of a new type of boat that seems to be emerging – the Super-Sportboat. The most popular type boat in the world of boating is the bowrider. Even last year nearly 20,000 of these were are sold. The bowrider was an evolution from the cuddy sportboat. The deckboat was a development of the bowrider, taking inspiration from the pontoon boat and has chiseled out at niche of its own in the last 15 years or so and accounts for about 14% of sportboat sales in the US.
Now we have a new design trend that is springing from roots put down by the bowrider, deckboat, and the old cuddy cabin runabout. It is called the "Super-Sportboat" and while it is too soon to know how well this new type will catch on, it has a compelling story to tell.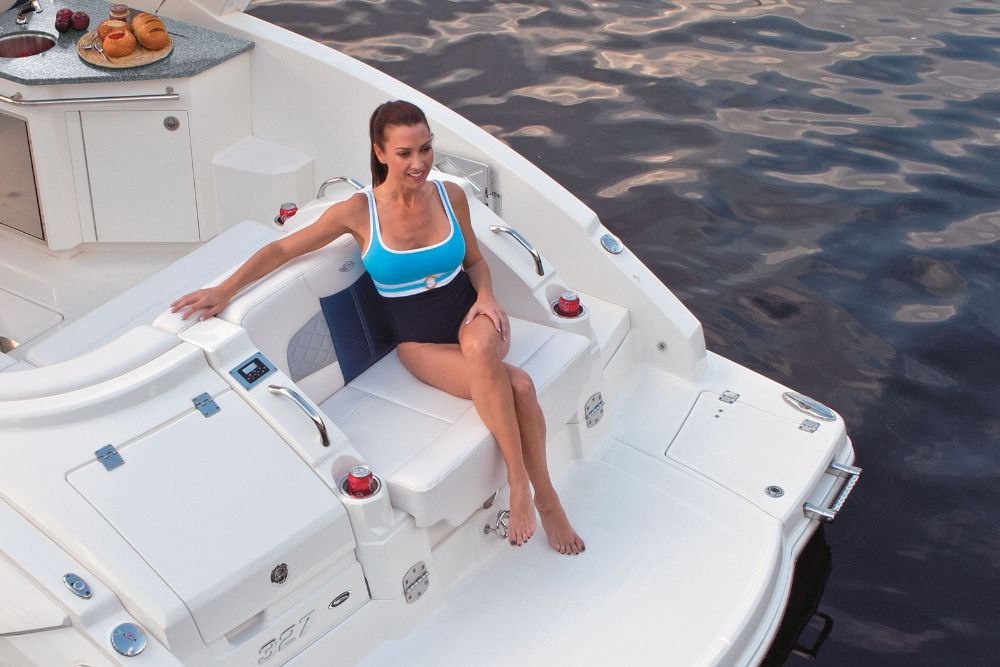 The Need for Something Bigger
As some boat owners become more active, or their family grows larger, or their kids grow older, or all of the above, the old, small bowrider may not make the grade anymore. There are other scenarios as well that lead an owner of a sportboat to want something with more utility – i.e. more room, the ability to handle bigger water, and a place to shelter from rain and get cozy. A prime example of this is along the French Riviera where boats typically take a big group out for a day anchored off a beach for a picnic, swimming and sunning. Then, in the late afternoon, they head back to the marina.


Sportboats and deckboats were made for lakes, rivers and protected water. They were not designed for offshore work along the coasts or on huge freshwater lakes where a long fetch can build up high, steep waves. Boaters living along the seashore naturally after a few years of boating in protected water want to venture offshore and down the coast and bowriders and deckboats are typically not intended for that purpose.
Taking Aim at Express Cruisers
Historically, when boaters wanted to move on from bowriders or deckboats they moved up into an express cruiser. Further, because of their size and accommodations they could be used for real "cruising" – for long weekends with family or two couples, or even extended cruising for a week or two. 

But guess what? A lot of express cruisers bought are not used for a summer vacation cruise or even a long weekend. They are used as day boats – big, expensive day boats. 

Their primary use turns out not to be for cruising at all, but for gracious entertaining during the day and early evening. Most spend virtually every night back at their home marina.
Many builders of express cruisers in America started figuring out about a decade ago how their boats were really being used and slowly converted their interiors to day boat use and entertaining. (European builders always knew how their express cruisers were used which is the reason their staterooms are often very tight.)
With time the forward sleeping cabin was converted in many express cruisers to a comfortable dining area. Convertible sofas were replaced with built-in "U"-shaped or "L"-shaped banquettes, some builders made their heads and galleys a bit bigger.

The down side of all of this for the consumer was that express cruisers used as day boats are expensive,
The Chaparral 327 SSX is Born
Knowing all of that, Chaparral's design team set about to create a boat that would fit all of the advanced sportboat owner's needs while saving him both the out-of-pocket costs and the annual operating expenses of an express cruiser. When viewing the Chaparral 327 SSX in this context, its genius immediately becomes apparent. It is an alternative to an express cruiser for the person who really doesn't need one, but who does need a bigger, more versatile, more comfortable "day boat" in a seaway.

The 327 SSX Super-Sportboat has a deep-V hull with a deadrise at the transom of 22-degrees. This is deep and will make the boat's ride as comfortable as possible in lumpy conditions. That together with her relatively high freeboard will make her reassuring offshore and help keep her passengers dry. Her 3m beam not only makes her more roomy for guests, but it also provides plenty of width room in the engine room for twin big block engines.
Nine engine options are available from twin 300-hp 5.7 L engines to twin 430-hp 8.2 L engines. Chaparral gives consumers a choice between Volvo Penta and MerCruiser products. Joystick control is an option. With horsepower like this driving a 4,445-kg boat, top speeds are bound to be on the "super" side as well. Depending on your engine options you can expect speeds of between 63-70 mph! Not bad for a bowrider.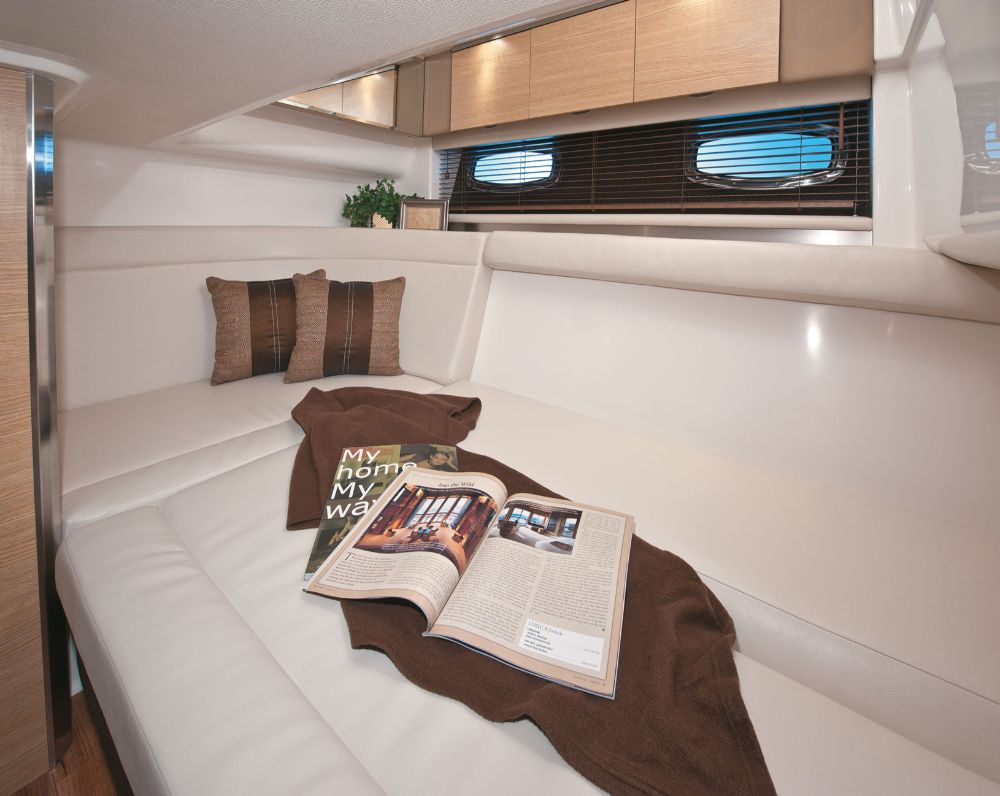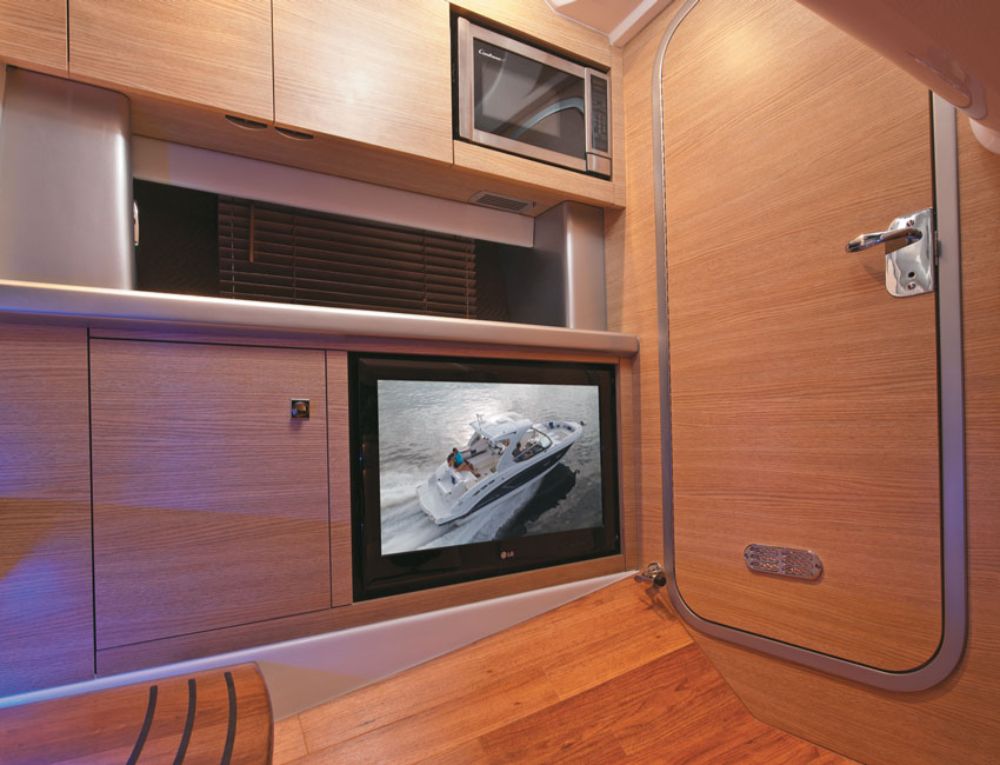 Chaparral has incorporated some important options into the boat as standard, such is its hardtop, automatic engine room fire extinguishing system, and powered stern seating system, as well as a powered engine hatch. The builder has incorporated Kevlar in its hull which it does in all of its boats. However, since Chaparral knows different customers will want to use the boat for different purposes, it has created an extensive option list. Owners can specify exactly what they want to suit their intended purpose. Some owners will want to go for the 3 kW generator and air conditioning. Others will want to have a wet bar with refrigerator instead of the standard seat. Take your pick.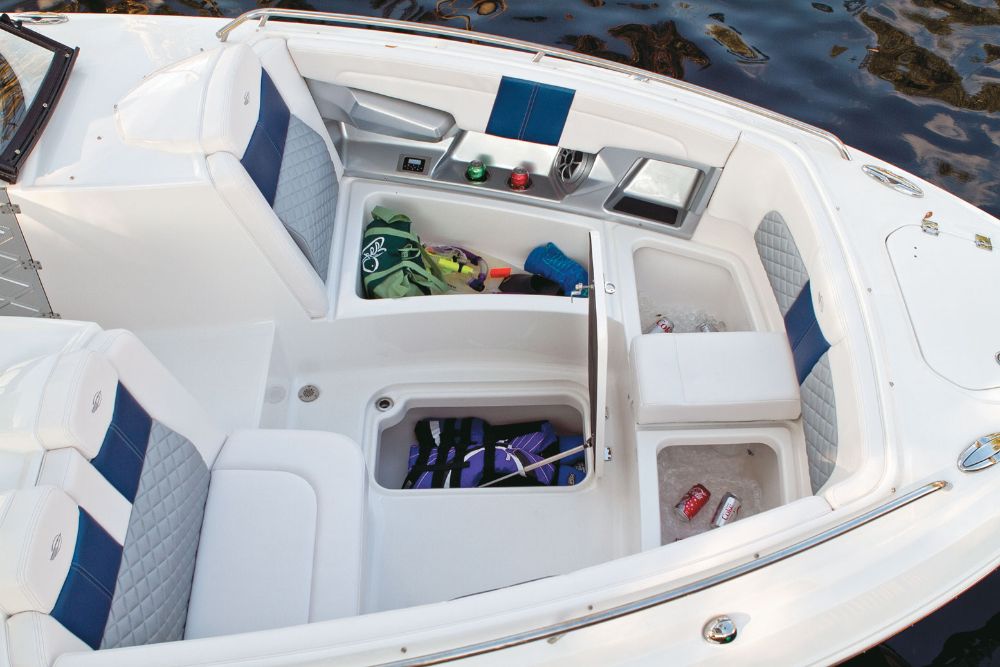 The feature that makes the Chaparral 327 SSX so noteworthy is, of course, her mid cabin. This accommodation is ensconced under the helm console, the port console, and under the walkway from the cockpit to the bow riding seating. This is certainly innovative and we can think of no other boat that creates a cabin similar to this one.
We measured 1.68 m of headroom at the bottom of the companionway, in front of the head door, 1.16 m of headroom under the walkway from the helm seats to the forward cockpit. This walkway channel bifurcates the mid cabin fore and aft requiring occupants to duck under it to get to the other side where there is 1.82 m of headroom and the lounge seat.
There is a half hanging locker, a wet head, and an entertainment console below. The lounge seating is comfortable and makes into a double bed  (1.98 m x .88 m). Portlights on both sides of the full beam cabin bring in natural light.
The twin helm seat is adjustable fore and aft. The seat was 50cm off the deck and  quite comfortable. There is good visibility forward when seated or on the bolster.

This helm console design would make George Lucas proud. We like the optional 5209 Garmin GPS plotter front and center. The wheel is leather wrapped and the brow over the instrument console is dark to virtually eliminate glare.

Chaparral's seat design is distinctive and custom-made. The inset diamond stitching is like what you might find on an expensive automobile and is a design theme carried on throughout the boat.
The bench seat facing forward on the port side is not adjustable and the door to the cabin below clears the seat when the bolster was up. Note that the door opens out to port which makes entrance easy and it can remain open for air to circulate below.
The stern of the 327 SSX is the boat's play ground. The hatch at left is for stowage and shore power, the aft-facing seat electrically flattens into a sun pad, and the aluminum transom door is to starboard. 
At the flip of a switch the stern seat turns into a sun pad. The cockpit can pretty much be optioned the way an owner wants it. For example the wet bar with refer and sink is optional.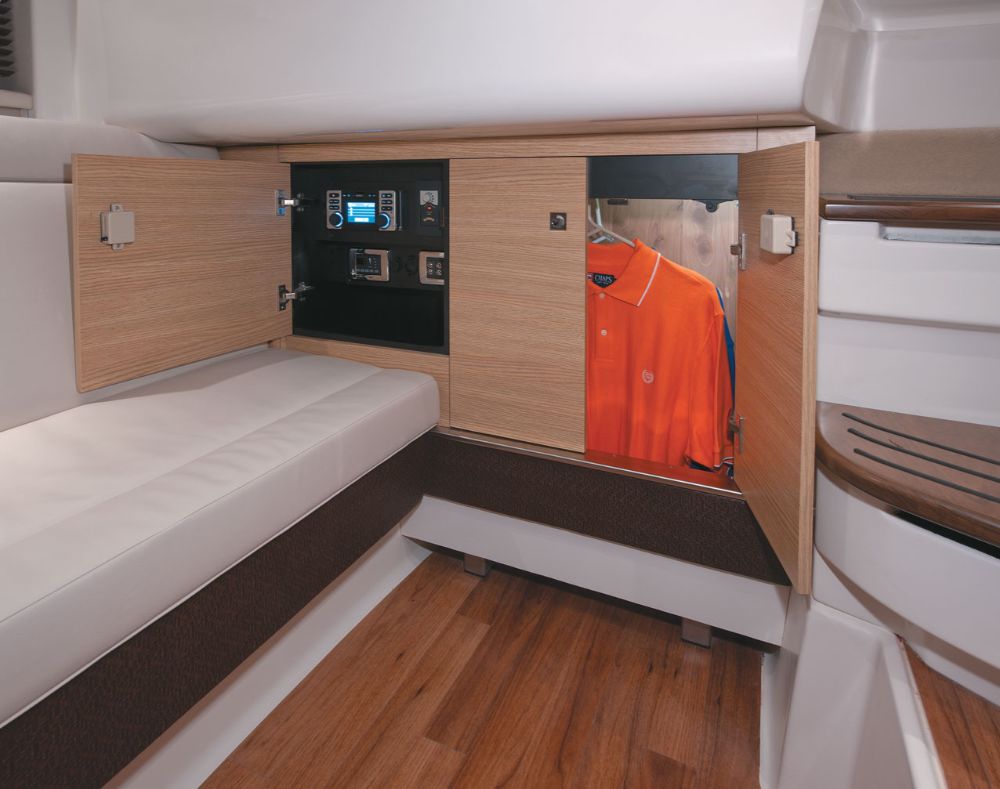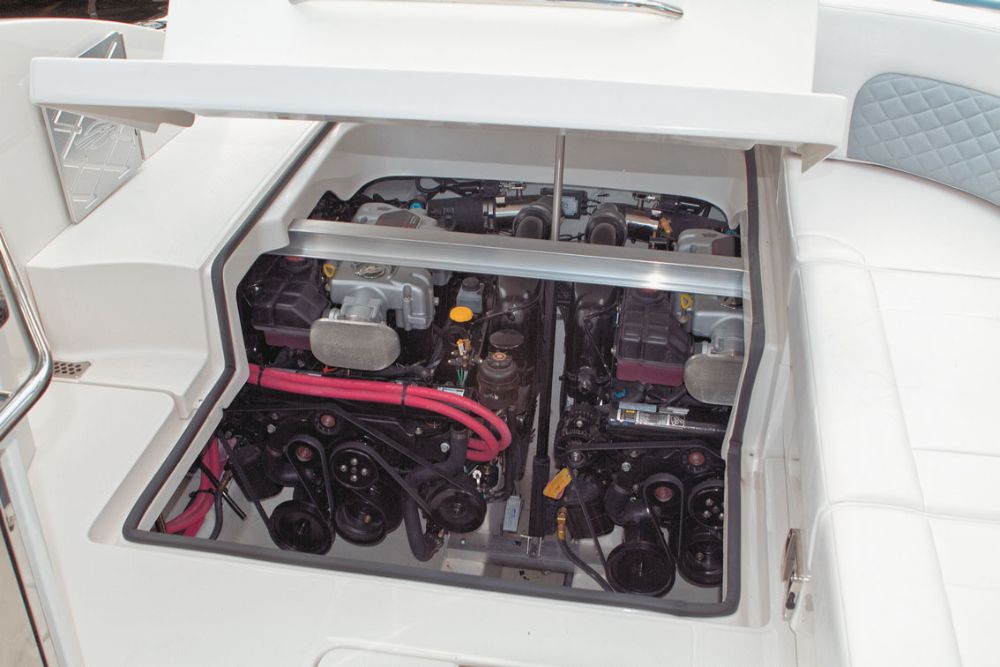 There is a deep stowage compartment in the middle of the cockpit sole that  holds the boat's batteries, plus there is plenty of room here for wakeboards, skis, and inflatable water toys.
There is plenty of seating in the bow cockpit and a second venue for a table.

 Stowage abounds under the forward cockpit cushions, with the insulated coolers forward drain overboard, not into the bilge.

It's part family bowrider, part performance-minded sport boat, part overnight cruiser but most importantly the incredible new 327 SSX is a Chaparral through and through. It's revolutionary. And exciting and a sure head turner in any bay. With its go-anywhere deep-V hull design, standard fiberglass hard top, striking liquid-silver interior, dual forward facing helm seats and wildly practical full beam cabin, the revolutionary new 327 is a game changer.
Design name: 327 SSX
Builder: Chaparral Boats
Country of origin: USA
Designers: Buck Pegg & Mike Fafard
Year launched:   2011
LOA: 9.91m
Beam: 3.05m
Draft: 0.98m (legs down)
Displacement:    4445kg
Rear deadrise:    22 degrees
Max speed: 55.1 knots
Cruise speed: 34.8 knots
Fuel capacity: 568 litres
Water capacity:  95 litres
Construction: GRP, Kevlar, foam filled composite
Classification: Yacht Certified (US)
Engines: 2 x 380hp MAG MPI MerCruiser
Gearboxes: Bravo III-X sternlegs
Propellers: Twin-prop S/S
Battery charger: 50-amp engine alternator
Battery banks – house: 2 x 120Ah Lifeline AGM
Battery banks – engine: 2 x 120Ah Lifeline AGM
Trim tabs: Bennett
Lighting: LED
Anchor winch: Lewmar
Anchors: Lewmar 30lb
Steering: MerCruiser
Engine controls:  electronic
Paint (topsides):  gelcoat
Stainless steel:   Chaparral
Windscreens: Chaparral
Portholes: Lewmar
Heads: SeaLand VacuFlush
Wood finish: teak
Cockpit upholstery: Duramax Life
Saloon upholstery: Duramax Leatherette
Helm chairs: Chaparral with bolsters
Entertainment: Wet Sounds
GPS/plotter: Garmin 528
Depth sounder:  Garmin 528
VHF:  Garmin
Engine instruments: SmartCraft
Switch panel: BEP Marine
| | | |
| --- | --- | --- |
| rpm | mph | L/h |
| 1000 | 8.3 | 11.36 |
| 1500 | 11.2 | 17.03 |
| 2000 | 17.8 | 30.28 |
| 2500 | 30.2 | 40.13 |
| 3000 | 40.2 | 49.97 |
| 3500 | 48 | 65.87 |
| 4000 | 55.8 | 95.01 |
| 4590 | 63.4 | 127.19 |
Base price: $A225,000
Price as tested: $A248,000