Mention a pontoon boat to a Kiwi or Aussie and they will immediately think about a monohull with tubes. However not so in the US, where a pontoon boat is something entirely different. It is also the fastest growing sector of the US trailer boat market, with in excess of 500 models available. There's even a magazine, Pontoon & Deck Boat, devoted totally to this very American style of boat.A US derived style pontoon boat is a flattish boat that relies on pontoons to float. They support a platform; that can be left plain and basic or upmarket and flashy. It's essentially a floor/deck on the water. Common boat designs are a catamaran with two pontoons or a trimaran with three and the pontoons are constructed from sealed alloy cylinders. There are some grp versions available, but the majority are alloy and while most are manufacturers in the US, there are some designed and built by alloy boat builders in Australia and New Zealand.
Pontoon boats/deck boats have a number of advantages that sets them apart from what would probably be referred to as 'traditional mainstream' boat. Firstly they offer a very shallow draft, which reduces the risk of running aground and underwater damage.They provide unrivaled space for their length, are incredibly stable and can carry more amenities aboard than a comparable length monohull.
Pontoon boats take full advantage of their space and depending on the model and size you choose, you can have everything from changing rooms and fridges to wet bars, built-in bbqs and electrically operated bimini tops. If you are looking at a cruising model, then most feature stylish lounge areas that offer plenty of plush seating and convenient storage. Many models feature full instrumentation, electronics and marine entertainment systems. Some even offer dual loungers with built-in speakers and heated seats that deliver complete comfort on the water.
They are designed to be the ultimate party boat or a great fishing platform and they come in a huge variety of sizes. You can have one around 5m, with a small outboard or even an electric motor if you are into economical, green boating, right through to 9m, with twin outboards or even sterndrive.
While pontoon boats are not seriously ever designed to handle big seas, due to the very nature of the design, it is surprising what they will take, especially the larger size models. So you might get a little spray and water aboard, but probably no more than a lot of open ski boats. But, for the most part, pontoon boats are considered lake boats. The entry level or value priced pontoons still use two pontoons, but most boats being built today have three pontoons for added stability so you can take them in rougher water if you need to.
While originally designed as boats for the freshwater lakes and rivers, they have developed a lot more. Construction obviously varies from brand to brand, but generally they are solidly built, using marine grade alloy. Diameter of the pontoons, the thickness of the aluminum being used on those pontoons, as well as the spacing of the cross members, are three specific things we look at below deck when checking the quality. The strength of the material itself is augmented and airlocked by multi-baffling near each weld. Crossbeams and a solid plate floor tie the two hulls together, giving both rigidity and strength. Tube Diameters vary from around 55cm to 68cm and hull thickness from 2mm to 4mm.
One option being offered by Queensland based Runaway Bay Pontoon Boats is DIY kits, which allows home builders to construct their own boat, with a customised internal fit out. However, when compared to the purchase of their complete boat package, the cost saving is very little and you get into your boat a lot quicker than if you built it yourself.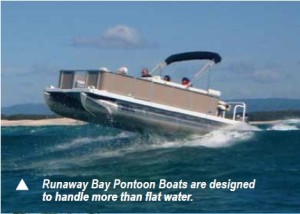 Runaway Bay Pontoon Boats have standard designs or will build a layout to suit your actual requirement. Runaway Bay Pontoon Boats are also build to survey.
"Buying "Australian Made" from a company that has been operating for over 55 years means you can rest assured that the product you get is built for Australian & N.Z. saltwater conditions", says Craig Winch from Runaway Bay Pontoon Boats Today's breed of pontoon boats is a lot more sophisticated and stylish than those of 20 years ago.
Exquisite detail, premium material and boats that not only ride well, but also looks fantastic. On some of the larger cruisers, even the fencing details around the deck perimeter has been given an elegant and modern look.
Rotorua's Orca Marine are one of the few Kiwi builders that have got into manufacturing pontoon boats, with a number sold to local owners in the Rotorua Lakes area.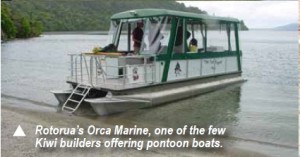 HOW TO PICK THE RIGHT PONTOON BOAT.
Buying a Pontoon boat is no different than purchasing any other type of boat, it's just you need to choose what is best suited for your needs. Even when you decide on a brand, the choice may still be daunting from models available. The US brand Bennington, for example, offer a staggering 141 models on their website and there's certain to be a few they have added since for 2015.
When looking at an imported or locally made pontoon boat, check out the construction, especially the alloy quality and thickness and thoroughly compare the imports against the local Australian built boats just to see the differences.
Echuca based Xtreme Marine were recently appointed distributors for the Harris Flotebote brand of pontoon boats from the US. Harris flotebote have dedicated more than 55 years to achieving excellence in the building of sophisticated, innovative, luxurious pontoon boats, powered by Mercury / Mercruiser engines. Harris
FloteBote is a subsidiary of the Brunswick Corporation and a division of the Brunswick Boat Group.
Harris FloteBote revamped the early pontoon boat industry in the 1960's by installing upholstered pontoon seats and furniture on their pontoon boats. Harris Flotebote adopted aluminum tubes around 1968, when welding equipment big enough to accommodate the material became available. In the 1970's Harris Flotebote pontoons were early adopters of stern drives, and had motor-pods capable of holding engines as powerful as 140hp, which enabled Harris Pontoons to pull waterskiers, an early innovation for pontoon boats.
Harris have a reputation for innovative, distinctive luxury pontoon boats that are virtually unlimited when it comes to customisation. The stunning Crowne Series boasts sleek lines, premium construction, elegant detailing, dramatic power and agile handling, as well as a startling array of amenities in three available floorplans. Power options are up to 600hp on the eye-catching Crowne 250, a boat that sets new standards in styling. Without question, this flagship
pontoon redefines luxury at every turn. The boats are delivered with a full 5-year bow to stern warranty, including motor and a limited lifetime structure warranty. Trailers are built to full Australian standards.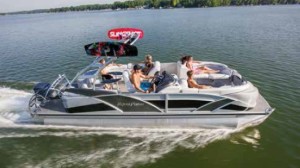 SunCatcher pontoon boats by G3 incorporate all the luxury, comfort and performance possible to offer you the very best quality pontoon boats. Three families of product, the Elite Series, X Series, and V Series allow you to find the perfect SunCatcher pontoon boat for your family. Overall there are 32 models available, so somewhere in that mix, coupled with your customisation, there is a model to suit your needs.
All Suncatcher pontoon boats are powered by Yamaha, with the latest 2015 model, and the flagship of the fleet, the Elite 326 GT capable of handling up to 300hp. Standard power is a Yamaha 225 or 250.
The new 8m 326 GT is an entertaining platform designed to embrace and elevate your boating experience from sunrise to sunset and beyond.
If you are looking for something smaller, then Suncatcher offer a wide range of entry-level models, although all retain the exceptional high standards of finish and appointments of the larger boats. The new V16 FC, which is offered in two models, is 4.8m of fun and versatility. The FC model features a 2.62m wide rear fishing platform designed with comfort in mind even for the youngest of anglers. Equipment includes, two custom high back swivel fishing chairs, a center console with rod holders and cup holders and a livewell.
An impressive array of popular pontoon boat models from 4.8m to over 8m feature newly designed, stylish lounge areas that offer plenty of plush seating and convenient storage. Many models feature full instrumentation, flush mounted fishfinders with GPS navigation, and marine entertainment systems, all designed to enhance your quality time on the water. Another US brand that has enjoyed considerable success in Australia over recent years is Misty Harbor. Imported by Tweed Coast Marine, Misty Harbor has a reputation for high quality.
Importer Peter Winks, says " Misty Harbor has been very successful because of the high quality of this brand and the wide diversity of models that suit every taste from cruising and entertaining, to serious river and estuary fishing".
Misty Harbor's full range of pontoon products includes 32 different models ranging from 4.26m to 7.8m in length, in four Series. The Skye Series is designed to cater for the cruiser market and offers an exceptional level of comfort based on two size platforms, 6.8m and 7.8m.
The Biscayne Bay Cruise model pontoons are available in a variety of layouts and come in three platforms from 6.2m through to 6.8m spread over seven models. The Adventure Series comprises seven models which are designed for the fishing enthusiasts and the Explorer Series are perfect for anyone looking for a compact boat that can be rigged with either a small outboard, or a battery-powered electric motor.
The TripleToon (three hulls) option converts a traditional pontoon boat into a highperformance boat that runs fast, pulls multiple skiers and handles rough water like a dream. The TripleToon option can be fitted with up to a 250 horsepower motor because it includes a third center-mounted tube. The Tripletoon is available on all Skye, Biscayne
Bay, and most Adventure models. Peter also points out that the USA made product is made for saltwater use as developed my Misty Harbor through the saltwater series they import.
Melbourne based Force Trading import three different US pontoon boat brands, Sylvan, Starcraft and SunChaser. Sylvan traces its history back to the late 1940s, when it was founded as a pontoon and houseboat manufacturer near Sylvan Lake in Wolcottville, Indiana, the company now produce seven model series with a total of 46 individual models, ranging from 5.5m through to 8m.
There are 38 models from 5.5m to 8m in the Starcraft line up and 28 in the Sunchaser range, from 6.1m to 7.6m. Overall, an impressive 112 models in a huge variety of layouts and options. The layouts are designed to suit your cruising needs and entertaining requirements, or there are models that cater very much for those into fishing.
Construction is also of the highest quality, with full-length skid bar that protects the tubes and premium vinyl upholstery with dual density foam for comfort and longevity. All Starcraft, Sylvan and SunChaser pontoon boats also offer great features, reliable construction and impressive warranties.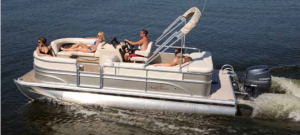 THINGS TO CONSIDER WHEN BUYING A PONTOON BOAT
One of the first things to consider is the size. Just how big or small do you want and whether you have it on a trailer or a dock, what space do you have to store it. Power options come into play also with a choice of outboard, sterndrive or electric. Outboards are certainly the most popular and there is a move towards some of the larger electric options. Twin outboard engines are also becoming more popular in the pontoon industry, but it's not that common.
Pontoon boats also come in different widths and pontoon diameters. Choosing the right size for you depends on several things. Two of the most significant factors in choosing are the amount of people you may need to fit on board and the size of the water body where you will typically use the boat. If you typically expect to use the boat as a couple
with occasional guests, a 5m-7m boat may be all that you need. If you frequently entertain and need a larger capacity, a 6m- 8m boat would be recommended. Typically boats under 6m have a passenger capacity of 8 or fewer people. Pontoon boats in the 6m to 8m range may have seating capacities from 8 to 15 or more. Boat widths are typically all within the trailerable width of around 2.5m. The layouts reflect the purpose the boat will be used for, be it fishing, cruising or water sports.
Pontoon boat performance is a matter of personal preference and the layouts reflect the purpose the boat will be used for, be it fishing, cruising or water sports. Choosing a pontoon boat with two tubes or three tubes depends on how fast you want to go and what your budget will afford. If you need more speed for activities like skiing, then go with three tubes; more floatation means you can get up on plane and can obtain speeds from 25 knots to more than 45 knots. If leisurely cruising is your thing, two tubes are adequate for the job and will cost less.
Whatever use you have for a pontoon/deck boat, they can prove to be an amazingly versatile and enjoyable craft. Whether you're into soft bait fishing for Barra in North Queensland or cruising the Noosa River with a cocktail in hand, a pontoon boat might just be what you need.