Text by Barry Thompson
Images by Richard Milner
STYLE & TOUGHNESS REDEFINED
When Circa Marine decided they wanted to build their own long range, fast passagemaker, they teamed up with fellow Kiwi's, Craig Loomes and Andre Moltschaniwsky of LOMOcean Marine.
Mollymawk, is the first boat to be launched from the new Circa passagemaker series, a fully NZ designed and built vessel, that will provide safe, efficient ocean cruising with comfort and ease of operation. Mollymawk, built for an Australian client is the first of two, Circa 24m, vessels in construction, with the second for a European based owner, due for launching later this year.
This is a very unique vessel that combines practicality with simplicity, yet offers all the comforts of an apartment on the water. Underway at cruising speeds the sound levels onboard make for very comfortable cruising at only 50dB in the saloon and the lower deck accommodations reading 46dB forward and 55dB aft.
Mollymawk was designed in response to a brief defined by Circa Marine for a robust, safe, economical, long range, passage maker, without excessive complexity.
"People want to get to places faster and also conserve fuel and this is what this boat is targeted at", says LOMOcean design engineer, Loomes.
He adds that the advantage of having a narrow beam to length ratio is efficiency and with Mollymawk they have exceeded their own calculations. This was evident in the effortless manner the hull slips through the water.
Circa works closely with customers to fine-tune the interior layout of the boat, so Mollymawk is very bespoke. If you are going to spend long periods at sea, then you can afford to be a bit particular as to how you want your vessel configured and appointed. Once finalised, the interiors are designed and built to the highest standard using a variety of veneers, natural timbers or painted finishes. Mollymawk is in fact typical of a lot of previous passage makers that Circa have built, being unpainted, apart from the antifoul where a self-polishing copper bottom paint system is used. Being unpainted, you save weight, cost and it cuts way back on future maintenance. The hull deck and superstructure however have been finished to the highest standard. If you want a painted superyacht finish, Circa are happy to oblige.
A true passagemaker needs to have not only the right hull form to handle any sea state, it also needs range. Mollymawk has that in spades. Powered by twin Scania DI09 070M continuously rated at 250hp @ 1800 rpm, through ZFW320 transmissions, Mollymawk has a max speed of over 13.5 knots. Although during initial trials it has been recorded surfing in following seas in excess of 17 knots.
Mollymawk uses ZF Fixed pitch propellers to ISO484/2 requirements, guaranteeing the highest efficiency and excellent comfort when cruising. However, it is what it offers at cruising speeds that is more important. The boat readily maintains 11 knots in rough sea conditions and has a 4386nm range (more than a return trip to Australia from Auckland) with 10% reserve fuel. If you drop back to 10 knots then your range increases to around 5200nm (Auckland to West Coast USA) and if you want to go slow and meander along at 6.5 knots then you can expect more than 10,000nm.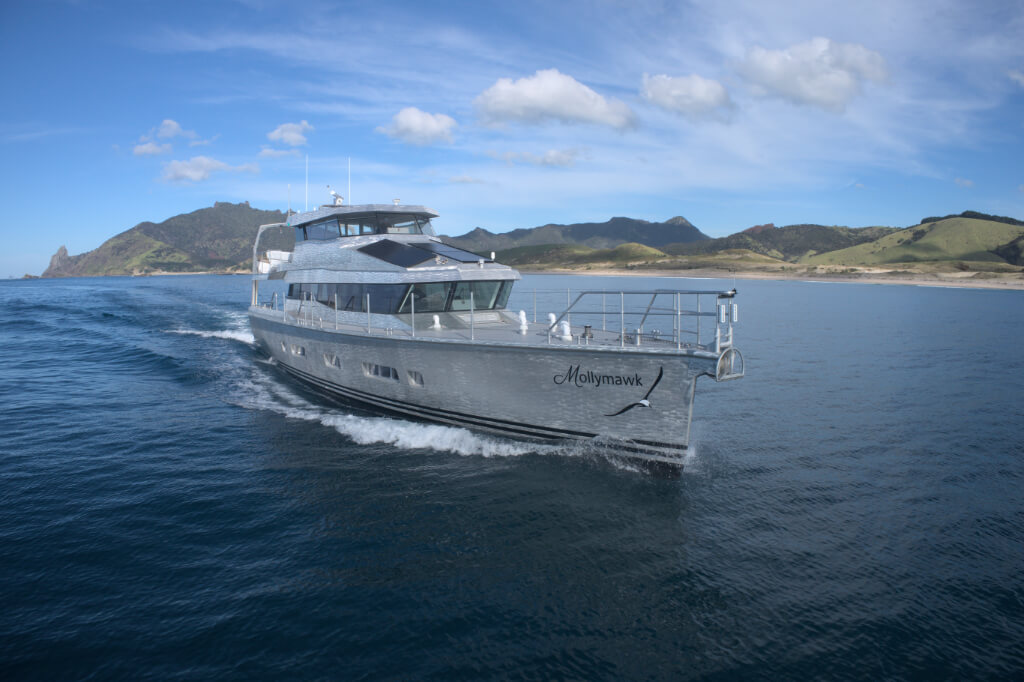 "These are exceptionally good fuel burn figures for this type of slender, light displacement passage maker, and much better than traditional trawler style passage makers. The stability curve is also class leading in both departure and arrival load conditions', says LOMOcean design engineer, Moltschaniwsky.
TOUGHNESS REDEFINED IN STYLE
The Circa 24 is based on a soft bilged hull form, not dissimilar to a sail boat and similar in concept to LOMOcean's recently launched SeaWolf.  Mollymawk measures 26.0m overall with a measured length of 23.6m, beam of 6.00m and draft of 1.70m. Displacement in heavy ship load is 70,000 kgs.
When it comes to the build and engineering of Mollymawk, Loomes gives full credit to Circa Marine. "Circa have done a fabulous job on the construction and also the technical systems. They are world leading and exemplify the high standards the yard sets for itself".
Built to Special Service Craft code for unlimited offshore operating limits, construction is 12mm alloy bottom plating with 8mm topsides and superstructure. There are five watertight bulkheads located at the forward and aft end of the forepeak, forward of the aft accommodations, and each side of the engine room.
All the windows are toughened safety glass of a thickness and strength to meet ISO offshore standards. Pyrotek fire proofing is installed under deck, and on bulkheads in addition to hull insulation to 300mm below the waterline. Fuel and water tanks are integral with the hull, forming a double bottom under all of the living area. There is a minimum of three water tanks and four fuel tanks. The single day tank in the engine room, is fed by either of two 230V AC geared fuel pumps and can be used to "polish" fuel, or transfer fuel between hull tanks for trim control. There are electric high pressure and flow pumps fitted fore and aft for sea water, anchor wash and fire fighting.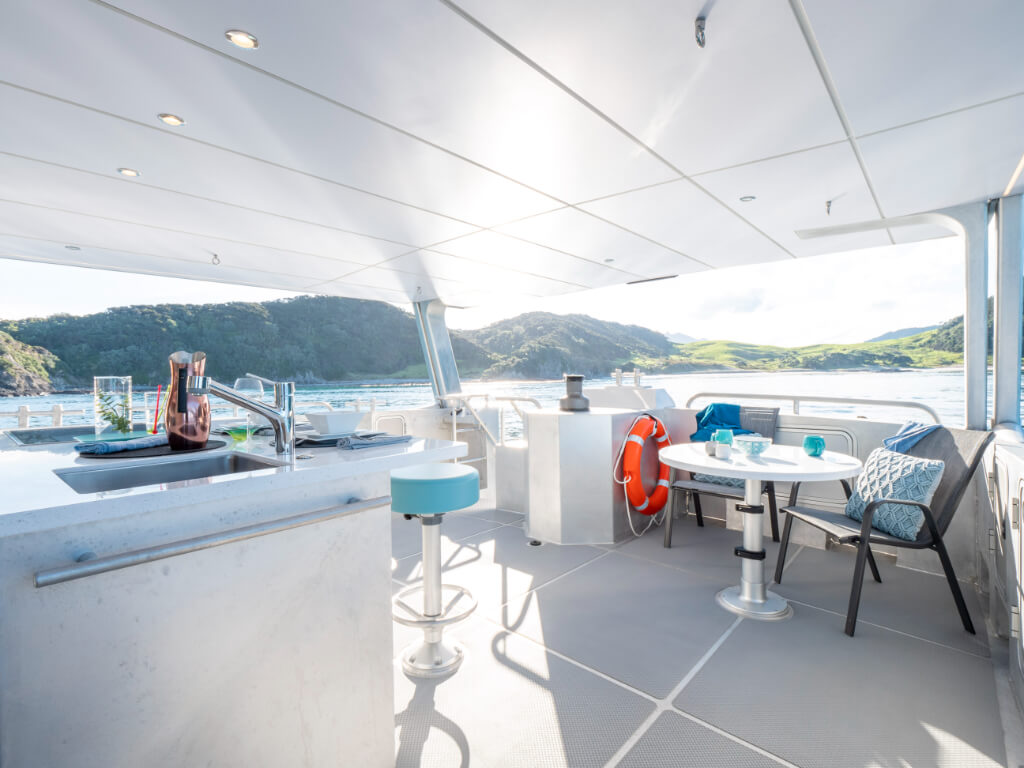 Mollymawk is equipped with 20kW, 50Hz generator, complete with sound shield and is double isolated from the main structure to minimise noise and vibration.
The motion control is controlled by 24V DC Humphree fins that minimises roll even in beam seas exceeding 2m significant wave height.  In zero speed mode, these fins can completely reverse to swim the boat against the anchor rode, instead of over it with traditional hydraulic fins.
Mollymawk is designed to be helmed via "fly-by-wire" control, using ZF Smart Command. SmartCommand controls, is a powerful control system which integrates the latest in CANbus (Controller Area Network) technology in a user-friendly control head. SmartCommand puts you in complete control, offering special features for docking or trolling There are two independent looks of a traditional superyacht, but as for the mechanical and technical aspects of the vessel there is nothing better.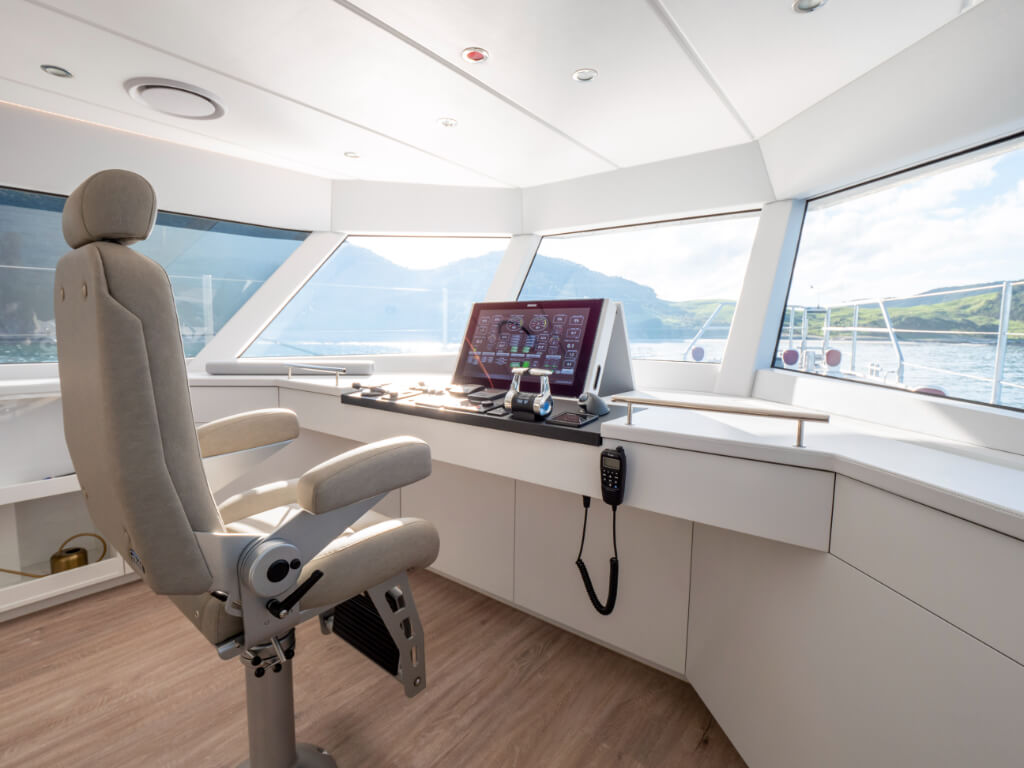 The boat is designed around the needs of a cruising couple, who will occasionally have guests on board, so there are only two cabins on this version, each with generous ensuite bathroom and plenty of space. Being a custom-layout, you can have more or less cabins, it just depends on your requirements.
The owner of Mollymawk's chose to have the master aft, with the guest VIP forward. Both cabins, while already being enormous, the white finishing decor accentuates the space even more. There is still space for two recliner lounges around the queen size island berth and the aft en-suite carries on the theme of spacious living. There is over 2m head height through the accommodation spaces.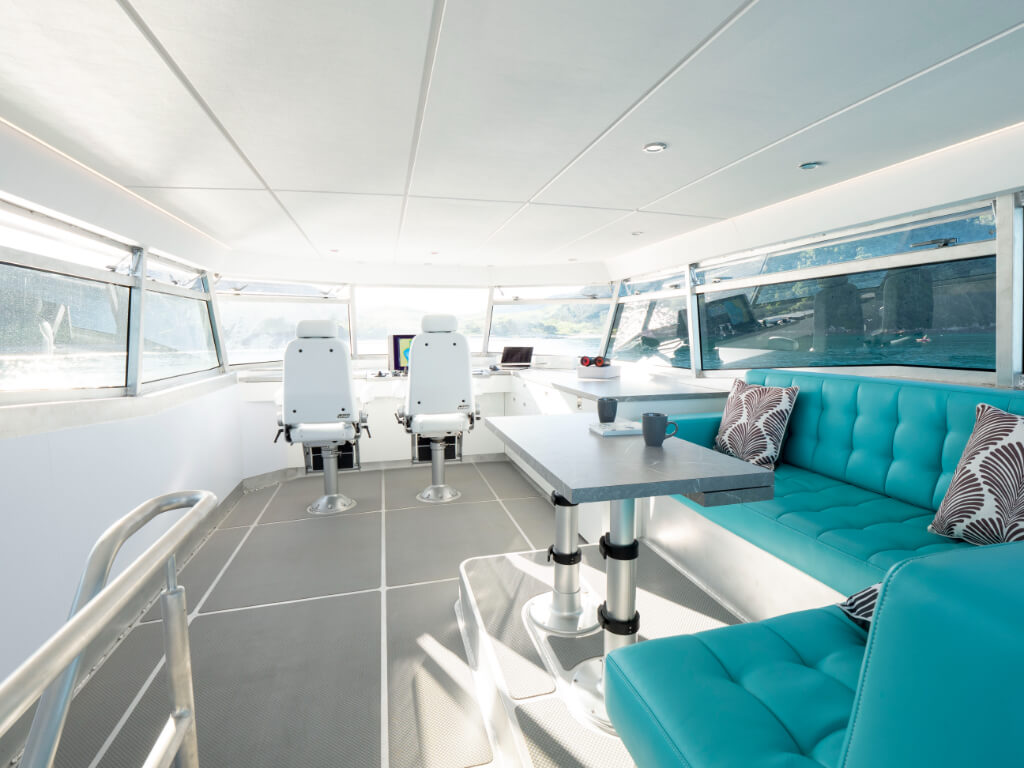 Forward in the master is a separate office space, and laundry area, which then leads through to the forward VIP. Like the master stateroom area, this could be designed with twin cabins and ensuites.
If you are going to spend some of your time in extremely hot or extremely cold climates then insulation is paramount. Circa Marine have gone a step further than most by incorporating Pyrotek thermal and acoustic insulation. All exposed structures have thermal insulation extending down to 100mm above the bilge DWL, meaning the owners can have the interior temp set at their optimum comfort level, no matter where in the world they are cruising.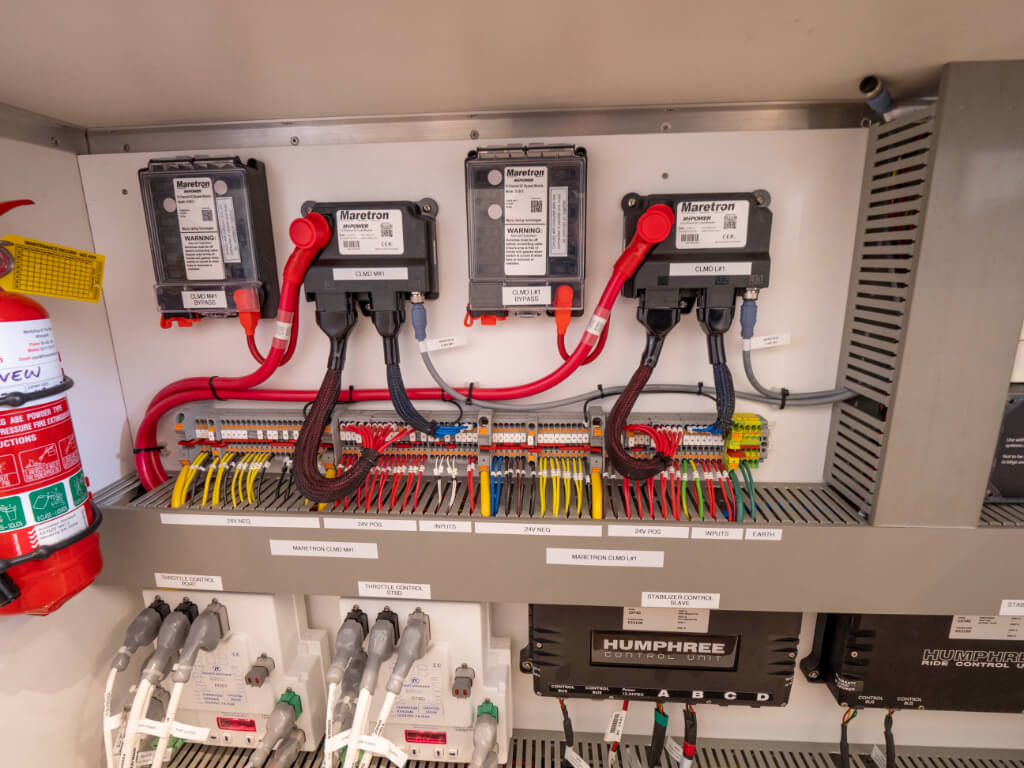 The main saloon of Mollymawk can be likened to a floating apartment. It is, like all spaces on the boat, vast. It has a modern contemporary feel with enough dark accents from fabrics and flooring to break from what could otherwise be a somewhat clinical appearance.
While this was the owner's choice for Mollymawk, Deo Juvante, the second Circa 24 will feature a much darker interior and an entirely different layout.
"We can give a customer anything they want from a contemporary functional look to a superyacht finish and we can adjust the layout and style to suit", says Circa Marine's Peter Barnard.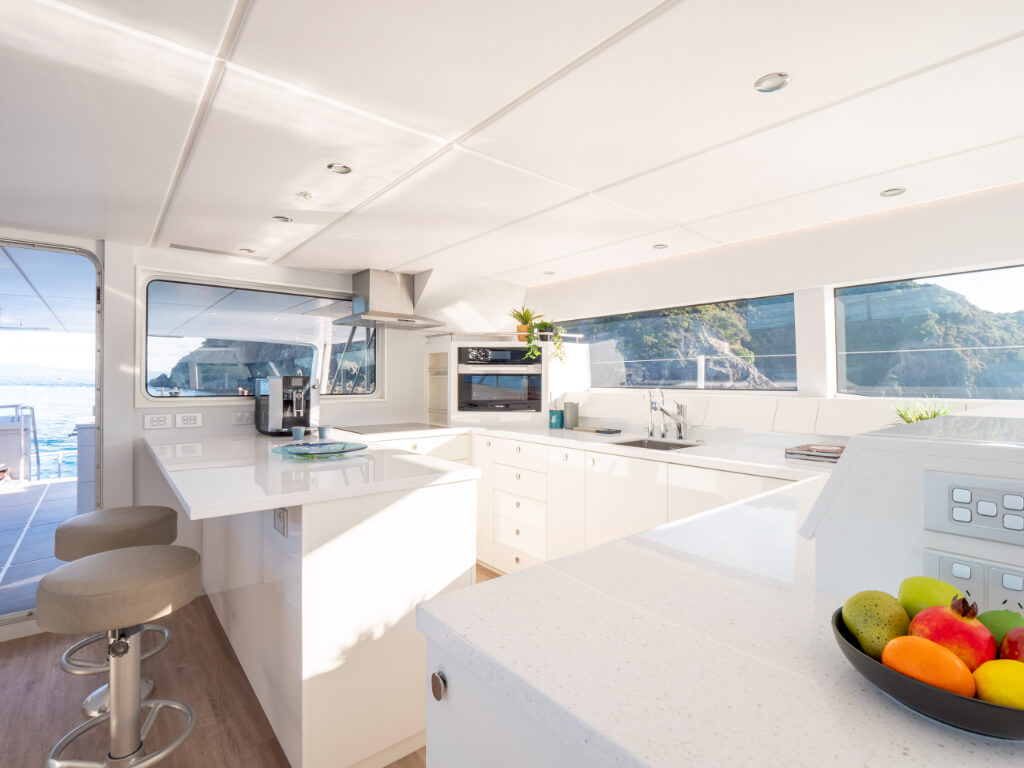 The U shape aft galley is impressive and is a prominent feature as you enter the saloon space. It features generous composite bench surfaces, copious storage and all Miele appliances. Opposite is a wetbar, with a L shape lounge on the port side forward, complete with a high/low table and a secondary helm forward. These are split by the staircase to the lower accommodation  area.
Centre of the lower aft deck is a large island entertainment centre complete with solid composite surface, three bar stools, and ceramic induction hob. The owner of Mollymawk chose to fit a central tow post and small table aft, but you can opt for a full wrap around lounger or a variety of seating styles. The entire space is covered by the upper deck plus there are drop down curtains available for added protection from the weather or maybe tropical insects. The upper deck provides a large outdoor space perfect for relaxing outdoors whilst underway.
Twin tenders stow on the roof overhang above with a custom davit that permits single handed launch and retrieve. Forward is the flybridge complete with large lounger to starboard, primary helm station forward, with internal access stairs from the aft deck. In Circa 24 #2, the staircase will be internal from the saloon.
As you would expect from a boat built to take on the world's oceans, the electronics package is extensive and the decision of the owner. Mollymawk is equipped with a Maretron complete vessel monitoring and control system, which is displayed through a Simrad 24" monitor.  The electronics package and systems were designed and selected to provide the modern functionality and performance whilst providing intuitive ease of use for the operator.
The owner's choice was to keep the upper helm reasonably clean as he regarded this as a work space and so everything has been laid out in a functional and thought out position. If you want to add your touch of bling, then again, Circa can do just about anything you want.
Deo Juvante, while using the same template as Mollymawk, has been considerably customised, while still maintaining the overall thrust of the design. The boat will be powered by a pair of 2 x 512 hp MAN LE 424 engines. The fuel capacity has been increased to 14500 litres to still be able to offer the range and predictions are for a top speed of 16 knots and best cruise around 11-12 knots. The range at 11 knots with 10% reserve will be 4350nm.  The fuel capacity was increased for better autonomy, as the larger MAN engines do not burn any more fuel around 11 knots than the Scanias.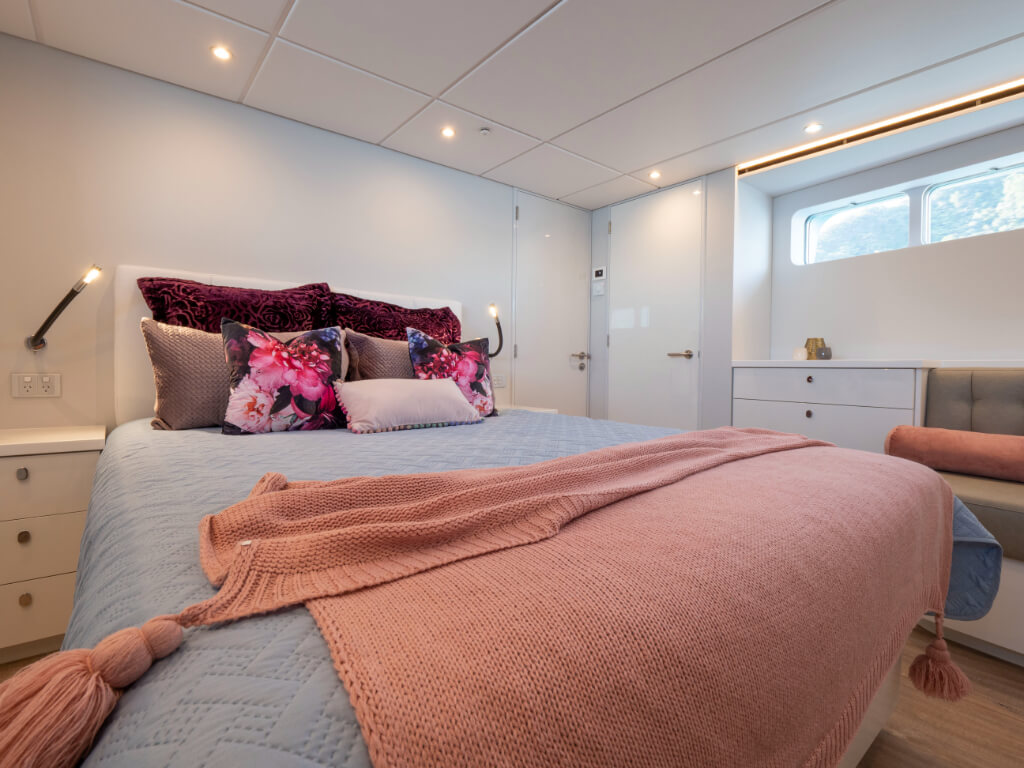 Circa's plans are to continue developing new models for their long range, fast passagemaker range and Mollymawk is just the first of many. These include designs from 20m to 35m embracing the same concept of a long range, efficient and comfortable vessel.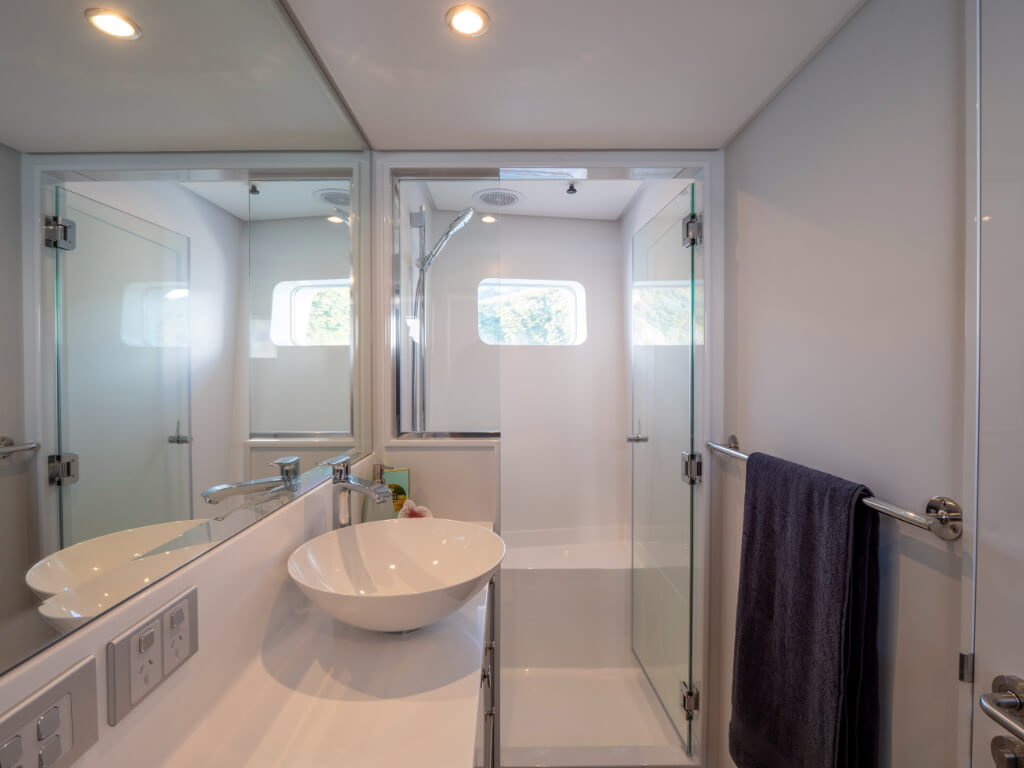 Name: Mollymawk               
Builder: Circa Marine
Designer: Lockean Marine
Type: Expedition Motor Yacht
Construction: Aluminium
Displacement (Heavy): 61800 kg
LOA: 26.0m
Measured Length: 23.6m
Beam: 5.90m
Draft: 1.70m
Power: 2 x Scania DI 090 70m @250hp.
Propeller: ZF W320
Controls: ZF Smart Command   
Max Speed: 12.5 knots
Cruise Speed: 11.0 knots
Electronics: Simrad
Engine controls: Mathers
Bow Thruster: Sidepower
Anchor Winch: Maxwell VWC4000
Stabiliser: Humphree 24V
Fuel Capacity: 11500 litres
Water Capacity: 72500 litres
FUEL & PERFORMANCE DATA
RPM
Knots
L/h
L/NM
Range
1000
8.7
13.27
1.52
6809
1100
9.5
16.33
1.72
6006
1200
10.2
19.89
1.96
5281
1300
11.1
26.2
2.36
4386
1400
11.8
33.21
2.81
3683
1500
12.3
39.23
3.2
3234
1800
13.6
74.51
        5.490           1886