Theres nothing more invigorating for me, than cruising out of a harbour on a sunny day, with a backdrop of clear blue sea and sky. And, Ive done plenty of that over the years, having owned boats of numerous styles and sizes for more than a couple of decades. Some journeys are memorable for the high-jinks, fun and laughter of crew, some for the narrowly avoided disasters, some for the rough ride, and some for the endless summer days. But, recently, I needed more of a challenge in my love affair with the sea. I wanted to face my fears and push my limits as a skipper. I wanted to experience the demands of some of the roughest transits in the world, in some of its remotest places.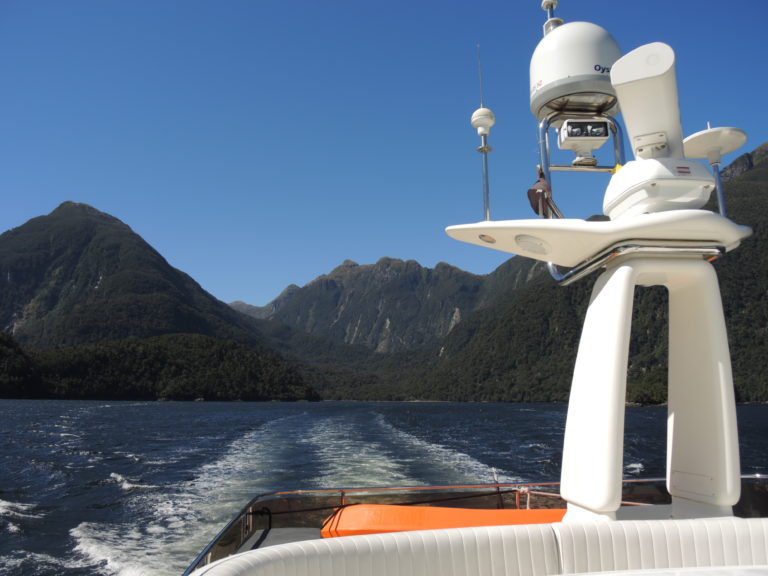 Circumnavigating the South Island and exploring Fiordland, like Cook did in the Endeavour, was the adventure I craved – albeit in a little more comfort! I bought my Princess 65 motor launch in the South of France three-and-a-half years ago and, prior to shipping it back to New Zealand, took it for a cruise in the Mediterranean. Its the biggest boat Ive ever owned, and my first experience of parking was in Monaco when the Grand Prix was in full swing. Nudging in between superyachts, to squeeze into our designated berth, was one of those sweaty-palm moments Ill never forget.
But, I digress, that first cruise in the Med saw us caught by the Mistral, that strong, cool, north-westerly wind that blows from Southern France into the Gulf of Lion in the northern Mediterranean. We were heading from Monaco to Corsica some 50 nautical miles off shore, well out of land sight, when it struck. We were thrown around by a short, steep chop of about 3-4 metres. It was uncomfortable, and a little frightening for the crew (they have some famously exaggerated stories to tell over a glass of wine), but it taught me what the Princess could handle and gave me confidence in it as a very sea-worthy, stable, strong, and powerful boat. Cruising from Havelock to Tasman, down the West Coast and into Fiordland, then across to Stewart Island, around to Otago, then Akaroa and back to home base in Havelock would be a challenge, but being careful with the weather and being well prepared, I felt confident enough to give it a go! Still, best laid plans can go awry.
A piece of critical equipment fails under strain, an engine fault develops, electronics miss a beat… I had to consider every foreseeable contingency and have a backup plan. I created a folder with all relevant information from routes, prevailing winds, currents and fuel consumption to an inventory of all spare parts, manuals and radio contacts. I spoke with anyone and everyone who had knowledge of cruising in various areas, particularly down the West Coast, Fiordland and Stewart Island.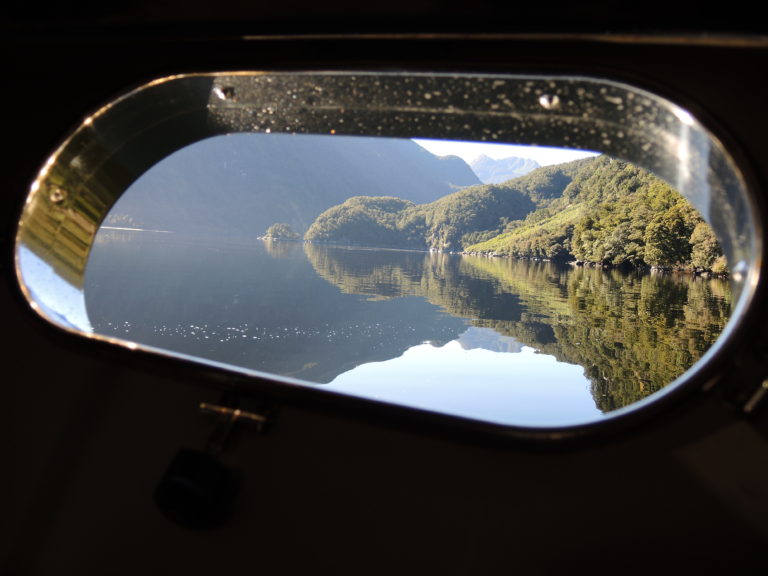 It took months of planning, and I spoke with some of NZs saltiest sailors and fishermen who are alive with knowledge of the sea and its moods in the south. With a weather window arriving right on the time we had hoped to depart, we set off from Havelock on 12 February, 2016. We topped up the water, double checked all systems and sounded the horn as we cruised out with a light northerly wind, clear skies and a flat sea. However, there was a lot of debris in the water following rain and high tides. We had a brief altercation with a log off Admiralty Bay, luckily it did no damage but it was a reminder to expect the unexpected. Our first night was spent anchored in Mutton Cove, just south of Separation Pont in Golden Bay. It was a beautiful, calm evening and after a swim in the clear, tepid water, a venison pie and a nightcap, we settled for the night. We didn't foresee that we would be driven from the area by inconsiderate, noisy neighbours! Their party went on all night. None of us could sleep and so at 5am we upped anchor and headed towards Westport. Our neighbours didn't care if we stayed or left, they were baby seals crying for their mothers who were out hunting for food. I had spoken to the harbourmaster at Westport after reading many scary reports, and watching You Tube clips of treacherous crossings of its infamous bar.
Shipwrecks and near breeching are common there, and I have to admit I returning to Milford. Not surprisingly, the crew became strangely quiet during this leg, and my grip on the wheel tightened somewhat. This was the first time since the Mediterranean that we had experienced such rough sea conditions , but as we continued south our nerves settled and the boat performed beautifully. We were, however, all relieved to arrive in Charles Sound and we found a lovely place to anchor in a small cove behind Elanor Island. The sea in Charles Sound was flat and the weather good – such a contrast to the cruise south. A couple of idyllic days were spent exploring this area of cliffs and waterfalls, islands and forests. We went diving and, surprisingly, once through the tea coloured fresh water, we were swimming in crystal clear ocean looking up to the sun through what seemed like a sparkling light brown topaz.
Hunting, fishing, sunbathing and a few G&Ts (actually lots!) were all included in those stress-free calm days. With water-supplies low, and a couple of the waterfall water hoses inoperable, we needed to head to the semi-civilisation of Doubtful Sound. The sea was calm and after being joined by a full escort of dolphins, and a fantastic cruise through Thompson Sound, past Seymour Island, we arrived in Deep Bay. With water tanks full, the next few days were spent exploring this untouched, remote part of the world. No Wi-Fi, no cell-phone coverage and no modern distractions, except for a good book when one tired from the input of so much overwhelming natural beauty. Eventually we had to return to civilisation and we all helicoptered out from Doubtful Sound to Te Anau and on to our homes, leaving the boat well anchored thanks to the help and knowledge of the locals. We returned to Doubtful Sound on 9 April, along with our next crew, after travelling across the foggy Wilmot Pass. This time, arriving to a very ship-shape Capraia. Heavy rain and a sleepless, stormy night dampened the first couple of days but cruising into Dusky Sounds after nosing our bow into a massive waterfall on Archeron Passage was invigorating. We were in famous Captain Cook territory – where he spent two months in 1773 recovering and repairing the Endeavour after exploring Antarctic waters. Cook charted the Sound, set up a workshop and an observatory and, allegedly, brewed NZs first beer.
Narrow channels, rocks, reefs, and a plethora of little islands all made boating precarious, and we often mused on how those early sailors managed without all of the modern navigating tools. Like those who came before us, we traded –for us it was wine for crayfish from a passing fishing boat, which we enjoyed with our guests who after a weeks exploration and discovery were flying out by helicopter the next morning, before another crew arrived.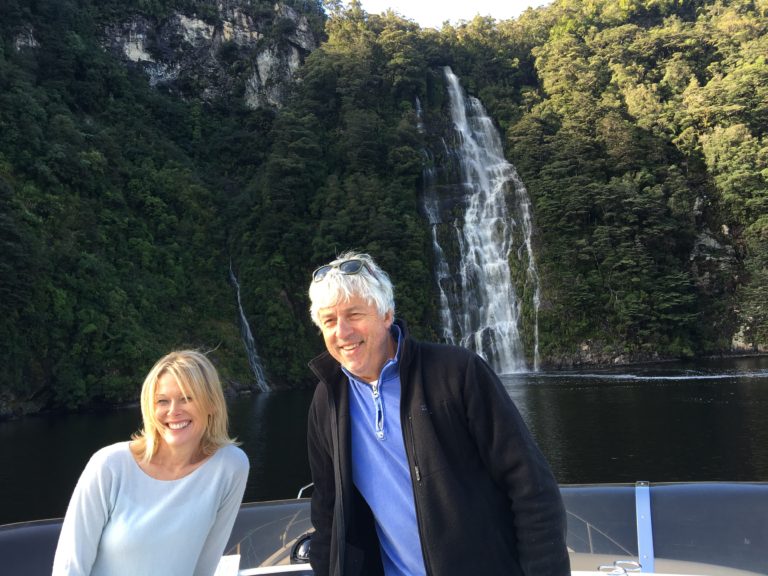 Unfortunately, our new crew were met with heavy rain, incessant sand-flies and more than our fair share of wind, which kept us holed up for a time. We took the opportunity to do odd jobs on the boat and give it a good clean inside. On Sunday, 17 April, we finally awoke to a big blue sky and sun. We headed off to explore the remains of Henrys House on Pigeon Island. Henry was the caretaker of NZs first island wildlife sanctuary (1894) and we found the remains of his house and the Kakapo and Kiwi enclosure where he temporarily kept birds, before relocating them to safety on Resolution Island. This part of New Zealand is so full of history and intrigue and hardship and friendships, that I cannot do it justice in this small story. Suffice to say, that we met amazing, adventurous people undertaking similar journeys and were welcomed by fishermen and locals of the area. We did everything from dancing on the deck in the moonlight, to banqueting at Preservation Lodge in Kisbee, to getting blown off our feet at Puysegur Lighthouse. The only real challenge we had on this leg was finding water – which sounds ironic given the rainfall – but, with a brave crewman who scaled a rock face, coupled with his ingenuity, a hose and a handy waterfall, we were soon showering again. With time moving on, and the draw back to civilisation and the necessity of work calling, we had to move, Stewart Island being the next port of call. There was a small weather window coming, before a week long forecast of gale force winds, so we decided to bolt.
When we nosed out past Puysegur Point we were met with a 4m swell and a confused sea near the lighthouse, which was uncomfortable but expected. Leaving Puysegur the wind was at around 25 knots westerly with a large breaking sea on the nose (so much for a recently cleaned boat), and about 3 miles off shore we turned left and increased speed gradually to 20 knots. With a following swell of 3-5 metres, the bow went through blue water only twice, and despite the strengthening westerly we made unbelievable time to arrive in Oban only four hours later! 
After weeks on the boat, Stewart Island was an oasis – the quaint, tidy little town and famous pub lured us into village life and we had a wonderful time touring the island and making new friends. After a few days R&R and yet another change of crew, our wives flew home from Stewart Island and the two remaining crew and I set off across Foveaux Straight to Bluff. On arrival, we refuelled and watered and prepared for the next day leg to Dunedin. Leaving Bluff at 5amit was still very dark, so we navigated out of the harbour by radar and GPS. Once southwest of Dog Island we turned left towards Long Point on a calm but overcast day. As we neared Dunedin we got permission from the Otago Harbour control to enter, but somehow we missed a bit of vital information, that a huge freighter was coming out the channel at the same time! Its captain gave us a long sound on his horn (it was a proper telling off!) and squeezed us tight to the land. Still, that was the only glitch in this leg of our journey so all was going well. After catching up with family, refuelling and shopping, we set off for Akaroa on 3 May.
A beautiful clear day and flat sea saw us cruising along at speed when, far off-shore, in what seemed like the middle of the ocean, we came across a friends fishing boat. The fishermen gave us fresh fish and some friendly banter; you certainly couldnt starve circumnavigating the South Island. We arrived in Akaroa on the same day at 4pm and went out for dinner with family and friends. With a couple of new crew joining us, we fuelled up again, finished off a few odd jobs and left Akaroa for the last leg back to Havelock.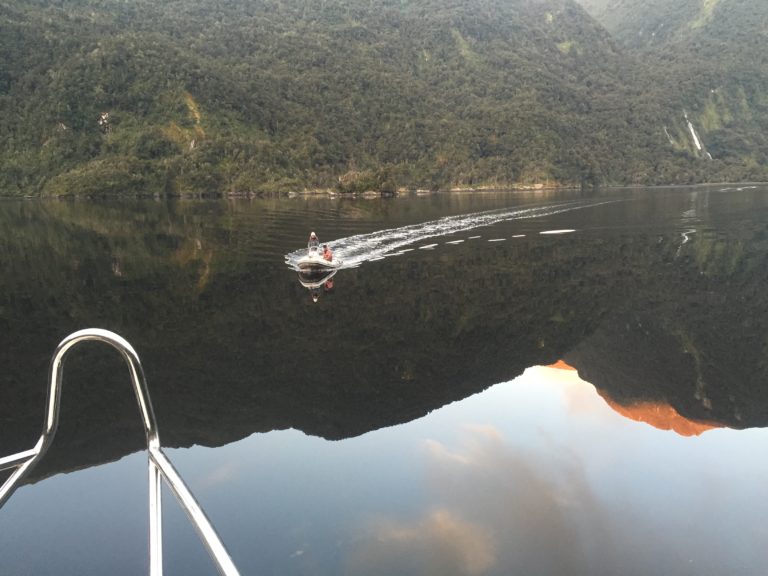 Leaving around 5pm on May 5, we cruised through the night at 9 knots with the crew taking shifts. The sea was lumpy and uncomfortable so day break was a welcome sight. Despite the sea conditions we had made good progress and we were just past Cape Campbell by 7am. We increased speed to 20 knots, passed The Brothers then Cape Jackson with flat sea and a beautiful day. It was a very special and surreal feeling entering Perlorus Sound. I was relieved, and quite emotional, to be so close to completing the circumnavigation I had dreamed of and prepared so meticulously for. We arrived at Havelock at 3pm and I backed Capraia into her berth for the first time since 12 February. We tied up with many whoop, whoops and yee hars!and toasted the voyage with a very large, cold glass of Marlborough Savy – or three! What a feeling – happy, proud, excited, stunned, sad in some respects that it was over, but with a fantastic feeling of accomplishment. I had ticked the box, beaten my fears and self-doubt. I had grown and matured as a skipper. I felt more capable and confident but, more than ever, respectful of Mother Nature. Looking back, I have the utmost regard for all of the crew who joined me on this circumnavigation. Everyone contributed in every way possible, and all played a vital part in its success. This was a truly amazing adventure that I will never forget!
By Graeme Rose