The advert read: The world's finest power boat – for those people in the position to demand it. If there is one classic boat that defines Kiwi trailer boating at its very best, it has to be the Clipper 23/24. A boat that in its day was the most expensive trailer boat on the market and people didn't mind paying for it.
Undoubtedly the most luxurious and outstanding boat in its class, the Clipper 24 epitomised the elite end of trailer boating. The Tony Mason designed Clipper 24 was a fast cruiser, a true weekender in every sense and the layout was sumptuous by the standards of the day.
Then as now, quality and class don't come cheaply and in 1977, a hull alone was $20,000 and a complete boat package would set you back around $30,000. In that same year a Cresta Craft V19, Fi Glass Viscount or Morgan 6.3 could be put on the water fully spec'd for around $13,000.
Plus as it had a towing weight of 2500-2700 kgs you needed a reasonably large car to tow it. Remembering this was pre SUVs and crew cab utes, so a popular choice was the Mk10, later the XJ6 Jaguar or Chev Impala. But what you go was the quintessential luxury trailer boat that was a league above everything else.
Owning a Clipper was a status symbol and many well-known Kiwis had one in their driveway. The Clipper looked different to everything else and it was one of the first true trailerable weekenders
The Clipper was in a class of its own and it stayed there for many years until the advent of the larger all fibreglass production cruisers such as the early Marklines. When the last of the Clipper 24s was built by Mason Marine in Auckland in 1980, there were 103 on the water.
Built in GRP, the first 'glass' Clipper was launched in 1967. Prior to that, apart from the hull, the cabin tops, decks and coamings were all timber and ply. With the advent of the GRP version, production increased dramatically from the North Shore factory, but not at the expense of the quality and high finish that were associated with the boat.
No expense was spared to make sure that the highest standards were maintained, from the hull laminate to the many coats of varnish on the mahogany bulkheads.
Clipper 24's were based on a round bilge 24 degree deep V hull that gave a soft ride and nice re-entry in a seaway.
Power options were many, from sterndrive, twin outboard and even jet units. V8 sterndrives were the most popular, but when the V6 outboard hit the market the opportunity to provide even more cockpit space was available. Very few outboard versions were built, however, as they had to be twin-rigs to get sufficient weight to keep the hull deep enough in the water to be stable at rest. Besides, the maximum shaft length for an outboard in those days was 20 inches, so a single outboard was out of the question as the powerhead would have been too close to the water.
While most of the early Chrysler and Volvo petrol sterndrives would by now be well past their used-by date, they proved ideal at the time. A 360ci Chrysler/Volvo 280 leg was right for 40mph and twin Volvo 130s gave a top speed of around 35mph.
Today there is a resurgence of interest in the Clipper and as quick as they appear on Trade Me, they seem to get sold. Many are lovingly restored and brought back to their original finery and it is not uncommon to hear that the new owners restrict their Clipper's to fresh water such as Lake Taupo, and the South Island lakes around Wanaka and Queenstown.
One such Clipper lover is Greg Dutton of Hamilton who has not one but two Clippers, a Clipper 24 and a far rarer Clipper 26. While the 26 is used in fresh and saltwater destinations, the Clipper 24 spends its life in the lakes around Taupo, Rotorua and Karapiro.
In our March 2014 edition of Pacific PowerBoat, we ran a feature on Greg's Clipper 24, Benedictine, so it was appropriate that we returned to Lake Karapiro to check out his recently restored Clipper 26SR, Fifty Shades.
Let's Go Racing.
The first Clipper 26SR was built in 1971 for powerboat racer, Robin Weston-Webb and named Clipper Commander. Powered initially with triple V4 Johnson outboards it looked the part but continually retired from races with the outside lower units destroyed.
The 26SR featured the same rounded chine styling of the Clipper 24 but was a completely different hull. The deadrise was increased from 23 deg to 24 deg, the beam decreased from 8ft to 7ft and the moulded hull length went from 24ft 6in to 26ft.
Designed primarily as an offshore race boat, the 26SR was suitable for both twin sterndrive or twin/triple outboard power. Built only to special order, the 26SR was the only stock fibreglass racing/sports hull of its size in the country. It did however have a timber deck.
Clipper Commander was the cedar plug or all the Clipper 26SRs that followed and surprisingly there were only ever seven manufacturers.
Clipper Commander is still around and is now powered by twin Yamaha V6 outboards. Until recently it was often seen in poker runs and classic boat races.
The second SR26 built was for Max Johnson in 1973, who bolted triple Mercury 150s (the most powerful you could buy) on his bright red boat he called Clipper Comsec. This was one of the most successful race boats of its time and I had the chance to have a run in it on Auckland Harbour prior to an Auckland race. Low deckline and big bolster seats meant from the waist up you were exposed, something that you wouldn't even contemplate today. Top speed was around 70-73 mph.
After going through a few owners and racing for a while as Tuxedo Junction and Clipper Cosmos with twin outboards, it has been fully restored and given a fantastic new cabin line with luxury appointments as a day cruiser and weekender. Back under the Clipper Comsec name and now in white livery it resides in Tauranga with a couple of Yamaha 200s on the transom.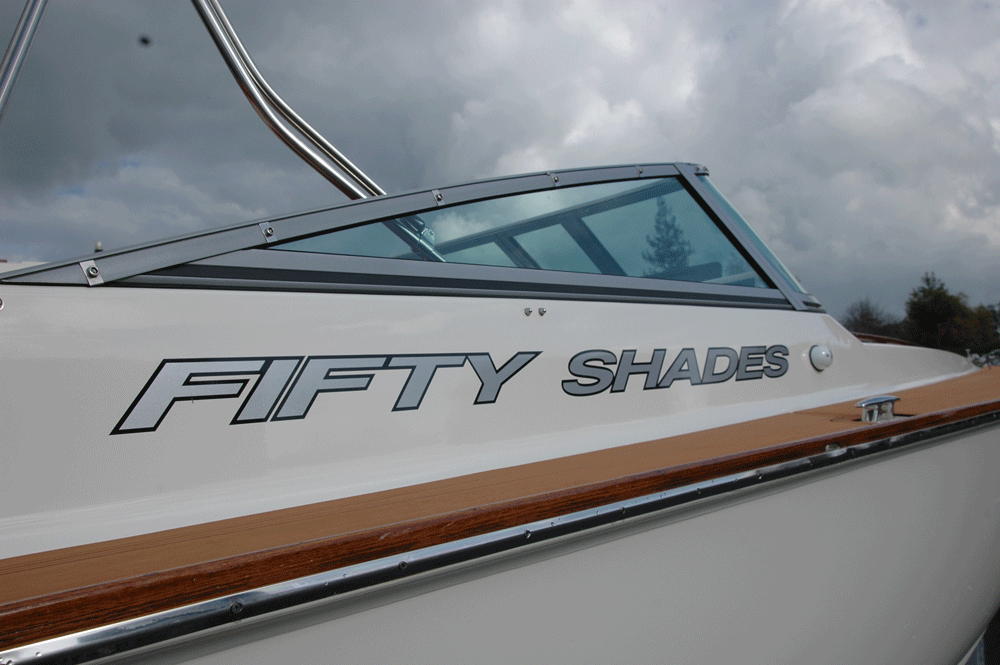 In December 1974, Tom and Horace Manville took delivery of 'Clipper Black Jack' the third SR26 built. Powered firstly by twin Volvo inline six-cylinder petrol engine's through Volvo 270 Drive's and then later V8 small block Fords. After a successful racing career, the boat was unfortunately destroyed in a factory fire in 1977.
Morrie Begley purchased Hull #4 in early 1975, who also went down the twin Volvo power path. Racing as 'Çlipper Go Go' in B Class then as 'Miss Trailways' also in B Class it was repowered with twin Ford V8s (ex Manville Brother's BlackJack) and raced in A Class as 'Miss Lees' and finally as 'Clipper Crichton Ford' winning the NZ Off Shore Championship in 78/79 and 79/80.
Morrie was a veteran racer and he raced hard and was one of the most helpful guys you could meet. I still remember as a young risk-taking journalist, being tied to the foredeck and taking a pic for the cover of a 1980 Yachting and Powerboating magazine, as Maurie roared off down the harbour.
Hull #5 was probably the most unusual as it was a very cut down SR26 hull that raced as Super Cryzol by Stan Ash. Power was a single Mercury outboard and it ran with some success in C Class. Not sure what happened to the boat or where it is now.
While the first five SR26s all ended up on the offshore racing circuit, the last two were built for firstly John Spencer in 1980 (Man O War/ 2 x BMW sterndrives) and in 1983 Peter Spencer had boatbuilder Pete Sowman produce the last ever SR26 and named it Jaws. By this time Mason Marine had closed, but the mould was still around and in great shape to create another hull.  Original power was a pair of Yamaha Precision Blend 140s.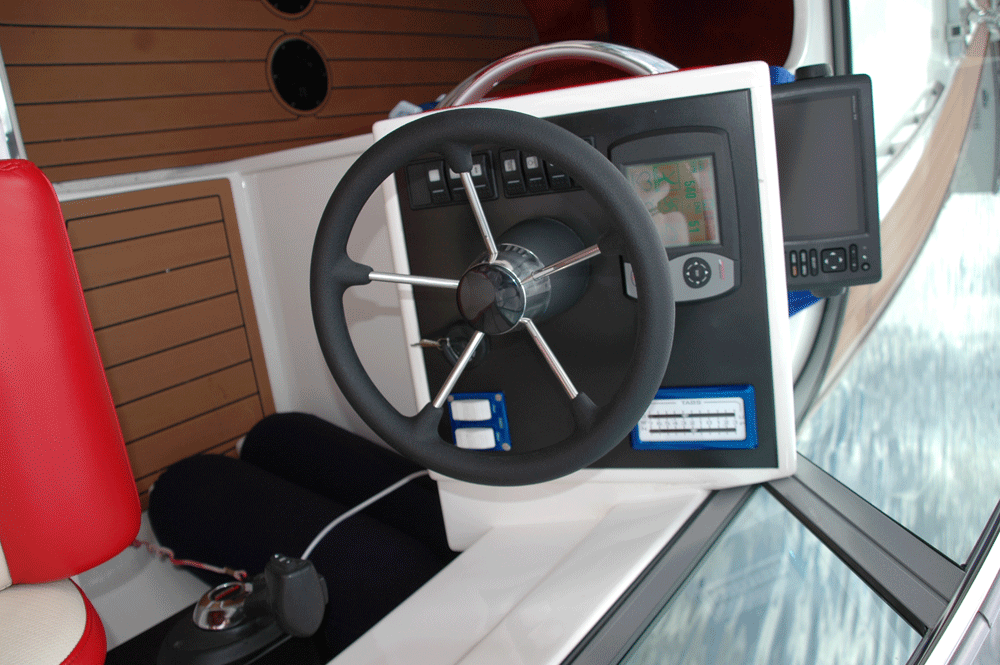 This is the SR26 that Greg Dutton has restored and repowered with a Mercury 275. Fifty Shades is a beast. It has a top speed of around ???? mph and like all SR26s loves running hard in the rough water. The smooth mirror water of Lake Karapiro certainly didn't show the boat in the best form, but what a pleasant and easy boat to drive.
Greg tossed in some bright red fabrics inside and out, gave everything a spruce up and like his Clipper 23 has a superb multi-axle trailer underneath, built by his company DMW Trailers. Balex makes retrieval and launching so easy as do the multi rollers. All Mason Marine Clippers that came from the factory were on specially padded trailers specifically designed by Tony Mason. 
The SR26 certainly belongs in the same classic niche as the Clipper 24 and it is great to see that there are still five examples still being used and enjoyed.
1951 Tony and his old Airforce buddy Cliff Sutton started Sutton Mason Ltd selling house hold detergent then a year later they turned to boat building with Tony's new Marlin series of runabout's from their factory in Stoddard Rd Mt Roskill Auckland.
The very first Marlin ever built was a 17 footer powered by twin Ford 10 engine's and was launched in 1952. Over the next seven year Marlin powerboats were produced in great numbers and became one of the better selling trailer boats of the post war era. In 1957 Tony sold his interest in Sutton Mason Ltd and went back into the Airforce for a short time before forming Mason Marine Clipper's in late 1959.
It is a little known fact that Mason Marine started in mid 1959 in Mt Eden just down from the water reservoir top of Symonds St on Mt Eden Rd very handy to Henderson & Pollard Sawmill. Tony was waiting for the Auckland Harbour Bridge to open so he could move to Takapuna and open his own factory. In 1960 the first Clipper  23 to come out of the new Wairau Road factory was Geo.
Geo she was built for Dr C.A.Pittar of Auckland for cruising and fishing throughout the Hauraki Gulf. It was a standard small window Clipper 23ft powered by the Graymarine Fireball V8 rated at 188hp running through a Warner Velvet Drive Hydraulic gearbox driving direct to a Federal 14×14 right-hand three bladed propeller. Constructed of 1 1/2 x 5/8 Cedar strip planked edge glued and nailed over triple laminated kauri ribs at 6 inch centres. The planks had convex and concave edges to avoid bevelling and were alternately through fastened and skew nailed at every rib. The whole shell was covered with an extra thick skin of grp.
However, it wasn't too many years later that fibreglass took a hold in boat building and the first 'glass' Clipper 24 was produced in 1967.