This summer, the first of 26 new vessels to be added to Coastguard New Zealand's fleet has been delivered to Coastguard Great Barrier.
Thanks to a unique partnership with Lotto NZ and Emirates Team New Zealand – 100% funded by a $9.8 million lottery grant made possible by the millions of Kiwis who play Lotto NZ games each year.

Used initially as chase boats during this year's America's Cup, the boats have been refitted to meet the specific demands of Coastguard service and rebranded for Coastguard units across the country that had been identified as having ageing vessels and limited capacity to fundraise.
Over the coming months, 18 vessels customised to the specific demands of the areas they patrol will be delivered to Coastguard units from Houhora in the north to Dunedin in the south. Two vessels will be retained as training boats for centralised crew-training requirements, with another two on standby to support units as and when required. Projects over the coming 12-24 months will see a further four vessels delivered to other units with more bespoke needs.
Great Barrier's new Coastguard Rescue Vessel (CRV) 'Waitoa Barrier Rescue' is a 12.5m Rayglass Protector featuring an elevated cabin and powered by twin 350hp Mercury outboard engines. Capable of continuous operations at speeds up to 40 knots, this high-speed rescue vessel is well equipped to enable the team at Coastguard Great Barrier to service the boating public around the island and beyond.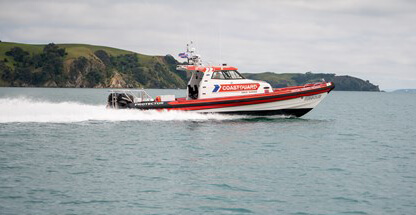 Coastguard New Zealand Chief Executive, Callum Gillespie, says the new CRVs will enable volunteers to continue their life-saving work in their communities.
"It's fantastic to finally start to deliver the 4UNZ fleet to communities around New Zealand – with Great Barrier being a well-deserving unit to start. Great Barrier's current vessel is from the 2000 America's Cup, so this community is well overdue an upgrade – like many Coastguard units across Aotearoa. This small crew might serve a small community, but surrounded by water, the unit needs a vessel with speed, capability and endurance to support people across the Hauraki Gulf," he said.