Barry Thompson was on the Gold Coast recently and took a Cobalt CS22 for a run across to South Stradbroke Island and the Couran Cove resort. While Cobalt may describe their Gateway Series, – of which the CS22 is one – as the perfect introduction to the brand and their entry-level models, they are a whole lot more.
The only instruction from Cobalt importer Brett Thurley, was don't hit 'Australia'. Anyone who has boated around the shifting sands of The Broadwater will know what I mean. Fortunately I managed to negotiate the long trip at 6 knots down the Coomera River and then across to Stradbroke Island without incident and returned the boat untouched.
The CS22 is one of 20 bowriders in the Cobalt range and depending on the model they are targeted at specific sectors of the market. While they are predominantly sterndrive powered they also offer a few outboard models. If you are seriously into your water sports then they have developed the WSS (Water Sports Series) for wakeboarders and the WSS Surf for the growing sport of wake surfing.
The bowrider market in New Zealand is not strong and while there have been production bowriders for almost as long as grp boats have existed, they have never really been mainstream.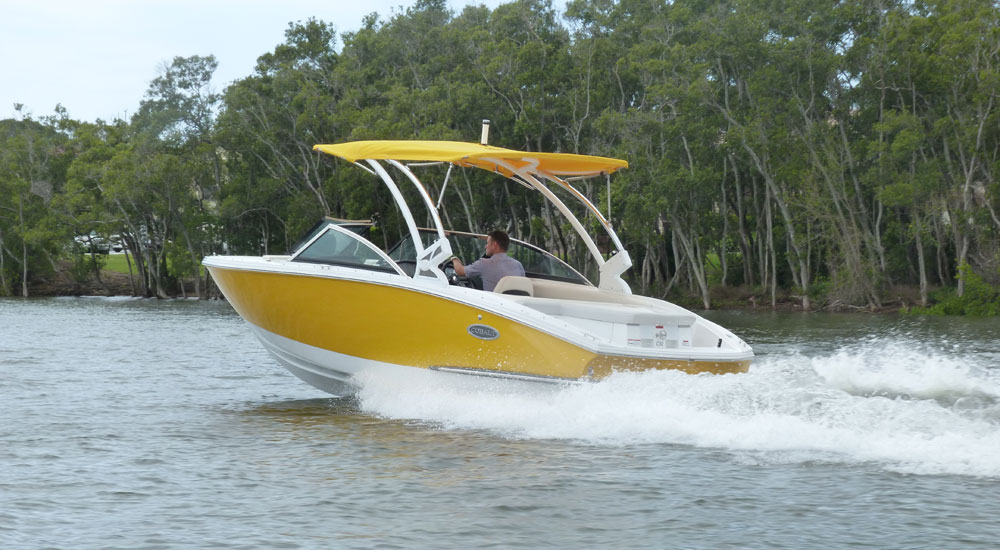 Kiwi boat manufacturers like to run with the better selling cabin and hardtop models and so it's no surprise that there are very few locally built bowriders. There are exceptions from the likes of Buccaneer and Tristram, who have both put a Kiwi twist into their models, with as much emphasis on fishing, as towing water toys. But in the main if you want a bowrider and don't want rod holders, fish storage or a bait board, then it has always been the American boats that are the go to brands.
Built in Neodesha, Kansas, Cobalt is regarded as one of the leading builders in the US and in their own words they describe themselves as boat fanatics; fanatical about reliable innovation, design, quality and detailing. And it's that fanaticism that sets them apart from competitive brands.
One of those Cobalt boat fanatics is Patrick Martell who runs Cobalt Boats Queensland out of Gold Coast City Marina. Patrick says for years he has been selling a wide variety of boat brands, and the main opposition he always came up against was Cobalt. So now running the sales division for Cobalt Boats Queensland, has a ring of … if you can't beat them, join them.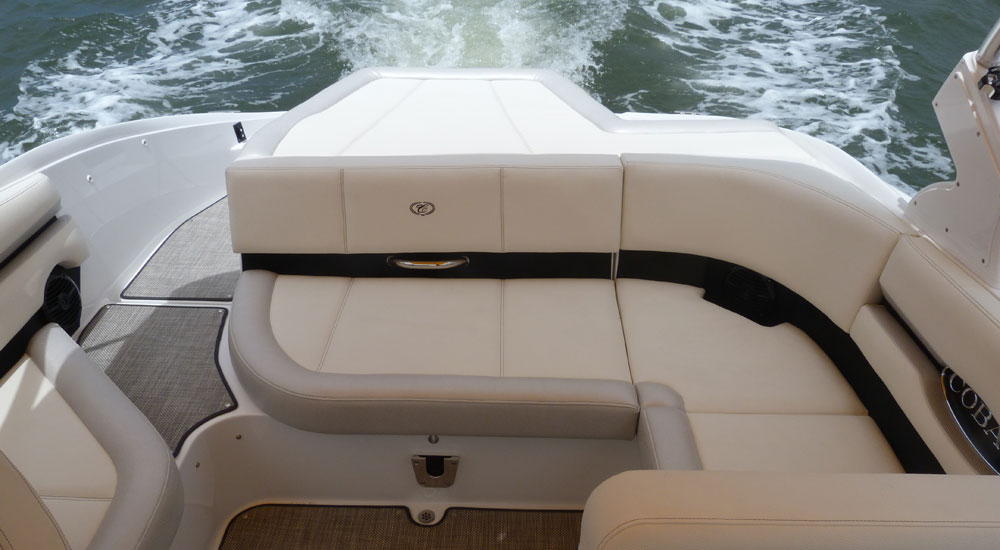 In Queensland and also Victoria for over 12 months, Patrick says that the brand has been extremely well accepted with good sales. He also added that while they don't have a dealer in New Zealand -as yet- they have had a number of enquires and are confident of selling their first Cobalt to a Kiwi soon.
The CS22 is a slightly smaller package of the popular CS23 and while the layouts are very similar, the CS23 has dual transom entry, as opposed to one on the CS22, so there's some difference in the aft seating arrangement. The CS23 is slightly longer at 7.21m overall, whereas the CS22 is 6.86m, but both are based on the same 2.59m wide hull. Also the Volvo Penta Forward Drive is used in the CS3, with the CS2 running a conventional MerCruiser or Volvo Penta sterndrive.
Our test boat was powered by a Volvo Penta V6-240/DPS that returned a top speed around 46 mph @ 5800 rpm. I initially thought, hey, we need a V8 for this baby, but I was really surprised just how much grunt and power the 4.4 litre V6 had. A V8 would be great and up the top speed to the low 50s and leap the boat on the plane quicker, but for me the V6 was enough. Must be getting old!
While it is not a boat designed for offshore boating, it is certainly not a lake boat either and I found the 20 deg hull rode smoothly and comfortably across a short chop on the way up to Couran Cove. The CS22 feels stable in the water and with a hull weight of 1542kg it gives you a feeling of being stiff and solid. It has that sports car style handling and is very responsive in tight turns, with little hint of letting go. It tracks cleanly at low speeds and is super stable at rest. The 240hp engine has good low down torque and gets on the plane in 3.2 secs. Pulling one of your heavier mates out on a single ski wouldn't be a problem.
Construction is 100% hand-laid GRP with Kevlar reinforcement in stress areas and composite structural components. A fibreglass stringer system between the outer hull shell and full inner liner adds a lot of rigidity and strength to the boat, so there is no discernible hull noise when underway.
With the V6 package there is plenty of room either side of the engine for storage, which Cobalt use for the extra cushions and cockpit table. What impressed me was that all of them come in their own personal stowage bag. Very neat and tidy.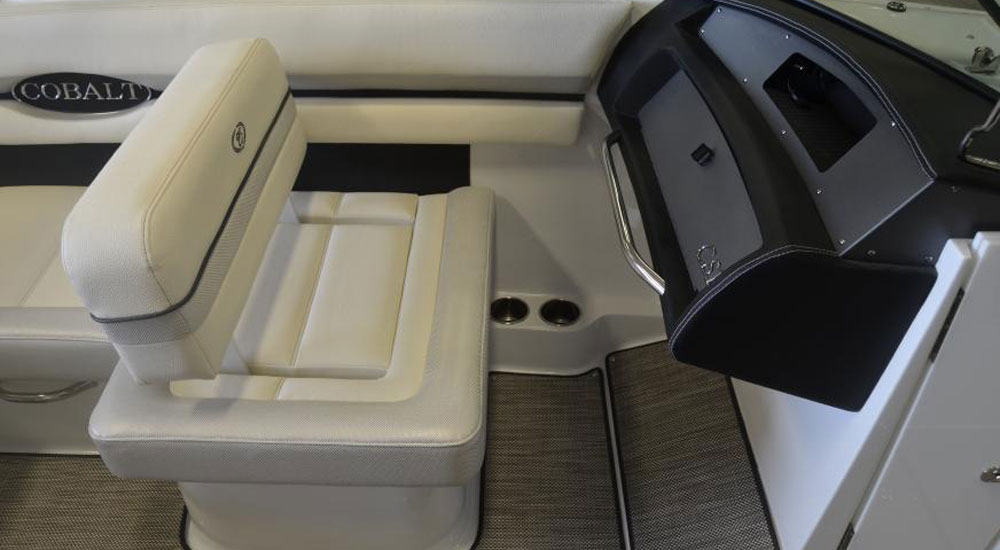 Excellence is in the Detail
The interior of the CS22 reflects timeless good taste with a subtle elegance that is a hallmark of the brand. With Cobalt the option package is extensive, including ten hull and four interior colour options, so you have a wide choice either way. You can have everything from showers to monster sound systems or as on our boat, the tower and bimini. I was really impressed with the tower, not only for its style and robust construction, but also the way it folds down to be lower than the windscreen. Great for dropping the height when storing the boat on shore. Mind you this doesn't come cheap, with a $10,000 price tag. However, I reckon the all Sunbrella/stainless steel collapsible tower is well worth the extra and certainly adds some coolness to the look of the CS22.
One of the more interesting features of the CS22 is Cobalt's signature flip-down swim step. The swim step drops down to create a seat or step in the water that makes for easy reboarding after a towing session or a swim at anchor.
Patrick describes the CS22 as an all-round family boat. The cockpit layout is designed around entertaining and being adaptable with plenty of seating. The walk-thru access from the transom is something you don't see on locally produced bowriders and it means you don't have to step on the upholstery. With infill cushions in place you have a full U-shape aft seating arrangement. I loved the texture of the Titanium upholstery and with the double stitching, the interior radiates a feeling of quality and style. Almost seems a shame to get it wet.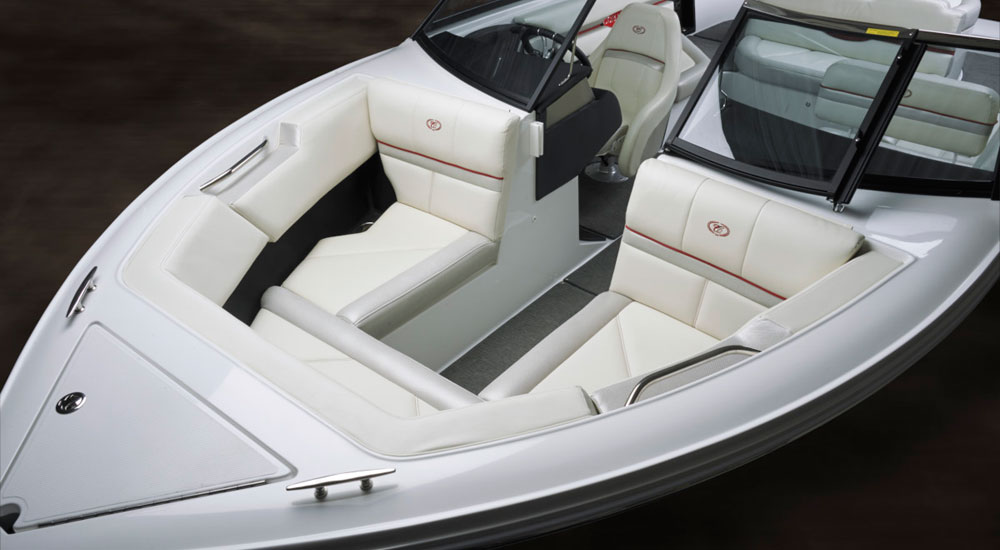 The helm seat caters for all styles of driving with three positions; seated, bolster or standing. Running the boat on The Broadwater, I was really conscious of what Brett had said about not running into Australia so I found the bolster position perfect as I could look over the toughened glass screen to make sure I didn't miss any channel markers. Sit down low and the screen keeps any wind and spray off you. Even standing there is plenty of height under the tower and bimini.
Cobalt has not gone overboard with the dash layout and while it is simple and practical with limited instrumentation, the upholstered wrapped dash with the double stitching and the weighted Cobalt emblem –always stays level – certainly makes it stand out. Dials and switches are all well placed for easy viewing or access. Centre stage of our test boat was an optional Garmin 7607 MFD, flanked by large analogue gauges with digital windows. The adjustable leather wrapped wheel means the driving position can be perfectly set to suit you.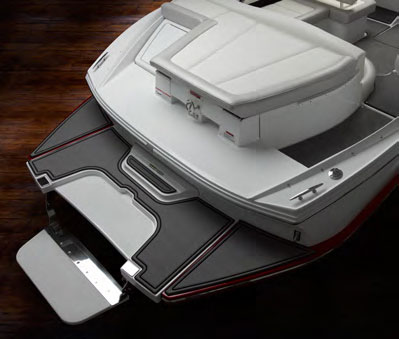 Cobalt have spent as much attention to detail in areas you can't see, as those that are visible. Behind the helm for example, you find neatly sorted wire looms, quick electrical disconnects, waterproof electrical connections where needed, battery switches with isolators, colour coded tinned copper wiring, dual central stainless steel grounding buses, and designated circuit breakers. Neat, tidy and very accessible.
Opposite the helm, there's a reversible backrest which means you can change the front bench seat into part of a side sun lounger. Storage lockers, drink holders and USB ports are well placed for ease of use.
A removeable cockpit table comes with a neat mounting system off the front of the aft seat, so the cockpit sole is left unimpeded. Standard is clip-in carpet with Sof-Trac mat decking as an option. Storage is available under all the squabs.
Obviously if you are going to be cruising around the waterways or towing skiers, wakeboards or kids on a tube, you need a good sound system. The CS22 comes standard with a 6 speaker Rockford Fosgate stereo. Not enough you say. Well there's room for more larger speakers and sub woofers, it just depends how much sound you want.
Like all Cobalt bow riders there is particular attention paid to the comfort of the seating layout forward, where, if the weather is right, the kids love to sit when underway. In the CS22 there is a fold-away walk-thru air dam to stop wind and spray coming through into the cockpit. Seating is traditional in layout with squabs either side, but in the case of the CS22 they have been ergonomically designed for superior comfort and holding.
There are storage spaces both under the squabs and in behind the back rests. Handholds and drink holders are close at hand and the anchor locker is well suited to take a small drum winch. This would be a better option than a capstan, due to the lack of available deck space. An after-market fairlead or bowsprit could easily be added.
"The customers that we traditionally sell these boats to are discerning and knowledgeable and want the best boat they can get, and that's something I feel we offer with Cobalt", says Patrick.
The Cobalt CS22 is a refined sports bowrider that has a feeling of luxury and quality all wrapped in a stylish profile. The fact that it also performs damn well, makes the CS22 one of the best in its class. It's the perfect choice if you are looking for a boat like this and do not wish to compromise on luxury or performance.
Model: Cobalt CS22
Priced from: $Au95,000
Price as tested: $Au122,000
Type: Bowrider
Construction: GRP/Composite/Kevlar
LOA: 6.86m
Beam: 2.59m
Deadrise: 20 deg
Power: Volvo Penta V6-240/DPS
Power options: Sterndrive Only 240-350hp
Max Speed: 46 mph
Propeller: FH4
Fuel capacity: 189 Litres
Trailer: Optional
Manufacturer: Cobalt Boats USA