If there were ever a boat that I would unashamedly describe as perfection, it would be the Cobalt R5WSS Surf. This is a boat that bleeds attention to detail, from the hull construction through to the incredibly well-conceived layout. If this were an F1 car, it would be a Mclaren!
So enough of the superlatives, what makes the Cobalt R5WSS Surf such a stand out boat in its class? In my opinion, it is a more than just another American bowrider, a lot more. While some brands concentrate on building seriously good fishing machines, Cobalt has pursued the sports boat line, with 27 models, from 5.89m through to 12.04m. Apart from two models, the fleet comprises a broad mix of bowrider designs.
The Cobalt R5WSS Surf is one of three models in the Surf Series and at 7.82m is flanked by the R3 (7.26m) and the R7 (8.38m). Cobalt utilises the same hull in different configurations for the R Series and WSS Series, it's just the layouts and appointments that change.
Described by Cobalt as sleek, powerful and aggressive, the WSS Surf Series are premium bowriders that provide a platform for water sports, family cruising and enjoying your time on the water. It is a dressed up version of the R5 with a wake and ski package with a tower, chrome graphics, built in ballast, cruise control and a tab system specifically designed to provide the perfect surf wake.
One of the significant changes over the other models in the range, is these boats are more specifically orientated towards surfing. Surfing or skurfing as some call it is a huge growth sport, but not all boats have the ability to offer the perfect wake. The Cobalt R5WSS Surf does!
What Cobalt has done with the WSS Surf is provide the ideal platform for boat surfing. It doesn't matter if you're 7 or 70, surfing is done at around 10mph and is very mild on the body. With the touch of a button, Cobalt's automated computer control surf system adjusts the Bi-Axis Surf Tabs to create the optimum surf wake either left or right.
With the ballast tank filled and the desired speed set on the GPS directed cruise control, you just select which side of the boat you want the wake for your rider, throttle up and go. There is no need to transfer ballast load between tanks to achieve the optimum surf wake.
In Performance Mode the surf tabs automatically deploy and adjust for a quick hole-shot through to running speed, easily getting the boat on plane with full ballast. If you are not in towing mode, then you can simply customise the wake for smooth cruising.
The Cobalt R5WSS Surf is available with four Volvo Penta power options, from the V8-300hp to the V8-430hp. All come with Volvo's Forward Drive, which is uniquely engineered with two forward-facing counter-rotating props, which position the propellers to the front of the drive unit.
Expressly designed for wakesurfing, the pulling props of the Forward Drive are tucked under the boat and about 68.5cm farther forward than the props of a Duoprop sterndrive, and thus 68.5cm farther away from a wake surfer riding the curl.
With the Forward Drive, the propellers move from an exposed position beyond the transom to underneath the hull, safely away from a surfer's exposed appendages. The exhaust also exits under the water, keeping it away from the rider's face.
Our test boat came with the V8-350hp engine and on the calm waters of the Coomera River, I managed to tweak the speedo to close to 50mph. However, it's not top end speed that is as important in this boat. It's more about what's right for towing, especially surging.  It's s right down at around 2000 rpm – 2500 rpm that I imagine a lot of your surf running would be done. At that speed (9.5 – 12.5mph) the fuel consumption is around 20 lph, which if you started with a full fuel tank (189 litres) would give you almost 10 hours of towing. More than enough I would have thought.
Even though the river was calm, I was still able to get a feel for the boat. It has a toughness about it that gave me the confidence to take it out on the Broadwater and through the seaway. Unfortunately, that wasn't possible, but I have no doubt it would account well for itself in a moderate to rough choppy water. Move the wheel and the boat turns smoothly and without excessive heel. Once back online, it tracks on rails. Holeshot is exceptional with the R5WSS Surf taking less than 4 seconds to plane. While you can be lazy and set up the trim to auto, it's a smooth and responsive boat to drive in manual mode. The dual props of the Forward Drive eliminate the list caused by prop torque in an inboard, so the wake is symmetrical.
What you see is what you get. Well, to be honest, you couldn't design the layout any better. Cobalt's design team must have gone through countless drawings before they came up with the end result. It's about as good as you can get. Okay for you fishos, there are no rod holders, bait tanks or cutting boards, so my advise stop reading now.
The layout of the R5WSS Surf is explicitly designed to provide maximum seating, storage and yet still leaving enough space to move around. Simply put, the interior is straightforward, smooth and functional, yet with a touch of panache. From the fibreglass structures to the switches and fittings there is a sense of solidness and meticulous detailing. The upholstery is all double stitched and of the highest UV stabilised materials and most of all, extremely comfortable.
Overall there is probably seating enough for an NRL team, plus a few cheerleaders, so don't worry about bringing a few extra mates along when you go boating…..there's plenty of room.
One feature that will certainly appeal to the ladies is the toilet (either portable or fully plumbed in) concealed away behind the port side forward passenger seat. I tried it – just for size – and there's plenty of room even for someone my build to sit.
Opposite is the helm and what a helm. You almost need a licence to drive it. It is not only decked out with all the standard engine controls, but it's also got a Garmin GSMap 707 data display, Zero Off speed control, sound system, ballast tabs and trim tab controls for the surf system. The soft leather hand stitched wheel is positioned so you can adjust it to stay in full view of all the dash functions. These are all set in double stitched leather, which only further adds to the superior finish of the R5WSS Surf.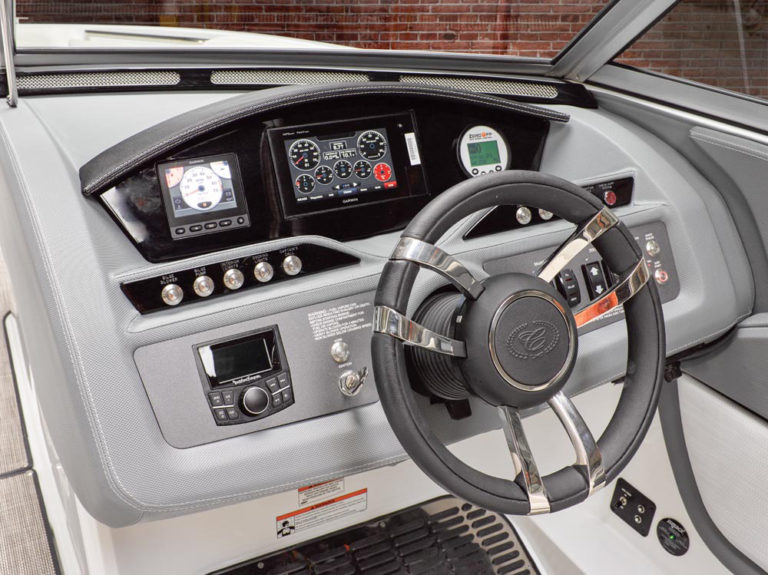 The cockpit seating is all about entertaining and places to sit, be it watching the surfer behind or relaxing in a bay with a few cold ones. To port, there's a swivelling driver's helm seat with a short bench seat aft with cooler under. Opposite is an L-shape settee with adjustable backrests forward and aft which turn the area into a large lounge. Storage bins under are easily accessed with the lids on stays. A cockpit table is optional.
While traditional we see flat transoms and full width moulded boarding platforms, the R5WSS Surf sets new standards in transom design. Not only is there a fully adjustable aft-facing transom seat, but also a hydraulic rise/fall platform, something I have never seen before on boat this size. But wait there's more. This also comes with an extra large drop down moulded swim step. No ladder for this baby. All very cool.
The high freeboard means no splash on quick pickup turnarounds, and you can actually walk through instead of crawl to the bow. Up front, the bowrider section is like nothing I have seen before and sets new standards when it comes to seating style. There's a lot of storage under the squabs and a very neat fold away leg rest on the starboard side, which transforms the lounger into a separate seat. Fold away armrests, recessed stainless rails and drink holders are just some of the special features of the bow area.
The anchor is recessed into the bow with the capstan or drum winch concealed below the deckline. All looks very neat and tidy. Underfoot, the carpet or optional Seagrass flooring is snap-down/snap-out, rubber-backed, over a skid resistant no-flex composite flooring.
The sports arch features Samson swivelling board racks and stereo speakers to rock your surf sessions. The Premium Bimini Top comes with fold down stanchions, making storing or trailing your boat with the top in a lower position a mere one-person operation.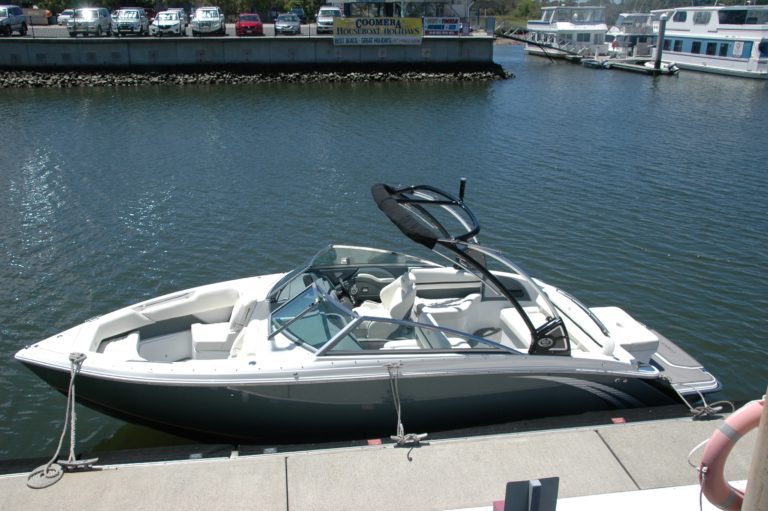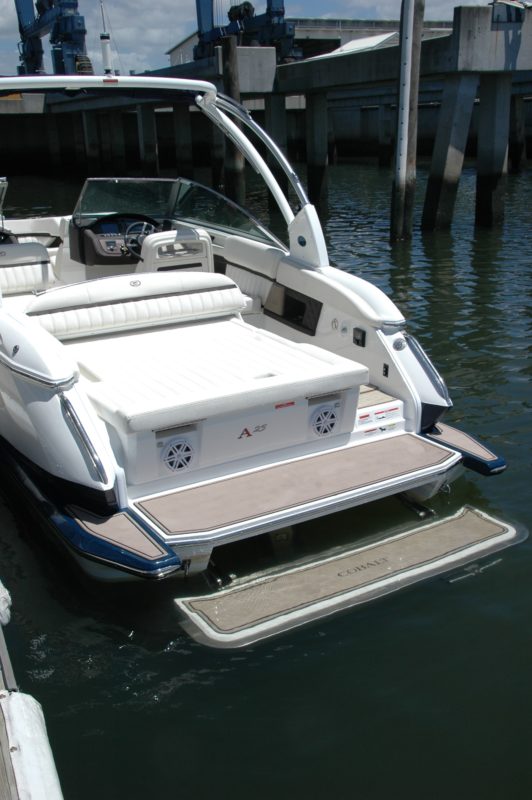 Construction is solid grp with Kevlar reinforced high-stress areas, with honeycomb composite core integrated into the flooring to optimise the strength-to-weight ratio, while improving sound and vibration dampening.
Cobalt stands behind their boats with a 10-year hull and deck structure warranty and a 5-year warranty on just about everything else. Realising that not everyone wants the same, Cobalt offer a variety of colour and fabric options, so you can mix and match to suit your taste.
The Cobalt R5WSS Surf comes with so many standard features and functions that we can't list them all, but let's just say that it's loaded! Even more, if you tick all the options. If you are seriously looking for a family runabout with a penchant to towing toys and maybe a little bent towards surfing, then this should be your first choice.