It always amazes me just how much can be done with a small boat and none moreso than the new Commando 3.9 Trooper Deluxe.
Commando Boats has for some time been building the 3.9 Trooper in open tiller steer and centre console options, but only recently added a cuddy option. Built with a whole raft of boating activities in mind, the 3.9 Trooper will ultimately appeal mostly to divers and fishermen who want to fish or dive close inshore. It is very much an enlarged version of the very popular 3.6 Trooper but bigger and now with the protection of a cuddy cabin.
The layout is very conventional, but with a definite accent on storage space. 2.35m long side storage shelves run down both sides of the boat and recess back into the D-shaped pontoons. They are long enough for rods, gaffs and deep enough for a couple of dive bottles. There is an upper coaming shelf that is great for smaller items such as the phone and car keys.
Standard seating is twin swivelling plastic seats on alloy pipe frames and that's really all there is room for anyway. This is really a two person fishing boat and if you put any more seating into the cockpit there would be no fishing space left.
In a small boat it's often difficult to find a place to stow a 25-litre tote tank so it's out of the way. Commando Boats has addressed that perfectly by incorporating a built-in 25-litre alloy tank across the centre of the transom. It even comes with a trio of rod holders, one of which doubles as the base for the bait board. Overall, there are nine rod holder positions!
Between the outboard pod and the pontoon hull extensions are large boarding platforms, with the option of a drop-down ladder on one side.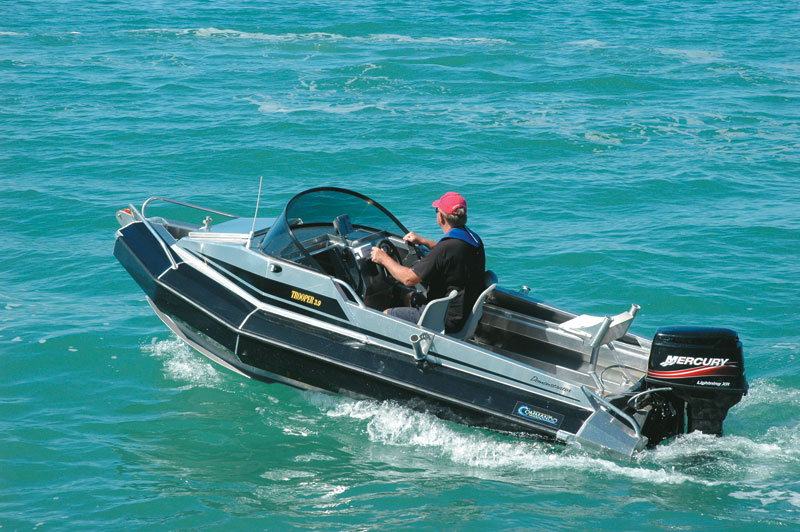 The small cuddy cabin, with its sitting headroom, is devoid of squabs, although I am sure they could be added if required. It's really just somewhere to stow your gear. A sole rail at the rear of the cuddy stops any gear working its way back into the cockpit. There's a port side locker recessed into the pontoon, which makes great use of the space available. Anchoring is done through the extra large deck hatch and all your anchor tackle drops into a deep, open forepeak anchor locker. It's a bit of a crawl to get to the hatch and open it but once you're in place it's very easy to do the anchoring. The battery is stowed under the helm console as there is too little space available for it aft.
The chequerplate sole runs right through the boat on the same level, with two large draining bungs in the transom. I would fit a couple of duckbills or non-return drain bungs, as the first time I used the boat I put it in the water with the bungs out. Man, does it fill fast! Conversely, however, it doesn't take long to drain either.
For a small boat, it's surprising just how much space there is for electronics, controls and accessories. The boat tested was fitted with a bracket-mounted Condor 345CDF fishfinder, a Northstar 721 VHF, a couple of Faria instruments, 12-volt socket and a switch panel.
If you utilise the space behind the Perspex screen to stow some gear, a raised lip around the trailing edge stops anything falling off into the cockpit.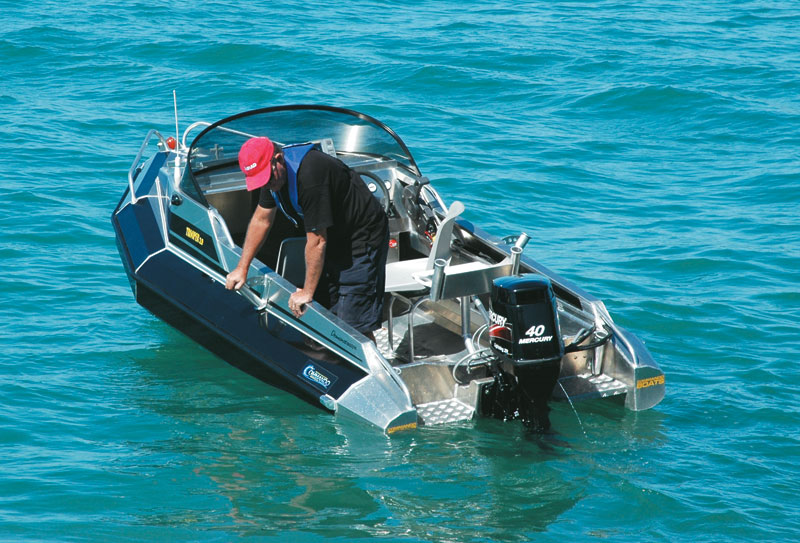 The Commando Trooper 3.9 features high quality marine grade aluminium, with three tested buoyancy chambers – one down each side and one under the floor. Featuring a full height pontoon construction, and a massive internal volume, it's a boat that can easily carry and fish 2-3 adults quite easily and like the entire Trooper range the 3.9 is constructed using a 3mm aluminium hull, 2.5mm tubes, 4mm transom and a 3mm tread plate floor.
The 3.9 Trooper is easily powered by 25-50hp outboards. We had a Mercury 40 two stroke on the transom for the test and it certainly proved a nice match. The Mercury 40 Lightning is a compact three-cylinder, 697 cc, 40hp two-stroke, weighing 73.5kg and is also sold as the Tohatsu M40D2. It is well suited to the Commando 3.9 and being a basic two-stroke helps to keep the overall purchase price down. The Lightning 40 XR is now only available in manual tiller steer, with Mercury's replacement, the 40ELPTO, being a smaller 2-cylinder 644cc, but slightly heavier, 78kg model.
Top speed with two up and a full tank of fuel, but no extra gear aboard was 30.5mph, which was certainly plenty fast enough for this small boat. I found that dropping the throttle back about a third, the boat settled down to a sweet cruise speed in the light to moderate sea conditions.
Acceleration from a standing start is excellent so I reckon that if you are going to tow water toys and maybe a skier behind the boat, you'd have enough 'grunt' for the task. I also noticed it didn't need much trim and that it was easy to over-trim and ruin the ride in the small seas. The harder you pull the wheel the harder it turns and it stays flat on the water. You have to remember this is still a very small boat with a shallow 14-degree deadrise. However, that said, it returned a more than comfortable ride at around 22-25 mph.
Being a pontoon boat it is also virtually unsinkable and the usual stability attributes certainly come to the fore when you put two or three people on one side. Very stable when underway and at rest, there was definitely no feeling of uneasiness. Even with two adults on one side of the boat, and due to the pontoon design, there is very little chance of capsizing and because of the three sealed air compartments it is very unlikely that this boat would ever sink.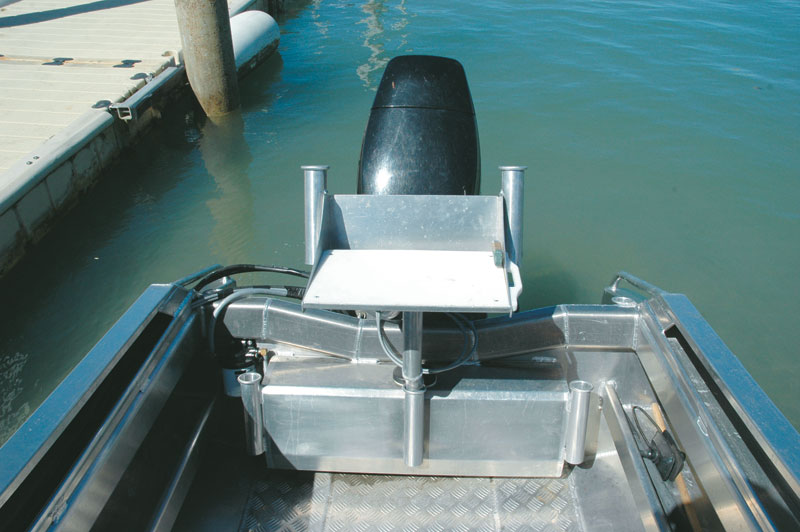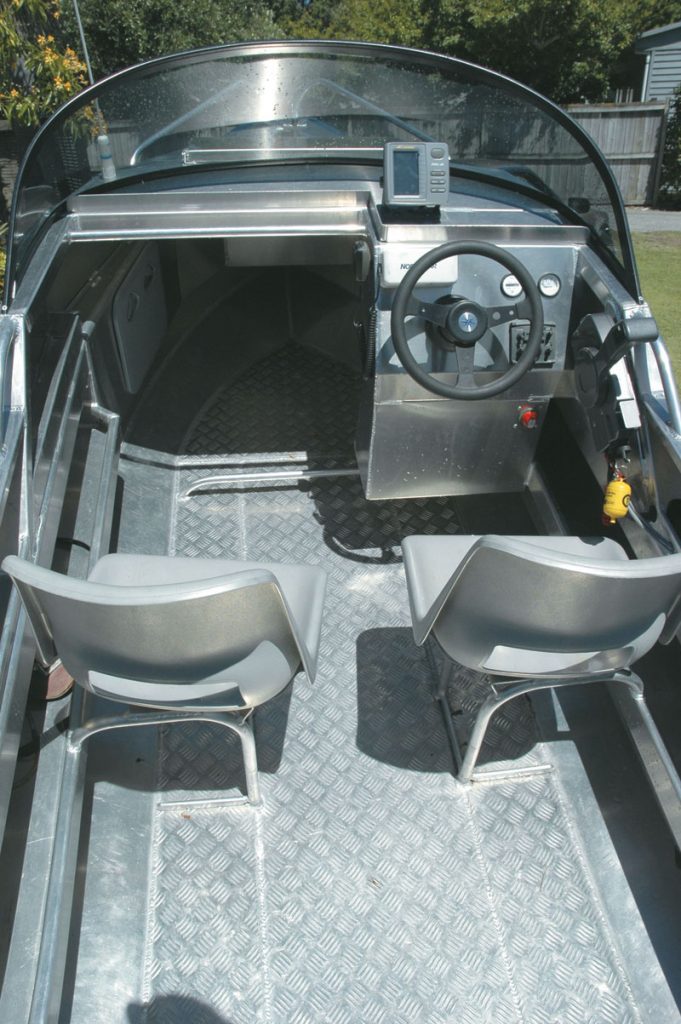 Launching at a boat ramp or off the beach, the 3.9 Commando is a one-man task and is very ease to handle when launching or retrieving.
If you are like me and you like to stand to drive when the sea conditions are a little unfavourable, then you'll like the Commando. It's certainly set up well so you can drive seated and tuck in behind the tinted perspex screen for protection, or stand up to drive and be a little more exposed. Steering and controls are both still within easy reach when you're standing.
Another thing I noticed was the excellent spray deflection, especially into a short head sea. Commando Boats has added 50mm x 1.6m long spray rails either side forward and they really work well.
Overall, it's a well built, sturdy and practical pontoon boat that delivers in all aspects of design, construction and handling. It's a small boat with a big boat feeling.
Text by Barry Thompson
Make & model: Trooper 3.9 Deluxe
Manufacturer: Commando Boats NZ Ltd
Priced from: $NZ11,500 (boat only)
Price as tested: $NZ25,500
Type: Cuddy
Construction:   Aluminium
LOA: 4.30m
Beam:  1.72m
Deadrise: 14 degrees
Height on trailer: 1.80m (approx.)
Trailerable weight: 580kg
Test power: Mercury Lightning XR40
Propeller: 11" 3-blade alloy
Top speed: 30.5 mph
Power options: Outboard
Power range:  30-50hp
Fuel capacity:  25 litres
Trailer: Hosking Trailers
Contact: Commando Boats NZ Ltd, Ph +64 9 274 5586,
E: [email protected] W: www.metaldesigns.co.nz