When you ask Jason Dickey what he feels has made Dickey Boats such a success over the last decade, he says it is all about the customer experience. To date, they have built upwards of 70 boats, from the trailer boat range to the LRCs. Influenced by the classic sports fisher boat design, the style is unmistakable, the finish is faultless and the build quality of the highest standard. PPB went to Napier to talk with company owners, Jason and Tristin Dickey about their ever expanding and hugely successful custom alloy boat building business.
When was the first boat release?
We launched the first Dickey boat, a Semifly 28 in 2007 and after exhibiting it at the Hutchwilco NZ Boat Show signed an order for a Semifly 32. This was the start of it all, and we have never stopped since. We had a load of enquiry and although we started right on the cusp of the GFC, it surprisingly proved to be the right time for us. If it hadn't been for the recession, we wouldn't have the range of boats we now have and we learnt so much from that period. Our building principles and procedures are now so much more refined by having the time to do it all properly. 
In the first few years, we were more heavily into design than production, as it was really about every model being an entirely new custom boat. In the first few years, we only produced about two boats a year and each one was a learning curve, where we improved, changed, and altered everything from the finest detail in construction to layout and finish. We went for about 2.5 years when we never built the same boat twice, although that has changed in recent years.
What is your build capacity?
Year on year has seen growth and it has never stopped since when we released our first boat in 2007. We only build to order so we need to sell a boat before we get the next model. Right now, from our new factory we can build 8-10 trailer boats, five launches in the 28-45ft range and by next year we also plan to slot in three LRCs, and at that, we are maxed out. Our maximum size is around 20m. We have an outstanding staff of around 20 people, with dedicated areas for things like upholstery and cabinetry, plus an in-house design team and sales department.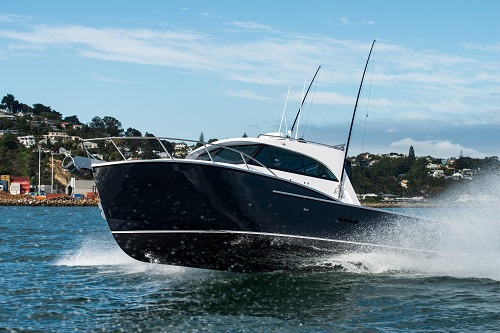 We have some of the best apprentices in the country and a skilled workforce second to none. We couldn't build the boats the way we do, without the commitment we have from such a strong and loyal group of tradesman. The new workshop is all about more space (about twice the size of the old factory) and is purpose built with improved processes to cater for a larger capacity output.
Do you work in close collaboration with customers?
Being a custom boat builder, we see ourselves as a customer driven business and we work extremely closely with every client. Our clients tell us we have an outstanding product when it comes to performance, safety and quality and they say what they like, or maybe don't like about their boat. A testimony to that is the amount of repeat business we get, especially from owners wanting to move to a different model or perhaps stay with what they have but make some changes. At the end of the day, they still want to stick with a Dickey boat.
How did the trailer boat range start?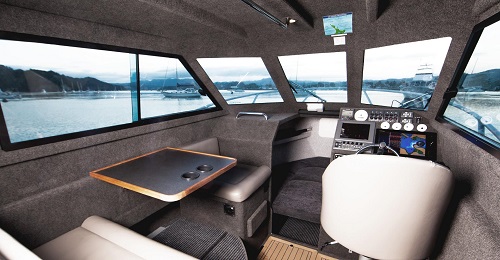 When the recession hit, we got a lot of requests for smaller versions of the Semifly 28 and 32. We were talking with clients who loved the bigger boats but wanted something less expensive and trailerable, so we developed a range for trailer boats to cater for that market. The trailer boats benefited from our big boat technology, where we refined our innovations and building solutions into a smaller package. 
With so much R&D already done with the larger boats, it was a seamless transition to the trailer boat market. We have been at capacity for trailer boats for the last three years and we are currently 18 months out in sales and I don't see that changing anytime soon. Currently, our model range is six models from the Custom 750 through to the Custom 950.
How did the LRC Range come about?
The LRC58 has been more than ten years in the planning by designer Dennis Harjamaa and it is something that we have wanted to do for a long time. Dennis built the first boat in our factory for himself and we watched its development with interest. This is a boat we would like ourselves for the future. We have been getting a lot of interest in this very specific long range cruiser and launched our first one last year and have a third under construction. We see this as being a strong part of our market in the future as more and more people embrace the benefits of cruising the world in super efficient displacement power cruisers, such as the LRC58.
Although we are based in Napier, we never wanted to be just a 'local' builder and always saw our market as firstly nationally, but also internationally. We have boats right throughout New Zealand and overseas. In 2015 we delivered a Custom 800 to Switzerland and completed our first LRC58 for an English client. We also have boats in Australia and the Solomon Islands and our intention is to have about 50% of our new builds exported, but it is a matter of getting the balance right and knowing we have the capacity to deliver. There's no point in doing a boat show overseas and then telling someone they have to wait 18 months for delivery. That just wouldn't be good for business.
What are your plans for the future?
We want to get to our planned capacity figures, especially with the launches and LRCs and keep evolving the range as the market and more importantly, our
customers dictate. It is important that every boat we build is customised to suit its owner so we can both be guaranteed that the boat we deliver is the boat they want. While the trailer boats are about as production as we can get, with the bigger boats it's a very personal journey for the clients and us, right from conception through to the finished product. While there is obviously things that stay much the same, there is always a lot that people want to change to suit their requirements, and that's an area where we are more than happy to oblige. We see our ability to change and adapt with every boat we do, as the way forward for the company.