The Salthouse Corsair Cabriolet built by Next Generation Boats continues a heritage but brings a fresh approach to a planing hull that has spanned more than 30 years.
Seville is the fifth Corsair Cabriolet to be built by Next Generation Boats and is the second to be sent to an Australian owner. It is also the first with a new "Australian" layout, which includes such extras as air conditioning and a genset. Where Seville differs from all those that have gone before it, is in the appointments and on-board equipment, which makes this the most expensive Corsair Cabriolet to date.
"Although we can put a new boat on the water for around $NZ740,000, Seville's final in-the-water price tag was over $NZ1 million, but then the owner wanted everything aboard to be the best available", said Dean Salthouse.
Along with wife Trenna, they have managed a revival of one the most iconic boats ever released in New Zealand and while retaining the same name, there is little in the new generation Corsairs to remind us of the previous versions.
Along with designer Bob Salthouse (he happens to be Dean's father), they started with the well proven but somewhat out of style Corsair and brought it into the 21st Century.
"We made modifications to the running surfaces of the hull and completely altered everything from the chines up. The end result is we made a great boat even greater", added Dean.
The internal layout was completely redesigned to take full advantage of the sport cruiser styling. Gone was the open fly bridge. The portofino transom added some length, resulting in a very seakindly hull that slips easily through the water and is as much at home at 30 knots as it is at 10 knots.
Powered by twin Cummins QSB330s, Seville has a cruise speed around 22 knots (80 L/h) and maximum of 29 knots when the fuel consumption is a reasonable 122 L/h. This gives a 300-nautical mile range at 20 knots.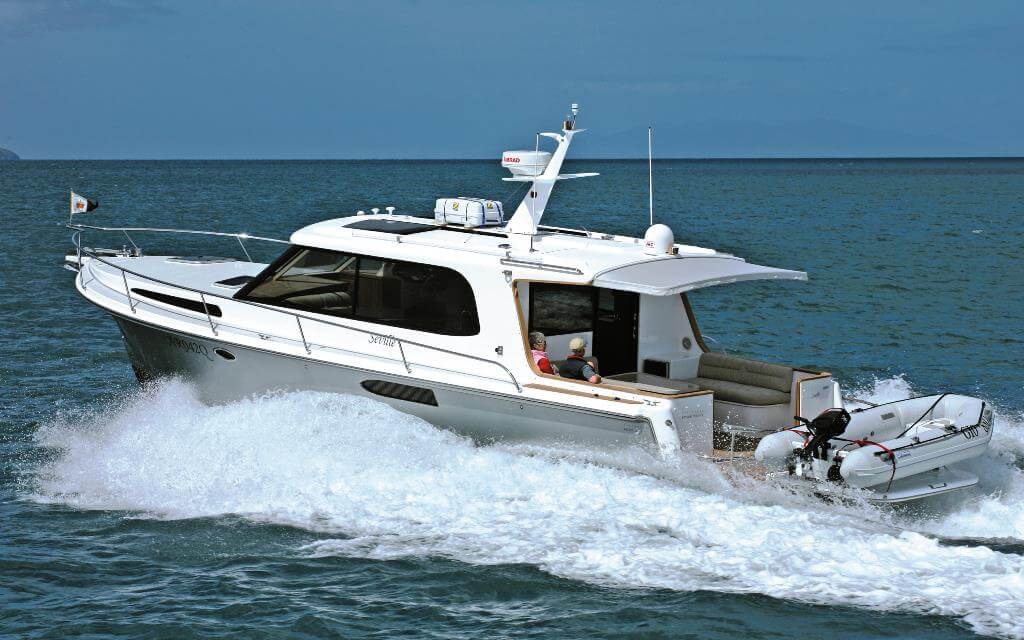 Interestingly Seville weighs 11.5 tons and the standard Salthouse Corsair comes in at around 9.3 tons, showing that the extra equipment aboard adds considerably to the overall displacement. The standard Corsair would of course have considerable better fuel economy.
Pushing the boat into a 20- to 25-knot short harbour chop during sea trials, Seville made easy work of the conditions and provided a superbly smooth and trouble free ride.
With the ability to customise the boat, owners have varied in their choice of layout when it comes to accommodation. While many of the earlier boats favoured four berths forward and an owner's port side stateroom, the trend has swung the other way. Seville however retains the original layout, albeit with changes.
While the standard layout for the forward cabin is a four single berth arrangement, the owner of Seville asked for a slightly different arrangement as it suited his family situation.
To do this the builders repositioned the port bulkhead 400mm forward and replaced the fourth berth with a drawer unit and chart storage locker. The remaining bunk has been shortened from 2.4m to 2m, although the two starboard berths retain their full length. The cabin is fully air-conditioned and there are even lee cloths for sea trips that double as bag or gear storage.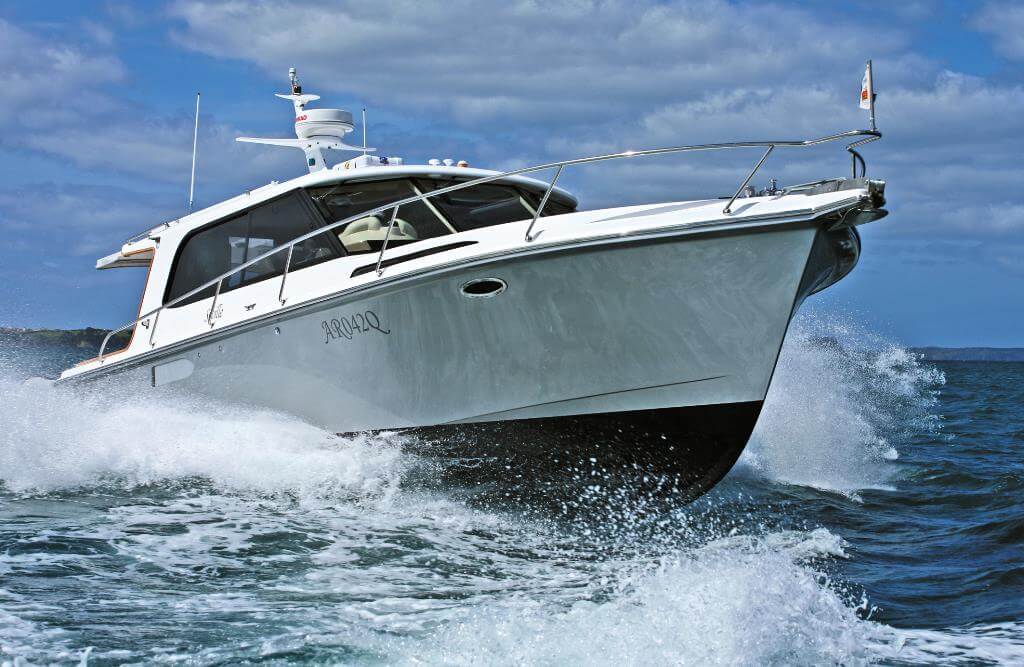 Overhead hatch and side ports let in plenty of light and ventilation, plus there is an abundance of lights from Cantalupi.
Satin finished cherry timber is used throughout Seville with Prelude hull lining fabrics from SMG Upholstery and Marinedeck cork flooring.
The owners' cabin has also been changed considerably from previous models, with the front bulkhead moved forward 450mm. Also, the water tanks are under the berth and this has also been extended further under the saloon sole with the result that there is a lot more floor space in the cabin. In fact it's close to 1m, which makes a massive difference in a boat of this size. Again there are ample hanging lockers and storage spaces to keep gear stowed away.
The head and bathroom arrangement is generous in space with full walk-in shower cubicle and large Trezzini bench top with recessed bowl. Double bulkhead mirrors accentuate the space and there are numerous storage lockers behind cherry panels. Both cabins share this area, although there is another cockpit head for day use.
Being a sport boat with no flybridge, special attention has been made to both the saloon and the cockpit area. There is an immediate feeling of all being one with as little disruption to the flowing design, from the compact sportfish helm through to the wide transom doors.
The large expanses of glass around the saloon, which while offering amazing all-round viewing also make it a heat magnet. Bearing in mind that Seville is going to be based in Queensland, the builders needed to get serious with the air-conditioning system, so went with a 9.4kW unit, which should be more than enough to keep things cool.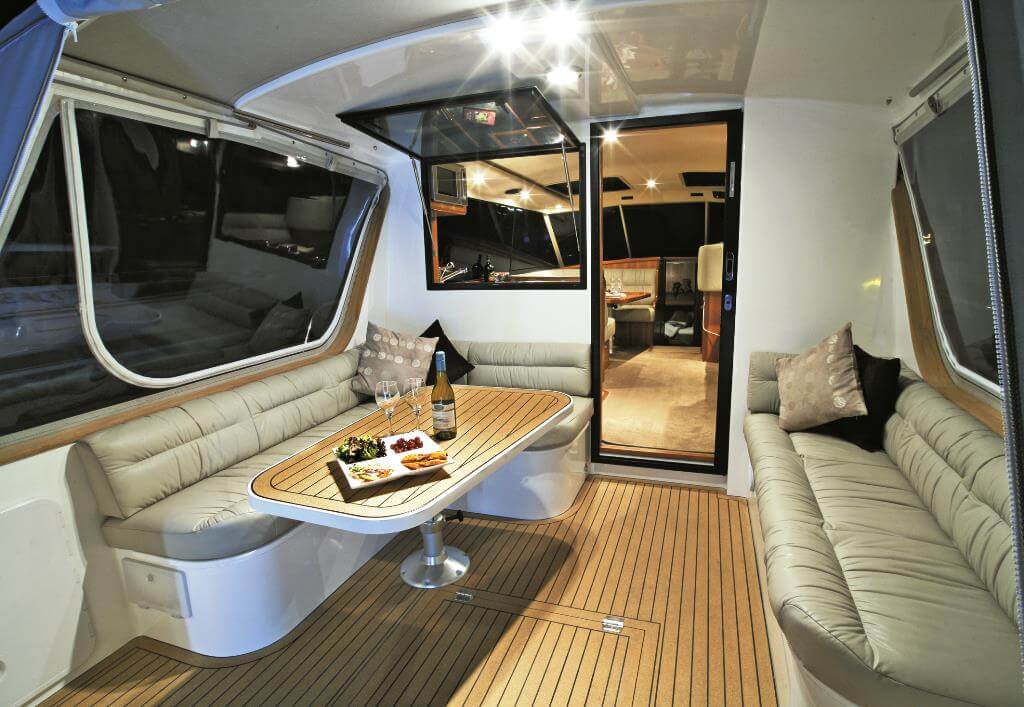 Extra large sliding side windows – which also make foredeck access easier – allow for some cross flow natural cooling and there are hidden shades up behind pelmets you can drop to help keep the saloon cooler or add some privacy. Twin overhead sliding hatches further provide airflow.
Seville's helm is another area that has come in for some special treatment, with an eyebrow added to cater for the extra instrument space needed. Central in the burr-walnut dash is a single large screen that caters for virtually every navigational requirement. The Simrad CX44E multifunction system has been used for the main electronics package, with the PC based Nobeltec software system. Extras include AIS, cameras for the engine room and anchor locker, forward facing sonar, wind station and Smart Craft. There's even a JRC Fleet 33 for e-mail communication.
The custom-built double helm seat is mounted above the liquor cabinet and it's at the right height to stand on and look out through the sliding top hatch.
Aft on the port side is a full-length settee, which doubles as an extra berth and has storage beneath. Aft of this is the fridge and galley pantry.
The U-shaped dinette that seats eight around a large removable table, converts to a double berth with a neatly designed insert. To provide even better visibility, especially when underway, the saloon sole has been raised and this also increases the height in the master cabin.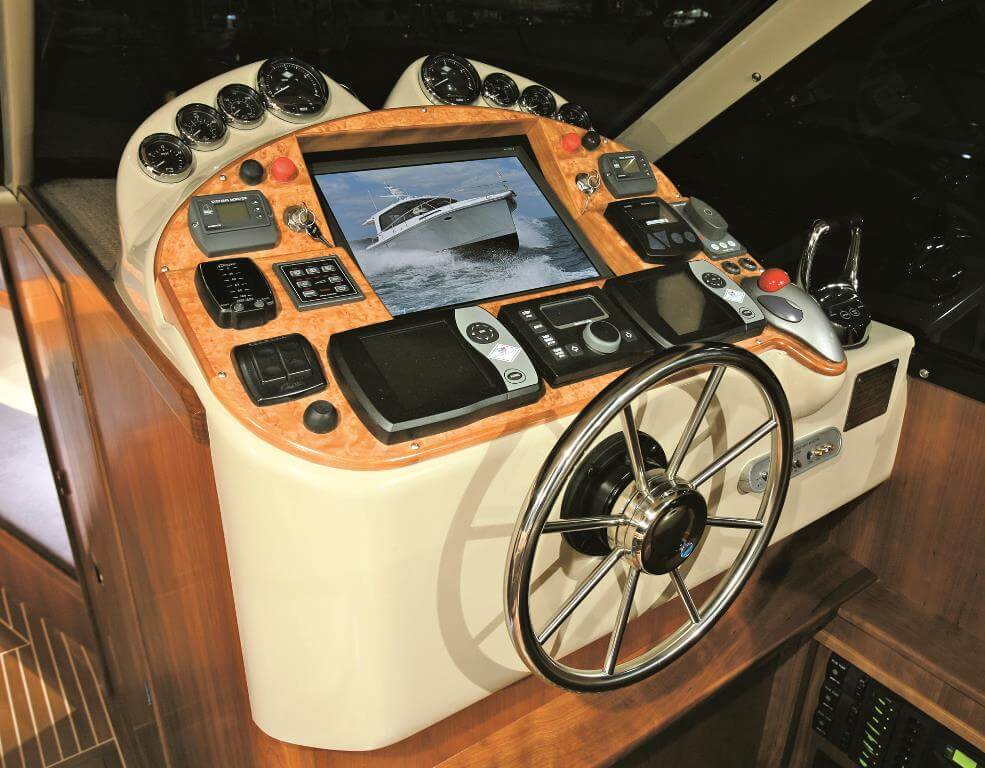 Seville has a brushed stainless steel galley bench top – solid surface composite material is also available – set into cherry wood cabinetry with deep fiddle rails. There is the usual array of fridge, freezer, stove and oven facilities, with storage drawers dedicated to crockery, utensils, pots and knifes. A purifier keeps the drinking water clean and there are built-in soap dispensers.
What a friendly and inviting cockpit! Seville has been set up for the enjoyment of everything from evening entertaining on a warm Queensland night to bottom fishing off Fraser Island.
There is a large icemaker to starboard for ice on demand and the starboard storage seat has been modified into a fridge/freezer cabinet. To port is the gas bottle locker and storage, with more storage under another settee, well suited to dive gear. With the addition of an infill cushion, the table around the L-shaped settee drops down to form a full sunbathing pad.
The overhanging cockpit roof provides adequate shade should you need it and protection is increased with the side clears which come complete with large opening panels. Flyscreen inserts are available on most windows so you can maintain airflow without being infested with mosquitoes or other flying bugs!
The transom includes a BBQ, live bait tank and fishing boards.  
The full-width duckboard incorporates a hydraulic GRP platform for the tender, with a newly designed Davco rise and fall mount. When the dinghy's away it makes a great swim platform and is ideal for divers when boarding or embarking from the boat.
Seville bears the marks of craftsmen from the detail in the engineering to the neatly finished interior. This is also very evident on the deck areas and the mirror smooth appearance of the hull and superstructure. The fact that production remains at only three a year means there is a certain degree of exclusivity about owning a Corsair Cabriolet. There is also the added attraction of being able to customise what you have from the start.
The Corsair planing cruiser has been a boating icon for more than 30 years and the latest version to bear that famous name certainly carries it with pride and distinction.
Design Name: Corsair Cabriolet
Builder: Next Generation Boats
Designer: Bob Salthouse
Year Launched: 2007
LOA: 14.98m
LWL: 11.84m
Beam: 4.12m
Draft: 1.00m
Displacement: 11.5 tonnes
Max Speed: 29 knots
Cruise Speed: 22 knots
Fuel Cap: 1200 litres
Water Cap: 700 litres
Construction: Hand-laid GRP
Engines: Cummins QSB 330
Base Price: $NZ740,000