When a brand with a long history goes quiet for a few years you might think it was heading towards boating's nirvana. For Christchurch based Cresta Craft the decision late last year to 'crank up' their image and get back amongst the serious players was stimulated by new models and a long term strategy that owner Graeme McCaw says will put them right back on top.
Started over 20 years ago by Don Kilner, Cresta Craft has been a mainstay of the trailerboat industry, although in recent years the builders have concentrated more on commercial and industrial markets, building waterslides and chemical tanks, rather than boats. But for 2000 and beyond that's all changed and Cresta Craft has big plans with increased staff levels, a new expanding dealer network, new releases and targets of up to 80 boats a year.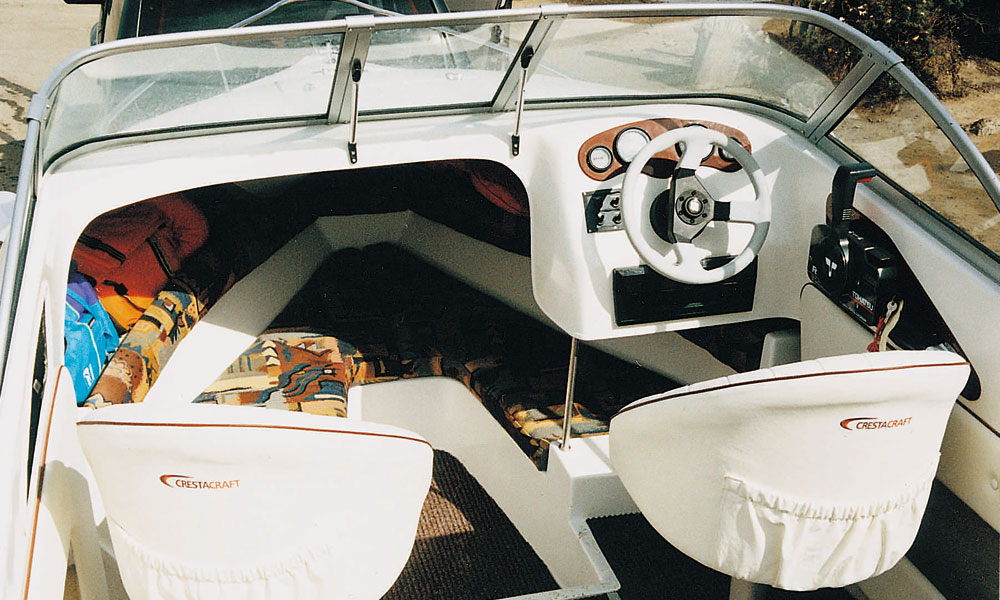 Amongst the first is the Cresta Craft 520, a boat released in late November 1999 and based on the well proven Cresta 5.1 hull, which the 520 replaces. However, the new deck design gives it a totally different look from the gunnwhale up. Major changes have been the addition of a portofino stern, giving a slightly longer hull, and a deckline that has seen straight lines give way to soft flowing rounded lines. There is almost an identical cockpit to cabin space ratio over the previous 5.1 and a keen eye will still see the distinctive inverted lapstrake hull shape, with deep down turned edges that are a feature of all Cresta Crafts. Because of the hull's excellent riding ability in most conditions, McCaw wasn't about to toss away a well proven design.
The Cresta 520 is your typical family all-rounder that is spec'd and priced somewhere in the middle of the market, with our two test boats retailing between $32000 and $34000. Cresta Craft offer a reasonably complete base boat package with items such as carpet, lined interior walls, toughened glass screen and steering all standard, plus they build their boats using high quality isopthalic resins and woven rovings. There's also the option of a less expensive Fisherman version featuring a perspex screen and fibreglass cockpit sole, although the construction and finish quality is not compromised.
The new Cresta 520 is also unique as it doesn't have any side windows and whilst marketed as a cuddy cabin does offer a lot more space under the raised foredeck than you would first imagine. There is sitting headroom for only two adults, but the V berth is comfortable enough to lay on and it's a great place to toss all the gear. The fine entry and narrow forward sections do not allow for any storage compartments under the cuddy cabin squabs. The forepeak features a deep anchor locker and there is ample space for a small deck-mounted electric rope/chain capstan with foot or kneepad switch inside the cabin.
The big difference in the construction methods today is that the Cresta 520 only uses three basic moulds, one each for the hull, deck and internal liner which includes the floor and cabin mouldings. This has been done to speed production and to make the boats more acceptable for fishers, who don't want the hassle of picking fish scales and pillie guts out of the carpet. Hose it and forget it!
The cockpit seating layout has twin swivelling buckets seats on pedestals as standard, with the option of swivelling buckets and rear bin seats on moulded bases. The only drawback with back to backs is that you don't get an adjustable helm seat, so where it's fixed is where it stays.
The dash panel is presented with a perspex fascia to mount the instruments, which unfortunately take up all the limited space. There's no room for dash mounted electronics and any bracket mounted units have to be mounted off to the side or below the helm, as there is not enough height between the deck mouldings and windscreen.
Storage in the cockpit is copious under the floor, especially without the optional 70 litre fuel tank fitted and at over 2m is long enough for skis and wakeboards, plus loads of dive gear. There is also a glovebox under the dash and cockpit side shelves, which I was pleased to see, had deep toespace under for the serious fisho. Cresta Craft also offer the option of cutting out the fibreglass seat bases either side of the engine well to give better fishing space. A good idea and should be standard on all 520s. The area under the portofino stern is large enough for three tote tanks and the battery, or if you have a built-in fuel tank, then it's a great place to stow the fishing gear and is wide enough for a wakeboard.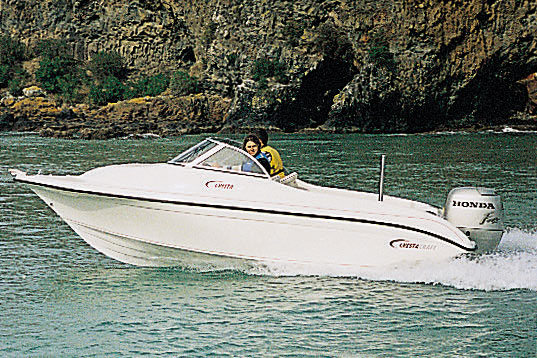 Cresta Craft presented me with two identical Cresta 520s, one with a Honda 90, the other a Tohatsu 140, As the boat is rated from 65hp to 140hp, it was a good contrast, especially as it was also 4 stroke verse 2 stroke.
For our test we had a 20 knot sou'wester blowing down Lyttelton Harbour, with the wind against the tide, a 1m ground swell and some very confused short harbour chop on top. Lovely stuff and a good proving ground for any boat. Firstly I took all the gps readings on our Eagle handheld in the only calm stretch I could find in the lee of Quail Island. The Honda topped out at 40mph @ 6000 rpm and the Tohatsu stretched it out to 50mph @ 5700 rpm. There was a huge difference in performance and while the 90hp Honda did the job admirably, I think I would prefer the extra performance given by the greater horsepower of the Tohatsu. Acceleration was better and mid range cruising speeds a lot higher for the same rpm.
In the sea conditions towards the entrance to the harbour, the Cresta 520 ran well in following, head and side seas. Cruising at 35mph with two bars on the trim gauge the boat was a pleasure to drive in the following sea especially seated. In the head sea I had to drop it back to 30 mph for a comfortable ride that I would consider a good 'family' speed. Now I am not one to actively promote driving sitting down in choppy water, but I have to admit that the 520 could change my opinion. If I had an reservations it was in the standing position where the windscreen angles in too far and if I wasn't hitting my chest when we buried into the occasional swell, I was rubbing the side alloy moulding against my arm. The screen certainly suits the look of the boat but isn't driver friendly.
The Tohatsu's 21" three blade alloy propeller was ideal, but the Honda's 17" three blader would have been better replaced with a 19" pitch prop which would have the effect of lowering the rpm and perhaps increasing the speed.
The Cresta 520 represents a whole new look for Cresta Craft and is a fitting example of their reputation for high quality construction and finish. I was impressed with the ride and handling in the 'hard' water of Lyttelton Harbour and the fact that I felt quite at ease seated at the helm. The layout is conventional and practical with a good use of space and while not being 'over the top' is functional and well presented. I'm picking this could be a big seller over the next few years for the company and slots well into the most buoyant size range sector in the market.
For Cresta Craft, 2000 is a landmark year and one that they hope, led by the 520, will fulfil their goal of once again being a serious player on the local boating scene.
Model: Cresta Craft 520 Delux
Price (Hull only): $17990
Price As Tested: $33500 (approx)
Designer: Graeme McCaw
Material: GRP
Type: Cuddy Cabin
LOA: 5.20m
Beam:  2.10m
Hull Configuration: Deep vee
Deadrise:  At Transom 21 deg
Trailerable Weight:   950 kgs (estimated)
Engine Capacity: 65 – 140 hp
Power Options: Outboard Only
Fuel Capacity: Tote tanks
700 rpm  @       2.5 mph 
1000 rpm @      4.0 mph  
1500 rpm @      5.5 mph       
2000 rpm @      6.5 mph        
2500 rpm @      8.0 mph      
3000 rpm @      13.5 mph     
3500 rpm @      18.0 mph     
4000 rpm @      24.0 mph      
4500 rpm @      27.0 mph     
5000 rpm @      33.5 mph     
5500 rpm @      35.5 mph      
6000 rpm @    40.0 mph
600 rpm @        2.5 mph
1000 rpm @       4.5 mph
1500 rpm @       6.0 mph
 2000 rpm @       8.0 mph
2500 rpm @       15.0 mph
3000 rpm @       23.5 mph
3500 rpm @       28.0 mph
4000 rpm @       33.5 mph
4500 rpm @       37.0 mph
5000 rpm @       43.5 mph
5500 rpm @       47.5 mph       
5700 rpm @    50.0 mph
All speeds recorded using an Eagle GPS and rounded off to the nearest 1/2 mph
NOTABLE STANDARD EQUIPMENT
Marine carpet, moulded fibreglass inner liner, toughened glass screen.
NOTABLE OPTIONS ON TEST BOAT
Ski pole, boarding ladder, canopy.
Make         Honda            Tohatsu
HP                90                   140
Model      4 stroke         2 stroke
Cyl. Type  4-in-line     4-in-line
Max RPM  6000              6000
Propeller    17" alloy     21" alloy
Retail Price  $13998       $13219
Make                         Cresta Craft
Model                        520
Braked                      No
Suspension             Duratorque
Rollers                     Rollers and rear V roller
Std Features           Dip lights, moulded guards
Retail Price               $3881