Surf/Wake boats are becoming very popular, and one of the leading exponents of this unique style of boating is Crownline. Barry Thompson went to the stunning Lake Ohakuri on the Waikato River to check out a Crownline 220SS Surf.
The Crownline 220 SS Surf is part of a family of eight boats in the SS Surf Series and is the newest model in Crownline's exciting surf series. In the US, they class this as a Ski/Wakeboard boat, which is a massive segment of the US boating scene.
While there may be other brands that are more 'tow specific'. Crownline incorporates all the best aspects for family day boating and entertaining as well. 
This is the second Crownline Surf model I have reviewed, the first being the E235 Surf. Now you may ask what dictates the Surf designation. The difference between a Crownline 220 SS and a 220 SS Surf, for example, is the extra inventory that transforms the boat from a super cool family bowrider to a more dedicated sport boat for towing wakeboarders and surfers. The hull and layouts remain much the same. 
This 220 SS Surf is designed to be nimble and quick while providing excellent surfing and wakeboarding conditions. As I am not a wakeboarder or surfer, it seemed only fitting that to support Crownline's claim that the boat can be configured to put up the perfect wake for either discipline, we recruited young Tom Bewley to tell us more.
"Both disciplines were excellent and gave me great wakes. While the wakeboard wake pushed me up on the wave and let me ride where I wanted to be, when I fell back on the surf wake, it was easy to get forward and back on the steeper section and carry on", said Tom.
If you are going to market a boat as a serious surf/wake boat, then you had better have the goods. In the case of the Crownline 220SS Surf, it has all the right ingredients. Firstly, there is the centre ballast system and two additional bags with Quick Disconnect hardware for easy filling (nearly 600kgs of ballast), increasing the height and length of your wave for the best possible ride. 
If you intend to use this boat as a surf boat, you also need to have the GPS package, which has the Surf Twin Touchscreens giving you speed, ballast, and tab control. The Wake Work surf tabs are strategically placed to provide the optimum wake pattern for the rider. This is all dialled in from the helm and includes a management system that allows you to pre-programme it for each rider. It certainly takes all the guesswork out of it.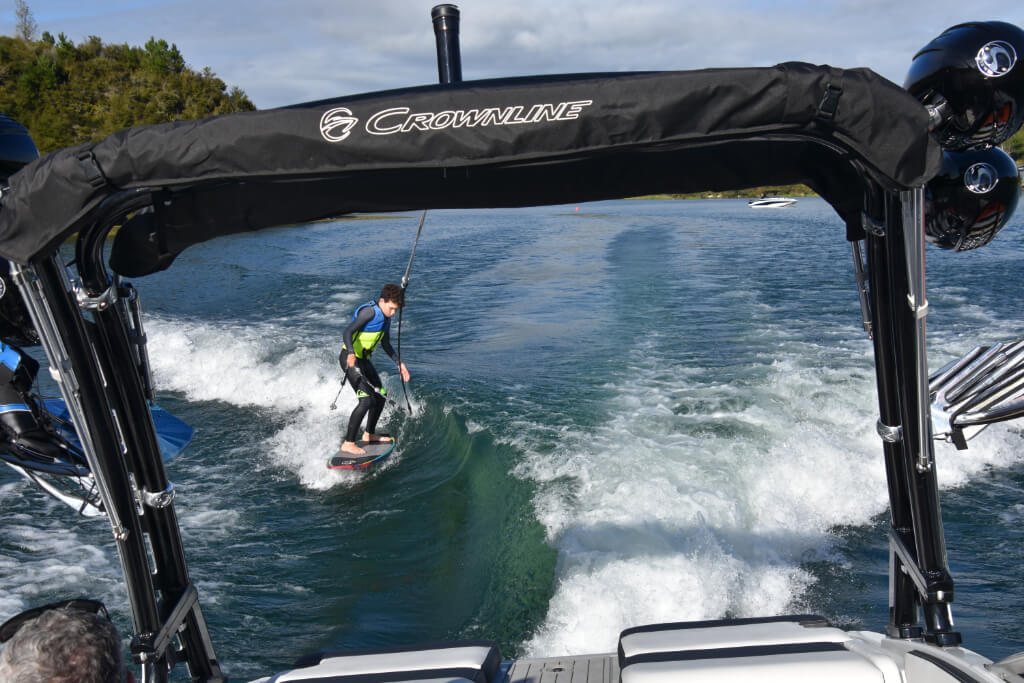 The 220 SS Surf is based on Crownline's F.A.S.T design which stands for; fin-assisted-safe-turn. When you look underneath the boat, you see vented chines that aerate the water and provide extra lift and, along with the fin-like tabs, help reduce any handling issues. It holds the boat in turns and cuts nicely with a secure feel about it.
Following the surf/wake theme, the 220SS Surf also comes with a black aluminium tube wakeboard tower complete with four 8" Wet Sound speakers and racks. There are various models and styles of the tower available. The tower on our boat could also be folded down to provide a lower overall height on the trailer.
Our boat was powered with a Volvo Penta 350 FWD (Forward Drive), a 6.2-litre alloy block V8 that is a totally integrated package, together with the perfectly matched FWD Duoprop drive. This package offers excellent versatility, low noise levels, very low emission levels, and impressive acceleration power. The 220 SS Surf tracks like on rails and is a pleasure to drive. Uniquely engineered with forward-facing counter-rotating props, the boat is pulled through the water rather than pushed. The props are well hidden under the hull and increase safety when surfing or waterskiing behind the boat.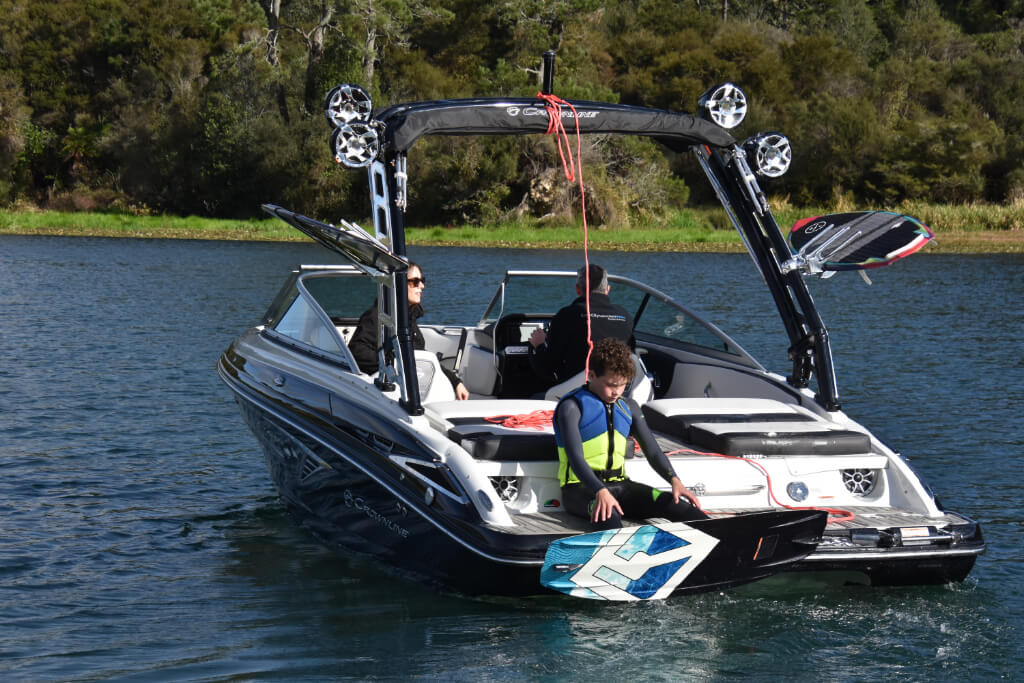 By integrating the optional Electronic Vessel Control (EVC) system, you can add beneficial functions such as the Glass Cockpit System and enjoy features such as Tow Mode. 
Variable trim angles provide the right thrust for leisure cruising and top speeds, which are higher than an inboard. The rate to plane is also faster than conventional inboards. Turns are much tighter and quicker, thanks to directional thrust.
You can customise the wake to suit the rider, which allows you to adjust the angle of thrust. Used in combination with an enlarged trim plate, it fine-tunes your wake surfing wave, and wakeboarding wakes on the fly. 
There are three engine options available for the 220 SS Surf, all Volvo Penta petrol with the DPS forward-facing drive. The choice is Volvo 280, Volvo 300 and Volvo 350. With the Volvo 350 FWD package, I saw 44.3 knots on the GPS. But for wakeboarding or surfing, the speed is best around 18 knots, which returns a mean fuel usage of 22 lph or 1.2 lpnm. That's around eight hours of towing time from the 170-litre fuel tank.
The all-new Crownline 220 SS bowrider lives up to Crownline's reputation for utilising every available space to produce a comfortable, spacious and well-conceived bowrider. The u-shape squab arrangement has drop-down armrests, dedicate space for drink holders and stereo speakers. Forward is an anchor well, and there is also a pair of stainless handrails should you need to hold on.
U-shape seating maximises the seating space in the 220SS, with plenty of storage. The helm is as good as it gets in a boat like this, and everything is readily at hand and visible. The driving position can be adjusted to suit with a bolster style adjustable helm seat and a tilt steering wheel. The interactive helm station has two 7" Volvo Penta touch screens, and all other controls and switches are readily at hand.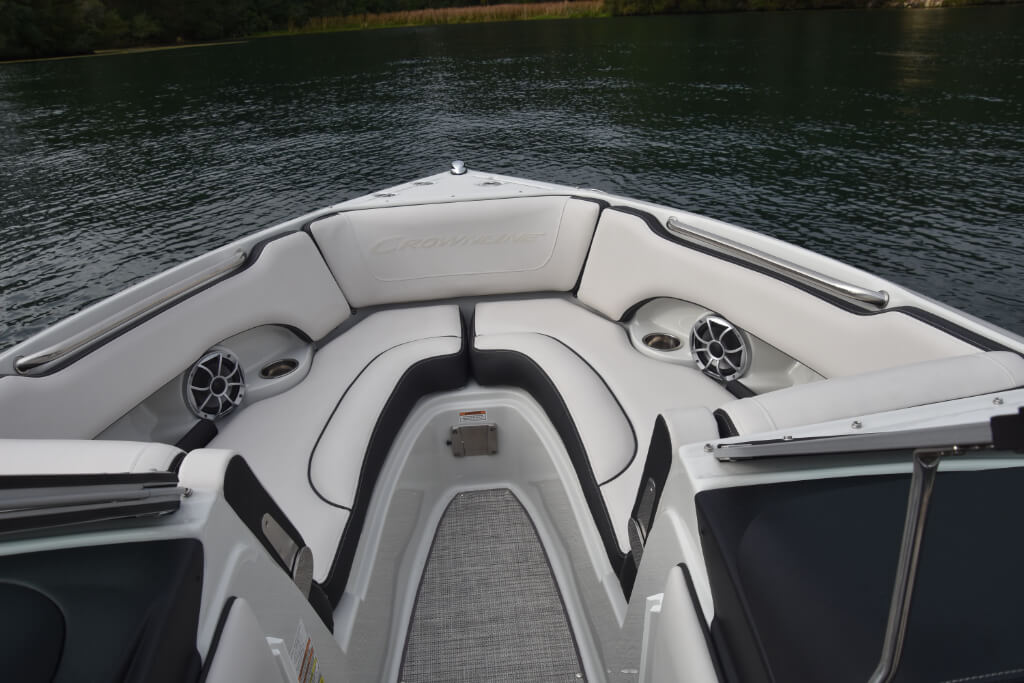 The driving position is extremely comfortable, with the screen dissipating the wind when you are seated. Pull the bolster into place, and you have unbroken visibility looking over the screen. If you close the windscreen centre panel and clip on the bow cover, the cockpit area can be wind-free when driving.
Both forward bolstered bucket seats swivel and can be adjusted to suit the user. The forward passenger console comes with more drink holders, a USB port, a lockable glovebox and some quality trim around the soft vinyl. There is a real touch of class throughout the boat and an accent on comfortable seating.
The rear of the cockpit is an entertainer's paradise but is also designed to be practical. The aft platform, which is all part of the deck moulding, hangs out well aft of the transom. Perfect for anyone gearing up to enter the water with a board. There is a wide flat central walkthrough to the aft platform, between a pair of adjustable aft lounge seats. These have filler cushions that you can remove when you have people coming aboard and then dropped back in place to reform the rear lounger – no wet sandy feet on your nice clean upholstery. The machine billet aluminium hinges that hold the backrests up make a statement about the boat's quality and attention to detail.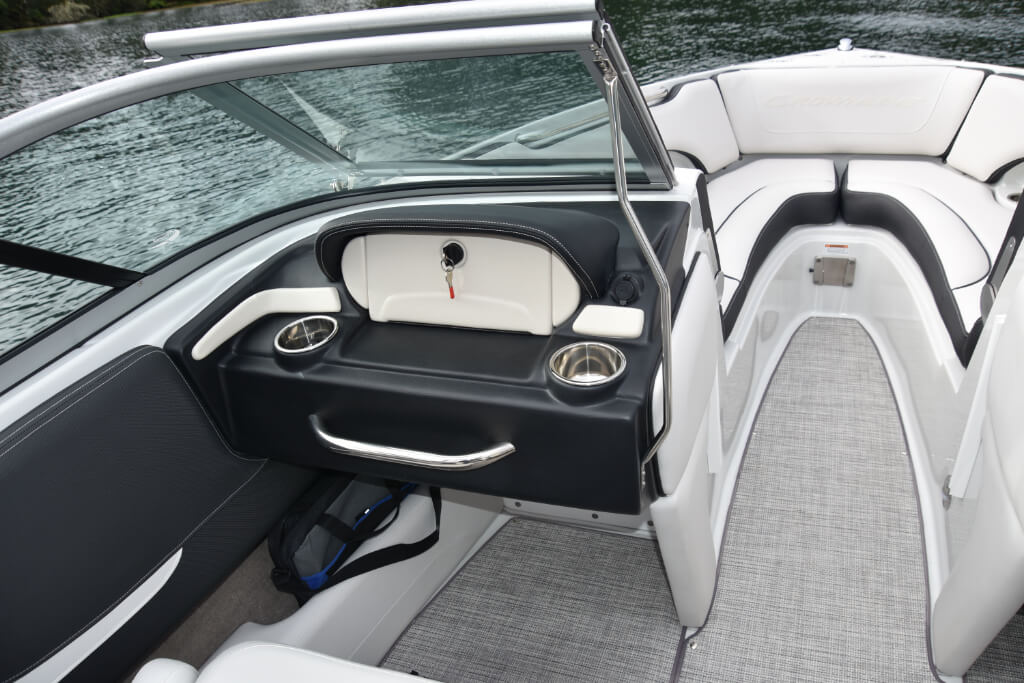 The Crownline 220 SS Surf epitomises what ski/wake boats are all about, and it does it well. Kiwis will find more uses for it, and as an all-purpose family day boat, it's a winner.
It's upmarket, built for a purpose, and it does it very well.
Brand/Model: Crownline 220SS Surf
Priced From: $NZ175,000
Price as Tested:  $NZ199,000
Type: Bowrider Wake/Surf
Construction: GRP
LOA: 7m
Beam: 6m
Deadrise: 19 deg
Height on trailer: 50m
Trailerable weight: 2700 kg
Test Power: Volvo Penta 350 FWD
Power Options: Volvo Penta 280-350hp FWD 
GPS: Volvo Surf Touchscreen
Fuel capacity: 170 Litres
Trailer: Make Heritage
Boat Manufacturer: Crownline Boats
FUEL & PERFORMANCE DATA

RPM

Knots
L/h
L/NM
Range NM

1000

4.3
5
1.1
134

1500

5.7
7
1.3
119

2000

6.9
12
1.7
88

2500

8.6
20
2.3
66

3000

18.7
22
1.2
130

3500

24.4
28
1.1
133

4000

28.6
35
1.2
125

4500

32.5
46
1.4
108

5000

36.5
59
1.6
95

5500

41.4
87
2.1
73

5900

44.3
104
2.3
65

Fuel use based on 10% reserve.