The Crownline 264 CR may be a serious small cruiser, but is has the agility and performance to make it also a fun sport boat. Barry Thompson checks out this new arrival from the US.
Designing and building mid-size cruisers are very much an artform in the US and I am always surprised at just how much they can pack into a small area. However, they still leave you with the feeling of having plenty of space. Crownline's 264 CR might be the smallest cruiser in its lineup, but it's a trailerable weekender with plenty of standard big-boat amenities. Lots of cruisers are short on cockpit space, but the 264 CR maximises your fun-in-the-sun opportunities with an open-transom design that invites you to the water.
Twin cabins, enclosed head/shower, full galley and an entertaining cockpit with surround seating are the norm. Those with a long memory may remember the brand being available many years ago through a Taupo based dealer, Fleet Marine. Since then Crownline themselves had a few issues in the US and it wasn't until just over 10 years ago that they reinvented themselves and the company got in to aggressively building boats.
Crownline are now back in New Zealand and in a short time they have made quite an impact. Imported into New Zealand by Eurocity Marine in Napier, the initial order of two Crownlines – 264 CR and 235 Surf (See full review in the Nov-Dec 2020 issue PPB) and a Finnseeker 200 (Crownline's fishing boat brand), were all sold within a few weeks of arriving.
Dealer principal, Terry Elmsly says he has been very encouraged by the response from Kiwis to these very 'American' boats and quickly placed orders with the Illinois based factory for more.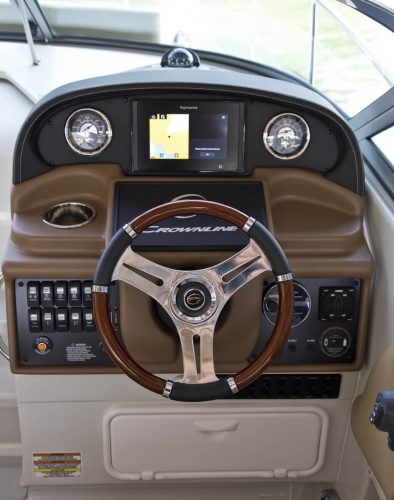 "Unfortunately we have seen a slow output from the factory, firstly due to Covid-19 affecting their supply chain and then simply through demand for their product.
"When you introduce a new brand into the market you are taking a bit of a punt, especially when you have over 30 models to choose from, so selling our first shipment in short time was a great result", says Terry.
The biggest boat in that initial shipment was the Crownline 264 CR, one of three boats in the CR series. At a price tag of around $300,000 plus another $30,000 for the generator option, the 264 CR is positioned as a premium model, so it logically follows that a corresponding price tag accompanies it.
The Crownline 264 CR may be the smallest in the Crownline range of cruisers but in its own way it is a big boat.
Kiwi's will see the 264 CR as an all-purpose boat. One that is a great weekender, a day party and family cruiser and with a few tweaks a fishing platform. Okay, so this isn't a fishing boat as you may know it, but with the generous size boarding platform there is enough space for a couple of fishermen. For added security you could easily add a stainless cage and mount your cutting board with bait and catch bins below. However, if fishing isn't your thing then the platform is ideal for a swimming base and comes with a four-step telescopic ladder, hidden away so you don't stub your toes. There's also a hot-water shower fed by a 98 litre tank.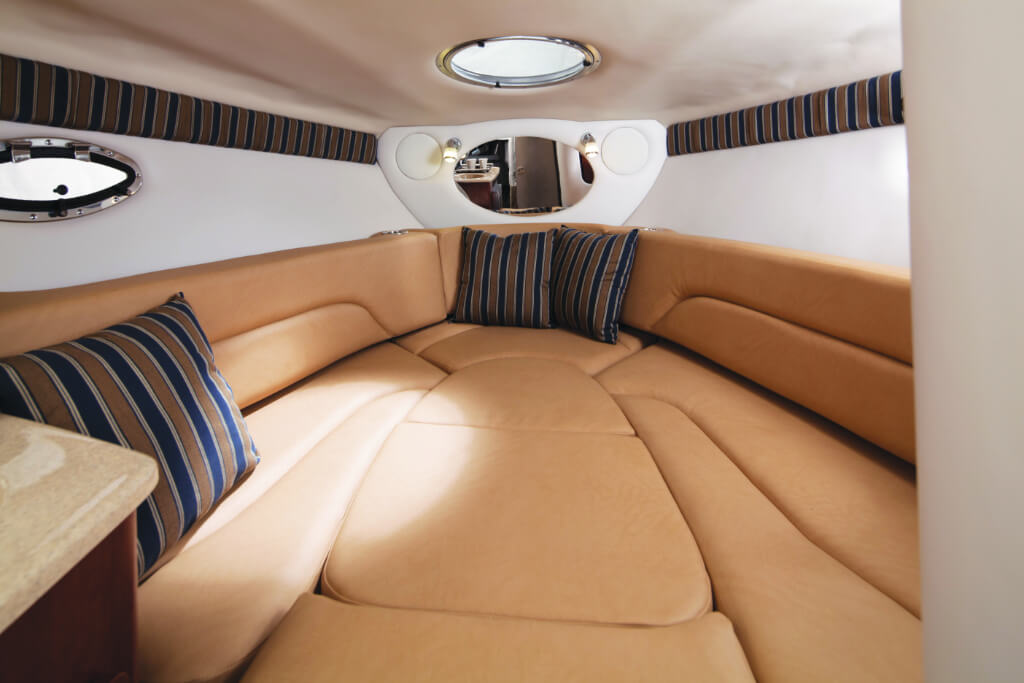 Crownline have paid a lot of attention to making the rear area a focal point of the whole cockpit design, giving it that fun in the sun appeal. Gone is the simple bench seat across the transom, replaced with a very cool multi-facetted pad that transforms from a forward-facing rear seat to a full sunbed. Crownline have not wasted any space under the rear squab either, with the cavity between the engine and the sunpad used as a dedicated storage area for the cockpit table and fenders.
Forward, the impressive helm features full instrumentation with extensive switching systems, Fireboy controls and provision for an MFD. There is a large cupholder, which I found was a great place for my cellphone, plus a dry storage locker below. The double helm bench seat has a flip up bolster and the entire base swivels 180 deg to form an integral part of the rear cockpit lounge and turn it into a full social area. Drop in the table and you have an idyllic setting to enjoy cocktails and canapés at sunset. This big social space is supported with a serious Fusion sound system with well placed speakers throughout the cockpit area.
To port of the helm is a compact rear-facing recliner, and behind that is an entertainment centre with a sink and a removeable cooler box underneath.
With no side decks, Crownline have come up with a very smart way to access the bow area, by converting the sliding cabin door into external steps. A hinged centre section of the screen allows for easy access to the foredeck, and a sunpad.
Crownline have made sure that if you are going to stay away overnight in the boat, then you will do it in comfort. Soft furnishings are warm and inviting, matched with a liberal use of cherry cabinetry which adds a quality touch.
Forward is a multi-purpose lounger and dining area that can be converted to a generous size berth. Essentially there are two berths, the forward berth and an amidships berth that has enough headroom to fend off the feeling of claustrophobia. A stand-up head compartment with a shower resides on the starboard side and to port is the galley with an electric stovetop, a microwave and a refrigerator. All in all, a very well conceived use of space.
The 264 Cruiser is available with seven different sterndrive options with engine packages from Mercruiser and Volvo Penta. These range from 300 to 350hp, with the first 264 Cruiser to arrive in New Zealand powered by a Volvo Penta 350 EVC DP.
I had the chance to run the 264 Cruiser a couple of times, once in reasonably choppy water and the second time in little more than a ripple. What impressed me was how the boat felt at mid cruise speed. It was solid, reliable and very responsive to the Volvo Penta controls. You get the feeling you are well above the waterline and hence great visibility from the helm. At rest the boat is reasonably stable and underway certainly dry.
The high profile of the boat means that when you accelerate from idle, there is excessive bow lift, which can be eliminated a little by keeping the leg trimmed hard in. However, once on the plane it's just a matter of adjustment between the tabs and the leg to get the optimum ride.
Top speed was 39 knots, with a best cruise around 29 knots. Fuel consumption at cruise of 4500 rpm was 39 lph/1.70 lpnm for a range of 150 nm based on 90% of the available fuel.
What impressed me about the Crownline 264 CR is just how much they manage to fit into the available space and why this is unquestionably an awesome weekend cruiser. It gives you everything you need for overnighting, entertaining and yet still leaves you with the ability to add a few Kiwi touches, such as fishing options.
The bonus of being trailerable is one weekend you can by cruising around the Hauraki Gulf and the next your on Lake Taupo. Add the superior fit out and finish and it's hard to fault the Crownline 264 CR.
FUEL & PERFORMANCE DATA

Crownline 264 CR

Fuel capacity:

284

litres

 

RPM

Knots

L/h

L/NM

Range  (NM)

 

 

 

 

 

1000

4.0

5

1.300

190

1500

5.5

7

1.300

190

2000

7.5

12

1.600

150

2500

8.5

20

2.400

100

3000

11.5

30

2.700

94

3500

17.0

35

2.100

120

4000

23.5

39

1.700

150

4500

28.5

48

1.700

150

5000

32.0

64

2.000

120

5500

34.5

84

2.500

100

5900

39.0

100

2.600

98
Make & Model: Crownline 264 CR
Manufacturer: Crownline  Boats
Price as tested: $NZ300,300
Type: Cruiser              
Construction: GRP
LOA: 8.02m                         
Beam: 2.59m                         
Deadrise: 19 deg
Test Power: Volvo Penta 350 EVC DP          
Maximum RPM: 6000 rpm
Top Speed: 39 knots 
Power Options: Sterndrive Only
HP Range: 300-350 hp
Fuel capacity: 284 litres