Leading U.S. boat brand, Crownline, is back in New Zealand after a very long absence and the new importer, Terry Elmsly of Napier based Euro City Marine is determined that it will be an extended stay.
Crownline offers a wide range of sports bowriders and cruisers from 5.79m to 10.6m with each boat available to be speced to suit individual requirements with a range of factory and engine options.
The first two to arrive in New Zealand are the Crownline E 235 Surf and the 264 Cruiser, both of which are uniquely American and unlike anything produced in this country. However, that said, they both have the right attributes to be well suited to the local market, albeit a little different to what we see from Kiwi trailer boat builders.
The larger 264 Cruiser is one of two offered in the C.R. Cruiser range, and the E 235 is the smallest in the four model E Series of Surf deck boats.
I read somewhere recently about a superyacht that was described as the ultimate synthesis of form and function, and this truly defines the Crownline E 235 Surf. In reference to the selective recreational surf/ski market, the Crownline E 235 Surf is one of the market leaders, and it is easy to see why. It's a multi-purpose water sports boat that is designated to serve sports enthusiasts that like to spend their boating hours towing toys. It's a boat that tells you to have fun!
It is not a boat for everyone, and as there are no rod holders, rocket launcher or live bait tank, that cuts out a large sector of the Kiwi trailer boat market. However, if you are shopping for a dedicated surf/ski crossover boat that offers a luxurious, comfortable interior and exceptional performance, then read on.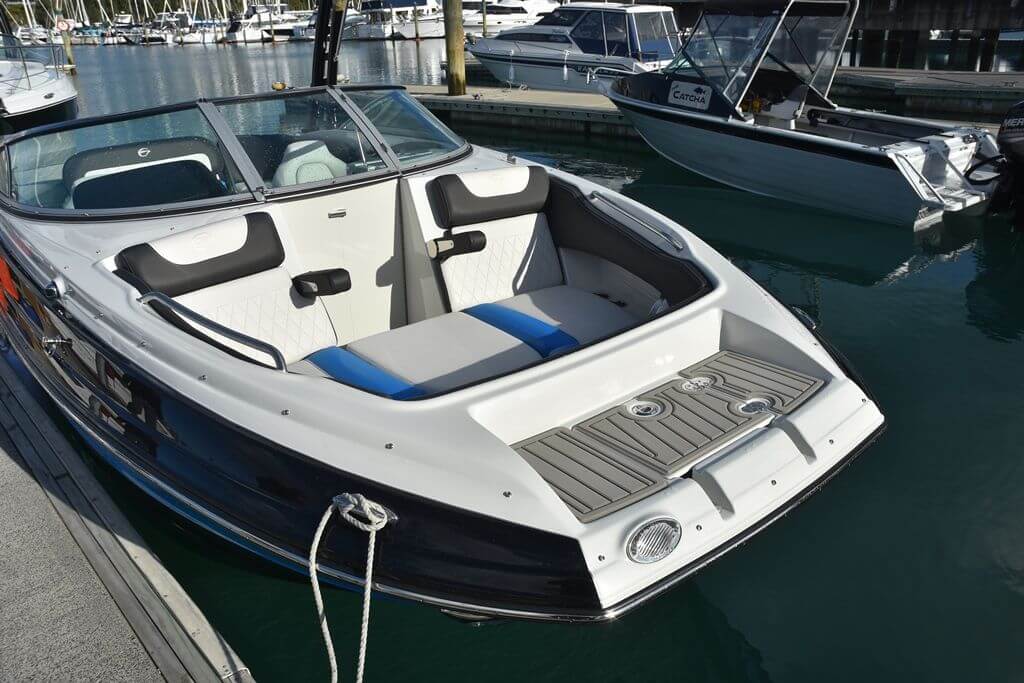 In choppy waters off Gulf Harbour, the E 235 Surf was very impressive, and once I got the trim of the Volvo Penta Forward Facing drive and the tabs dialled in, it was a pleasure to drive. The E 235 Surf is what the Americans refer to as a deck boat, which has a wide bow, which provides for more deck space, thus the name deck boat. The wide bow can be accomplished through some trickery in hull design, but essentially it's a deep-V bowrider design with a flared hull at the bow, that is squared off. A conventional bowrider can be just as roomy as a deck boat, but they will almost invariably need to be longer overall to be able to offer the same amount of room.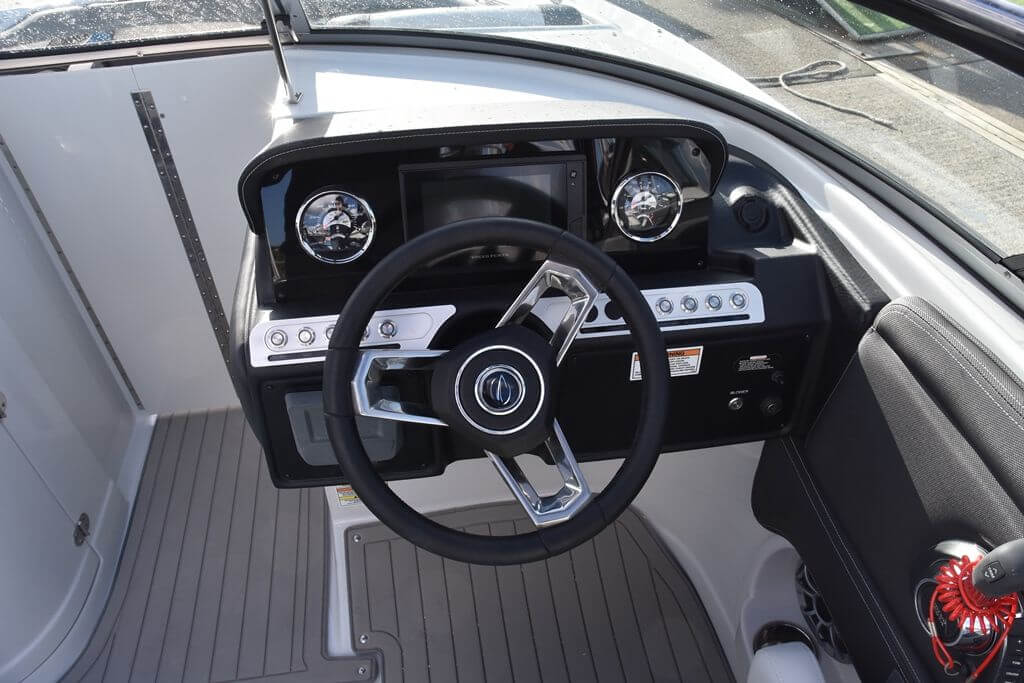 The unique bow shape makes you feel like you are running the boat too flat. But as the images of the boat on the water clearly show, that's far from the case. The 7m hull has a 19 deg deadrise at the transom, with two strakes per side and an extra-wide spray chine with a notched section aft. 
Being a specialist wake/surf boat, the running surface is quite different from a conventional deep vee. The duo prop, combined with Crownline's patented F.A.S.T. Tab design, gives quick planning and manoeuverability. The Wake Worx surf tabs allow you to "dial-in" the perfect wave and the system also remember rider profiles for easy speed management.
The acronym F.A.S.T. stands for, fin-assisted safe turn. In practice, a F.A.S.T. Tab hull's vented chines aerate the running surface to reduce drag, and the fin-like tabs keep those vents from producing handling quirks. 
It was the first time I have experienced the Volvo Penta Forward Drive, which places the prop in front of the sterndrive's lower unit, eliminating the safety concerns of surfing behind an exposed propeller. 
Coupled to a Volvo Penta V6 or V8, (240-430hp) with the Forward Drive you experience less noise, and exhaust smells since the exhaust fumes are emitted under the water, which translates into more onboard comfort. The Forward Drive sterndrive features silent shift, which provides a seamless and soundless shifting.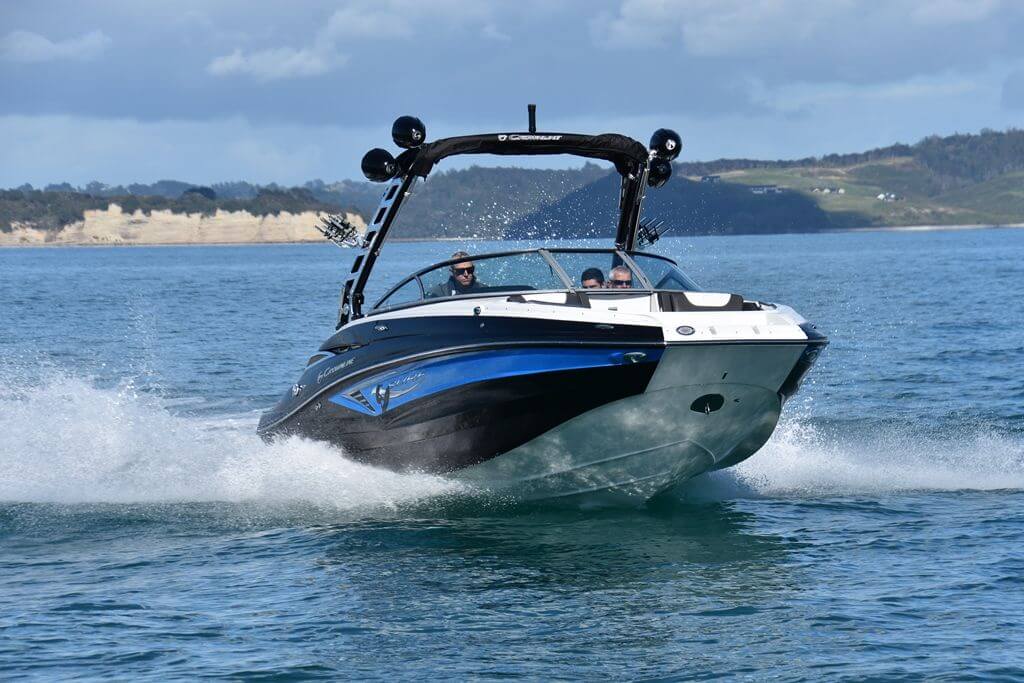 Our Crownline E 235 Surf was powered by a Volvo Penta FWD 300 CE with Eve controls, which gave a top speed of 37 knots. If you want to go a little faster, then you can option the Volvo Penta FWD 350 HP and see a top speed around 43 knots.
This is a boat that will spend most of its time running around 3500-4500 rpm in the ski/wake zone of 20-25 knots and it is surprisingly economical. At 3500 @ 20 knots, the Volvo Penta 300 is using just 26 lph or 1.4 lpnm, which makes for very economic boating.
In high-speed turns, the hull and drive system work together to provide sure-footed tracking and steady handling. Transition onto the plane is effortless with a low bow attitude and acceleration to maximum speed is very rapid. The DuoProp twin counter-rotating propellers bite hard, and you with excellent thrust. The E 235 Surf ran straight and true. The boat sticks tight in turns, with negative feedback through the helm. 
 I liked the three driving positions; seated, standing or bolstered. Seated, you have excellent visibility through the large curved glass screen which affords excellent wind protection. Standing there is plenty of leg space between the adjustable wheel and the seat. 
The dash is ergonomically designed for ease of sight to all instruments, with switches and the Volvo Penta E.V.E. controls easily to hand. Central is the Volvo Penta watersports display which gives you electronic control of everything in your engine room as well as your ballast situation and wakesetter surf tabs.
This crossover model features a centre ballast system, with two additional bags at port and starboard for a whopping 680 kgs of ballast, promising a sweet surf wave for all skill levels, from beginners to experienced riders. 
Wake-boarders (and music lovers) will appreciate the standard Samson Blade deluxe aluminium tube tower with etched side panels and bimini cover. Two Samson Talon combination wake/surf board racks are standard as well. And, with the four amplified tower speakers and L.E.D. light rings on the cans, the tower looks and sounds incredible. The tower can be raised and lowered almost at the touch of a fingertip thanks to its powerful concealed lift mechanism.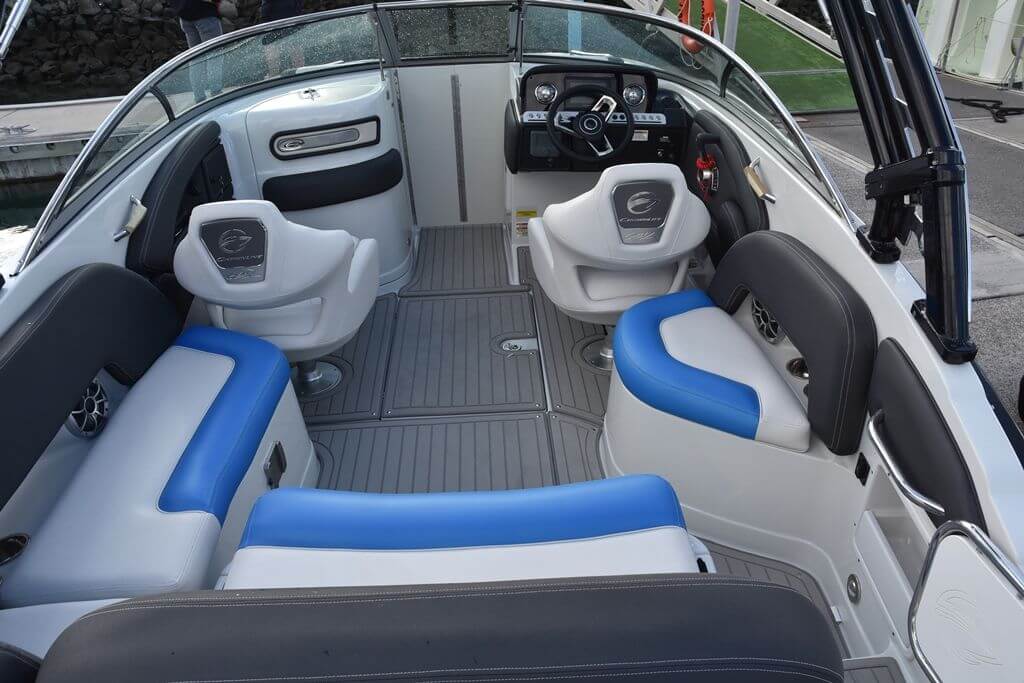 When you have done with towing the family and friends around, the E 235 Surf takes on another persona as a day cruiser. The well-thought-out layout is all about having plenty of seating, plus massive amounts of storage, including a dedicated underfloor locker for all your boards and skis. Thanks to a deep sheer line, the E 235 Surf has an extremely spacious cockpit head compartment for a boat of this size. Inside this port side compartment, the standard package includes custom cabinetry with a sink and solid surface countertop, a handheld shower, opening portlight and porta potti. 
Cockpit seating includes a pair of swivelling helm seats and an L-shaped lounge that runs from behind the port passenger seat, around the transom to the walkway that accesses the spacious platform. A jump seat behind the generous captain's chair completes the circle of conversation. Crownline has used every available space for storage.
A very cool feature is the convertible transom seat back, which can be laid forward, forming a sun pad or stopped anywhere from fore to aft creating back-to-back rumble seats that overlook the swim platform. A great spot to keep an eye on anyone who is riding your wake.
As already mentioned, the E 235 Surf is a deck boat, and when you check out the bow area, it is easy to see how it gets its name. Not only do you get a larger open bow area, for seating and storage, but you also have a foredeck platform. Easily accessed under the deck hatch, is a hidden anchor locker with auto capstan, and a foldout stainless bow ladder. Great for getting on and off the boat from a beach.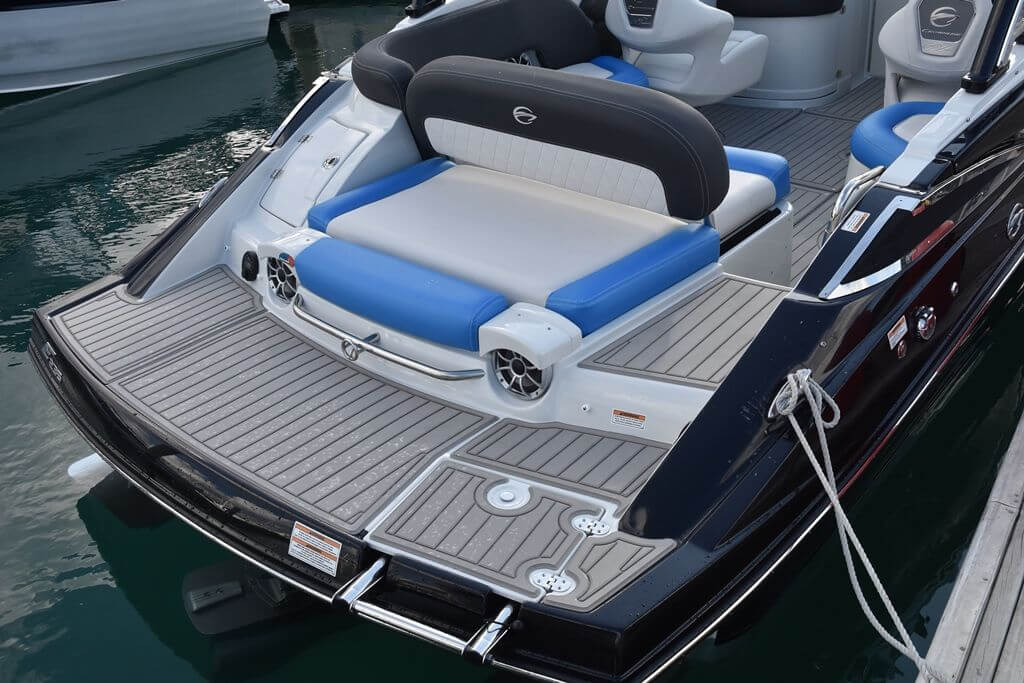 In 2009 Crownline went under new ownership and started a back to basics approach. Over the next eleven years, they have evolved into one of the most respected U.S. brands and continually bring new models to market. In 2019 alone, they added ten new boats to their range, and there are plenty more planned over the coming years. Now it is again New Zealand's turn to experience what Crownline has to offer, and if the first two I have seen are any indication, I am sure they are going to be well received. 
The construction methods used by Crownline are exceptional, and the company doesn't cut corners when it comes to quality products in the build and fitout stages. Their attention to detail is outstanding, as are all the hardware and accessories.
While a boat that doesn't have rod holders might seem strange for a lot of Kiwi boaties, it absolutely makes sense on the E 235 Surf, and I am sure anyone looking to buy a fun, stylish wake/ski boat will agree. Plus if you like what you see but wanted something bigger, then Crownline has three larger Surf models to suit your needs.
Make & Model: Crownline E235 Surf
Manufacturer: Crownline  Boats
Price as tested: $NZ239,995
Type: Surf/Ski Bowrider                  
Construction: GRP
LOA: 7.01m
Beam: 2.59m
Deadrise: 19 deg
Test Power: Volvo Penta FWD @ 300hp 
Maximum RPM: 5900
Top Speed: knots  
Power Options: Volvo Penta Forward Drive
HP Range: 300-350 hp
Fuel capacity: 140 L
| | | | | |
| --- | --- | --- | --- | --- |
| RPM | Knots | L/h | L/NM | Range  (NM) |
| 1000 | 4.6 | 5.2 | 1.200 | 100 |
| 1500 | 5.8 | 6.8 | 1.200 | 100 |
| 2000 | 7.4 | 10 | 1.400 | 90 |
| 2500 | 8.1 | 16 | 2.000 | 63 |
| 3000 | 11.5 | 24.5 | 2.200 | 57 |
| 3500 | 19.8 | 26 | 1.400 | 90 |
| 4000 | 24.6 | 31.2 | 1.300 | 96 |
| 4500 | 28.5 | 41.2 | 1.500 | 84 |
| 5000 | 32.2 | 52 | 1.700 | 74 |
| 5500 | 34.5 | 63.5 | 1.900 | 66 |
| 6000 | 36.7 | 67 | 1.900 | 66 |