Barry Thompson loves bowriders and with the Crownline E275XS he reckons he has found a superb family day boat that is so feature packed, that you only need to add your tow toys to be complete.

While the recent Hutchwilco NZ Boat Show was noticeable for being devoid of new model fibreglass trailerboats, the few that were on display were certainly outstanding. One such boat that attracted my attention was the US built, Crownline E275XS, a multi-purpose bowrider that takes the basic open bow concept to a whole new level.
The E275XS is unlike any locally built bowrider and opitimises what we are seeing now from leader US manufacturers such as Crownline. Luxury finish with an intelligent layout and a super sexy style. But given all that, is it suitable for our tough boating climate and how does it suit the Kiwi boating lifestyle?  Well, that all depends on where, when and what you are using your boat for. Okay, it's not an offshore fishing boat, but then it's not designed to be. This is a versatile family orientated dayboat, that is at home towing water toys on Lake Rotoiti or cruising the islands of the Hauraki Gulf with the family. 
This may be a bowrider, but it is a big full-bodied boat that has a hull designed specifically for handling a bit of rough water. Gone is the old-style US bowrider with its dropping bow that looked set to pierce every wave. The E275XS bow is high, with wide shoulders and a fine deep vee entry. Crownline have gone a step further and designed what they call their F.A.S.T. TAB Hull Design. It was conceived to improve slow-speed stability, time-to-plane acceleration and fuel economy.
The acronym stands for fin-assisted safe turn. In practice, a F.A.S.T Tab hull's vented chines aerate the running surface to reduce drag, and the fin-like tabs keep those vents from producing handling quirks. The hull sticks in turns, is responsive to trim, and is a a pleasure to drive at speed. Chop back the throttle and you can feel the vents working as the boat glides along for quite some distance before settling off plane.
When running the boat in the calm water I can certainly attest to what the F.A.S.T system is all about. With a Suzuki 325 on the transom we saw 44.5 knots on the calm waters of Lake Ohakuri. The slippery hull was onto the plane in seconds, with a low bow attitude and it reached maximum rpm very quickly.
At 3500 rpm, the GPS showed 23 knots with a fuel use of 34 lph and a range of around 170nm. Bring that up to 4500 rpm @ 31 knots, the fuel is still a reasonable 53 lph and you still have a 140nm range.
Towing a wakeboarder at around 18 knots the fuel rate drops to around 30 lph and the range to around 100nm. I was told 10-12 knots is ideal for surfing and at that the fuel consumption drops to mid to low 20 knots. Cheap day on the water I reckon.
Crownline offer a seven series, 41 model line-up (including five Finseekers), with the XS Series comprising nine models from 5.79m through to 8.90m. Crownline utilise the same hull for various models, the difference been outboard or petrol sterndrive power options. The E275XS hull is shared by the sterndrive variant, E275.
The US built Crownline brand made its reappearance into New Zealand in early 2020 and through importer, Euro City Marine has started to establish a following. After selling the first shipment of Crownline boats and its associated fishing brand Finseeker, Euro City's Terry Elmsly had the confidence to restock, but this time with completely different models.
The Crownline E275XS, is the first of the bowrider XS models to arrive. A feature packed 8.18m bowrider, it is extremely highly speced, from the electric arch to the adjustable transom lounger and 'hot tub' style bow seating. This big crossover model combines performance and style with the roominess and comfort while making maximum use of the space.
Something that I have never seen on a Kiwi built bowrider in this segment is the squared of bow design which gives a dedicated foredeck. You can have it complete with a telescopic drop-down ladder for ease of boarding and debarking. Great for getting on/off a beach or nudging up to the shoreline in the Marlborough Sounds. Or, in our case we had a windlass and stainless bowsprit, which is probably going to be more favoured by Kiwis. When you go for the windlass option you have to delete the ladder. The bow area is huge and I did like the reference from Crownline to a hot tub style. You certainly get the feeling that this is the place to relax with a drink or to soak up some rays. There is storage under the U-space seating, drop down armrests, speakers and drink holders. An optional cooler can be fitted under the forward squab. A full bow cover and bi-fold doors close off the bow and stop the wind and rain blasting into the cockpit. To starboard aft is a dedicated locker for fender storage, plus there is a deep locker in the sole.
I would describe the cockpit as conversation-friendly, designed for family living with entertaining at its core. Seating is plentiful with two bolster seats with flip-up bolsters forward, and an L-shape lounger to port. You have the option of a second small lounger or a cockpit galley, complete with stainless steel sink, cooktop, fridge and granite top. Storage is plentiful under the seating plus there is an optional cooler bin under the starboard lounge if you choose that option. Like the rest of the boat there is no shortage of drink holders and speakers for the entertainment system.
A very cool feature is the aft electric sun lounge seat that adjusts the backrest position so you can stretch out while sunbathing, cocktail cruising, sit up to watch the kids at play in the water or observe anyone your towing. 
Having a dedicated and private head compartment on a boat this size is also a real bonus. Situated in the port side console, it has good headroom, plenty of natural light, plus a sink unit and Cranite top. Doubles as a changing room if you need privacy.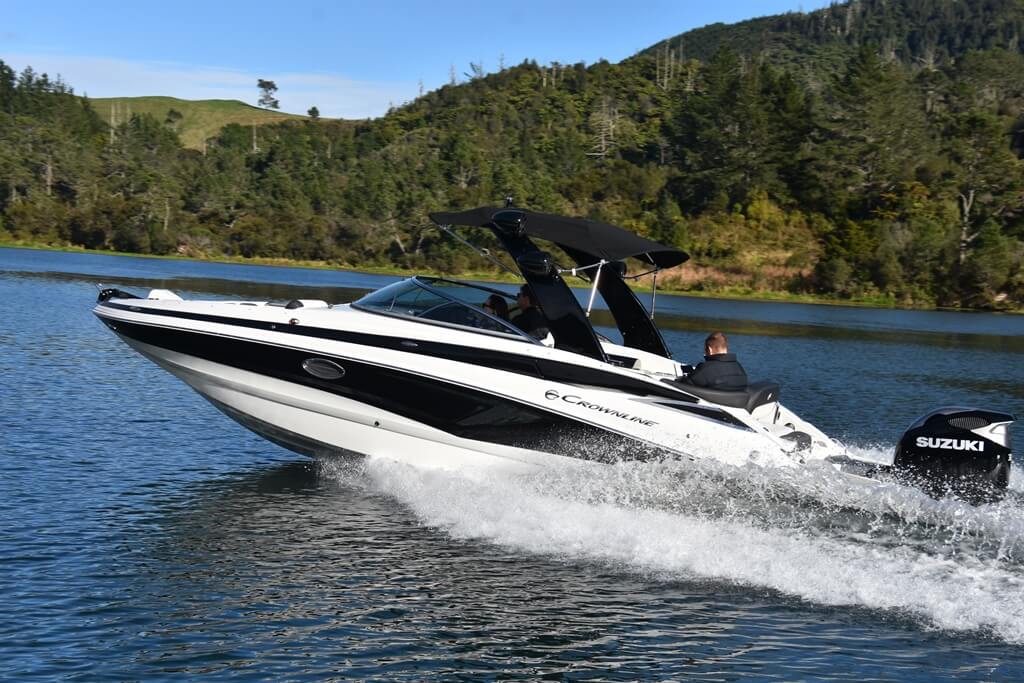 Opposite, the well-appointed helm is laid out around a pair of Raymarine 7" screens with all controls, switches and gauges easily at hand and visible. I found either seated or standing in the bolster position was comfortable. With the adjustable helm seat and tilt steering it's no problem setting up the steering position to best suit you.
There is plenty of underfloor storage with the deep locker between the forward seats complete with a pull-out draw that houses the cockpit table and leg.  You get the sun protection from the electric fold-down aluminium arch and bimini top, which can be lowered with the flick of a switch to reduce the overall height of the boat. Very convenient if you have a height issue when parking the boat. The cockpit is finished with a snap-in woven matting.
Behind the transom there's a generous boarding deck which includes another telescopic ladder, and a second hand held fresh-water shower is nearby. There is another one in the bow.
If you are shopping for an ultimate family day boat, then check out the Crownline 275XS, it has a lot going for it. However, if that's too big or too small, there are others in the Crownline XS range that may also suit you.
Model: Crownline E275XS
Builder: Crownline Boats (USA)
LOA: 8.18m
Beam: 2.59m
Deadrise: 19 deg
Construction: GRP
Fuel Capacity: 284L
Price As Tested:$295,990
Type: Bowrider
Power:Suzuki 325hp
Power Options: Outboard Only
MFD: 2 x Garmin 7"
Entertainment: Wet Sounds
Trailer: EZ Loader
| | | | | |
| --- | --- | --- | --- | --- |
| RPM | Knots | L/h | L/NM | Range  (NM) |
| 1000 | 4.4 | 4.5 | 1.100 | 230 |
| 1500 | 6.0 | 7.5 | 1.300 | 190 |
| 2000 | 7.3 | 11 | 1.600 | 150 |
| 2500 | 8.0 | 17 | 2.200 | 110 |
| 3000 | 10.7 | 27 | 2.600 | 98 |
| 3500 | 23.0 | 34 | 1.500 | 170 |
| 4000 | 27.2 | 42 | 1.600 | 150 |
| 4500 | 31.0 | 53 | 1.800 | 140 |
| 5000 | 35.0 | 74 | 2.200 | 110 |
| 5500 | 38.5 | 94 | 2.500 | 100 |
| 6000 | 42.0 | 104 | 2.500 | 100 |