Cruise Craft's flagship in its Explorer range just ticked the final box in its portfolio, with the addition of a most stylish hardtop assembly for its 685 model.
The 'Explorer' label quantifies nicely this fishing-orientated range within a range which is held in high regard by fishermen who chase fish in genuine bluewater conditions. Cruise Craft hulls are respected by those who know; their performance goes before them and invariably they are kitted up to the hilt with all the toys. But until now they have lacked that one feature that would make them a universally attractive proposition for boaters all over Australia.
A bimini with its associated clears package which either removes or folds down, is fine in the warmer regions of Australia; but the other half who languish in decidedly cooler southern climates have a different agenda – that of self-preservation. For boaters in these boating meccas 'numero uno' on their wish list is the sanctity of an enclosed helm station; a lid over their head affords them the luxury of a more enjoyable day on the ocean, and, in most instances – year-round boating.
Aesthetics are another influencing aspect and certainly the brand-new hardtop feature which incidentally is available only (for obvious reasons) on the largest 685 Explorer model, scores well in that respect also. Some hardtops look like the proverbial phone box on a street corner but in this instance the design of this structure combined well with the lines of the hull, adding a definite touch of 'class' to this fishing boat.
Yes, the two ideals can and do go together and it is perhaps pertinent to understand the type of person who buys a Cruise Craft Explorer. These are owners who know what they want in a boat, and are prepared to pay for it. Let's face it, this particular (Explorer) range is never ever going to be the cheapest boat on the harbour, simply because by the time they leave the dealers' showrooms they are dressed up to kill so to speak, with every conceivable fishing aid/device known to serious fishos. Why not then, have a little class along the way, also?
Over the years these 685 hulls have continually 'developed' under the watchful R&D eye of Cruise Craft's design team now headed up by Justin Nichol, the third generation of 'Nichols Boys' along with brother Nathan, who now own and run Cruise Craft. Proud dad Kevin, on hand to drive our test boat for the photo shoot, was quick to point out however that this R&D work has not been without outside help. "When it comes to the hull we of course make all the calls based on a lifetime of tinkering with boats," Nichols explained, "but a very significant percentage of the 'good ideas' on our boats have in fact come from our owners. When boats are used as much as our boats are, in real bluewater conditions, you get a lot of feed-back and 'advice' from these owners. And we listen; we design a boat that fishermen want, not a boat we think they should have.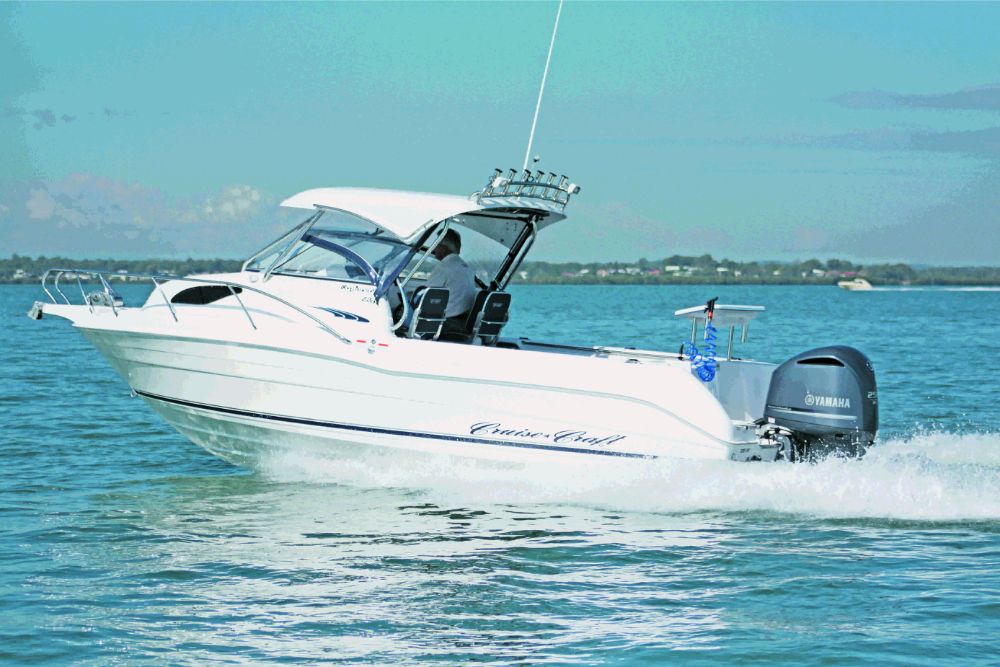 "And when it comes to the features and appointments we fit to our boats, we work very closely with the respective suppliers or manufacturers too; we learn and we pass that information on so our clients have appropriate gear that we know works, more especially in the areas of electronics, engines and hardware. They are put into service and tested by us for at least 12 months, prior to finding their way onto our customers' boats," Nichols further explained.
I was also lucky enough to have as a camera boat the day of my test a perfect before and after scenario with a previous 'bimini-top' version as the camera boat and this new hardtop model as the subject matter, which gave me a perfect insight into just what Nichols was alluding to in that previous statement. Our actual test boat was understandably devoid of an electronics package but even in its undressed guise it still boasted important 'big-ticket features such as bowrail, hydraulic steering, transom door, swim ladder, lockable glove box, adjustable seats, sliding lockable cabin door and underfloor storage bins. And of course there was the hardtop structure which in this instance was the 'open' version with clears, rather than the enclosed on three sides version, with sliding side windows.
Toss in other often over-looked items such as the Cruise Craft multi-roller trailer that comes with a bed of 48 rollers, the CE-certification, the one-piece full interior GRP liner and the foam-filled hull, and you begin to appreciate just what you get for your money. Sure, our pre-owned camera boat also had other 'essentials' such as a $25K-plus electronics package, integral tackle box, and portable ice-boxes under each seat, but these are the discretionary items which vary significantly from boat to boat, depending on the skipper's individual requirements and expectations.
To this standard package Cruise Craft had presented our test boat with tried and tested additional features that most people end up including in their 'sportfisher' boating package anyway. Some would go as far as to suggest they should be standard too, but items such as a VHF and a 27MHz radio, sliding hardtop extension, the Lewmar winch, rope, chain and double-action fairlead anchoring package, bait station, folding rear lounge, moulded underfloor storage bins, deck-wash/shower and plumbed live-well – will appeal to some but not to others, in varying degrees.
I have to be honest and declare I did initially wonder how the hell a trailerboat package could escalate from a base price of $105K, up to an as-tested price of $122K; until that is I stepped aboard and began to fully appreciate just what this mini-cruiser had to offer. And it was not just the physical in-your-face material features, for the innovation also played a part. This was perhaps moreso the client input Nichols was alluding to earlier, for there were just so many good ideas that once again, were so subtle as to very easily go unnoticed.
The more noticeable examples however, of this pragmatic approach to building and presenting a practical and endearing boat included the boarding access whether on land or in the water; the small but effective transom door and a three-rung ladder below it, certainly made life easier. I was impressed also to see the effort that had gone into sealing the elephant trunk which carries the cabling from engine to remote box.
The stern area was actually quite 'busy', with a plug-in deck wash and the moulded GRP bait station complete with bar below to mount the simple plastic bins on, each sensibly close at hand for the fishermen. While the floor was cambered so water ran off it and into the angled channels each side, this huge uncluttered cockpit was presented well with properly 'edged' dome-down carpet – including the flaps which lifted up to reveal access to what were voluminous underfloor storage or fish bins.
Everything in fact was huge, including the off-the-floor and drained full-length side pockets each side, and the underfloor fuel tank. What did impress me with that latter aspect was the fact they have managed to put a floor-cover over the tank, which does not creak every time you walk on it; at the risk of sounding malaprop-prone, it's not rocket science! This fuel tank incidentally comes in two sizes, either 370L or if you opt for the 60L fresh-water tank then the fuel capacity reverts to 310L, to make way for it.
Another special feature for me, and certainly from a fisherman's perspective, was the innovative folding rear lounge. A comfortable seat when folded down, it completely recessed into the transom beam when not in use, so as to provide absolute access to the transom. I noted alongside this lounge, in the starboard corner, a fairly serious bank of battery isolating switches also. Depending on your usage expectations you can have one, two or three batteries fitted, all managed by these switches. In the case of the test boat for instance, there was a battery each side within the transom beam; in the camera boat there were three batteries fitted (two to portside, one to starboard) – one each for the engine, the house and the rather serious electronics package!
Overhead the slide-out S/S and canvas hardtop extension was a work of art that operated easily, and within the confines of the helm station Cruise Craft has stuck with its tried and well proven S/S-framed seating configuration. For the skipper the helm station was ergonomically well laid out; whether standing or seated on the fully adjustable chairs.
Understandably, without any electronics the actual dash facia was rather 'lonely' but in saying that the switch-banks and VHF radio either side of the SeaStar (hydraulic) steering, and the trim-tab buttons and the Yamaha digital fly-by-wire instrumentation on the 'carbon-fibre' upper level – were adequate compensation. As were the appropriately-placed remote controls, the key start and kill switch panel and the 'library' of warning stickers which were well out of the way, to the right of the helm wheel. For the crew, well they had in front of them an absolutely brilliant (lockable) glove-box feature, the perfect 'dry' spot for all those valuables.
The cabin was for me a mild disappointment, in the context of the boat thus far. Sure there was a brilliant lockable sliding door that was one-finger activated, there were steps up to the easily accessed hatch to the anchoring features on the bow, there was ample room for a porta-potti between the bunk bases, and a bunk infill would make it a mighty large area to spread out on – but it was just so stark in there! Granted, this is a fishing boat but in a boat of this specification and indeed high level of presentation – I would have thought a 'front-runner' lining rather than a flecked flow-coat finish would have been mandatory, rather than optional. That's just my personal preference!
For that and of course all the endearing features hitherto mentioned, the very real appeal of this boat for me was always going to be the 'under way' component of the test. And wouldn't you know it, there are about three or four days a year when the harbour is 'oily' calm – this was one of those days. Fortunately I know first hand from an earlier 685 Cruise Craft experience during a 'Bar Crossing Course' with the intrepid Billy Corten, just how well this hull handled in the most horrendous of conditions, so that was a given. But what I hadn't experienced was this hull package running in conjunction with the new evolution of 4-stroke 250hp Yamaha.
An absolute brute of an engine at 4.2 litres, this was definitely a wolf in sheep's clothing, for while offering the appearance of a big engine, it weighed in at a surprisingly modest 253kg. A V6 sister-model to the 225hp and 300hp B-Series engines, it certainly raised eyebrows for despite the glassy-calm conditions it leaped out of the hole well. That I put down to the low-down torque of these new engines, and I guess this was best confirmed by the aggressive turn we put it into, at a fast cruise speed of 30 knots – it went round like it was on rails, maintaining its speed!
Quite simply, under power the Cruise Craft 685 Hardtop from the Explorer range did everything it should do and more, even at the very respectable top speed of 42.5 knots (78.7km/h). It rose up from a standing start, up onto the plane at a remarkably level fore and aft attitude and at the top speed it was hands-off-the-wheel stuff. Underway, the hull was very quiet thanks to the underfloor foam that while providing inherent sound qualities, also rigidly tied the hull and the one-piece internal liner together, as one.
As you can tell by the performance sidebar, while the dynamics of the engine changed as it proceeded up through the speed range, the net result is you would go a long way on a 310L tank. The features in general were quite exceptional and certainly the way it was built and presented is what we have come to expect – nothing less!
The hardtop was the crowning glory; there is nothing quite like cruising back to base after a big day on the sea, in the comfort, sanctity and yes, dry and windless luxury of a hardtop configuration. The 685 is certainly not a cheap boat – there is no such beast when you take into account the level of specification – but from a value for money perspective the reality is the next step up from this 685 – is a full-blown cruiser at 8-10 times the cost!.
Boat make: Cruise Craft
Model: 685 Explorer Hardtop
Designer: Cruise Craft
Priced from: $AUS105,000
Price as tested: $AUS122,000
Type: Cabin
Hull construction:  GRP
LOA (metres): 7.20m
LOH (metres): 6.85m
Beam: 2.50m
Deadrise: 20-degree
Hull configuration: Vee-bottom monohull
Trailerable weight: 2800kg (approx)
Height on trailer: 3.3m
Engine capacity:  Maximum 300hp
Power options: Outboard only
Fuel capacity: 310L / 370L
Water capacity: 60L
Electronics: As required
Entertainment: As required
rpm                knots    L/h         NM/L     L/NM
1000               5.3         4.9          1.08       0.9
1500               6.9         8.1          0.85       1.2
2000               8.1         13.0       0.62       1.6
2500               11.6       18.5       0.63       1.6
3000               19.8       23.7       0.84       1.2
3500               25.2       31.7       0.79       1.3
rpm                knots    L/h         NM/L     L/NM
4000               30.4       44.2       0.69       1.5
4500               33.5       53.0       0.63       1.6
5000               38.3       67.0       0.57       1.7
5500               40.3       79.5       0.51       2.0
5900               42.5       91.0       0.47       2.1
(speeds recorded on a Lowrance GlobalNav 12 hand-held GPS)
As can be seen from the graphs, the most economical cruising speed is 21 knots, at a little over 3000rpm, burning a whisker under 1.2 L/NM.
Make: Yamaha
Model: F250B
Power: 250hp
Cylinder Configuration: V6
Displacement: 4.2 litres
Maximum rpm: 6000
Propeller: Yamaha S/S, 17"
Retail Price: $AUS28,772.00
Make: Cruise Craft, by Mayfair Marine
Model: RE-230 THD-EH
Brakes: HydraStar
Suspension: Leaf springs
Multi-rollers: Yes
Retail Price: RRP $AUS13,300