LAURIE AND DIANE CRANFIELD CRUISE TO LEGENDARY STRAIT OF MESSINA AND SICILY AS WELL AS VISITING THE LEGENDARY CITY OF SYRACUSE, FIRST SETTLED 3,000 YEARS AGO.
With our Kiwi friend Chris still aboard we leave Sarande after several fascinating days in Albania and cruise west to the Greek island of Erikoussa, positioning ourselves for next day's seven hour cruise to Santa Maria di Leuca, our port of entry into Italy. We get a disappointing re-introduction to Italian marinas as there's no answer to our VHF radio calls and no sign of help available for berthing until a reluctant marinara eventually arrives to allocate a berth and take our stern lines as we reverse up to the pontoon.
We use an agent to complete our entry formalities as we need advice on meeting Italian documentary requirements in the best way, clearing-in as skipper and crew with a six month Constituto (cruising permit) to avoid the onerous three month time limitation imposed by the Schengen Treaty.
1930s fascist dictator Mussolini and several of his cronies had their luxurious holiday villas in Santa Maria di Leuca, and many of these still remain. He also constructed an impressive stepped walkway, known as Mussolini Steps, up to the lighthouse overlooking the harbour. We have about five full days of cruising ahead to reach Sicily and there's not a lot to see along this Calabrian stretch of Italian coastline, but we enjoy berthing alongside the quay in Ciro – a typical small working town with few traits of tourism. Here we find a Vodafone shop and organise SIM cards for phone and Internet connections, a process which is often a bit of a hassle in a new country.
Further south, entering the port of Rocella can be daunting in a heavy swell as the entrance is only about three metres deep and a shallow sandbar protrudes well out from the starboard side of the entrance. Here in 2004 a 12 metre yacht entering the harbour in Force 5 winds and large swells was rolled over by a six metre wave, fortunately with no loss of life and only minor injuries to her crew.
Sicily is the largest island in the Med and we plan to spend about four months doing a circumnavigation while meeting different family members and friends along the way. As we cruise down the "boot" of Italy, Sicily gradually comes into view and we soon spot the dramatic outline of the 3,323 metre high still-active volcano, Mt Etna. The wind has been light with glassy-calm seas on a gentle swell as we approach the Strait of Messina, but a squall rapidly approaches and within fifteen minutes we have 30 knot winds and breaking two metre seas on our beam. Our hydraulic stabilisers cope well, but beam seas are worst and Envoy rolls up to 20 degrees each side. At one point our starboard side rolls down off a wave just as an extra large wave hits us, breaking over the starboard gunwale and filling the cockpit with seawater, which drains through the scuppers within seconds but not before some washes over the 150 mm lip of the open saloon door. Fortunately the carpet soaks up most of the water and later we find less than ten litres in the bilges.
For the first few days we anchor off the town of Giardini Naxos, close to the enchanting medieval village of Taormina – playground of the rich and famous.
We want to leave the dinghy for the day while we visit Taormina, and as we approach a jetty in Giardini harbour a young guy takes our lines, introduces himself as Gabriel and says we can leave our dinghy in his care. Gabriel had recently enjoyed a great holiday in Australia and took such a shine to us antipodeans that when Diane asks where we can find a butcher's shop Gabriel immediately drives her there in his own car.
There are many street vendors in Taormina selling everything from sunglasses to cheap toys, and we have to laugh when it starts to rain and within minutes the sunglasses and hats disappear and the same vendors now offer umbrellas and parkas.
Catania and brooding Mt Etna We soon discover that eating out in Sicily is slightly dearer than Greece, although the restaurant fare is far more diverse and generally better. The Italian wine selection is superb and very reasonably priced, with good bottled wines available from about 2.30 Euros (NZ$3.60). Supermarket prices are also reasonable and generally cheaper than in New Zealand.
Sicily's population is similar to New Zealand's at about 5 million, but locals tell us the economic situation is not good with over 20 per cent unemployment, compared with 10 per cent for Italy as a whole. The average wage in Italy is about 1,200 Euros (NZ$1,935) per month, but Eastern Europe's is only half that and some manufacturers have re located factories there, further increasing unemployment.
Next stop is Catania where we berth in the marina for 55 Euros (NZ$89) per night – this turns out to be one of Sicily's cheaper marinas! Many marinas here are just walled-off sections of open sea and subject to swell and wakes from passing fishing boats and ferries; we find more roll in the marina than in many anchorages.
We tour Mt Etna as part of a group of eight traveling by Land Rover with a passionate and knowledgeable guide, Sebastiano. The full-day tour costs 55 Euros (NZ$86) including lunch, so we think it's pretty good value, and although we've seen several volcanoes in New Zealand, Mt Etna has fascinating historical aspects. It's too dangerous to visit the summit but the tour takes us 2,000 metres up the 3,323 metre mountain, where despite the fine day it's a chilly five degrees Celsius. Europe's largest live volcano's changing moods have had a big impact on the history of eastern Sicily, and a violent eruption with a mile-wide lava stream largely destroyed Catania in 1669. These days there are typically 25 eruptions each year, some resulting in damage and even loss of life.
Catania's fabulous La Pescheria market La Pescheria is the most exciting and interesting market we've ever been to – a gastronomic delight where locals treat their shopping as a pleasure, not a chore. The market's mayhem assaults all your senses – the bellowing of vendors advertising their wares; the chopping of fish fillets; the clinking of ice and splashing of water being cast over fish to keep them glisteningly moist; 
the angry yell of an accidentally splashed elderly lady dressed in black; the good-natured bargaining between sellers and buyers; the aroma of dozens of fish varieties, fresh breads, cheeses and cured meats; live octopuses slithering across the stalls; the kaleidoscope of colours and textures; the whole experience set in an atmospheric spider's web of cobbled lanes straight from a movie set. We see so many varieties of fish including some very large tuna, swordfish and snapper, that we wonder why our fishing has been so pathetically unsuccessful. There are so many people here that we can only walk at a snail's pace, and after buying a few treats we find a small outdoor café to enjoy a none-too-healthy breakfast of cappuccinos and chocolate croissants.
Eureka – historic Syracuse
We cruise on to Syracuse – first settled 3,000 years ago, a major city by the 4th century BC, and once one of the most powerful cities in the Med, "rivaling Athens in prestige" to quote Lonely Planet. This is where Archimedes was born in 287 BC and lived until he was accidentally killed during a Roman invasion. Grand Harbour, protected by Ortygia Island, is sheltered in most conditions, and we anchor off the town to sit out an approaching front with winds expected up to 30 knots. It becomes very rough outside the harbour and we're pleased to be in safe shelter with our flopper-stoppers deployed to reduce rolling to the small swell creeping into the harbour.
Sadly the water is too polluted by sewage coming from the land for swimming or using our water maker; in fact we find sewage odours quite common in Sicilian harbours – part of a wider problem of poor infrastructure quality.
After the front passes it becomes fine and sunny with temps in the mid to high 20s; everybody says the Med summer is late this year – maybe it's arrived at last! One day we visit the dark and eerie Catacomb of San Giovanni, where passageways beneath the church have about 10,000 niches carved from solid rock to hold the dead. These date from the 3rd century and were built into aqueducts from the classic Greek period several centuries earlier. 
No human remains are visible today, and throughout the centuries these sites have been targeted by grave robbers who've long since taken items of value. We leave thinking we wouldn't want to get lost in here!
We find ourselves fascinated wandering through the cobbled lanes and hidden piazzas of Ortygia's old town, where history seems to have blended well with present day functionality. Twenty six original columns of a 5th century BC Doric temple still support the present 18th century cathedral in Piazza del Duomo, lined with historic buildings. Syracuse also has an interesting food market – far smaller and quieter than Catania's La Pescheria, but where it's easier to wander around, smell the roses and chat with stallholders.
Hiring a car is expensive in Sicily at about 75 Euros (NZ$117) daily, but we explore the nearby countryside, finding it relatively quiet and traffic-free with a huge variety of agricultural activity including wheat, grapes (Sicily has stunning wine), olives and citrus fruits. We also stumble across an interesting typical Sicilian cemetery with numerous family mausoleums, some of the older ones being about the size of small houses.
Porto Empedocle and bureaucratic hassles
Leaving Syracuse after six great days we cruise further south down Sicily's east coast, anchoring off beaches along the way to avoid the cost of marinas. Unlike most of the Med the southern coast of Sicily is quite shallow and we're mostly cruising in eight to fifteen metres. When Chris arrived with us in Italy he was cleared-in as "crew", so his passport wasn't stamped, but with his departure from Palermo approaching we decide to get his passport stamped at Porto Empedocle. 
Here there's no proper marina but we moor stern-to a small jetty alongside an eighteen metre motor yacht called Rhapsody in Blue, owned by a charming retired French couple, Michel and Marie, who live in Paris and drive down to live aboard their boat for four months each summer. They consumed about 10,000 litres of diesel when they made the 72 hour voyage from France, and this probably explains why they rarely leave the harbour, using their boat like a luxurious apartment.
The jetty is managed by the very-helpful Giuseppe, and costs 45 Euros (NZ$70) per night including power and water. We discover that Porto Empedocle is rarely visited by cruisers, but it's a busy small port with many fishing boats and some large ferries plying in and out. Sadly the water is badly polluted by floating trash, diesel slicks and sewage, detracting from the experience – the fishermen just throw most of their garbage into the water.
Giuseppe is a huge help during a five hour bureaucratic nightmare getting a passport stamp. The Customs office directs us to Coastguard who direct us to the Border Police. The officials are friendly, but everything takes time and patience is a must with all information hand-written into bulky ledgers, reminding me of what we used in banks about 50 years ago. The Police don't make this easy and want to see all our passports, our ship's papers, Chris's flight ticket, details of how he will travel to Palermo to catch his flight, and a statutory declaration from me stating why Chris is leaving Envoy. After assembling all these documents a policeman comes aboard to check them, gives Chris the much-needed stamp and makes him 100 Euros (NZ$156) poorer.
Chris leaves us after six weeks and 625 miles of fun cruising, holding the record as the friend who's spent the most time aboard Envoy (and who's done the most work!) Ironically when he passes through emigration at Palermo Airport the official doesn't even look for an entry stamp. With a Scirocco (strong southerly wind) forecast, we stay on at Porto Empedocle for a few days, and our neighbour, Michel, shows us his compact but stunning Fiat Rabath with a 1.4 litre, 16 valve turbocharged engine capable of pushing the car to a cracking 200 km/hr. One night Michel drives us 25 km down the coast for dinner and we have a heart-stopping demonstration of the Fiat's performance and Michel's driving prowess!
Close to our position in the harbour is a sombre looking prison now turned into a museum. In 1848 the prison's governor feared a revolt and moved 114 prisoners into a pit accessible only through a narrow opening from the floor above. Then he ordered that firecrackers be thrown down among the prisoners to quieten them down. It was later found that all 114 had been killed by the sulfurous fumes
The Valley of the Temples
From Porto Empedocle it's only a short bus trip to the Valley of the Temples – one of Sicily's premier historic sites. Five Doric temples were built during the 6th to 4th centuries BC along a scenic ridge close to the ancient city of Akragas, of which little remains. A couple of temples are in a surprisingly good condition, particularly the Temple of Concord – traditionally visited by local brides and grooms on their wedding day – very appropriately our visit coincided with our 43rd wedding anniversary.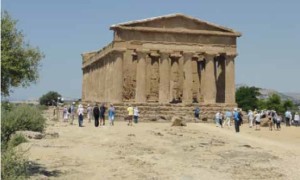 Built about 430BC, it was converted to a Christian Basilica in the 6th century and substantially reinforced, explaining its remarkable appearance today. Lonely Planet suggests a full day visit to the site, but we've now seen so many ruins ranging from the spectacular to the mundane that four hours was plenty, although the site is right up there with the best and well worth seeing.
Our Raritan head has not been working well and Chris (what a mate!) and I spend most of a day in Porto Empedocle stripping it down to replace the joker valve. Tight access makes this a difficult job, but when Chris finally pulled out the old joker valve it was clearly in very poor condition, never replaced in the eight years we've owned Envoy, and when the new valve was installed the head worked well again. Now we flush the head with white vinegar once a month or so, allowing the vinegar to stay in the system for a few hours to break down some of the solids build-up that occurs.