If you like the classic look of teak on your decks and floor, but don't want to go to the expense of real teak, then maybe you should take a look at one of a trio of synthetic equivalents. Two are PVC-based— Tek-Dek and Flexiteek—and one is cork-based—MarineDeck 2000. Teak and exotic timber has been used in the construction of boats for ever and a day and although proportionally very few timber boats are built these days the use of teak decks is still fairly common.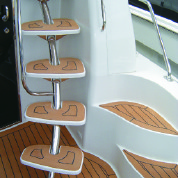 Once upon a time a teak deck was the real thing. The teak was laid over deck beams and oakum or cotton caulking washammered between the planks to make them watertight. Nowadays, with composite construction, a teak deck is purely cosmetic and a symbol of a good quality boat rather than a structural component. Teak decks are very expensive in both materials and labour to install and maintain and they present a large environmental issue, which is worsening as time passes.
Many countries also have bans and restrictions on the importation of teak. Yes, kiln dried, plantation teak is available but any boatbuilder worth his salt will shake his head and comment that the grain structure, oil content, density and life span of this fast-grown plantation teak is just not the same as old-growth teak. The limited amounts of quality teak available are protected or inaccessible, and rightly so, as the last thing our environment needs is for us to be cutting down trees unnecessarily.
What are the alternatives?
If you enjoy the look and feel of a laid teak deck but would like to protect the environment whilst saving money and reducing your maintenance time, then you might light like to look at the alternatives. For example, cork and synthetic decks have been around for a long time and are becoming much more prevalent, now appearing on superyachts, cruise liners and production boats. Also, synthetic deck materials are increasingly being used by DIY owners. Each alternative has different properties, so you need to choose carefully. PolyVinyl Chloride, or PVC for short is used by two of the world's leading synthetic decking manufactures.
It looks and feels amazingly like natural teak, and has some distinct advantages over natural teak in terms of installation, cost, and maintenance. Because synthetic teak decking measures just 5 mm it's flexible enough to conform to surfaces that aren't flat. You install it by gluing it down to a clean surface with a two-part adhesive. One considerable advantage of laying a synthetic deck as compared to a natural wood deck is that you don't have to drill any holes for screws, thus you don't compromise the structural integrity of the underlying deck. And the installation is much easier than with real wood because synthetic decking can be cut easily with a sharp utility knife, and most of the caulking required for teak decking is eliminated. Synthetic teak decking requires little maintenance—occasional washing keeps it in good shape. For surface damage, the decking can be sanded, as both the colour and the grain extend through the entire thickness.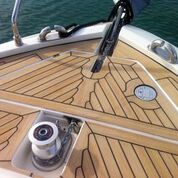 Unlike Flexiteek and Tek-Dek, MarineDeck 2000 makes no attempt to simulate natural teak grain. MarineDeck 2000 consists of highly compressed natural cork particles in a polyurethane binder. Cork, in this application, has superior thermal and sound insulation properties, as well as being highly resistant to damage from UV light, salt water, and even chemicals. The pressed cork is cut into planks, that, once assembled, and seen from just a slight distance, look remarkably like real teak decks. Installation is possible on any flat surface, in any marine environment, whether it is steel, aluminium, wood or glass/carbon fibre reinforced materials. 
Cork has the advantage of being a 'greener' product that does not kill trees as it is formed from the bark, which grows back. Cork is a completely renewable resource, is simply peeled off the tree every seven to nine years. Marinedeck 2000 is made from finely granulated cork, which is mixed with a polyurethane elastomer as a binder. A UV inhibitor is also added, before the mixture is cured in 20-tonne presses. Marinedeck 2000 is produced in 50mm & 75mm normal, 36mm narrow, margin and 125mm king plank widths. The planks are 1.88 metres long and sold as a DIY system. Planks are laid individually and then caulked and sanded like a teak deck. 400mm wide sheets are also available for prefabrication by production builders. Marinedeck 2000 can be coated with a finishing product, but it's best left bare. The bare surface is better for traction and grip as well as being cooler to the touch when exposed to harsh, direct sunlight. In fact, a natural teak in direct sunlight in the down-under summer soon feels too hot to walk on barefoot, but Marinedeck 2000 does not. When wet, the top layer of cork granules absorb a little moisture, and this further improves traction. Cork is renowned for its thermal and sound insulation properties.
Flexiteek is the original synthetic marine decking.Made of composite materials, Flexiteek looks and feels like real teak, yet is more durable, environmentally friendly, offers lower maintenance, UV resistance, and provided superior anti-skid performance.Recently the company release Flexiteek 2G, a deck covering that is lighter in weight and does not have the problems associated with other synthetic decking because it doesn't get as hot. Flexiteek 2G cools 30% faster than traditional composite decking, allowing you to walk across barefoot.  It is 35% lighter than other composite decking systems and is fullt recyclable. 
Rather than using a basic one-plank-wide section as a building block, Flexiteek offers multi- plank panels—an approach that has both advantages and disadvantages. Laying down several "planks" at a time is certainly faster and easier than dealing with individual planks, but these panels don't bend as easily as the narrower sections. The Flexiteek approach is clearly best suited for applications where straight, parallel planking is required. Flexiteek is not sold as a DIY system, each deck is custom made from a templateto the exact shape and size and then supplied complete, ready to glue to the boat surface. Installation can be carried out by the boat owner or a trained installer. Distributors build the decks by heat welding each flexible plank to the next and then adding details such as margins and hatches. This form of construction produces an extremely strong and waterproof decking system. This method does not involve glue and there is no seam caulking that can break down or fall out. Flexiteek can be laid over any structurally sound substrate regardless of size, shape and location. Flexiteek is sandable with individual graining. The result is natural looking and the feel is realistic. The deck is extremely stain proof and is easily cleaned even with a power wash. High grade UV stabilisers are used to ensure the decks stay looking like new. Flexiteek decks are 5mm thick and available in a wide variety of colours, including Carbon, Off-white, Grey, Bleached or Natural Teak.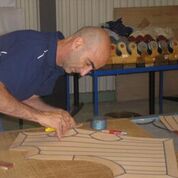 Tek-Dek has two composite marine decking products, both of which are primarily designed to function as exterior, non-slip surfaces as a substitute for marine teak decking and other applications. The products are Tek-Dek Panels, more suited to DIY and professional installation, and Tek-Dek Professional marine deck material. Tek-Dek Professional combines hardwood fibres and thermo-polymers into a unique formula creating an extrusion that is hard, colourfast and almost indistinguishable from quality teak. 
The hardness and dimensional stability allows the use of routers planes etc to produce decks that can have a high level of detail and precision. Unlike many flexible systems, the rigidity of Tek-Dek Professional also means that deck fittings can be conveniently mounted through the deck without the chance of the material crushing. This feature also helps where the sub deck is uneven and can help even out some of the rise and falls.Both are virgin PVC, tongue and groove extrusions that are designed to be glued together. The underside has a unique dovetail; these channels not only increase the surface area for chemical adhesion but also provide a mechanical grip to the bedding adhesive. Tek-Dek International's Custom Panels can be applied to almost any surface including GRP, steel and timber. Its flexible composite structure makes it non-slip and this feature continues even when the deck is running in salt water. Ideal for either DIY or boat builders, Tek-Dek can also be supplied in easy to handle welded sheets. A craft knife and adhesive spreader are the only other tools required. Colour fast pigmenting and in-built 'graining' are totally convincing. Combine this with the fact each strip actually includes its own dark 'caulking' edge and the end result will look like something laid by a traditional craftsman. Unlike wood, Tek-Dek requires no further oiling, varnishing, sanding or scraping. Cleaning is simple and can be achieved using adhesive removal wipes.
With the large cost savings involved and environmental issues, these deck alternatives are worth considering. Although each of the products gives a 'teak deck look' there are differences. The advantages of a modern synthetic teak deck include the ease of installation due to flexibility of the 5mm strips, reduced material and labour costs and colour retention. Non-skid properties of these composite decking materials are excellent due to the wood like finish.