Bedding made of seaweed covered with animal hides was found in the caves of Le Lazaret, in France. It is believed to date from 130,000 years ago. We can appreciate the fact it was ecologically correct (I'm assuming the animal hides weren't from endangered species) and a solution for the cave dwellers' comfort. From that mean beginning, bedding in the 21st century has now advanced to fashion status with styles, colours, fabrics, and faux furs, for all ages and taste. There is bedding for; baby, naturalists, luxury, vintage, biker, Aloha, Surfer, Italian, Rock 'n Roll, Retro and the list continues. Our journey with boat bedding will offer a few suggestions about berth design, bunk and/or bed cushions, sheets, blankets, bed covers and accessory finishes including decorative pillows and storage pillows. We will explore fashions with bedding and bath that coordinate with our décor themes from seaweed to silk in only 130,000 years.
This is about comfort for the average bed user and bed maker. Make certain the berth rail is high enough to keep the berth cushion in place but not so high it hurts your knees and legs when getting in and out of bed. If the berth in your boat is already built, doesn't have a cut out for ingress and egress and lowering the rail is not an option, have your upholstery shop pad and upholster the top of the rail or the whole rail for you. If your boat heels a great amount or is in heavy seas, high rails will keep you in bed but, they don't need to bruise us when we're getting in or out of bed.
If a new berth or bunk cushion is on the shopping list, leave space for blankets and bed covers by fabricating the cushion a bit smaller than the actual space inside the berth. The space allowed between the cushion and the inside berth rail depends upon what thickness of bedding will tuck in around the cushion. I usually allow 1.5 to 2 cm clearance on each side and the foot of the cushion. The head of the bed stays close to the headboard because only a sheet and cushion cover tuck around that edge. For example, if the cushion will not be made up with sheets and blankets, that cushion will present best if upholstered like furniture and fit full to the rail. 
Quilt/sleeping bed bags (to be described in the bedding section) when rolled up or open, sit on top of the upholstered cushion. The bed bag is normally washable and brings colour and/or design to the room. Some cushions will relax and spread a bit wider, so ask your fabricator to factor that into his or her patterns along with the tuck- in allowance.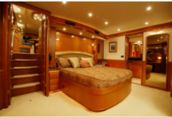 Fitted bottom sheets are the most popular style but for some, a fitted top sheet isn't always the best option. Some sleepers feel claustrophobic with their feet held in at the foot of the bed, so their sheet set is finished to suit them with a fitted bottom and a flat top sheet. Others prefer not only the bottom sheet to be fitted but the top sheet, as well as any blankets and the bed cover.
I remember one bedding company that fitted and snapped all bedding to the foot of the cushion. It was a good idea for beds totally accessible at the foot but an absolute nightmare for bunks with the foot of the bed directly against a bulkhead or hull side. Sheet sets with matching coverlets are available in popular fabrics, blends, colours, prints and sizes. Some even offer coordinating accent pillows and neck rolls. The selection is varied and entirely personal. Example: Egyptian cotton, silk satin animal prints, Harley Davidson Biker sheets or Baby Pooh Friends for the nursery. Retro is popular with younger boaters, the rest of us have been there and done that already. Rock and Roll is a playful option for all ages.
This customised item consists of washable king or queen size comforters folded lengthwise with a plastic zipper sewn into zipping up the bottom and sides of the comforter. A lengthwise folded, flat sheet is tied or buttoned inside – much like a folded sandwich with filling. The sheet is altered enough smaller to not be caught in the zipper and attached so it won't creep during sleep and can be easily removed to be washed and dried. 
It is important to have attachments to keep the sheet from creeping, that won't disturb the occupant. Velcro or snaps are not a good idea. Some bed sacks are fabricated with thicker quilting on one side for cooler weather and thinner quilting on the other side for warmer weather. The seasonal side is up with the other side towards the bunk cushion. The beauty of the bed sack is that is it entirely washable. It rolls up like a sleeping bag and can be designed as a décor feature for the room. If a larger cover is required, the bed sack unzips and becomes full size. For silk luxury, a set of charmeuse/Habuti seamless silk sheets is an option and for absolute luxury, Italian bedding from Frette, Bellino, and Barbacci are also available. Be prepared for lavish luxury. These brands are an investment purchase and priced accordingly. Locally, there are some great stores that offer colour coordinated bed and bath items with good quality, selection and fair pricing. I especially like the fibre fill euro and sleeping pillows because they fully fill and plump up their pillow cases. For the climatically controlled boat interior, the same sizes are offered in goose feather/down mix. To my mind, there is nothing more pathetic than a droopy, potentially lovely sham with a too small pillow fill inside, so check it out before you purchase.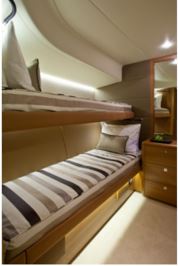 This bedding is the crème de la crème as it is individually designed and handmade of fine fabrics such as Belgian silks, fine merino wool or equally posh material which is hand- guided quilted and designed into bed covers, shams, or accent pillows, to suit the décor of a particular yacht. It is not unusual for the fabric alone to cost thousands of dollars, with design and fabricator labour and quilting to be determined by the time elements involved. This option is for the non-budget project with a brief to customise furniture and furnishings to suit the owners. The result is a highly individual package not to be replicated in another boat.  Here's how to select the proper style for the bed cover: Remember proportions and scale. Don't choose a large, vivid pattern for a small room unless you have sight problems and can't find the bed unless you're wearing your glasses.
If colour or detail is desired for style, think about using accent trims, accent colours, and contrast piping at the top of the bed or complementary shams or accent pillows. Remember that quilted bed covers that aren't tucked in or fitted will flare and minimise bedside floor space in a room. A full-length bed cover may be perfect in a home bedroom but can cause tripping in a marine based master or guest suite. Fabric traditionally dictates style. If the fabric is soft and moves easily, it will drape the bed and feel soft to the touch. Drapery and bedspread fabrics are usually made out of cotton, polyester, silk, nylon, rayon or a blend of several just mentioned. If the fabric has thicker yarn strands and doesn't drape, it will be best fabricated as a thin, fitted coverlet. If shams and lots of accent pillows pose a storage problem at night time or while using the bed, consider a reverse sham bedspread. That is a bedspread that is long enough to tuck sleeping pillows under. Depending upon the style, it is normally quilted on the top side for a full bed top length, with a longer extension piece at the top of the quilt and quilted on the reverse side. The mechanics are simple. Pull the spread up to the headboard, place sleeping pillows in their normal resting place and fold the reversible extension of the quilted piece down over the top of the pillows. Voila! A neat and tidy bed cover without the drill of stuffing and unstuffing sleeping pillows from shams or finding counter space to store strictly decorative shams and accent pillows. When bunk rooms require multi-tasking and are not used strictly for sleeping accommodations – i.e., for storage, gear or equipment, upholster those bunk cushions with a hardy upholstery fabric for garage mode. When bunk rooms revert to sleeping quarters, bed bags and pillows can be rolled together and attractively stored in bags designed to look like large bolster pillows that match or complement the upholstery fabric. When contemplating bedding purchases, it is helpful first to decide on personal use and style. That is, whether the room is 'restful', 'playful', 'energetic' or 'classic', and how it relates to the rest of the boat as well as maintenance and practicality therein. Bedding is fashion and definitely more than blankets, sheets and pillows. Have fun with it.