Kia Orana                
Returning to an island paradise
Needing a break from deadlines and chasing some warmer weather, editor Barry Thompson decided to revisit the island paradise of Rarotonga, Cook Islands and check out some of the local activities…..between cocktails and Ika Mata.
There's something about the Cook Islands that has attracted Kiwis and Aussies for years. As an uncomplicated, easy to get to, easy to understand holiday destination, the Cook Islands are as good as it gets.
Cook Islanders regard themselves first and foremost as true Polynesians connecting directly back to the finest seafarers of the vast Pacific. It is due to their sophisticated navigation that took them fearlessly through vast ocean tracts in search of new lands that the Cook Islands came into being.
Positioned at the very centre of Polynesia, – halfway between New Zealand and Hawaii- the Cook Islands stretch out in a scattering of 2 million square kilometres. Each if the 15 islands of the Cooks has its special place within the group. But their origins are owed to the Polynesians who arrived in Rarotonga around 800 AD. These ancient voyagers had set sail from Tupua'i, now French Polynesia. Continuing the Polynesian habit of sea bound exploration and migration, Cook islands legend also claims that the great Maori migrations to New Zealand began from Rarotonga as early as the 5th century AD.
Boasting rare beauty, an idyllic climate, warm, welcoming people with the widest white smiles and a pace of life unsurpassed for peace: the Cook Islands is an Island Paradise.
'Island time' is as much part of the tropics as palm trees and azure waters. Go with the flow, relax, pick up on the lack of stress and do your well being a big favour. Once you arrive the only deadline, you have to keep is your next flight…..and that comes all too soon.
A holiday in the Cook Islands should be more than a 'resort' vacation. It's an easy place to explore and there are some fine restaurants to sample away from your resort. A combination Rarotonga and Aitutaki is excellent for first time visitors and other islands can be rewarding for repeat visitors or the more adventurous.
Rarotonga is the hub and the main island of the Cook Islands and it's where I spent all this trip, my fifth to the Cook Islands. It's 32km around and is encircled by a "ring" road – Ara Tapu. Dominated by a once almighty volcanic pyramid, now worn down by time and streams to sawtooth peaks and razorback ridges, the lush green carpeted Rarotonga, is the capital of the Cook Islands. If you are up to it, there's a challenging walk across the centre of the island, but you need to be fit. Maybe that's why I didn't do it.
This island paradise is also the youngest island of the group, so unlike its equally enchanting sisters who have been eroded and submerged by age, Rarotonga stands brilliantly upright against the sun. Its vistas are strewn and spiked with jutting pinnacles that fall to terraces and flats planted with bananas, coconuts, paw paw and pineapples that shift into a swampy plateau marked by the inimitable taro patch.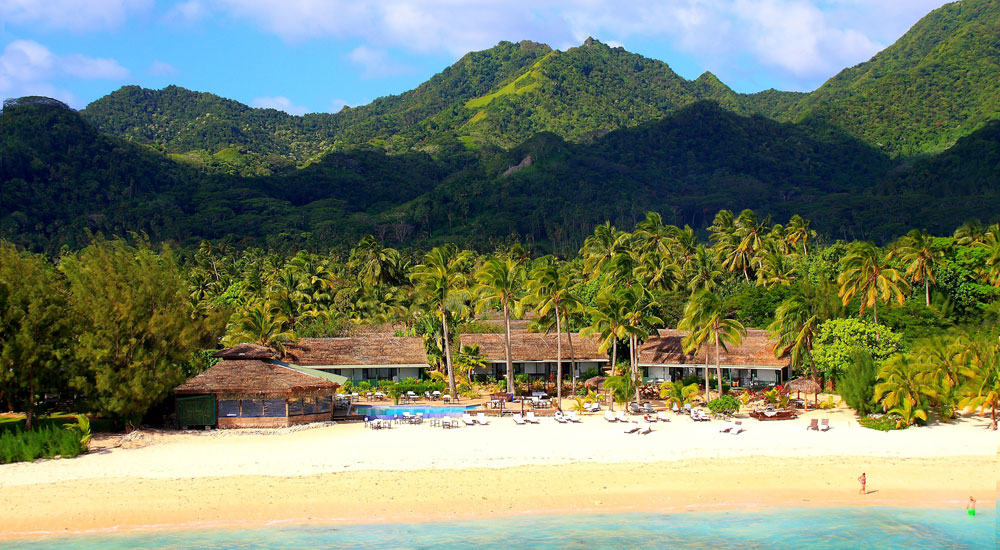 There are dozens of places to stay on the island, from backpackers to luxurious villas, with prices and tastes to suit everyone. Our accommodation this trip was at the outstanding Manuia Beach Resort, (www.manuia.co.ck) situated within 15 min of the main town of Avarua.
One of the owner's, Sue Fletcher-Vea, had invited me up to stay after meeting her and her sales team at the Hutchwilco New Zealand Boat Show. Sue had been telling me about how wonderful the resort was now, with cocktails at sunset, a revamped bar and restaurant and fully refurbished rooms.
"We took over about two years ago and the resort was looking very tired and much in need of a makeover," says Sue.
She says they set about going through everything, from the gardens and paths to the suites and restaurant. " We have one of the best locations on the island and we want to portray our resort as a true Polynesian paradise, so it was important to make sure that every aspect of the experience for our guests was first class."
Well, after staying at Manuia Beach Resort for a week and having seen the condition of the resort as it was before the makeover, I can certainly say they have achieved their goal.
Manuia Beach Resort is set out in a series of 12 duplexes comprising 24 air-conditioned suites. Six are absolute beachfront, with full lagoon views, which if you stretch the budget just a little more, are well worthwhile considering. We stayed in one, which was only separated from the beautiful white beach and lagoon by the expansive infinity pool. Sitting on our private deck, in a warm 28 deg, quietly easing back an island cocktail, as the bright orange sun, set below a deep blue cloudless sky was quite surreal. It is why you go to Rarotonga. To relax, chill out and forget about what's happening in the rest of the world……and work!
The premium garden suites are tucked into lush tropical gardens, just a very short walk to the beach along groomed sandy paths. Built in true authentic Cook Island style with coconut thatched roofs they blend seamlessly into the lush surroundings.
I especially liked the revamped Beaches restaurant & bar with it authentic Polynesian inspired cuisine. It's very much a place to relax as you experience a tropical breakfast or evening meal of fresh fish. The décor is relaxing, with a sand floor and views from all the tables that look to the lagoon and the coral reef that surround the entire island. Barefoot and casual. The only way to dine when on an island holiday. Sue says that they plan even more improvements for Beaches, making it more accessible to the beach with wide open decks. I have no doubt it's going to be one of the premium places on the island to watch those golden sunsets.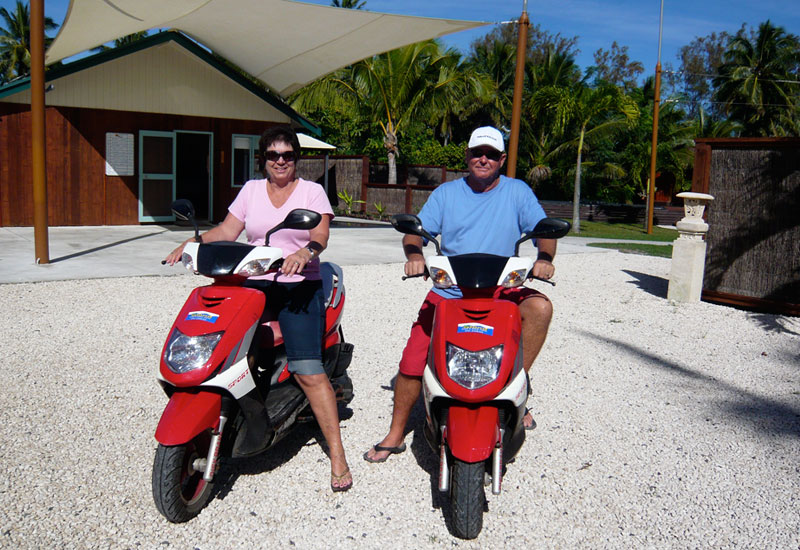 If you like your swimming, then Manuia Beach Resort does offer some great snorkelling right out in front. It's not very deep, but you will be surprised at the abundance of fish life and corals you come across. Then there's always the infinity pool that I used every morning and late afternoon.
To get around Raro and enjoy some of the many restaurants and tourist things to do, you have a number of choices; walk, bus, rental car, pushbike, or in my case hire a scooter. I reckon scooters are the best means of island transport and being fully automatic they are a breeze to drive, even if you have never had a bike licence…..like me.
Marlin Queen Fishing Charters
Now I have already done a lot of the island's popular activities on past trips, such as the four wheel drive adventure, lagoon cruise, Island Paradise feast and gone diving with the great folks from The Dive Centre and fishing with Akura Yacht Charters. This time we thought we would check out fishing with Marlin Queen Fishing Charters, (www.marlinqueen.co.ck) especially as they have an association with Manuia Beach Resort. Well for certain reasons this never happened, but I did get a chance to talk to Diane, who runs this very popular fishing charter company.
 Marlin Queen Fishing Charters has a great reputation for catching fish and are one of the most established fishing charter operators in the island. They run two purpose built boats, Marlin Queen, a Bertram 25, powered by a Yanmar 240hp and Bobi Marie a 6.5 m Stabicraft powered by a 150hp Honda. Both boats are equipped for serious game fishing and have large open cabins which mean you have plenty of shade and shelter out of the elements whilst still being amongst the fishing action!
Everything is supplied for you once on board either boat – food and beverages, fishing tackle, entertainment and a fabulous crew. They have a comprehensive range of Shimano rods and reels and use a wide selection of rigs, baits and quality lures that are proven fish catchers in the waters of Rarotonga.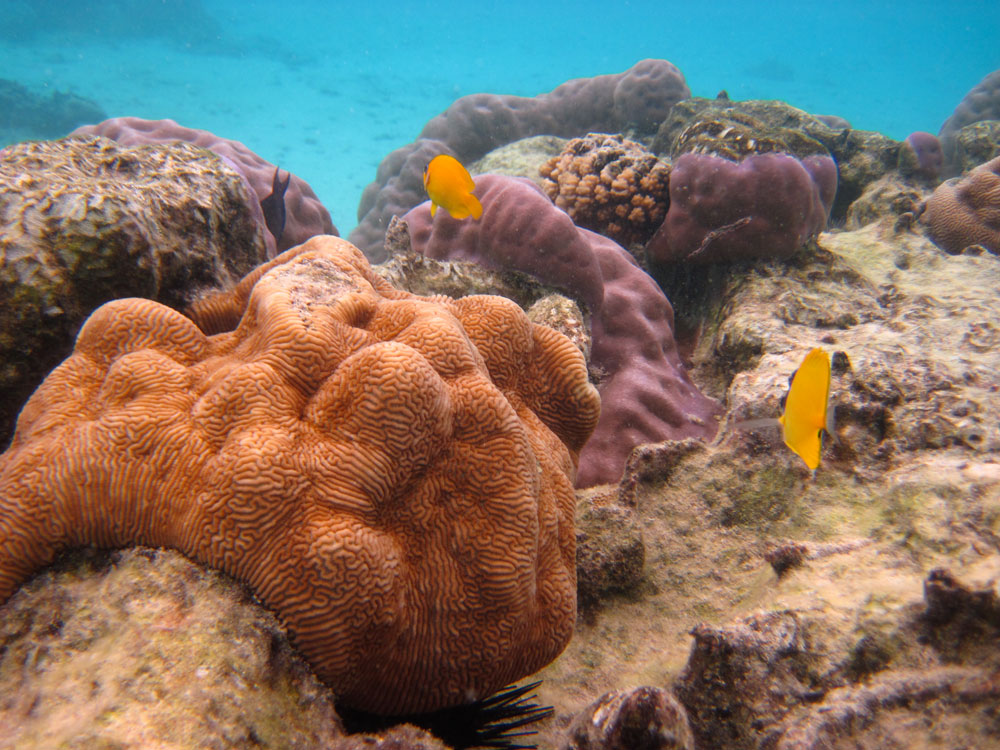 So what can you catch? When you fish with Marlin Queen Charters, you have a chance of hooking some great fighting fish such as Marlin, Sail Fish, Wahoo, Mahimahi and Yellow Fun Tuna.
Being one of the cheapest and most popular game fishing destinations in the world, charters start from just $170 per person. The company offer half and full day charters and these can be either shared or private! All sized groups are welcome from a minimum of 1 angler! For groups larger than 10, they will organise your own inter-boat fishing competition.
I look forward to being part of the action aboard either Marlin Queen or Bobi Marie on my next Raro visit and bring you a full fishing story.
Although I didn't get a chance to go fishing with Marlin Queen Charters, that didn't stop me experiencing plenty of exceptional local fish meals. The one that I loved and had virtually every time we went to a restaurant was Ika Mata. This is a dish made from raw fish and is a delicious South Pacific favourite. It's also known as Kokoda in Fiji (pronounced kokonda) as well as 'Coconut Ceviche' and 'Tahitian Fish Salad.' The fish is marinated in lime juice and is served cold with coconut cream. Fresh tuna is probably the best choice of fish but even calamari works. It is fabulous and now we are making it at home to the same recipe. However, there's nothing like trying traditional food such as Ika Mata at its source, so it looks like I am going to have to go back soon to the Cooks and sample some more. Aere ra.