If there is one common theme that comes from Dickey Semifly owners, it's that their boating is all about fishing and family. Barry Thompson went to check out the latest Semifly 32 from this very pro-active Napier builder and came away hugely impressed.
The Semifly 32 is one of four boats in the Dickey Semifly family, which also includes the Semifly 28, 40 and 45. All four are based on a very similar hull design that is unquestionably one of the secrets of the success of the Dickey Semifly range.
Designed by Jason Dickey, the all alloy boats feature a unique construction system, that the website says presents an incredibly strong and stiff hull, which thanks to its robust construction, is virtually flex free and offers no jarring – even when throwing the boat around in an offshore swell. Well, you can write what you like in a brochure, but it's not until you experience it for yourself that you know what a boat is really like.
When I went to Napier to review the Dickey Semifly 32, Jason had already told me that unless we got some reasonable choppy water, I wouldn't be able to fully understand the outstanding ride and handling attributes of the boat. Well, nature favoured him and our test day saw upwards of 25 knots, 1m plus swells and whitecaps out off the port. Perfect conditions according to Jason for me to 'experience' a Dickey Semifly.  He was right and I was impressed!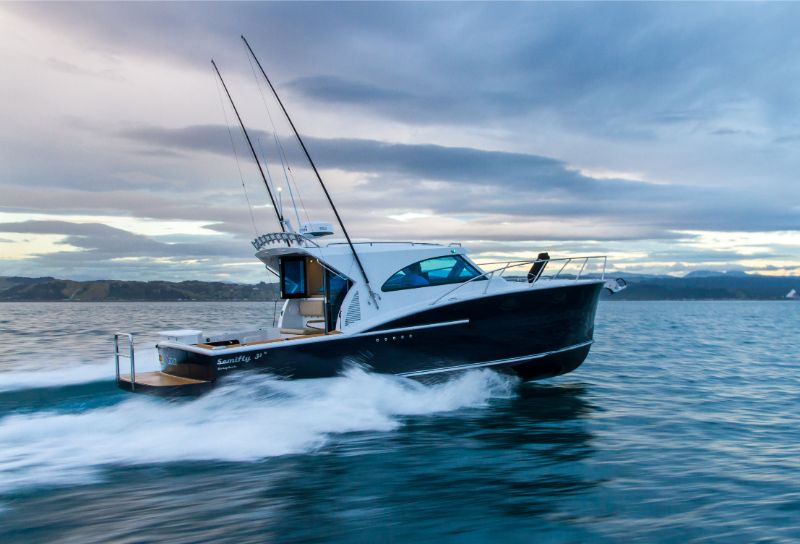 "Everything goes fine when the water is calm, but what we have is a hull design that works even better in rough water and you need to run the boat in adverse seas to appreciate the difference of a Dickey boat", said Jason.
We left the marina with a beam sea and ran at 24 knots @ 3000 rpm, using 2.2 lpnm. Helped by the long straight waterline, the bow attitude in the following sea was perfect with only a little tab and drive trim. Running at 20 knots was very impressive and the hull was still silent with zero slapping!  The plumb bow shape means there is plenty of buoyancy to keep the bow up, in a following sea, so you don't experience any bow steering.
When we stopped in the 1m slop offshore, the boat sat reasonable stable. Not a bad fishing platform and if you are into game fishing, then you will love the Semifly 32. At 8 knots, towing some lures in the following sea, the boat cruises along beautifully offering a very comfortable ride.
What I noticed straight away, was that even with the rear door and windows open, we could still talk normally inside. Close the back up completely and it was exceptionally quiet inside. There was also NO hull noise. No slapping. No banging. I was surprised and Jason explained to me that this was why he wanted me to test the boat in the rougher water.
"It's all about the structure", explained Jason. The space frame construction, combining full-length girders and transverse frames, gives an incredibly stiff hull with no reverberation anywhere. The running surface is constructed of 6mm plate on an 18 deg deadrise hull.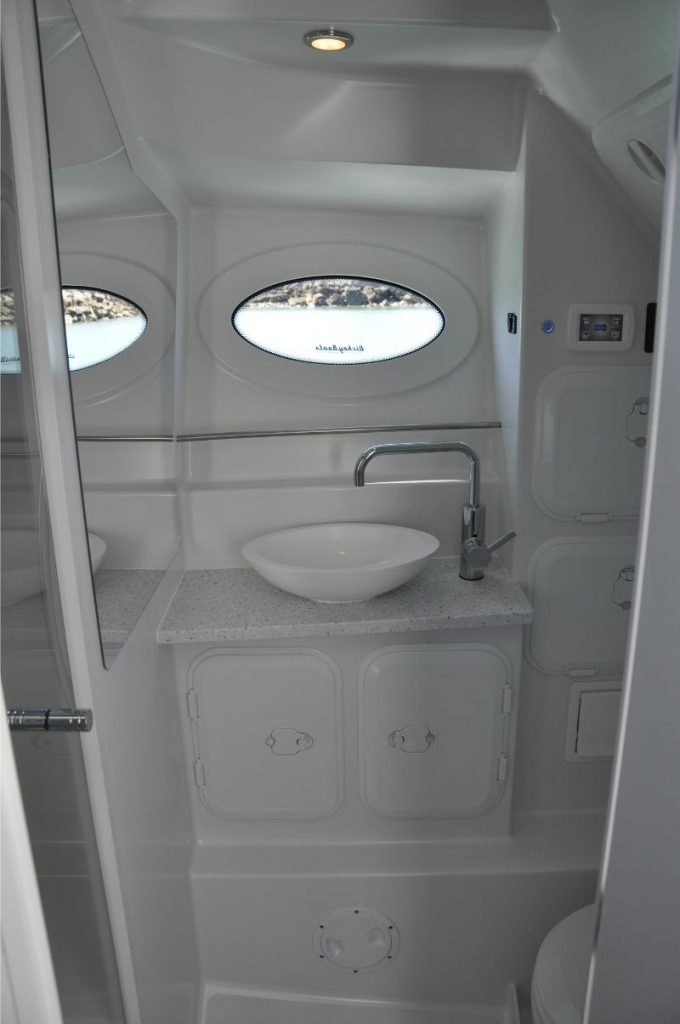 One particular aspect of the construction is the boat has sealed air gaps between the interior spaces and the hull. These not only eliminate any condensation but also act as sound deadening. There is no solid foam anywhere in the hull.
"We also have a very low C of G and that does a lot for the way the boat rides, handles and sits at rest", says Jason.
However not only does the hull design and construction tick all the boxes, but it's also extremely versatile. It's a boat that has a broad scope of uses, from weekend and family cruising to serious fishing. It's a boat you can go away for the weekend with 5-6 fishing mates or the grandkids the next weekend. At just under 11m LOA (transom to bow), it's a boat that has a lot of useable volume, enhanced by the full plumb bow shape and 3.3m beam.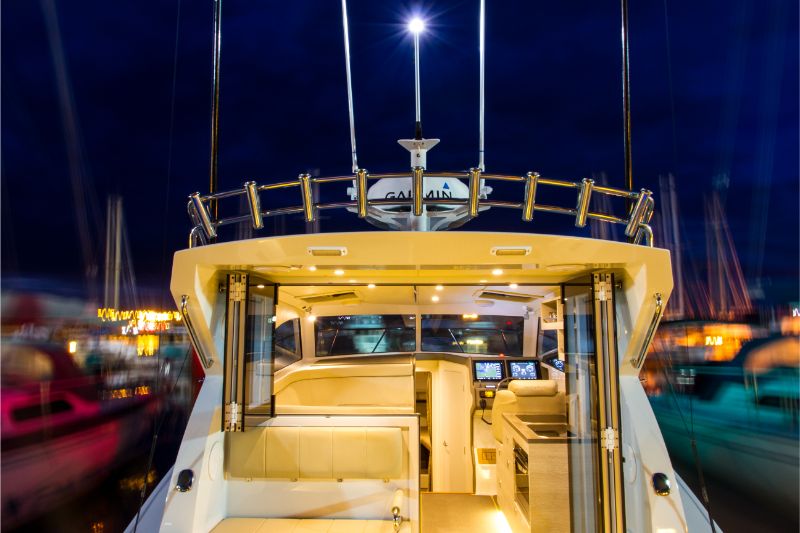 The Semifly 32 is a single engine installation with the Volvo Penta D6-370 now the power of choice. Top speed with this engine package is around 30 knots. The engine is mounted below the deck level and although Jason has been asked a number of times, he doesn't offer an outboard option.
The cockpit features a cambered deck and large scuppers, so any water that does come aboard is quickly expelled. Down either side in the coamings are rod and cup holders, tackle boxes and side pockets.
The centre of the transom on Double Jack has a built-in bait station with foldout bait boards, twin tuna tubes, a rubbish bin and storage. While most Semifly 32s have this incorporated, if you are not into fishing, this can be replaced with a transom seat or nothing at all. What you do is entirely your choice.
There is a removable transom door that leads onto a teak covered boarding platform, complete with a central stainless steel D rail. This also cleverly folds down to double as an extra large boarding step. Again, you can have the boat without a platform, which is a popular option for those into game fishing.
Access forward has been helped with dedicated steps either side of the wheelhouse to the wide side decks and strategically placed handholds on the cabin top.
While a lot of small cruisers of this size struggle to provide two reasonable cabins for four people, the Semifly 32 boasts accommodation for six in two full-size cabins.
Forward, there is a guest cabin with four single berths in an upper and lower arrangement. The lower two can be converted to a double with slide-in infills, making this a great boat for overnighting with two couples. The four berths add the versatility of bunks for four fishing mates or young kids, while the athwartships aft cabin under the wheelhouse sole, caters for another couple.
With no solid bulkhead and door, there is an excellent open plan feel about the forward area, plus there is a privacy curtain provided. Fixed port lights and a deck hatch add extra light and ventilation to the cabin.
The two cabins are fully lined with soft fabrics and composite joinery with plenty of storage spaces in draws and lockers. The rear cabin also features a corner seat and while there is a shortage of headroom above the berth, there's almost 2m headroom in the changing area. The doors are all finished in Italian Poplar ply veneers, with the light timbers helping to accentuate the spaciousness of the décor.
Both cabins share the one bathroom, which has a separate shower with glass door, electric flush toilet and raised bowl on a Corian bench top.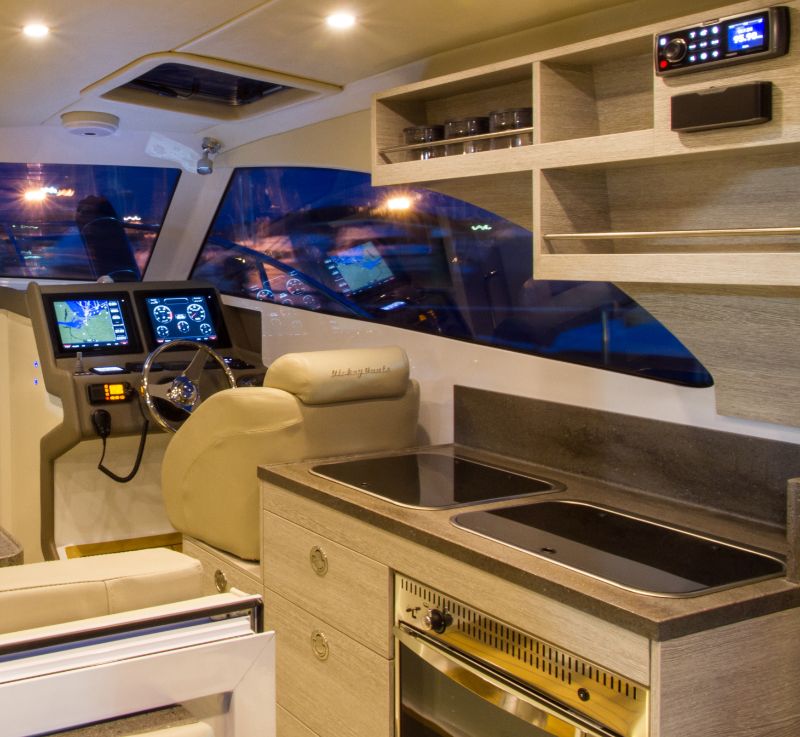 In 2008 Dickey Boats sold their first Semifly 32, which coincidentally was also the first boat the company sold. Now eight years and eight Semifly 32s later, things have not changed a lot. Apart from some refinements and upgrades in equipment, especially the electronics, the latest Semifly 32, Double Jack, is very much identical to boat number one. While very much a semi-production boat, that can be customised, every Semifly 32 built to date is very similar in layout.
"We seemed to have got it right with the layout and the design of the hull and most clients have been more than happy to stay with the same arrangement, albeit with some changes in the cockpit area to suit their particular requirements", says Jason.
From that first Semifly 32, the rest of the Semifly range has been developed, with all utilising the same hull design, structural engineering and styling.
The wheelhouse is divided into three parts; helm, galley and dinette areas. 6mm toughened glass windows allow excellent visibility from the helm and settee.  The helm station features the usual full array of instruments and switches, with a pair of Garmin 12" screens centre stage. Alongside the screens is the CZone display, as well as all the tabs, trim, anchoring, etc. easily at hand. All set in upholstered leather to match the seat, the helm display has undergone some changes in recent years as the need for instruments has been taken over by MFD screens.  No matter what the sea conditions this is a boat you can comfortably drive seated.
Aft of the helm is the galley, with a two burner hob and sink unit with glass tops, set unto the Corian benchtop and a gourmet oven beneath. There's storage in soft close drawers as well as in overhead lockers, plus a 65-litre Isotherm fridge/freezer under the settee opposite.
The large U-shape settee is big enough to seat 5-6 around the Corian table. There's no storage under as this space is taken by the aft cabin below. What I liked was the easy, relaxed seating the settee provided when underway. With the bifold windows and door open to the cockpit, the interior and exterior spaces assimilate as one. Wheelhouse and cockpit simply become one big friendly area.
Dickey Boats have carved out an enviable reputation in 8 years for their meticulous attention to detail, both in the design and engineering aspects as well as the décor and finish of their boats.  While the trailer boat range has certainly been active for the company in recent years, it is the Semifly launches that I see giving the company a global profile.  The Semifly 32 is a great product that deserves to be exposed to overseas markets, something that Jason and wife Tristin Dickey are planning for 2017.
Boat Design Name: Dickey Semifly 32
Year Launched: 2016
Builder: Dickey Boats
Designer: Jason Dickey
LOA: 10.60m
Beam: 3.30m           
Deadrise: 18 deg           
Displ (Dry): 4900 kg (dry)       
Max Speed: 30 knots       
Construction: Aluminium 6mm/4mm
Fuel Cap: 550 litres        
Water Cap: 150 litres       
Engines Make: Volvo D6-370hp   
Drive Train: Duoprop
Engine Controls: Volvo Penta
Batteries: Lifeline
Propellers: G3           
Thrusters: Sidepower SE60
Trim Tabs: QL
Anchor Winch: Lewmar CPX3   
Anchor: Rocna
Lighting: Hella
Underwater Lights:  Ocean LED       
MFD: 2 x Garmin 12"            
Autopilot: Garmin GHP20
AIS: Garmin 300
Monitoring: CZONE
Heater: Eberspacher D4 4kw Airtronic                   
Ent System: Fusion               
Base Price of Boat: $NZ
Price As Tested: $NZ   
Contact:  www.dickeyboats.com
Engine Speed L/H Range
RPM
(Knots)
(Both)
(NM)
1000
5.5
3.73
720
1500
8
9.29
410
2000
10.4
23.04
210
2200
12.5
28.65
210
2400
15
35.1
200
2600
18
41.58
200
2800
21.3
44.45
230
3000
24.3
51.51
220
3200
26.5
58.82
210
3400
29
68.49
200
3500
31.3
72.72
200
L/NM is calculated to two significant figures and rounded up. The range is calculated to two significant figures and rounded down. To allow for adverse conditions, the range is calculated on 90% of the fuel capacity.