Ever since Yanmar stopped production of their 35 hp diesel outboard there has been a demand for a replacement. Military operators and super yacht tenders owners want diesel power because of its safety and fuel compatibility with the mother ship and many leisure owners would prefer diesel outboard because a diesel is more economical, the fuel is easy to find and it is possibly cheaper. Now there are developments underway to meet this demand and the day when powerful diesel outboards become available is close.
Diesel Outboards Ancient History
Historically diesel outboards have been around for a long time, it's just that the major outboard manufacturers have largely ignored them. Apart from Yanmar, which produced a 27hp and later a 36hp fort many years, the way of the diesel outboard has been very much left to smaller companies and enthusiastic engineers.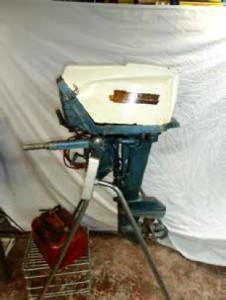 The Amarc 10, was the first (and until very recently the only) small horsepower diesel outboard built in the USA. It was manufactured in 1960-61 by the American Marc Company in Inglewood California.
It was a 2-cycle diesel utilising the Junkers/ Fairbanks Morse opposed piston design where the pistons are aimed at each other and have two crankshafts. It was a water cooled, 21.5 cubic inch displacement engine, producing 9.25hp at 3500 rpm and was reported to burn 3/4 a gallon of diesel oil per hour at full throttle.  It also incorporated a "total loss" oiling system for many parts such as the top of the crankshafts and had a separate gearcase filled with hypoid oil under the powerhead to lubricate the various gears connecting the two crankshafts.
There was a glow plug for frosty mornings and starting was electric only, with no manual backup. Various magazine adverts of the day claimed that the superior torque of the diesel maked the motor the equivalent of a 14hp outboard. All this goodness in a packa ge that weighed in at a hefty 135lbs (estimated) – about the same as a Johnson 40hp from that era – and that doesn't include the battery!
A 1960 article in Boating magazine indicated the factory was ramping up to produce 4,000 Amarc 10s per month, but it does not appear that they got even 1/10 that number during the entire production.
Currently there are at least a dozen companies working on the development of diesel outboards throughout the world and this includes both New Zealand and Australia. The following is brief on just some of them.
Neander Shark Diesel Outboard
German company Neander Shark, which has spent the last six years developing a diesel outboard, has now announced that it will start production and sales in mid 2016. This revolutionary outboard will be launched with an initial power output of 50hp, but a spokesperson said that there is considerable potential to upgrade this to higher power in the future. "We are looking to upgrade to around 75hp in the future and there are also long-term plans to produce diesel outboards even bigger."
Neander anticipates that the market for this engine will be around 5,000 units per year, as the sales build up. The Neander diesel outboard was first announced two years ago after the initial development work on an engine originally developed for motorcycle use. This twin-cylinder engine featured a twocrankshaft layout with each piston connected to it with two connecting rods.
The makers claim that this will offer much smoother and quieter running than would be the case with a conventional single-crankshaft layout. The 800cc engine is turbo-charged and freshwatercooled. It operates on the four stroke cycle and the makers claim will be equivalent to a 70 hp petrol outboard because of the improved torque at low speeds.
Neander has matched this diesel to a Selva outboard leg and the maximum rpm is 4500. The complete unit weighs in a 175 kg and at present over a dozen pre-production prototypes are undergoing sea trials. If everything works out the first units should be on the market by next year. The makers are claiming that the fuel consumption will be around half that of a similar petrol unit.
www.neander-shark.com
Cox Powertrain Diesel Outboard
A new concept of diesel engine that could transform the diesel outboard market has received a significant development boost with recent support from the British Ministry of Defence.
The Cox Powertrain engine concept is based on a supercharged, two-stroke opposed piston diesel engine that features a Scotch Yoke crankshaft and a central injector position. This engine concept promises a power to weight ratio comparable with high performance petrol engines and it is also claimed that it will deliver diesel fuel consumption in a lightweight package that will be around half the weight of a current performance diesel engines.
The Scotch Yoke concept replaces the crankshaft with a slot that is rigidly connected to the piston in which a pin attached to the crankshaft slides up and down to convert the motion of the piston into a rotary motion. The benefits of the concept are that the engine can be much more compact because pistons can be shorter and there are no big or small end bearings whilst the disadvantages are reported to be a higher wear factor in the pin and its slot.
The Cox engine is an opposed piston unit so that in effect opposing pistons will be fixed solidly together and linked by short piston rods and the Scotch Yoke. This will make the engine very compact and reduce its weight and these are two of the main advantages of the new engine. The basic engine module has been designed so that it can be stacked, combining two or more modules to increase the power output. The first units are likely to produce 200 and 300 hp but this can increase to 700 hp or more.
www.coxpowertrain.com
VM Based v6 Diesel Outboard
In Italy a diesel outboard is reported to be under development but considerable secrecy surrounds this work. It is believed that the engine for this unit will be a V-6 diesel that was originally developed for car use and research on the VM web site shows that diesel engine manufacturer VM has a turbo-charged 3 litre V-6 diesel which is likely to be the one being used. This engine format, which is particularly compact and has four valves per cylinder and double overhead camshafts produces 250 hp in car form. It could be matched to an existing outboard leg from one of the major manufacturers but there could be problems in trying to get the engine to operate in the vertical mode as opposed to the horizontal mode used for road vehicles.
Mercury Optimax Diesel Outboard
The Mercury Optimax diesel is a second engine in Mercury Racing's arsenal of "stealth" outboards. Developed for the U.S. Department of Defense (DoD), this exclusive spark ignited, direct fuel injected 2-stroke runs on ultra-low sulfur diesel fuel that is readily available around the globe.
The 3.0 Liter V-6 diesel, which produces 175 hp, shares 95% of its components with the gasoline engine it was derived from. A twostage direct-injection system uses a small charge of compressed air to finely atomize the diesel fuel as it injects it into the combustion chamber.
A unique cylinder head designed specifically for combustion of diesel fuel, is matched with high-performance cylinder liners for maximum horsepower and optimal engine running quality.
Atomizing the fuel into a fine mist allows for ignition via spark to occur while delivering enhanced high rpm running quality. A glow plug works in concert with the spark plug for improved cold weather starting and idle quality.
An on board Propulsion Control Module (PCM) microprocessor optimises fuel and spark timing for improved running quality and performance throughout the engine's operating range. The OptiMax Diesel features stealthy, tone-on-tone graphics that feature the new Mercury Racing word mark – similar to those featured on the new Racing Verado 400R consumer performance outboard models. Mercury Racing OptiMax Diesel outboards are available with a 25-inch (635 mm) center section and the 2:1 Fleet Master gearcase in both right-hand and left-hand rotation.
www.mercuryracing.com
New Zealand Diesel Outboards
Also under top secret development for the past five years in New Zealand is a diesel outboard based on a BMW 4cyl engine coupled for trials to a Honda V6 mid section and lower unit. The engine has been run successfully on a test bed and is due for sea trials later this year.
The interest aspect is that the company developing the diesel outboard has successfully turned the normally horizontially mounted BMW engine to the vertical position. Some very ingenious engineering has been required to build a robust and suitable drivetrain. Considerable time has also been spend with problems with the electronics which have now largely been overcome. According to a company spokesman, they expect to have about 200-250hp at the propeller.
It may look like a conventional Mercury outboard from the outside, but the engineers from Barrus have been busy on the insides of this unit and now this three-litre outboard can run on lightweight diesel fuel.
Diesel outboards of this power have been something of a Holy Grail for many operators and this new outboard is something of a hybrid because whilst it operates on diesel fuel it still has spark ignition.
At present this diesel fuelled outboard is only available for military use because it is not RCD compliant. Also the cost, which is considerably higher than the petrol version, is likely to deter many potential users but it points to a direction in which future outboard developments might take.
In order to allow this standard outboard to burn diesel fuel, Barrus has fitted its own design of fuel injection system. This two stage direct fuel injection unit injects the diesel fuel into the cylinder at very high pressure so that it vaporises and is easily ignited by the spark plug. The ignition timing has also been varied and the engineers have also made several other modifications to the standard unit to achieve this capability of burning diesel fuel. The engine can also run on the kerosene that is used as a jet engine fuel and if necessary it can still run on petrol.
Barrus has modified two outboards in this way to run on diesel fuel. The smaller one is a twocylinder engine that in diesel form produces 44hp but with petrol as a fuel it produces 50hp. It is the larger engine that is attracting the most attention and this is based on the Mercury three-litre V-6 Optimax unit. This is a two-stroke engine that, in petrol form, produces 225hp, but with diesel as a fuel the power output is reduced to 185hp. The weight is also increased slightly from 225kg to 238kg.
Externally the only clue that this is a diesel engine comes from the writing on the engine hood. As a two-stroke engine, oil has to be mixed with the fuel to lubricate the internals. To burn different fuels such a kerosene or diesel, small adjustments have to be made to the electronic systems that control the engine and similar adjustments are required for these Barrus outboards to revert to using petrol as a fuel.
It is not possible to convert a petrol burning outboard into a full compression ignition diesel engine partly because the compression ration would have to be raised considerably and partly because the stresses of a diesel engine are much higher and a conventional outboard leg would not be able to handle the high torque of the diesel.
Visit more here – www.barrus.co.uk
Cimco High Performance Oxe
Cimco Marine Diesel has recently launched the world's first high performance, high efficiency marine outboard diesel engine, called the OXE. The innovative gearbox belt design – originally developed for stern drives and inboard engine technology – eliminates the need for conventional complex bevel gears and transfer shafts to efficiently transfer the drive of a common-rail diesel engine.
For this project Cimco has marinized a standard GM 2.0-litre turbo diesel engine by designing separate systems for seawater, heat exchangers, intercooler and oil cooler as well as mounting the entire powerplant horizontally. All service points are at the front of the engine, so maintenance and servicing can be performed on the water, whilst the addition of a dry sump system maintains consistent oil lubrication in all running conditions, allowing for rolling in heavy seas, plus tilting and trimming situations.
The OXE is the world's first 200hp production diesel outboard motor, and a number of engine sizes are in development – both smaller and larger than 200hp.
Throughout the project Cimco Marine AB has relied on a tool chain supplied by Kvaser technical associate, Accurate Technologies (ATI) Sweden AB. ATI supplied products used by CIMCO on the OXE program include ATIVISION ECU calibration and data acquisition software, CSM data acquisition hardware, and Kvaser USBcan Pro and Memorator Pro interfaces and data loggers for CAN analysis.
Cimco Marine Diesel AB was set up in 2012 to bring the OXE to commercial reality. However, development of the OXE technology has taken over six years, with component test –belt system, engine, gearbox, electrical system, fuel system and air intake etc. – over a period of three years to allow for rigorous sea trials. What took the time was packaging the system into a small, light form factor that would meeting the running conditions of both the commercial and pleasure boat market. You can fins out more here – www.oxediesel.com
The Future of Diesel Outboards
If these diesel outboards come to fruition they could transform the outboard engine market. What is surprising is that none of the major outboard manufacturers, apart from Mercury appear to be directly involved in any diesel outboard development although they could be working on projects in secret of course. Because of their funding the Cox unit is being aimed primarily at the military sector and it looks as thought Neander Shark could steal a march on the others with their development being closest to being marketed.
The Kiwi engine is still a longway from becoming a commercial reality and it's a wait and see came with all the rest. The demand for the diesel outboard from the leisure sector will probably always be smaller than those of petrol outboards, but it could be a good engine option for superyacht tenders where the use of diesel fuel will make it compatible with the fuel of the mother ship.
One commentator said that the outboard majors had 'missed the boat' in not adding a diesel to their range and it is anticipated that the diesel outboard will take a significant proportion of the overall outboard market in years to come, particularly in the commercial sector.