Barry Thompson braved the wild Nelson weather to check out one of the coolest little cuddy cabin boats in the country, the DNA 480XC and loved it.
Back in the 1970s, there were only a couple of alloy boat builders in New Zealand. Today there are over 75 and growing. Every time I go to a boat show I seem to find a few more and while most are low volume producers with limited models, they all take a share of the alloy boat market.
It is also interesting to note that the majority of the more established builders are away from the major population centres and more especially in the South Island. One of those is DNA Boats, based in the small town of Brightwater, 20 km southwest of Nelson. When Jason Elvines built his first alloy boat back in 2005, a friend saw it and wanted it. He made a second one and the process repeated itself, and so began the formation of a boat building company. After setting up his own engineering firm, in 2008 due to continued demand for his boats, he launched DNA Boats and as they say….the rest is history.
While DNA is certainly not one of the biggest alloy boat manufacturers in the country, what Jason designs and builds is first class.
Jason is an outdoorsman, so when it comes to designing boats, he knows what serious fisherman want and has even delved into boats to suit hunters. "Our boats are a combination of years of designing and building experience and from the teams own personal experience using boats. We are constantly striving for the best build and owners experience we can", says Jason.
The range today comprises eight different segments, in either pontoon or plate. These run from small pontoon dinghies through to large trailerable hardtops…and everything in between. While the website lists 22 models, from 4.2m to 8.21m, Jason says with the custom builds he does that's only part of the total range.
"While we have a stock range, we also have a lot of requests for custom boats and while sometimes we will use maybe a stock hull design, the rest can start with a clean sheet of paper and be a total custom built for an owner", he says.
Often that design is then added to the stock range and over the years it's the custom request that has been very much responsible for the recent expansion of the DNA range.
I have made a few trips to Nelson to review DNA boats and usually, it is as the tourism literature says "Sunny Nelson". Someone forgot to tell the weather gods the day I arrived with a cold Southerly pumping across Golden Bay, with pouring rain and rough seas.
"Perfect day for a test, " said Jason.
"Yeah right".
But I had to take what I got and as I was only stopping off on the way through to Christchurch. I don't mind the rough water, but I hate doing reviews in the pouring rain, especially in an open boat. And, that's just what Jason had lined up for me, a 480XC, one of three models in the pontoon cuddies series. The 480XC slots in between the 450C and the 535 XC and is the smallest boat in the range to feature the X-Series hull design. They are designed to provide the perfect balance of stability, soft dry ride and space.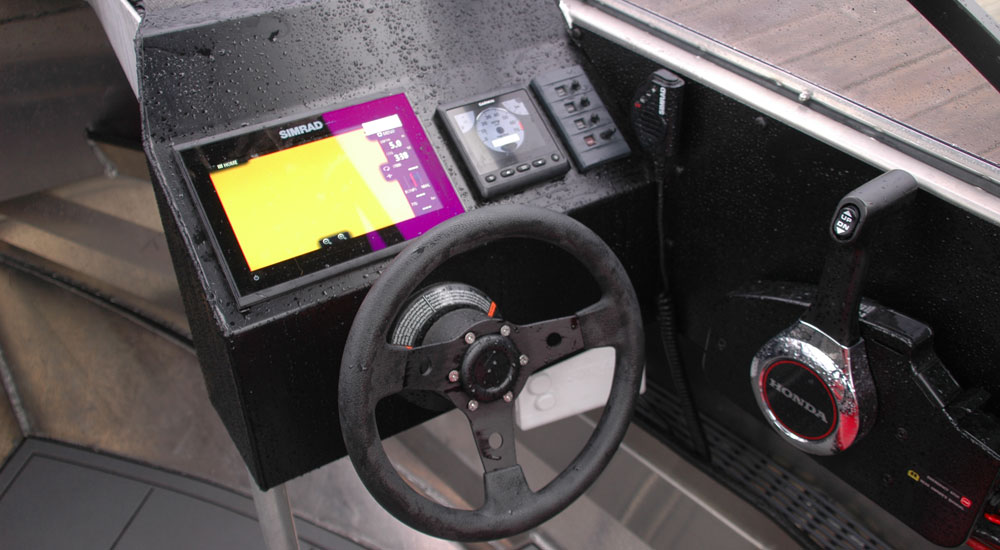 Using CAD design and CNC profile cutting, the X-Series hulls are built to fine tolerances and allow a perfectly symmetrical and well balanced boat. Jason says the computer design enables the boats to be studied and tested in depth while still in the 3D model stage.
"This is perfect for when we are designing a fully customised boat as it takes all the guesswork out of the process and so when the boat is built it looks exactly as it should and there are no surprises", added Jason.
One of the most significant aspects of the X-Series design is maximising the internal hull space, but without having to add so much beam that the wetted surface is increased to a point where you need more horsepower to power the boat.
DNA's answer was tapering downturned chines which allowed them to step the pontoon out further to increase internal beam. The pontoons have been slightly raised so while at rest they are in the water and offering greater stability, underway they are clear of the water, so the drag factor is minimised.
With the tapering chines acting also as a spray deflector, the X-Series hulls really toss the spray low and away from the boat. The chines also act as a shock absorber trapping a cushion of air under them as they land, and reducing the impact to the buoyant nature of the pontoon chambers.
There is one basic layout available, although DNA does offer some customisation on the seating. Back to backs, cantilevered, pedestals, you can have just about the style you want.
Forward under the cuddy, it's all about space to stow gear with an alloy upstand to stop stuff flowing back into the cockpit. Squabs are available should you want them. The windscreen opens to provide access to the open anchor locker, which is deep enough for a small drum winch.
There's no doubt the 480XC will be predominately used for fishing and the cockpit layout reflects that. At 1.44m, the internal beam is 200mm wider than the 450C and as part of the X-Series design has flat floors and a toe space where you can actually hook your feet in underneath the pontoon giving you more positive grip stance and allowing you to stand closer to the edge.
There is storage in deep side trays as well as under the aft deck, a central bait station with foldup bait board, and a locker for the battery. Fuel is carried in tote tanks and there is an easy port side walk-through to the boarding platform with drop down ladder. Uncluttered and functional.
The 480XC was released early 2017 and is a development of a previous 5m hull that has been discontinued and while overall a smaller boat, it provides more internal space, thanks to the X-Series design.
Jason points out that while it's a boat designed for fishermen, it is also well suited to family boating, towing water toys and generally having fun with the kids. At 750 kgs towing weight, it's light to tow and well suited to beach launching. The optional sports arch can carry a bimini and clears for extra protection and also a rocket launcher for the rods. It's built tough and can be modified to fold down. Underfloor is all buoyancy, but there is the option of fitting a 65-litre underfloor fuel tank.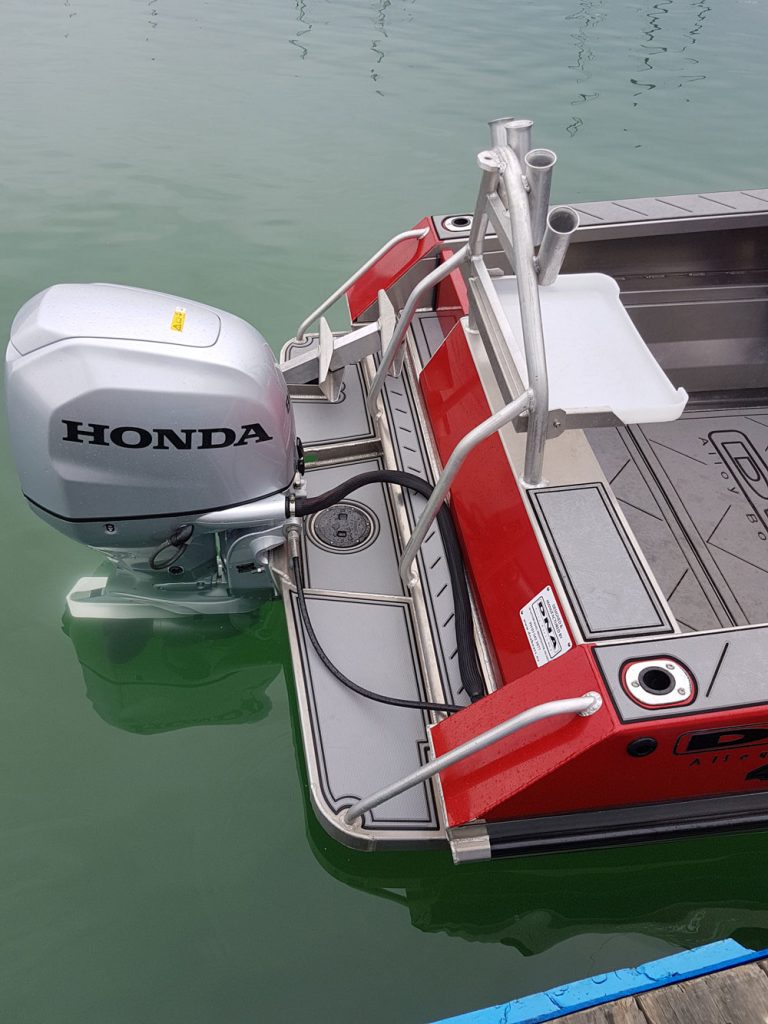 The 480XC has a horsepower rating of 50-90hp, so the Honda 80 is a right size mid-range engine. If you are loading the boat with three guys and a load of fishing or dive gear, the 50-60hp outboards are too small and will be working hard all the time. The 90hp is undoubtedly not overpowering the boat, but for me, the 80hp was the perfect match. With two aboard, the 480XC was quick to plane and we recorded 33.5 knots in the calm water of Nelson Harbour. At 4500 rpm, around 24 knots, the 80hp was using just 15.0 lph and with a couple of tote tanks the range was getting up around 70nm.
In the short chop in Golden Bay outside Nelson Harbour, the 480XC performed better than I would have expected for such a small boat. Driving the boat for the conditions it handled the seas well, but you still need to remember it's not a big boat. I could see just how much the X-Series hull design comes into its own in rougher water and the boat maintained great stability and dryness of ride. Generally, a very soft ride although there were some deep 'holes' that jarred the boat, but probably less than I have experienced in even bigger pontoon boats.
The 480XC is another perfect example of why Kiwi alloy boat builders punch above their weight on the world stage. An entry-level boat that defines the meaning of an all-rounder and comes with a build quality second to none. Jason says a lot of his clients come from the local Nelson area and boats are sold on owner's recommendations. However, they are sold New Zealand wide and as the brand gains more national exposure so do the sales figures. If I were looking for an alloy cuddy cabin boat under 5m, the DNA 480XC would be right there at the top of the list.
Model: DNA 480 XC                                        
Type: Cuddy Cabin
Construction: 4mm alloy
LOA: 4.8m
Beam: 2.0m
Internal Beam: 1.44m
Deadrise: 20 deg
Height on trailer: 2.20m
Trailerable weight: 750 kgs
Power: Honda 80
Power options: Outboards 50-90hp
Propeller: 17" 3-Bld
Fuel capacity: Tote Tanks
Trailer: DNA
FUEL & PERFORMANCE DATA

 

DNA 480XC

 

 

 

Fuel capacity:

50

litres

 

RPM

Knots

L/h

L/NM

Range  (NM)

1000

2.5

1.8

0.720

62

1500

4.0

3

0.750

60

2000

5.0

4.8

0.960

46

2500

6.4

6.2

0.970

46

3000

13.0

7.21

0.560

80

3500

17.5

9.3

0.540

83

4000

21.8

12.6

0.580

77

4500

23.8

15

0.640

70

5000

28.3

24.3

0.860

52

5500

31.8

28.8

0.910

49

5800

33.5

32.5

0.980

45
NM range is based on 90% of 50 litres or two tote tanks.