Barry Thompson gives the all new DNA 801 Custom 10 out of 10 and says it's a class leader in the 8m aluminium hardtop category. 
When it comes to an aluminium boat, the question is painted or unpainted. There are the purists who regard covering the raw aluminium with anything more than a clear protective coating such as Nyalic is an abomination. They should be kept in their natural state, and any attempt to bring them into line with their fibreglass counterparts, such as soft curves and gracious lines should be avoided at all costs.
While there are still some that follow that maxim, the market has predominantly changed to full painted or even wrapped hulls, especially when looking at boats over 6m. Stylish lines, curved screens and softened edges are now the norm. No longer does a hardtop have to look like it was an afterthought. They are now very much part of the form of the boat.
One company that has taken the appearance of their boats to the ultimate level is Nelson based DNA Boats, and at the recent Tairua Boat Show, they presented one of the finest examples of an alloy boat I have seen in years. The all-new 801 Custom is an 8.1m hardtop that makes a statement about the company's ability and craftsmanship. This is truly an alloy boat that you need to give the 'tap' test to see that's not fibreglass. However, being so pedantic about the finish of the boat has come at a price. Jason Elvines, the designer and builder of the DNA brand, says that with the countless hours extra in fully fairing all the welds and then painting, there is about a $45,000 up-charge on the standard unpainted boat. Price as tested for our Mercury 260 TDI sterndrive powered DNA 801 Offshore, on a tandem braked alloy trailer was $330,000.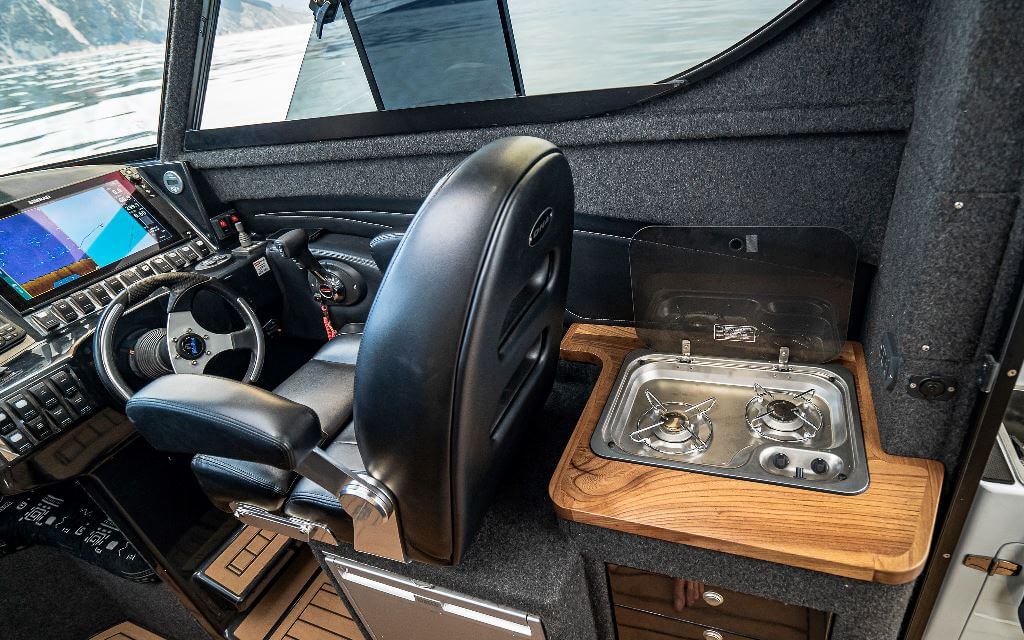 "I wanted the 801 Custom to be a real show stopper and present a boat to potential clients that exposed what we can do, and I couldn't be more pleased with the reaction we got at the Tairua Boat Show", says Jason.
Jason commented that he built the first 801 Custom for his use, to replace his 730. He needed a bigger overnighter that provided more comfort and space for his family of four. 
The 801 has its roots, or should I say DNA in the DNA 821, which we reviewed a few years ago. The 801 retains essentially the same hull, albeit shorter, with the same size cabin, but a different cockpit layout. Where the 821 reviewed was outboard powered, the first 801 is fitted with a Mercruiser 260 TDI V6 diesel sterndrive with Bravo 3 stern leg. Top speed with the Mercruiser is around 35 knots.
There is also a single or twin outboard option with a recommended maximum of around 300hp. With an engine box extending into the cockpit, the available working space for fishing is decreased, but DNA has countered that by providing an extra-large platform aft of the transom. This comes complete with high rails, which, unlike the traditional pipe construction, has been manufactured from 12mm flat plate. Very different, with a retro style that works great.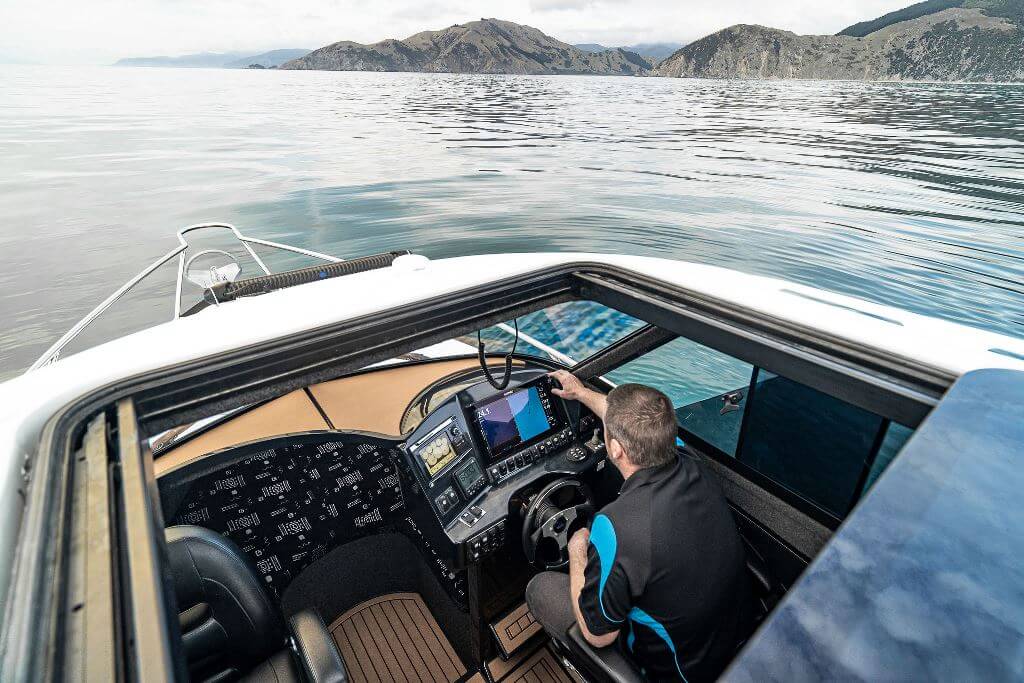 Access is provided either side of the engine box, which also houses the seriously large bait station. This is removable and comes with the mandatory rod and knife holders. The engine box, like the rest of the boat, is finished with U-Deck and makes another great seat or a place to put the tackle boxes when fishing. The steps in the walkthroughs hinge up, to stop any water sloshing into the cockpit when you be backing-up on a big fish. They are also ideal places for a live bait tank.
The cockpit is all about fishing, and since Jason and his team at DNA are all keen fishos, they know what works. Features like deeply recessed spaces under the coamings, extended side shelves for rod storage, flat side decks with strategically placed rod holders and side lockers large enough to take dive bottles are there because they know they work.
I liked the fact that the 801 Custom has an outside head/shower and it wasn't plumbed in under a forward squab. The curved design gives you a little more room to move inside when having a shower and takes up less cockpit space. Opposite is a corner sink unit complete with hot and cold freshwater, a gas califont and deck wash hose.
The wheelhouse is sensational, with an air of unexpected comfort that you don't always find in a boat this size. Soft fabrics cover all remains of the alloy construction, with dark leather accentuated with the U-Deck faux teak flooring. The hull coverings are all backed with 7mm foam which helps retain internal temperatures as well as acts as a noise barrier. The high profile curved screen is broken only by a single central mullion, so visibility from the helm is unimpeded. Fresh air and ventilation come via the large Webasto manual sunroof and sliding side windows. However, if you are boating in the colder climes, then you can simply close everything up and stoke-up the gas heater. 
The layout of the wheelhouse is similar to the 821, although the access to the forward accommodation space has been increased. The U-shape seating doubles as two generous berths, with an optional infill. There is storage under the squabs as well as in wide side trays, and like the wheelhouse, everything is fully lined, presenting a warm, appealing area.
Wheelhouse seating is provided with twin swivelling bucket seats forward a single port side bench seat and a removable bench seat along the rear wall. Swing the forward passenger seat around, and you have a generous dining area for a couple of people. The table can be folded out of the way when not required. All extra available space in the dining area has been taken with drawers, plus there is further storage under the wheelhouse floor.
To starboard is a small galley with, fridge, gas cooker and storage, with the helm forward. DNA has certainly maximised the available dash space. Centre stage is a Simrad NNSEv02, 16" screen, AP24 autopilot, Vessel View 7 Mercury engine management display, plus trim tab, winch and bow thruster controls. Overhead you can control your sounds from the Fusion RA70 and keep in touch with other boat owners on a Simrad RS20 VHF.
What a difference the thruster made when we brought the boat back onto the trailer with a strong tide ripping past the Tairua Marina ramp. A great addition to a single engine trailer boat of this size.
Like the 821, and in fact all DNA boats, construction is based around an integral hull framing system created by Jason using CNC cut interlocking full depth full length frames creating a rigid dependable system. This along with CNC profile cut boats, bring about fine tolerances and perfectly symmetrical and well-balanced boats.
The 801 is designed to perform in moderate to rough water and comes with a well tested hull design. I have run several DNA models from the 8m right down to their smaller 4m models, and I would have to say no matter what the size, it is hard to fault the ride and handling. 
The 18 deg hull feels stiff on the water, and although I never got to experience the 801 in the rough, I am sure it would account very well. I know the 821 does, so why should the 801 be any different. With the MerCruiser 260, the best cruise speed is around ???? @ ???? rpm, which returns a fuel figure of ???? lpnm and a range of ???nm. WOT saw a speed of ??? knots @ ??? rpm and a fuel figure of ???lpnm and a range of ???nm.
I certainly put the DNA 801 Custom as one of the class leaders in the 8m aluminium hardtop category. Finish, style and performance I give it 10 out of 10.
Boat Design Name: DNA 801 Custom
Type: Hardtop
Year Launched: 2020
Builder: DNA Alloy Boats
Price as Tested: $NZ330,000
Priced From: $NZ250,000 (approx.)            
LOA: 8.10m
Beam: 2.50m                         
Deadrise: 18 deg                          
Construction: 6mm/4mm alloy
Trailerable Weight: 3360 kg (Dry)
Height on Trailer: 3.15m
Power Type: Sterndrive/Outboard
Max Horsepower: 300hp
Test Power: Mer Cruiser 260 TDI V6
Drive: Bravo 3
Max Speed: 35 knots          
Fuel Capacity: 300 litres
Sunroof: Webasto      
Decking: U-Dek
MFD: Simrad NNSEv02
Winch: Maxwell
Bow Thruster: Sidepower
Lighting: Hella
Stereo: Fusion RA70
Tabs: Lectrotab
Trailer: DNA Alloy
Fuel capacity:
300
litres
RPM
Knots
L/h
L/NM
650
3.0
1.3
0.440
1000
5.2
2.3
0.450
1500
6.5
6.5
1.000
2000
8.5
8.5
1.000
2500
15.1
24
1.600
3000
24.8
30.7
1.300
3500
29.0
39.5
1.400
3700
31.0
42.5
1.400
3900
33.2
49.7
1.500
4020
33.6
51.5
1.600