The new DNA 801 Custom sets new standards of style and finish for 8m alloy hardtops.
Visitors to the recent Tairua Boat Show will have seen the new pristine white, DNA 801 Custom. This latest offering from this very progressive Nelson boat builder sets new standards in finish, style and presentation, that didn't go unnoticed by show patrons. Designer/builder Jason Elvines said he had a great response and last week was working with a number of clients interested in the 801 Custom.
The all-new 801 Custom is an 8.1m hardtop that makes a statement about the company's ability and craftsmanship. This is truly an alloy boat that you need to give the 'tap' test to see that's not fibreglass.

"I wanted the 801 Custom to be a real show stopper and present a boat to potential clients that exposed what we can do, and I couldn't be more pleased with the reaction we got at the Tairua Boat Show", says Jason.
Jason commented that he built the first 801 Custom for his use, to replace his 730. He needed a bigger overnighter that provided more comfort and space for his family of four. 
The 801 has its roots, or should I say DNA in the DNA 821. The 801 retains essentially the same hull, albeit shorter, with the same size cabin, but a different cockpit layout. Where the 821 reviewed was outboard powered, the first 801 is fitted with a Mercruiser 260 TDI V6 diesel sterndrive with Bravo 3 stern leg. Top speed with the Mercruiser is around 35 knots.
There is also a single or twin outboard option with a recommended maximum of around 300hp. With an engine box extending into the cockpit, the available working space for fishing is decreased, but DNA has countered that by providing an extra-large platform aft of the transom.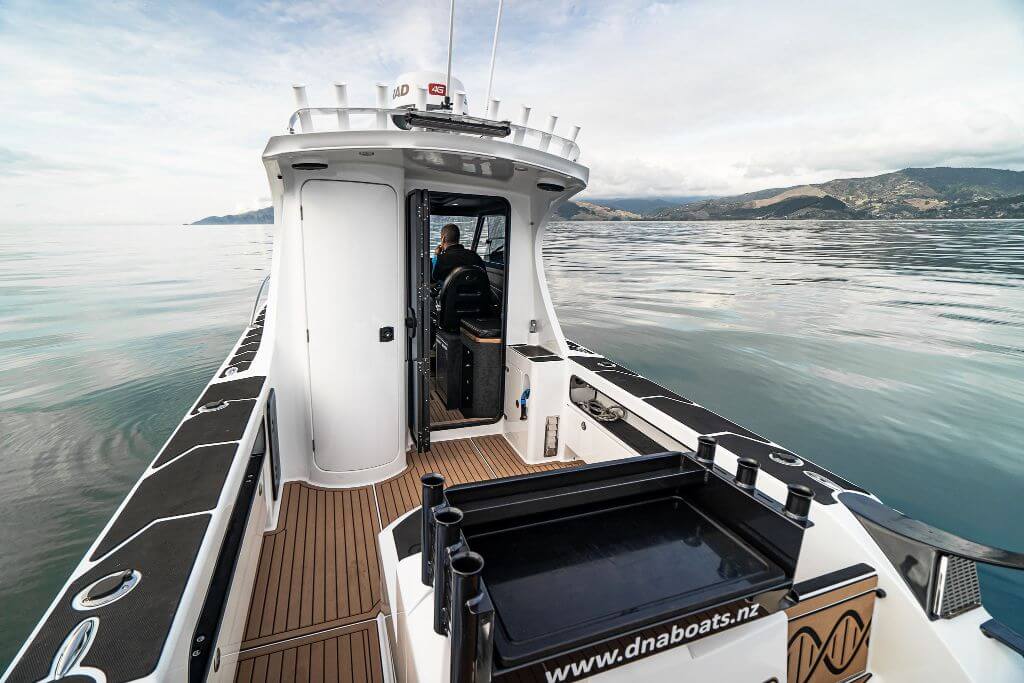 The cockpit is all about fishing, and since Jason and his team at DNA are all keen fishos, they know what works. Features like deeply recessed spaces under the coamings, extended side shelves for rod storage, flat side decks with strategically placed rod holders and side lockers large enough to take dive bottles are there because they know they work. 
I liked the fact that the 801 Custom has an outside head/shower and it wasn't plumbed in under a forward squab. The curved design gives you a little more room to move inside when having a shower and takes up less cockpit space. Opposite is a corner sink unit complete with hot and cold freshwater, a gas califont and deck wash hose.
The wheelhouse is sensational, with an air of unexpected comfort that you don't always find in a boat this size. Soft fabrics cover all remains of the alloy construction, with dark leather accentuated with the U-Deck faux teak flooring.
The layout of the wheelhouse is similar to the 821, although the access to the forward accommodation space has been increased.  Wheelhouse seating is provided with twin swivelling bucket seats forward a single port side bench seat and a removable bench seat along the rear wall. To starboard is a small galley, with the helm forward.
The 801 is designed to perform in moderate to rough water and comes with a well tested hull design.
LOOK OR A FULL REVIEW IN THE SEPT-OCT ISSUE OF PACIFIC POWERBOAT MAGAZINE