There's a new imported boat brand to the New Zealand marine market, Dominator. We didn't know much about it, so we sent Freddy Foote out to investigate.
If you haven't heard of the Dominator brand until now, well you're not the only one; I'd never heard about it until I was allocated the boat test by editor Barry Thompson.
What does any good journo do? Hit Google of course! May as well try find out some background on this craft before heading out on it.
Unfortunately, Google yielded nothing. So I was going in blind.
First impressions of the Dominator 720 is that it's a big American-styled fishing centre console. Well, that it is, but it actually comes out of China. However, it was designed and is built by a Japanese bloke.
The Dominator 720 has a very open and functional layout, with wide side decks around a very large centre console. It is obviously a craft that has been designed around fishing, with enough room in the aft cockpit area for two to fish comfortably, then with a very large and open for'ard section which would allow a further 3-4 people to fish if needed.
At the helm, a large fascia is designed to handle large multifunction displays and other instruments and controls.
The helm is to port and features a centrally mounted control binnacle. Alongside are a couple of drink holders and another handhold for a passenger seated at the helm.
Inside the main helm console is plenty of space for dry storage but also provision has been made for a toilet to be installed in there. Access to this area is available via the port side.
The bimini top above is constructed out of sturdy alloy with a laced-on canvas top.
With built-in rod holders on the aft side of it, the rigid frame also provides extra handholds for crew.
With plenty of storage throughout the boat, there is space provided underneath the helm bench seat, which also has a moulded sink unit aft, and whilst it was not plumbed with a freshwater tap, it can be if you choose to.
The aft decks have twin lockers – one is for the batteries, and the other is a live-bait tank.
Up for'ard in the huge bow area there are three more large lockers under the moulded seat base. An offset anchor locker is positioned so you can fit an auto capstan, with a deep fall into the anchor well.
Seating is copious throughout the boat. Two can be seated at the helm area, two more for'ard of the console, and a large U-shaped seating area in the bow. A large handrail runs along the inside of the bow for passengers to hold onto when underway.
There is the choice of an anti-skid seat surface as seen on this boat, or you can opt for soft squabs should you wish.
When seated at the helm, the windscreen provides reasonable protection from the elements and passengers holding on aft are well sheltered also.
I've always had a love/hate relationship with centre consoles. I love them for the fact that they provide plenty of internal room for their intended purpose. What I hate is that without doubt, this is a boat for summer boating and unless you're prepared to wrap up with four layers of clothing in the winter, you're largely limited to summer boating.
However, it would have wide appeal to those who boat only in warm conditions, and I imagine would be a welcome addition to a pacific resort for lagoon fishing excursions.
The Dominator provides plenty of provisions for a number of passengers, with plenty of handholds and seating options throughout the boat.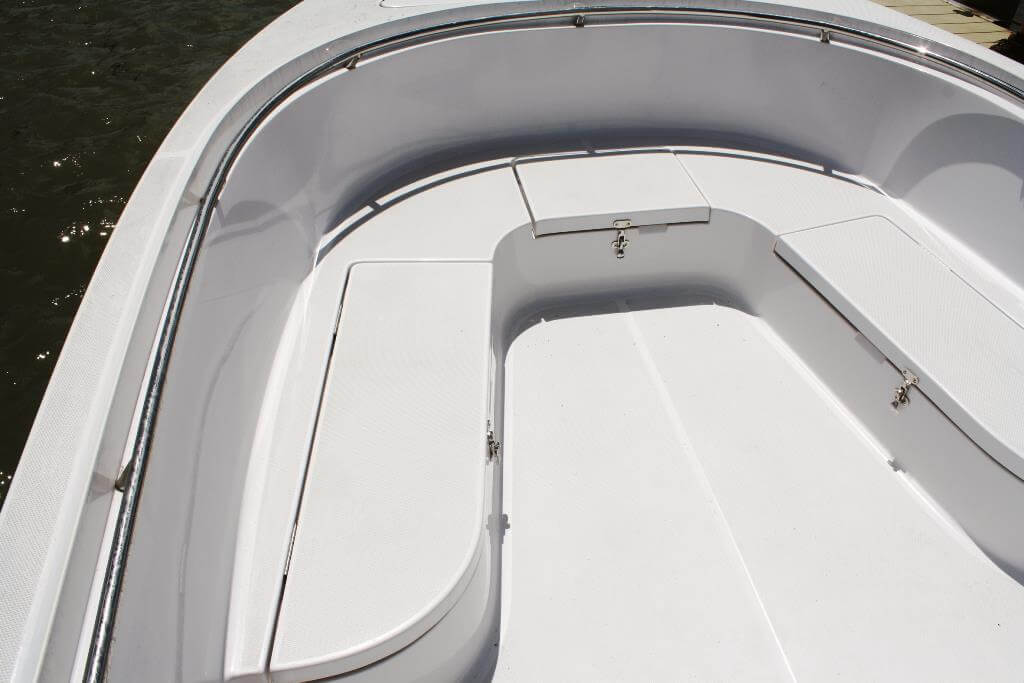 Sometimes, no matter how much you plan, events conspire against you. Unfortunately on the day of our test, our test boat didn't have a GPS fitted, a hand held wasn't available and the dash instruments provided weren't entirely accurate – so I wasn't able to gather all of the technical information that I usually do.
Our test boat was fitted with a Mercury 250hp EFI two-stroke. Obviously with some significant horsepower on the transom, the 720 made the transition up onto the plane easily, and mid-range punch was pretty phenomenal.
The 720 is rated from 150hp through to as high as 300hp. I don't really see the need for a 300hp.
I thought the Mercury 250 EFI gave the Dominator 720 a good balance of performance for the type of boat and the type of boating it is intended for.
Should you not require that amount of horsepower, which most of us won't, then I'm confident that a 150hp outboard would perform very adequately, and keep the cost down.
Speaking of cost, this model as tested was actually fitted with a 2009 model Mercury 250hp EFI, and has a current 'for sale' price of $49,995.
A new Dominator 720 with a 150hp Mercury four-stroke outboard starts from $64,000.
Model: Dominator 720
Priced From:   $64,000 with 150hp Mercury four-stroke
Price as Tested: $49,995 – used Mercury 250hp EFI
Type:   GRP centre console
Construction:   GRP
LOA:    7.20m
Beam:  2.45m
Deadrise: 18 degrees
Height on Trailer: 3m
Trailerable Weight: 1850kg
Engine Capacity: 150hp-300hp
Engine: Mercury 250 EFI
Power Options: Outboard only
Fuel Capacity: 200L
Water Capacity: 80L