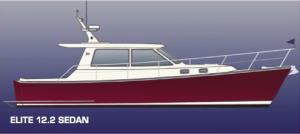 Based on the Espresso 40 hull, this "Down East" styled sedan motor yacht is best described as a gentlemen's cruiser. The sweeping sheer-line, tumblehome and purposeful superstructure will never date.
A range of layout options is offered, one of which would consist of an island queen size berth forward and a second double cabin to one side. A generous bathroom with separate shower services both staterooms. The galley can be on the lower level leaving the saloon free for entertaining and relaxation.
Twin or single engine options are offered depending on the performance required. For example, a single 370hp on shaft with a propeller in a tunnel will return a top speed of 26kts making this an extremely fuel efficient package.
The hull is GRP female moulded with the decks custom built giving greater flexibility to the internal arrangement and aesthetics. The hull form is hard chine monohedron and incorporates our silent chine configuration that prevents slapping at rest.
The 13m Elite sports sedan Odyessia was designed for Scott and Letitia Lane as their own personal boat and was launched mid November. Scott having now built seven Elites decided it was time to have their own which will be used for family cruising and also demonstrating the companies' ability to build top class custom boats for the most discerning.
Odyessia is powered by a single Cat C7 455hp engine on a conventional drive with the propeller in a shallow tunnel for efficiency and reduced draft. The interior finishings are somewhat bold and risque in red black and off white with Cherry and Wenge timber which makes a refreshing change from the usual neutral tones.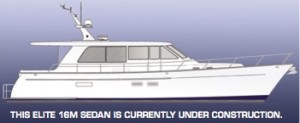 The design brief was to create a timeless, comfortable and economic vessel that can complete extended passages. Traditional in styling this 16m sedan takes its lineage from the 17.8m Highlander design. Low bulwark's, large cap-rails and side deck access door add to the ship like feel of this design.
As with most of my designs the hull incorporates silent chines, that are an important feature considering the location of the full width master stateroom allowing the crew a peaceful night sleep. To achieve this full width master, the dinette has been raised giving full headroom below.
As with all sedan vessels the tender becomes a problem to stow, this has been addressed by incorporating a tender garage under the cockpit sole accessed via the transom. Accommodation can consist of two double staterooms with en-suite or three cabins, one being a bunkroom.
Designed to have an economical cruise speed of 18kt power requirement will be twin 400hp engines on conventional shaft drive. The hull form has been optimized to operate at both displacement and planning speeds.
Range at displacement speed will be in the vicinity of 1200 nm from 3000L of fuel. Hull construction is balsa cored composite with epoxy resin. Superstructure is a combination of plywood, foam cores and fiberglass.

At 20m this modern style Sedan sports yacht features a deep v high performance hull form able to sustain a 30kt cruise in all but adverse conditions. Either shaft drive with the propellers in pockets or pod drives is being investigated. With twin 1500hp, top end performance is anticipated to be 38kt.
The wide boarding platform will be hydraulically operated rise and fall to assist with launch and retrieval of the jet tender stowed in the purpose built garage. Port and starboard stairs lead to the aft deck/cockpit area featuring alfresco dining area. The main living or saloon will have an aft galley so as to service both the internal dining and alfresco. Wet bar area and generous seating are adjacent to the helm.
Accommodation features a full width master stateroom amidships with en-suite and walk in wardrobe, work station and settee. Guests are accommodated further forward in a double stateroom to port and a four berth cabin forward. To starboard is the shared head with separate shower unit along with the washer/dryer. As with all our designs, the floor plan can be completely customized to suit the individual's requirements.
Side decks are a gradual rise from the cockpit sole concealed below the gunwale line giving a clean unclutter look and a sense of safety when accessing the forward deck.
Contact: Elite Marine Design Ltd,
+64 9 5308501 or +64 274853235,
info@elitemarine.co.nz
www.elitemarine.co.nz
Roger Hill Yacht Design Hill Cat 17.5m – Voodoo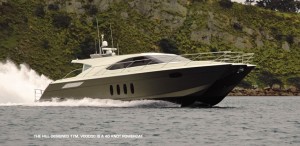 Voodoo, the Roger Hill designed and Pachoud Yachts built is a rocketship and one for the adrenaline junkies. Okay, so 40 knots does not sound like much when you are in a trailer boat, but in a 25000kg, 17.8m powercat it's sensational!
The design brief behind Voodoo was quite simple – a very high speed powercat that could run hard around the coast at speed, but also be passagemaker capable.
The owner also wanted to be able to pick a shorter weather 'window' when passage making, having the speed to outrun any pending bad weather. Voodoo has the fuel capacity and range to go all the way from Auckland to New Caledonia, a distance of 1000NM at 30 knots.
To get the speed required took more than bolting in a couple of high horsepower engines. It was a combination of the power, the drive, the hull design and importantly the foil. Power for Voodoo comes from a pair of C15 Caterpillar engines @ 850hp each. When the boat was first launched, it ran just shy of 42 knots.
The design is also available with pod drives, which can be fitted with virtually no alterations to the running surface. The hulls are asymmetrical, which is a departure for designer Roger Hill, who has traditionally favoured symmetrical hull forms. However, as Voodoo was to have a foil fitted right from the start, the asymmetrical design was, according to the designer, the better option. The function of the freeboard height of the design was somewhat dictated by the amount of tunnel clearance required at rest (500 600mm) and also the requirement for an aft dinghy garage. This also allowed for a full beam saloon that maximises the living areas and gives plenty of head space in the accommodation areas below.
One spin-off of the high profile is a huge forward cabin that runs the full width of the hull and even includes a separate en-suite bathroom. Aft in the starboard hulls are two more cabins, one with upper and lower single berths, the other with twin singles, plus there is yet another cabin in the port hull with another double berth.
The main cockpit of Voodoo has been designed for comfortable day-to-day living and there access either side of the central transom lounge to the very interesting stern platform.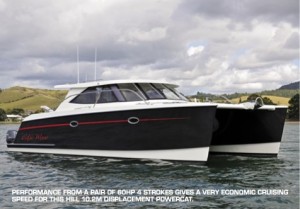 The hull is a displacement type, 13.5: 1 waterline beam to length ratio, very fine entry with the aft sections optimized for the outboard propulsion. A displacement hull this small could be designed to take a diesel inboard (a slender one) with the aft sections modified to be suitable for underwater props. Light weight and simplicity are the keys to the success of this project and minimizing weight in the ends to help reduce fore and aft pitching as much as possible to keep the props in the water in rough conditions.
The layout options include three sleeping areas in the hulls with twin walk-in double cabins fwd to port and starboard and a large single berth in the aft section of the port hull under the galley. A 2m long heads/shower compartment aft in the port hull or alternately the galley can be situated 'down' instead of the aft berth.
Up on the main deck we have the internal helm, galley, and dining area opening aft onto the large cockpit area with the option of more seating if the galley is moved down into one of the hulls.
Performance from a pair of 60hp 4 strokes gives a very economic cruising speed in the mid to high teens top speed of approximately. 21 knots. Fuel consumption at 14 knots is a little over one litre per NM for both engines. Construction is all foam cored with E glass laminates and vinylester or epoxy resin. The hull bottoms (below the spray chine) and the cabin top are laminated in a female mould and the remainder of the boat is assembled from pre-made composite panels.
Roger Hill Yacht Design, Ph Tel/Fax +64 9 570 6464, E: W: www.powercatsnz.com
Feature in the Mar/Apr 2014 issue of PPB, the Robson RSV545, Luminaire was built by Icon Custom Boats and the result is a highly speced, high end monohull of outstanding quality. One of the other requests by the owners was they wanted square and angular fittings throughout the boat, from the door handles to the tap ware. This also carried through to all the joinery with a firm solid edge look on all the loungers, tables and seating.
The form is very modern, without going too much into a radical modernistic style as is now found on many of the European, and more especially French production boats. Luminaire offers a pleasing to the eye compromise between style and practicality. Being a custom boat, the layout is very much owner driven and in the case of LuminIre one of the first requests by the owners was for a full beam master, two guest cabins and two ensuites.
The full beam master aft has the advantage of the IPS drive system allowing for the rear bulkhead shifted over a 1m further aft than if powered by conventional shafts.
A nice touch are the triple vertical hull side laminated toughened glass ports either side of the master which let in plenty of natural light and have become a signature for Icon Custom Boats.
Both the guest cabins share a similar, but smaller en-suite that is fitted out very much the same as the owner's en-suite. The forward guest cabin is reasonably basic in design and layout with two full length upper and lower berths, but again as this is a custom design the layout options are very flexible. The second guest cabin to starboard is designed with single upper and lower bunk berths.
To achieve the necessary height in the master cabin, it was necessary to raise the cabin sole of the saloon and hence the whole outward appearance of the 545SF is of a high profile. It certainly doesn't detract from the attractive look and adds somewhat of an aggressive style to Luminair.
As the first brief for Luminaire was for a serious fishing boat, it's no surprise that the cockpit is totally focused around fishing. The owners love their line fishing and so there are all the necessary built in bait tanks, cutting board, rod and tackle lockers and kill tanks. Be it fishing or socialising the cockpit is orientated for both aspects. Construction is alloy hull and decks to the pillars with a composite hardtop, boarding platform and rear decks.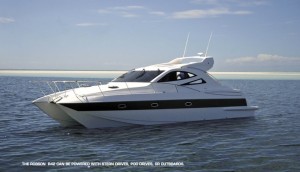 The R42 is a 12.2 m Sports Sedan catamaran based on a hull decks platform that can be configured as an open or a sedan top with a power retractable sun roof. The accommodation is two doubles forward with ensuites or a double forward on the starboard side with a twin berth on the port side and a double aft in the port hull with the head and shower aft on the starboard side.
The R42 can be powered with stern drives, pod drives, or outboards. Performance is 30 -40 knots depending on the power selected. Construction is fibreglass composites using temporary mould tooling from a precut kit for the mould and hull and deck parts and can also be constructed from alloy from a precut kit. The overall concept of this model is currently being designed as a 15.5m version with the same layout and look for a client from Hong Kong, who wants the layout and look in a larger, faster version, with pods.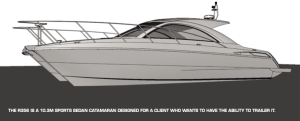 The R356 is a 10.3m Sports Sedan catamaran designed for a client who wants to have the ability to trailer it. This model is designed as a day boat with provision for a double forward on the starboard side and a large head and shower on the port side. 
The cockpit and saloon flow together creating a large area for entertaining with a pull out table complete with chairs, sink and fridge. The R356 can be powered with sterndrive or outboards and is being constructed in alloy by ICON Custom Boats in Rangiora. This model can be also be constructed from a fibreglass composites precut kit.
Robson Design, Ph +64 3 3563111 E: scott@robsondesign.co.nz
W: http://www.robsondesign.co.nz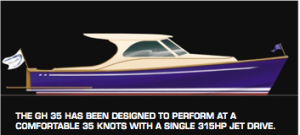 The brief for Dibley Design was for a simple, traditional looking 35′ powerboat that has modern performance and comfortable accommodation. The hull has a moderately deep-V bottom incorporating wide chine flats and a low beam length ratio. 
The GH 35 has been designed to perform at a comfortable 35 knots with a single 315hp jet drive, Jet units allow owners to get into areas that are usually unattainable to standard propped vessels and various internal and cockpit layouts are available.
Various layouts are available with the models shown having V-berths for two up forward with the cockpit saloon table dropping to form a further double berth. Clears are located aft of the upper saloon seating when in adverse weather and an entertaining / BarBQ area is located at the stern with optional seating layouts aft. A boarding platform aft can be used for easy dinghy access.
The design request came from an Auckland couple who were looking for a vessel that is fast, seaworthy and comfortable for weekend or coastal cruising. She needed to have a simple layout as per the client's recommendations, and draft restrictions were taken into account.
The Dibley 52 has been designed to perform at 34 knots maximum with a cruising speed of 28 knots. Construction is on the high tech side with Kevlar cloth and a combination of unidirectional, biaxial and triaxial e-glass cloth. The method will be the frame and batten option for the strongest and lightest result.
The initial brief was for a one-cabin layout, but two cabin layout options are available. A jet drive system is also available.
Dibley Marine Group (DMG Ltd.),
Ph +64-(0)9 940 9745, www.dibleymarine.com
Design
Warwick 56GT Fastcat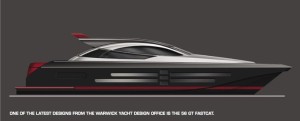 One of the latest designs from the Warwick Yacht Design Office is the 56 GT Fastcat. With its elegant exterior styling and large entertaining spaces onboard, the 56 GT provides its guests with many advantages over traditional monohulls.
A selection of seating and entertaining areas are provided on the main deck, that offer casual or formal spaces depending on the mood or occasion. A well-equipped galley is perfectly placed to serve guests in the main saloon, or al fresco in the large aft deck, as well providing a bar to enjoy pre dinner drinks and canapes Four generous cabins serviced by two spacious heads are located on the lower deck, offering flexibility normally found only on a much larger vessel.
The 56GT has an overall length of 17.3m with a beam of 6.10m and displacement of around 16500 kg. Powered by twin Volvo Penta IPS, expected top speed is 38 knots.
Warwick Yacht Design, Ph+64 (09) 410 9620,
W: warwickyachts.com
HMD 14.6m IPS Sports Cruiser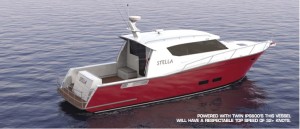 This 14.6m Sports Cruiser has primarily been designed for cruising, diving & fishing around the Marlborough Sounds, New Zealand. Powered with twin IPS600's this vessel will have a respectable top speed of 32+ knots without compromising an efficient cruise speed of 20-24 knots.
This vessel will utilise the latest Volvo Penta technology including the dynamic positioning system (DPS) and sportfish mode providing the very best manoeuvrability whilst docking and game fishing.
The interior layout is simple and functional with a large saloon settee & table, head, galley and helm station. The accommodation consists of a forward cabin with four bunks, the full width master stateroom is located amid-ships below the saloon and features large fixed portlights.
The cockpit consists of seating with storage for dive bottles and a large centre island housing a slide-out bbq, fresh water shower, sink and storage. The boarding platform is enclosed with sturdy tube work providing a great fishing platform with a large dive ladder for diving and swimming access.
Construction is marine grade aluminium, CNC router cut to provide an efficient and precise build. With a high quality painted finish, quality fabrics and coverings this sports cruiser will impress.
Hall Marine Design, Ph+64 (0)7 575 7091,
www.hallmarinedesign.com jarrod@hallmarinedesign.com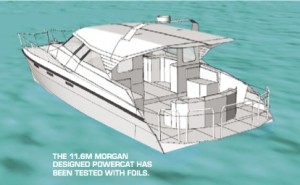 Our clients were looking for a modern family boat that also doubles as a platform to entertain their own clients. The layout had already been settled on by the owners who wanted a three cabin, open plan saloon configuration, with the only choice was whether to have an external toilet/ shower, as well.
An extended platform aft surrounded by detachable hooped rails allows for plenty of Fun and games with easy access. In this design brief, economy and efficiency were ranked #2 a little higher than usual and with constantly rising fuel prices rightfully so.
This meant a larger amount of design time was spent on reducing hull and aerodynamic drag, plus reducing, where possible, weight. When analysing all the major performance variables, weight turned out to be a massive factor in hull drag and thus fuel economy, so several layups were investigated along with cost effectiveness of the introduction of carbon into the layup.
The final layup being a mixture of balsa and foam cores with flat prelaminated panels used where possible and carbon used in some of the larger panels and the extremities to help centralise the weight thus reduce bouncing and up efficiency. Powering options greatly affected optimum hull shape, so we designed hulls for each of the three powering configurations and tested to see which had the most potential.
Having also just completed some design investigations into foiled multihulls we put forward the idea of having lifting foils under the tunnel into the mix. To test this configuration we made a 2m model and tested with and without foils. The results were very conclusive and even allowed us the reduce the size of powering required which also saved a few more kilos of weight that all helps. The final hull configuration featured 15 % slimmer semi displacement hulls with well defined spray rails in the forward 1/3 to help with initial lift.
With a cruising speed set at around 20 knots, the reduced surface area and form drag from the finer hulls lowered deceleration figures considerably and with foils attached the motion in a seaway became much less dramatic. Overall we have a 97% computer cut project to speed up build times, a weight and configuration that should produce over 20 % fuel savings yet provide ample room for three private cabins and a huge open plan dining / playing area.
Morgan Yacht Design, Ph +64 9 425 4427,
www.morganyachtdesign.com