Bill Upfold is best known for his mid-pilothouse cruisers. However, he draws a pretty sweet sports sedan as his latest creation shows.
Although flybridge cruisers have long been the "default setting" for most New Zealand owners, the sedan style has lately been making something of a comeback.
Older owners, of course, like the single level living; especially not having to clamber up and down the often-steep staircases or ladders. However, the modern sedan styles are appealing to far more than just the elderly and the infirm.
Rod Penny, for example, owner of the new Elite 13m Sport Sedan, Bell' Aria, is quite clearly neither. He is fit and active and loves nothing more than battling large hapuku up from the depths using just a rod and reel and his own strength and determination.
Yet, despite (or perhaps because of) having owned a 12-metre flybridge cruiser for many years, he was adamant that his new vessel would be a single level design. "I used to spend 90% of my time at the lower station," he recalls, "Down there, I was close to the family and it was far more social than being up on the bridge."
Another advantage of the lower profile design is that there is less windage. This, combined with a lighter displacement, also means more efficiency.
Rod is the proud father of three daughters, each of whom has two children. It was therefore important that his new boat was able to cope with family cruising, as well with the time he headed away with his partner or with a couple of mates.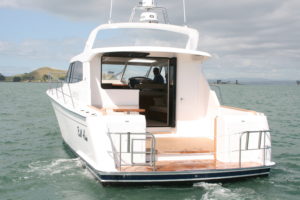 Rod took his design brief to Auckland powerboat designer Bill Upfold, whose Elite designs he had long admired. The design he most liked was that of Intrinsic, an Elite 12 metre sports sedan. However, he didn't think it was quite big enough. "Although I already had a 12-metre marina berth, I really wasn't prepared to compromise," he recalls. "I felt we needed something a little longer and a little wider."
The result is a one-off Elite design that is 13.2 metres LOA, with a hull length of 13m and a length on the waterline of 11.2 metres.
Another critical part of the design brief was for a vessel that was capable of cruising in the low 20s (knots), without requiring the engines to run at anywhere near their maximum cruise RPM.
Bill therefore decided to specify twin Cummins QSB 330 diesels running conventional shafts, with the propellers in tunnels. He also drew what he believes is the most efficient hull form for this type of drive train.
This is a hull that boasts generous chine beam, a moderate deadrise and a fine entry that develops into straight buttock lines in the aft sections. To further enhance sea keeping, the bottom is also slightly convex in section athwartships.
The result is certainly what both Rod and Bill were after: Bell' Aria, with her relatively moderate horsepower, will cruise comfortably at 20-25 knots, without putting excessive strain on either the engines or the fuel reserves.
At 2220rpm, the Elite 13.2 delivers 19.8 knots while using a total of just 77L/h, or 3.9L/NM. Bump up the revs, to 2600rpm, and the consumption increases to 100L/h, but the fuel economy remains exactly the same: 3.9L/NM.
In fact, the Elite's best cruising revs are 2400rpm. That allows the 10,500kg sports sedan cruiser to cover the ground at a very respectable 23 knots, using 86L/h and 3.7 L/NM. At those revs, Bell' Aria has a cruising range of 298 nautical miles, exactly the same as at 2000 revs and just 17.1 knots! At WOT (Wide Open Throttle), the Elite tops out at 29.4 knots, while using 126L/h. The range, not surprisingly, drops to 260 nautical miles from the 240 litre fuel tanks with 4.3 L/NM. At the other end of the rev range, 1000rpm gives a slow cruise of 8.5 knots at 11.2L/h and just 1.3L/NM and a range of 847NM.
Bill's design also calls for a lifting strake on each side below the static waterline and running through to the transom.
This is a vessel that rises easily and smoothly to the plane and feels very comfortable while there. Although Bell' Aria is fitted with Volvo's new QL trim tabs, this is not a design that appears to need them. I found the Elite naturally ran quite flat and it was often difficult to tell, without looking at the gauge, what position the tabs were in.
While having the tabs down a bit running into the breeze gave us a little more speed (0.4 knots to be precise), overall this is a design that is not very sensitive to trim, another advantage of reduced windage and good hull design. That said, the conditions were relatively benign. In a strong cross wind, the tabs will no doubt prove their worth in correcting the natural lean into the wind and the same may be true in rough seas.
Rod and his crew are certainly likely to encounter some moderate to rough conditions before the end of winter. This is a man who likes to chase big fish and is prepared to head far afield (Great Barrier and Whangaroa, for example) to follow his passion.
If, or rather when, he does have to cope with these big seas, he will do so confident in both his boat's construction and its builder.
Rod's previous vessel was a 12-metre Warwick sportsfisher, built by Glenfield boatbuilder Allan Tongs, on Auckland's North Shore. During the eight years he owned the Warwick, Rod got to know Allan well and to admire both the quality of his work and his attention to detail. As a result, when it came time to build Bell' Aria, Allan was the natural choice to do it. Construction is basically GRP composite, with a ply core, surrounded by E glass, in the hull; and a ply and foam core for the superstructure.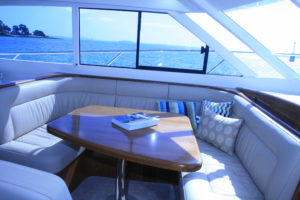 With the owner being so keen on fishing, suitability for that pastime was obviously another factor high on the design brief. Therefore the cockpit is most definitely a fishing cockpit, although quite a lot of consideration has also been given to entertaining, alfresco dining and the like.
Bell'Aria has a substantial transom platform that, like the cockpit, has a traditional teak sole. Guarded by a pair of pushpit rails and linking cords, the platform features a brace of stowage lockers and a large livebait tank. There are also three rod holders set into the pushpits, two on the starboard side (designed to hold a bait station) and one on port. The bait station is a custom built model incorporating a pair of drink holders and another brace of rod holders.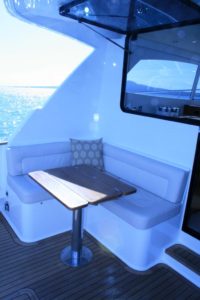 The transom features a wide entranceway, ideal for loading on and off and for getting out onto the platform. While underway or when there are small children on board, it can be closed off with sliding doors that disappear back into the transom sides when not in use. Each of these transom sides is also home to something practical: on the port side it is the gas barbecue and bottle; on starboard, a sink and handy stowage. There are lots of other practical features in Bell' Aria's cockpit, too. Stylish inset steps to the side decks, a wash-down pump, a large lazarette under the sole and a handy cockpit head-cum-secure rod locker (in the space where a ladder would go if this were a flybridge model).
There is also a small L-shaped settee and folding leaf table in the forward port quarter of the cockpit. This has been carefully positioned under the large hopper window, giving direct access to the galley inside.
On fine days, when the fishing is over (or perhaps just temporarily suspended), the addition of some folding chairs turns this little quarter into a comfortable alfresco dining area, protected from above by the stylish overhang.
With the bi-fold doors to the saloon fully open and the hopper window up, Bell' Aria's cockpit and saloon flow together, making one large entertainment area. The standard of finish is pretty much what one would expect from an Allan Tongs-built craft – very high. Teak cabinet work is complemented by leather upholstery and semi-high gloss two-pot polyurethane finish coats.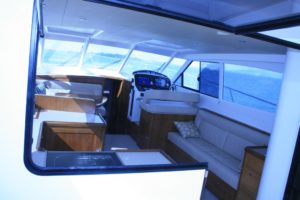 At first glance, the saloon is fairly typical of what one would expect on a sports sedan: U-shaped galley aft to port; dinette in front; helm station forward to starboard; long settee behind.
However, look a little deeper and there are some rather special touches. The dinette, for example, has been raised up a step from the surrounding area. This has two distinct advantages: those seated around the table have magnificent, almost 360-degree views out of the large windows; and extra headroom is created below in the master cabin.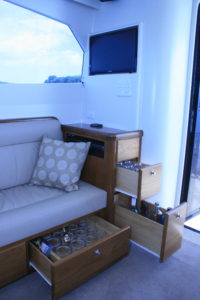 There is another nice touch at the foot of the settee, too. Instead of taking the seating all the way back to the aft bulkhead, Bill has designed in a narrow timber bar module. Housing the Bose sound system on its top level, it has two custom-designed drawers below for the owner's spirit bottles and glasses. Complementary drawers line the underneath of the settee. "I asked Rod what type of spirits he wanted on board and also what type of glasses," says Allan. "I then built the drawer insets to accommodate these so everything fits snugly and doesn't rattle while underway."
This dedication to meeting the owner's needs extends further forward, too. Under the raised helm station, a further two drawers house Bell Aria's "wine cellar" with some of Australasia's finest reds resting safely here on their sides. A compact refreshment fridge under the helm seat means the one in the galley can be used solely for food.
Bell' Aria's single helm station is a compact, display-packed affair centred around a pair of large Simrad NSS12 display screens. There are also controls for the Muir 2200 windlass, the Exalto windscreen wipers, those QL trim tabs, the Jabsco searchlight, the Tankwatch system and the twin sliding sunroofs. There is also a centrally-mounted wind gauge, no doubt a throwback to Rod's 25-year love affair with his Townson 36 keeler.
Rod wanted comfortable accommodation for up to five people with a separate master stateroom. The result is a four-berth guest cabin in the bow, a master cabin amidships to port and a single head/shower cabin to starboard. Like the saloon above, the accommodation area is an attractive mixture of traditional teak timberwork and modern furnishings and the combination is largely the work of Angela Crook from Design One, a specialist interior design company.
Unlike many modern cruisers, Bell' Aria runs almost exclusively as a 12-volt ship. There is no generator to disturb the peace in a quiet anchorage. Instead, when 240-volt power is required (for example: to run the LCD TV and to charge cellphones), a 3000W inverter is pressed into service. To ensure there is always sufficient power on board, a 160A alternator combines with a 120A charger and the shore power system to keep the 660Ah battery bank fully charged.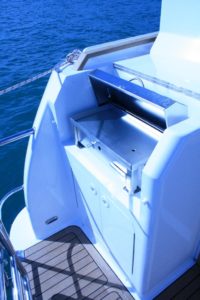 Access to the engine room is under the short companionway separating the saloon from the bow. Bill Upfold has again made good use of the available space, creating a small, practical workroom and stowage area immediately for'ard of the engine room bulkhead door. While the fact that this review occurred on a relatively calm, late summer's day in Auckland meant we didn't get to test Bell' Aria's rough water handling, there was an upside. Once the underway photography was complete, we were able to anchor up at picturesque Browns Island, just inside the reef.
Although our anchoring point was to the side of the main ferry route from Auckland to Waiheke, we were rarely bothered by the large ferry or other wakes. Bell' Aria not only proved very stable at rest, it was also surprisingly quiet, despite the lapping wavelets.
Bill proudly explains that this is due to a standard Elite design feature: his "silent chine arrangement".
"Having no chine flat entering the water eliminates chine slap at rest," he explains, adding that the design still delivers that all-important dry, soft ride while under way.
Bell' Aria is a thoroughly modern sports sedan, able to slip smoothly and efficiently through the water and ideal for use as both a specialist fishing platform and a comfortable family cruiser.
We were invited on board just 10 days after launching. Everything worked well, all systems were fully operational, nothing appeared "unfinished" and the owner, designer and builder were not only still on speaking terms but genuinely seemed to enjoy each other's company.
There can be no higher recommendation.