Launched prior to Christmas 1999 in time to take full advantage of the America's Cup charter boom, Westpoint is the latest design to be launched for Bill Upfold and one of his biggest yet. It is also his first 19m pilothouse motoryacht and thanks to the owner's insistence and the builder's flexibility, the end result is that 'Westpoint' is exactly what the owner had envisaged. Originally built for a previous client by designer Bill Upfold, Westpoint was left partially completed in a shed for a number of years, until the current owner saw it, liked what he saw and commissioned Alan Tong Boatbuilders to complete it.
Initially the idea was for a simple layout change to make the vessel more suitable for charter, but things went way beyond that as the project developed. Firstly the interior was altered with changes to the accommodation areas although the main saloon wsa left virtually intact. Externally the transom area was lengthened and the strake pattern of the hull in the bow sections altered to ensure a very dry ride. The prerequisite was a boat for both charter (with the America's Cup in mind) and private use that made ultimate use of space and gave the impression of being a 'little ship'. Westpoint is a true pilothouse and is a departure for its designer, who has built an enviable reputation for aft cabin sportcruisers as well as sedan bridge cruisers.
Over the build period more and more was altered from the original design and the result is an elegant pilothouse motoryacht that encompasses the best of local craftsmanship with a performance to match. Powered by twin Volvo122P EDC, 610hp engines, Westpoint cruises at 22 knots in just about any conditions and has a top speed of 28.5 knots. Constructed of strip cedar and grp composite, Westpoint displaces 25000 kg.
Upfold designed boats have always been highly regarded not only for their exterior styling and wholesome performance and handling but also their interior layout. The builder in this case already had a reputation for quality finish and so with the marriage of the two, Westpoint was destined from the start to be a first class collaboration.
Westpoint offers three cabins, two ensuites and a large saloon that is divided into distinctive configurations without losing the open plan layout that gives Westpoint its appeal.
The owner's stateroom features a large queen size island berth with storage drawers beneath plus drawer units either side, a full size wardrobe and overhead lockers. A generous entertainment centre with TV, video, stereo and five-stack CD plus two small leather loungers add to this very relaxed area. Although there is no air conditioning, overhead hatches take care of fresh air and natural light. The finish is all highly polished teak with leather trim and soft tonings. Radiused door mouldings give the whole area a big ship look and 12mm thick wall panelling reduces internal noise to a minimum in the accommodation areas. The owner's private en-suite incorporates all the necessary fittings, including an extra large shower unit and lacquered finish for durability and ease of cleaning.
Westpoint provides two guest staterooms with a large double in the starboard cabin and twin pullman berths in the smaller cabin opposite. Each is well equipped with hanging lockers, storage compartments and drawers and both are fully air-conditioned. Again there is a liberal use of teak trim and soft leather wall panelling. The guests' bathroom is almost a mirror image of the owner's en-suite and is fully equipped with plenty of space.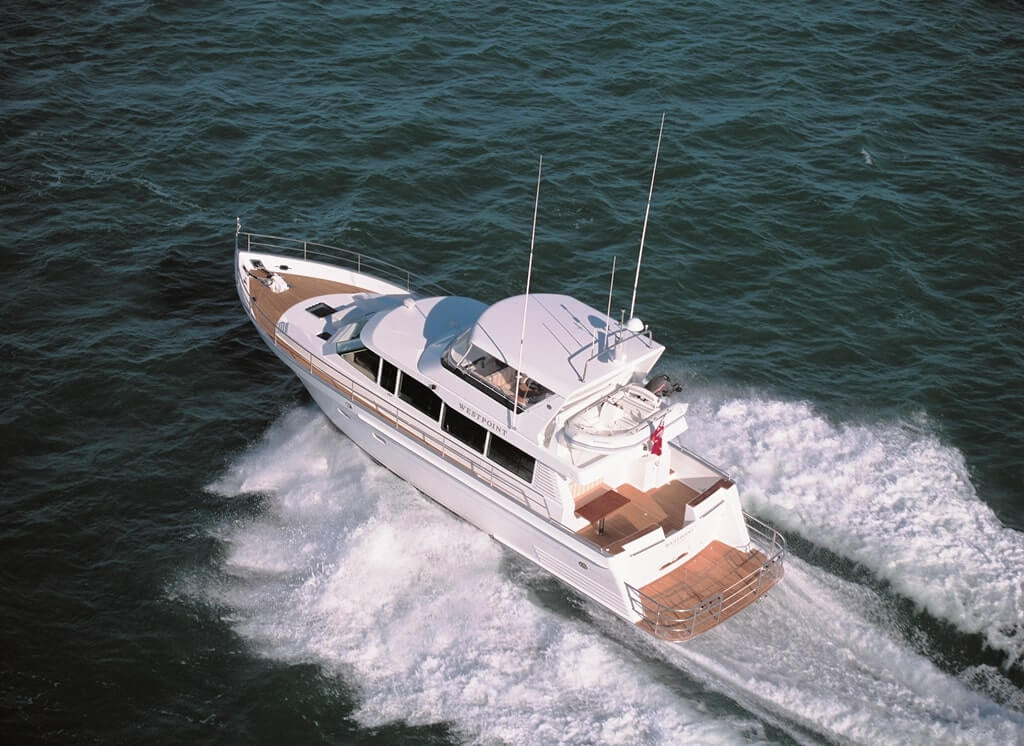 A stroll up the companionway from the accommodation area to the air-conditioned main saloon provides a whole new insight into this magnificently appointed motor yacht. The concept is clearly one of functional styling with a touch of opulence, set off with an ultra high gloss finish on all timberwork. Not overbearing, but certainly a pleasing interior that makes intelligent use of the space available.
The area is split into three distinct regions, but with an open plan concept they all come together as one cohesive design. Forward is the raised pilothouse with a well-equipped internal helm to starboard and formal dining area to port. With seating for six to eight, this is also a favourite spot for relaxing with a cocktail during the evening while anchored in a secluded bay. Westpoint has been set up as a floating office with all the necessary communications equipment for the owner or his guests to keep in contact with business commitments worldwide. The teak floor with holly infills is another hint of the big ship feel of Westpoint, along with the side doors that open onto wide side decks.
Splitting the two living areas aboard, the galley's location and appointments encourage guests to be part of the culinary delights that are being prepared and is also well placed to service both dinner guests or casual charterers. The fridge. freezer, dishwasher and oven are all under the generous U-shaped acrylic bench top with an eye level Whirlpool microwave in the forward split level bulkhead. It is easy to look past areas that have come in for special attention, such as the hand formed bench top with bullnose edge that took almost a month to form. It's small things like this that set Westpoint apart from many of its contemporaries.
Westpoint has been set up as an entertainment boat from the state-of-the-art stereo system with a myriad of speakers inside and out, to the large TV screen, DVD, kareoke system, generous drinks lockers and external viewing areas. During the America's Cup, Westpoint was out on the water virtually every race day with corporate guests of Lion Breweries.
A large soft leather lounger and twin tub chairs complete the seating options in the saloon, with a stunning burred elm and teak coffee table a testimony to the workmanship of the boat's builders. Kiwi craftsmanship is alive and well in Westpoint and a credit to the team at Alan Tongs Boatbuilders.
The concept of a pilothouse motor yacht means that in 'dirty' weather Westpoint is driven from below so there is not the same need for a fully enclosed flybridge as is now traditionally found on new vessels of this size. Instead there is a solid hardtop with clears, with an internal staircase replacing the now somewhat outdated stainless cockpit ladder. Generous loungers are covered in waterproof German canvas with a unique styling and provide seating for fourteen guests on the bridge, with café tables ready for the Moet and hors d'oeuvres. The skipper has a duplicate of all necessary controls and electronics from the pilothouse helm and can operate all functions of the vessel from either station.
This is a boat that will obviously have good use made of the cockpit space for both day charters and fishing. The cockpit layout incorporates everything from rod storage and bait tanks to lounge seating, barbecue and fold-down dining table with provision for six guests.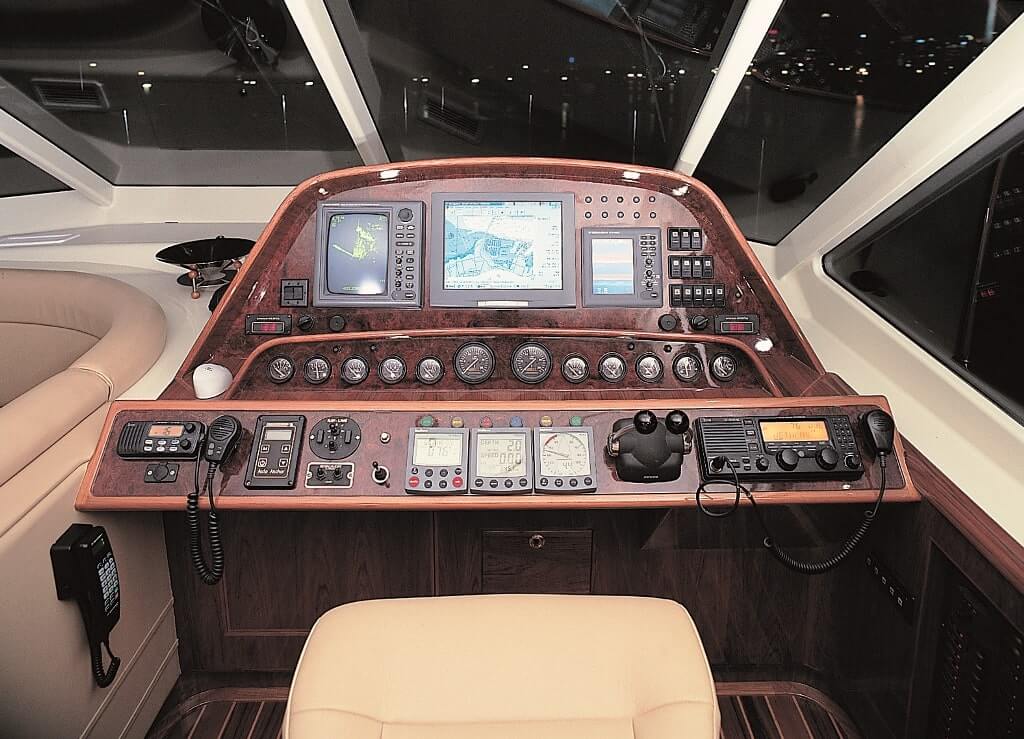 There are huge lockers throughout the side and aft deck areas as well as the customary freshwater shower in the transom. As the owner's son is a professional golfer, the boarding platform had to be wide enough to swing a club and it's also a great area for divers and fishers. With the centre rails removed the tender (normally stowed on the upper deck) can also be pulled aboard.
Westpoint has turned out to be a very versatile vessel for the owner who has as yet not enjoyed as much family time aboard as he would have liked. However with the end of the America's Cup in mid February, all that should change and he even has plans for a cruise up to the Pacific Islands in the near future. Over the years Kiwi designers have been establishing a firm footing in custom designs and Westpoint is an outstanding example of the commitment to this very special area of boat building. The changes made to Westpoint were certainly for the better.
Name of Boat: Westpoint
Design Name: Elite Motoryacht
Builder : Alan Tongs Boatbuilder
Designer: Bill Upfold
LOA: 19.20 m
Beam : 5.40m
Displacement: 25 tonnes
Maximum Speed: 28.5 knots
Cruising Speed : 22 knots
Construction: cedar / composite
Fuel Capacity: 3010 litres
Water Capacity: 1142 litres
Year Launched : 1999
Power: 2 x Volvo 122P EDC @ 610 hp