Author : Barry Thompson
Highlander is a very traditional, classic style sedan cruiser and somewhat of a departure for its designer.
When the owner first approached designer Bill Upfold he had some specific ideas about what he wanted. Firstly, the boat had to portray very traditional, timeless lines, with all the main living on one level, so there was no requirement for a flybridge and he wanted a large alfresco dining area in the cockpit. With no request for fishing considerations that gave Upfold a free hand to transform the cockpit into a very entertainment focused area.
With the owner's previous boat being a traditional trawler style, the new design is a combination of that and a sedan and for Upfold it was something that he had not previously undertaken.
"My association with the owners goes back some 25 years and during that time they have kept a close eye on my designs always assuring me that one day they would have me design a new motor yacht for them. Well, that day has come and Highlander is the result," said Upfold.
"The other sedan type boats that I have done have been more sports orientated with sleeker lines and along that cabriolet style, where Highlander is a much more wholesome traditional boat", he added.
Upfold refers to Highlander as a full bodied stately boat that will appeal to owners who have some time on their hands and like the idea of all the living on one level or nearly so.
When you first step into the saloon of Highlander you can not help but be impressed with the huge spaciousness of the interior. It is a big volume boat without compromise in any area, be it the saloon, galley or accommodation. All the areas are large and that is certainly one of the appealing aspects of Highlander.
Highlander was built by Alan Tongs Boatbuilders in Auckland, using a composite system of ply/balsa/GRP construction in the hull and ply/foam for the cabin tops. This balsa composite building method is very much the same as most Upfold designed custom launches of recent years.
Allan and his team have done an exceptional job with attention to detail throughout the construction. The exterior is beautifully fair, reinforcing the fact that this is a group of extremely talented boat builders.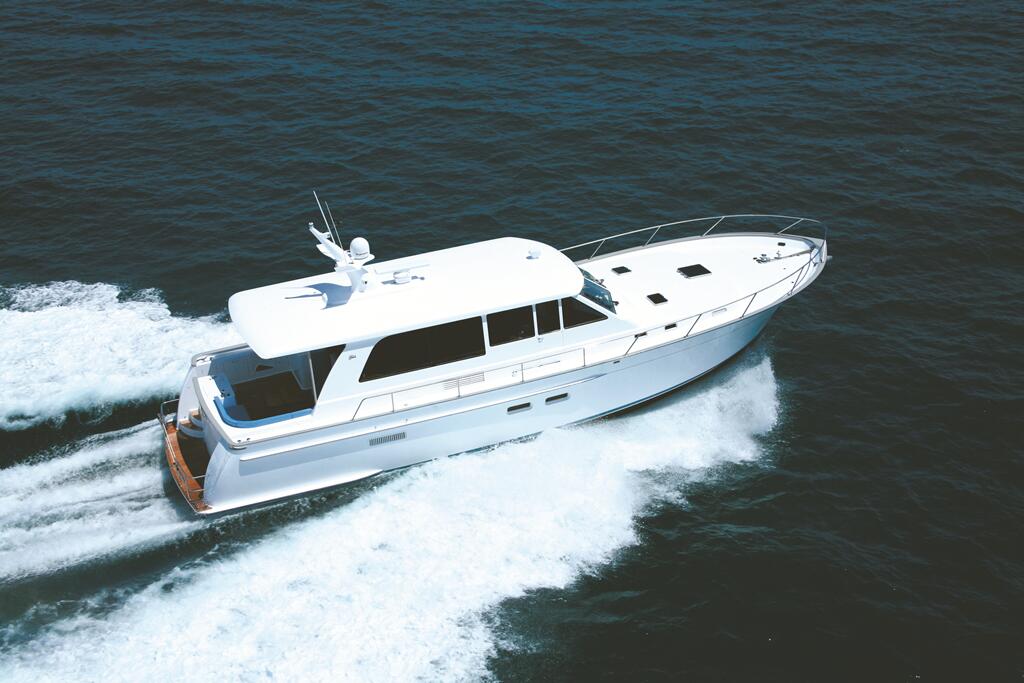 Being custom designed, the hull lines were drawn to suit the requirements of the owners. Upfold chose a typical monohedron shape with a reasonably constant deadrise from amidships aft. This was achievable due to the mass and consumable weight being directly over the centre of gravity, so there would be no problem with trim. Displacement at launching was right on target at 23,000kg (wet).
"The clients had some firm ideas for the internal colour scheme based on lemon and cornflower blue. I worked within these boundaries to achieve a result that they are very comfortable with", explains Kim Lilley of Parkhurst Design.
Kim explains further: "Finding fabrics in these exact tones was a challenge, but with some perseverance I was able to find what I was looking for." The interior styling of the soft furnishings have been deliberately kept in a classic style befitting the lines of the boat. Touches of gold are seen throughout in the trim on the cushions to the hand applied gold leaf and platinum monograms on the bathroom vanity doors and cabinetry in the saloon.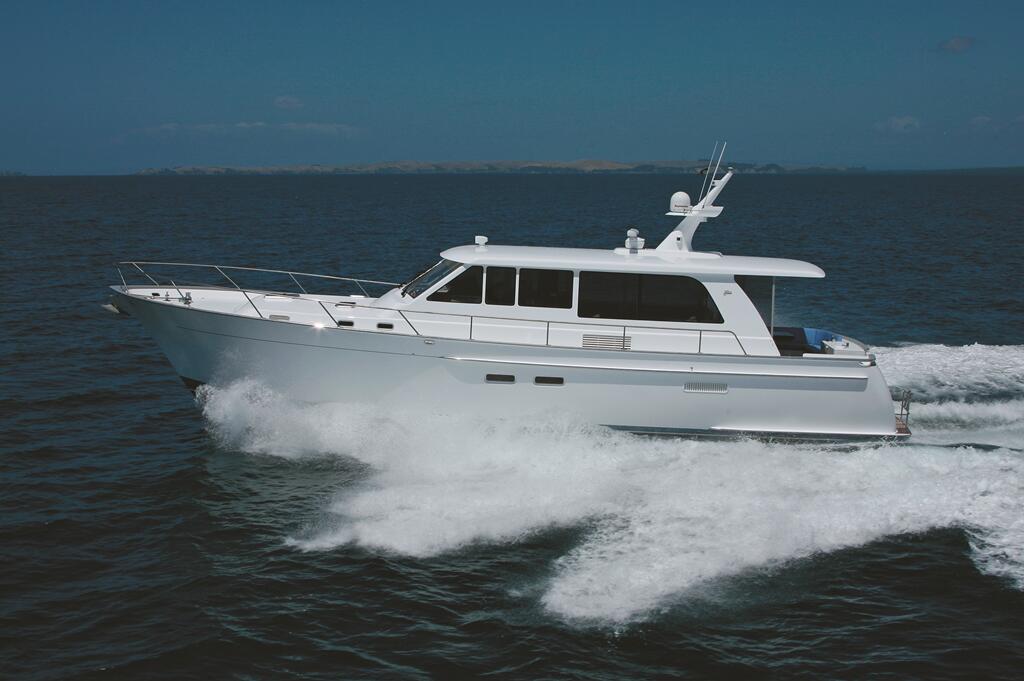 The main saloon area is divided between the forward helm and galley and lounge/entertainment areas aft. To port aft is a dinette with a fixed solid mount table and with the addition of a couple of ottomans there is seating for 6-8. There is a cocktail cabinet and fridge on the rear bulkhead and a flat screen TV forward, which raises and lowers behind the dinette settee. American cherry has been used extensively throughout Highlander but the dining table and helm dash are finished in burr-elm.
A large raised feature panel in the centre of the ceiling of the saloon has concealed strip lighting and breaks the conformity of what would otherwise be a featureless deckhead.
After dinner the two curved Ultraleather covered loungers opposite provide a congenial area to relax and forget about what is happening elsewhere in the world. The interior ambience is refreshing in its nature, something that shows why having an interior designer involved can make a worthwhile difference.
Huge side windows and the drop-down rear bulkhead window present a true feeling of space and it's easy to see why this style of boat is still so popular. It's all about living aboard and enjoying what you have, be it cruising or moored up in a bay. From the helm to the alfresco dining in the cockpit you get the sensation that it is all one.
If you want some privacy then all the windows have venetian blinds fitted, which are held in place by magnets – simple but very effective.
The cockpit, not being designed for fishing, has a huge U-shaped lounge/alfresco area to starboard with a fold-out table. You can sit a load of people in this area and there is the benefit of a 2/3rd overhang cover above and clip on soft clears, which add extra protection from the elements.
To port is another large freezer, steps that lead to the side deck and a centrally mounted BBQ, sink unit and mooring controls built into the top of the transom.
If you are keen to go fishing then the full width-boarding platform is big enough to accommodate you. A neat feature of Highlander is the dinghy garage, which houses a 901 Aquapro tender, behind a flush fitting transom door, which raises electrically. The tender is launched and retrieved with the aid of an electric dual direction winch. Entrance to the spacious and full standing height engine room is alongside the garage.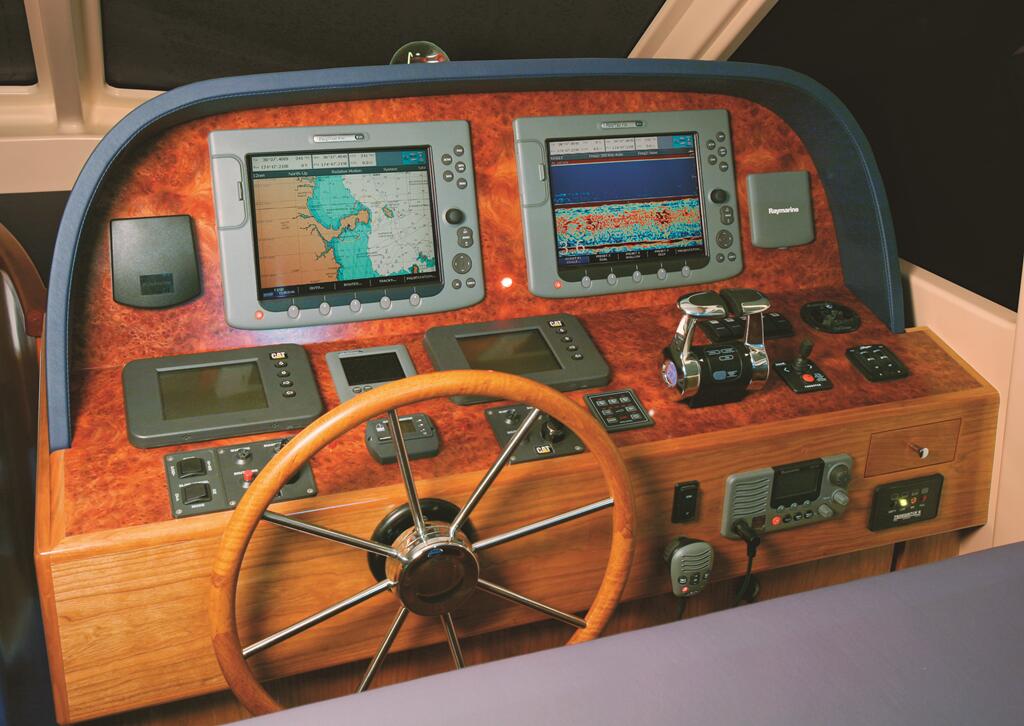 Highlander's helm is an impressive command centre and has been raised to allow good visibility both fore and aft. The electrically adjustable helm seat means one size fits all and the pull-out plinth means you can be more comfortable when helming the boat.
A sliding side door gives the skipper quick and easy access to the foredeck area should the need arise. There is a deep isotherm electric fridge under the helm seat as well as extra storage space.
A Raymarine E120 system looks after most of the navigational needs, plus at the owners' request there is the addition of a full set of laminated paper charts as a back up. Analogue gauges have been replaced with two computer panels that freed up dash space for other things.
If you are going to design a boat that you intend to use a lot for entertaining then you have to pay special attention to how you design and equip the galley. In Highlander that has been well sorted, with plenty of Corian bench space, storage lockers, a two-burner hob, convection microwave oven and F&P dishdrawer. A sliding side window helps with ventilation. There is also a second freezer and even a deep trash bin.
The owners had very specific criteria for all the galley drawers to make sure they were built to the right dimensions to take the pre-purchased dinner set.
With a cruise speed of 20 knots at just 2100rpm and burning a total of 108L/h, Highlander is very economical, considering this is a 17.2m vessel. Drawing from 3000L of available fuel gives Highlander a range of 558 nautical miles @ 20knts. Dropping the speed back to a sedate 9.6 knots extends the range out to 1152 nautical miles.
Big cabins and big en-suites is what makes Highlander so special. There are three cabins that have been designed with family cruising in mind. The owners have made provision for their grandchildren, in the forward cabin with four single berths and plenty of space to call their own. Storage is plentiful and ventilation is provided through an overhead hatch and side dorade boxes. Highlander is not equipped with air-conditioning.
To starboard is the guests' VIP cabin with a double berth, with both cabins sharing the same port side bathroom. Corian is again used for the vanity, plus there is a sizeable shower stall and electric head.
Before stepping down into the full beam master stateroom, there is a small laundry complete with a washer and dryer neatly tucked away to the port side of the companionway.
Typically on a sedan style boat you would not expect to have the height with a master cabin such as the one on Highlander. However, by adding one step from the saloon to the galley/helm area, Upfold has achieved enough head height below in what is a surprisingly spacious accommodation area.
There is another very big en-suite with an appointment fit-out similar to the guests' one, but bigger. Storage lockers and shelves are plentiful throughout the cabin space. In keeping with the classic styling only small traditionally shaped opening ports have been fitted.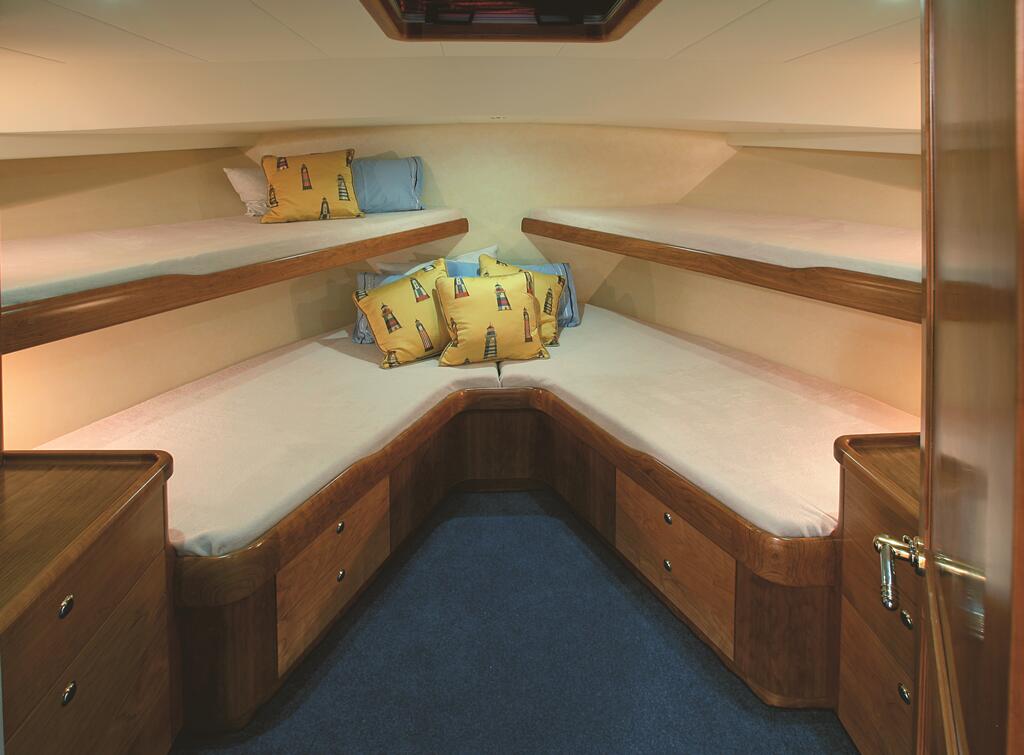 Highlander is the 52nd Upfold Elite design to be launched since 1986 and the first traditional sedan boat to carry the Elite name. It is obvious that Upfold had no issues when it came to blending style and functionality together in what is a great package. It's a boat that, as the owner requested, will be timeless. I am certain it will lead to more designs of a similar style being commissioned.
Design Name: Elite Sedan Motor Yacht
Boat Name: Highlander
Builder: Allan Tongs Boatbuilders
Designer: Elite Marine Design Ltd
Interior Designer: Parkhurst Design
Year Launched: 2008
LOA : 17.20m
LWL: 15.30m
Beam: 5.40m
Draft: 1.20m
Displacement: 23200kg
Max Speed : 26 knots
Cruise Speed: 20 knots
Fuel Capacity: 3000 litres
Water Capacity: 1000 litres
Construction: Timber/Composites
Engines: Caterpillar C9
Power: 506hp x2