The latest offering from Bill Upfold redefines a classic style and proves leisurely doesn't always mean sedate. Luana is a very modern take on traditional bridge decker.
When Lloyd Stevenson Boatbuilders has a boat under construction, Lloyd has a special Friday afternoon ritual. He takes a photo of the vessel under construction, writes a report on the progress they have made that week and forecasts what will happen in the following week. Then he emails it to the owners.
"This not only keeps them up to date with the build, it also means they end up with a full written and photographic record of the process."
From all accounts, these weekly reports are eagerly awaited and the phone lines burn hot if, for any reason, they do not arrive as expected.
That weekly interaction is typical of the way Lloyd and designer Bill Upfold interact with their clients. The pair has now created 21 Elite cruisers together and although there are some similarities between them (the quality of the build for example or, occasionally, the same hull formation) they are all distinctly individual.
All are highly customised and very deliberately designed and built for their particular owners. This is reflected in the length of time the owners hang onto their boats: an average of over 10 years.
The owners of the pair's latest collaboration, Luana, are a perfect illustration. They spent almost five years looking for a suitable boat before, in frustration, settling on a reasonably generic 12 to 13-metre displacement cruiser. A short while later they saw Maeve, the 16-metre Elite Mid Pilothouse that Lloyd had built for himself. They found a lot to like but really wanted an aft cabin and only needed to do 10 knots.
Immediately understanding what they were after, and knowing that there was nothing like it on the market, Bill offered to do some concept drawings which the owners accepted and the rest, as they say, is history. In early September, Luana was launched.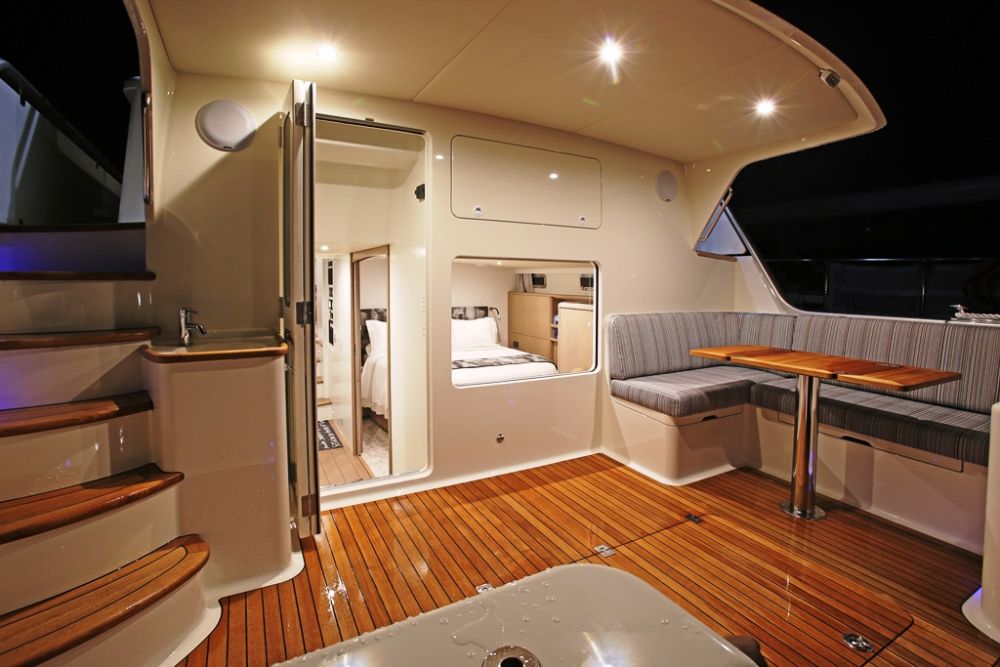 While Bill and Lloyd insist that every vessel they launch is unique, I cannot remember one that stood out as so distinctly different as this one. My first thought – and one that still persists — is that Bill Upfold has created a very clever, modern version of a traditional bridgedecker. Of course, there are glaring differences: the bridgedeckers of old had raised aft and fore sections with a low saloon in the middle; Luana's saloon might be in the middle but it is higher that both the aft and fore cabins.
Nevertheless, while sitting in the relatively small cockpit, with one's back to the main cabin, the feeling remains. And it is further enhanced by the fact Luana has just the one engine, only two cabins (in a 50-footer!) and a (relatively) round bilge.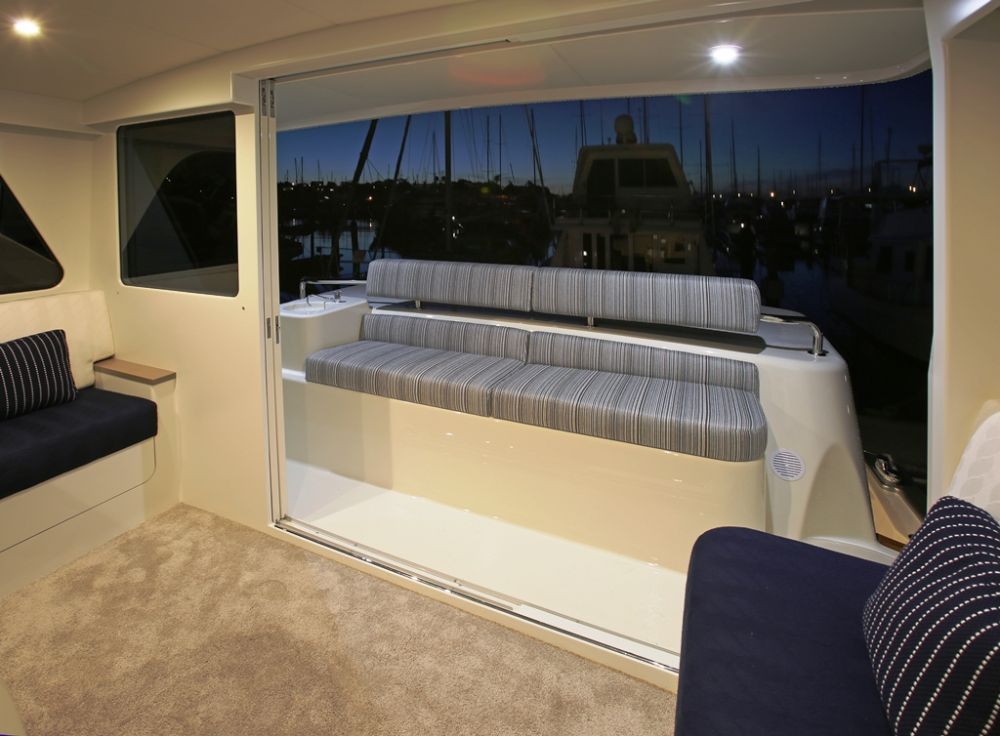 While there was no argument about the single engine, there were apparently robust discussions about both the number of cabins and the shape of the hull, or more accurately, about the speeds a particular shape of hull would allow Luana to do.
It appears Bill and Lloyd lost the one about the cabins but squeaked a victory about the displacement. Their argument was that a third cabin was considerably more "mainstream" for this size and style of vessel and would greatly increase the ease and price of resale. The owners' riposte was that they cared little about resale and most definitely wanted just two cabins.
Although the owners originally wanted a boat capable of just 10 knots, Bill gradually made them see that a semi-displacement hull would better suit the type of coastal cruising they were keen to do. The extra speed could also prove to be a bonus if they needed to get somewhere in a hurry, for example to outrun approaching bad weather.
As a result, Luana boasts a round bilge forward, apart from the spray rail, developing into a hard chine over the aft third of the hull. Hardening the chine in this way prevents the stern from "squatting" and, as the fuel chart illustrates, improves efficiency, especially at displacement and slow planing speeds. An aft pocket allows the shaft to run at a shallow 7 degrees, further improving efficiency.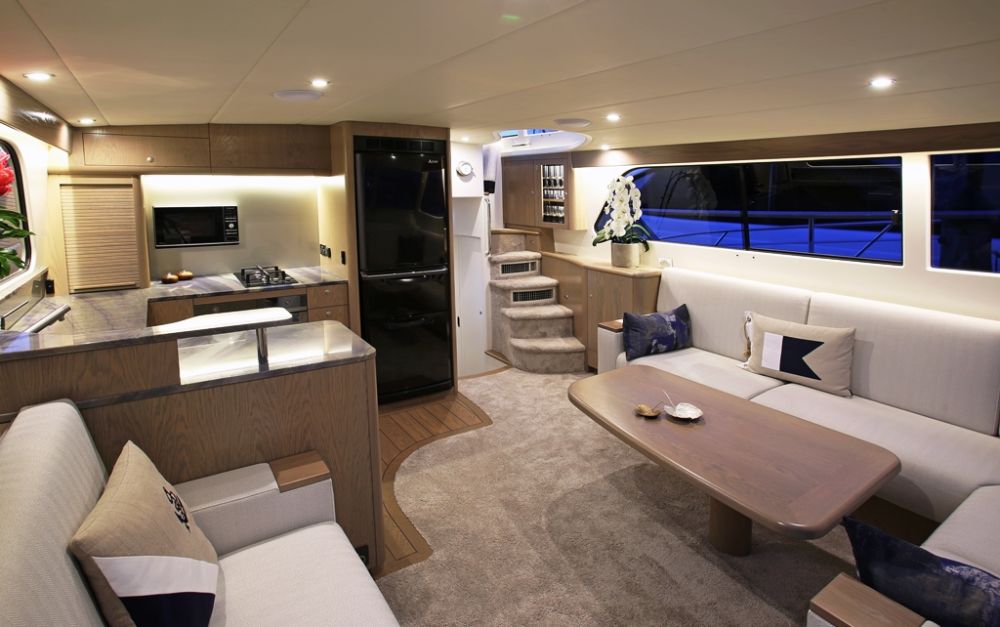 The design enables the single 500hp Cummins diesel engine to propel the 19.2-tonne craft through the water at comfortable cruising speeds of 10.5 knots (at 1800rpm) or 11.3 knots (at 2000rpm). Should a faster cruise be required, 2200rpm will deliver 13 knots and 2400rpm, 14.9 knots. Flat-out, at 2610rpm, and fully laden with fuel and water, Luana's top speed is an impressive 17 knots.
Luana's owners say they intend to cruise almost exclusively around New Zealand's north-eastern coast. However, the boat seems so perfectly suited to extended cruising and passagemaking that one should not be surprised to see her sail into the Marlbourgh Sounds, the southern fjords or one of the tropical islands. Range will certainly not be a problem. Even after setting aside 10% of her 2900-litre fuel capacity for safety, Luana (whose name, aptly, is Hawaiian for "nice place to be") can cover almost 1000 nautical miles at 9.6 knots (1600rpm). Drop just 200 revs, to 9.1 knots and the range extends to 1500nm. Pull her back to 1000rpm and she will still achieve 6.8 knots (faster than most cruising yachts and in a straight line) and be able to travel almost 3000 nautical miles.
Luana's cockpit is relatively small by modern standards but perfectly suited to the type of boating favoured by her owners. There is a moulded L-shaped seat on starboard, served by a folding table. There is a freezer and stowage below and the seat squabs, when not in use, are kept in their own locker in the forward bulkhead.
On port, there is a small sink and access stairs up to both the bridge and the side decks. Gas bottles are safely kept in their own locker on the boarding platform, there are slots for the barbecue in the transom and rod holders in the twin stainless steel pushpits on the quarters.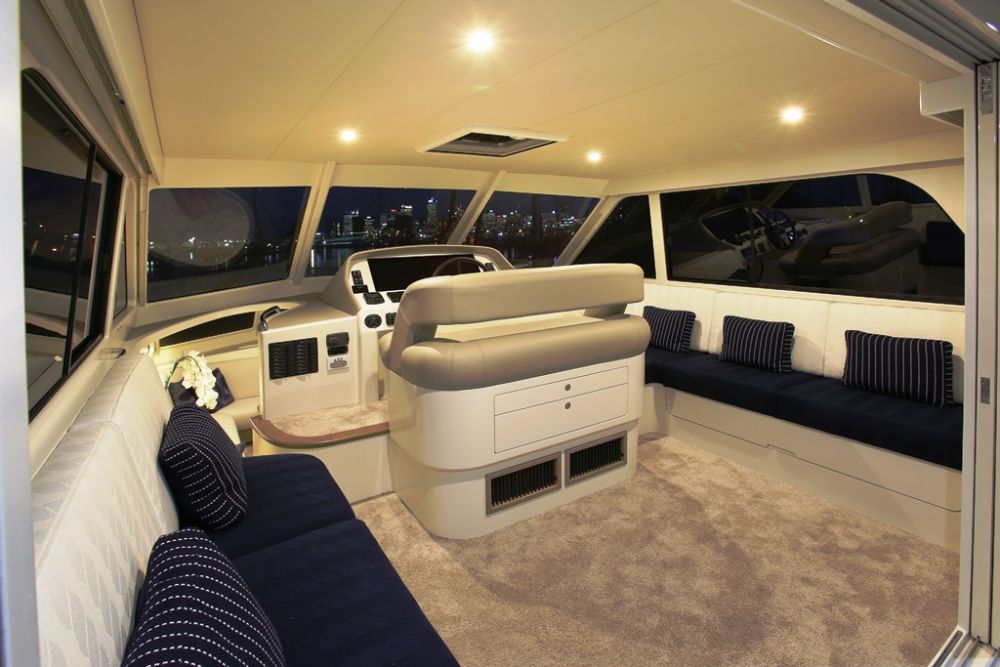 The full width master cabin lies on the other side of that bulkhead and there is a large electric opening window between the two, allowing the owners to lie on their island king berth and, if they wish, enjoy the view over the stern. Although the main walkway from the cockpit runs through the middle of the master cabin, this is not as intrusive as it sounds. The berth, stowage lockers and dressing table are on the starboard side of the walkway while the fully-featured en suite is over on port.
The décor features blonded oak timberwork and flooring, deep nylon carpeting, cedar-lined lockers and an attractive mottled green, granite en suite top.
Privacy is attained in a rather novel way with swing doors on either side of the walkway (set into the bulkheads to look like cupboard doors) completely enclosing the stern section of the boat. Immediately on the other side of these doors is the pantry (a roll-top-style door can be pressed into service when the swing door is closed) and the C-Zone control cabinet.
In a traditional bridgedecker the galley would usually be down where Luana's master cabin, walkway and pantry are so a change was required to the typical Elite mid-pilothouse layout. The galley, complete with its domestic fridge, oven, two-burner hob, microwave and specialist stowage now occupies the aft section of what has previously been part of the saloon. It is a cleverly-designed little galley, too, with a number of unique touches: an appliance locker with its own roll-top door; a raised shelf above a corner of the granite benchtop, complete with its own little drawer; a lazy-Susan arrangement for easy access to items stored in an otherwise awkward corner cupboard.
Diagonally opposite is the lounge area with a L-shaped settee and a coffee table that can both rise and pivot in towards the seats if required. A TV, connected to the satellite dish, lives in its hidden locker along the starboard bulkhead. There is a frosted glass panel under the forward screen to allow light in to brighten the forward cabin and a glasses locker, grog locker and bar fridge well positioned alongside the companionway to the bridge, handy to both.
The space adjacent to the forward companionway has been cleverly used, too, creating another handy stowage area.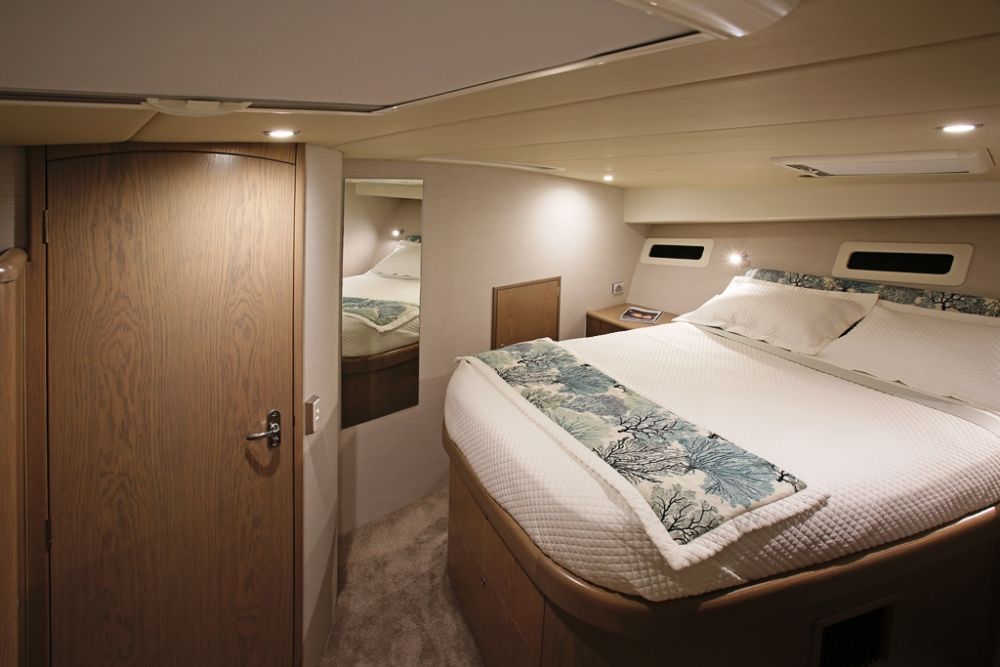 Luana's owners were very particular about the design of their guest cabin and wanted something more innovative than the traditional island berth set against the forward bulkhead. In typical fashion, Bill was up to the task: setting the berth against the angled port side of the hull, the en suite into the focsle and access to the engine room through a dogged door in the aft bulkhead.
The result is a raised berth with good vision outside, a relatively compact en suite with a delightfully spacious shower and loads of practical stowage.
And perhaps best of all, there is huge separation between the two cabins!
Although Luana's bridge layout is fairly typical for an Elite mid-pilothouse (station centre-forward, settees on both sides, an aft deck), there are a number of very individual touches. The most striking, if not the most obvious, is the apparently-laminated Approaches to Auckland chart under the hinged leather helm seat. This is, frankly, a work of art and actually involved getting the chart digitally printed, gluing it onto a base board, spraying it with multiple coats of lacquer to create a mirror finish and then buffing and polishing it to within an inch of its life.
The starboard settee also hinges open, this time revealing a large, secure rod locker. In a drawer under the helm seat lives a Yacht Controller, a powerful remote controlling the engine and bow and stern thruster, allowing the owners to manoeuvre their boat remotely from anywhere on board (or even while standing on the dock).
The helm is a smart and tidy affair dominated by the Furuno glass bridge displays and there are wipers on all forward facing windows.
Big sliding glass doors give access onto a surprisingly large aft deck created by the protective overhang to the cockpit. Although unused at present (the tender and crane are situated on the foredeck) it could easily be converted into a large sundeck. There is a little basin and faucet here and easy access down to both the cockpit and the foredeck.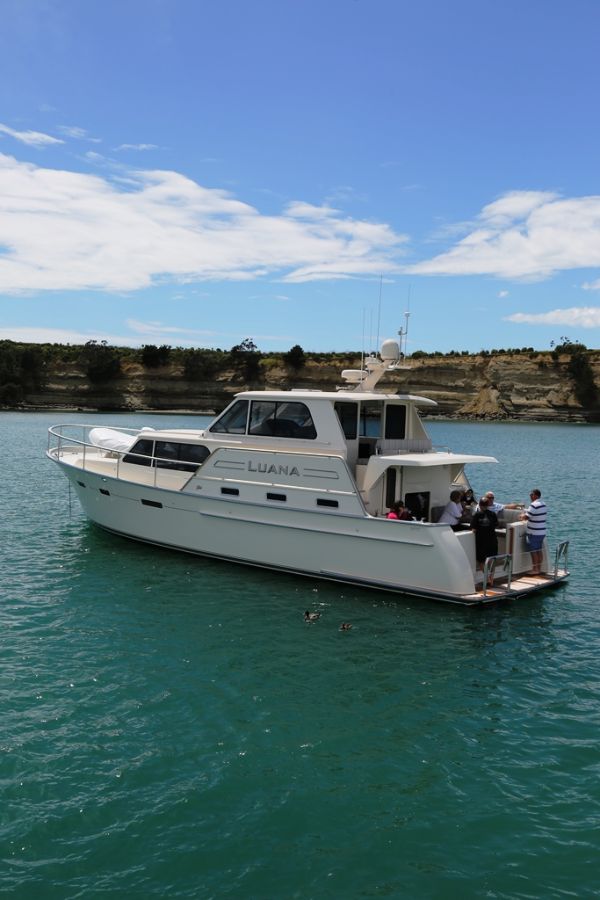 This latter contains its share of surprises, too. The anchor (with its built-in snub and integral anchor chain wash) has been hidden away in its own locker (meaning one less item on which to stub toes); there is mood lighting and box coamings on each side house handy inward-facing lockers (great for lines or bow hooks) and contain mushroom vents to ensure good airflow below even in heavy downpours.
Luana is a very special vessel and not just for its fast semi-displacement hull, its slightly unusual layout and its numerous innovations. There is also incredible attention to detail everywhere. For example, the signwriting has been picked out in Palladium leaf; the cap rails are actually timber, coated in stylish metallic paint; the saloon blinds can open either up or down and there is a similar versatility with the lighting.
However, while Luana is, at present, very much a one-off, it might not remain that way for very long. Both Bill and Lloyd believe that Luana-like cruisers could have a very wide appeal, especially with an ageing population and increasing numbers of sailboat owners looking for a more power-oriented boating future.
Bill deserves the last word: "I'd love to do an 18m version."
Boat Design Name:     Elite 15.2m semi-displacement MPH
Year Launched: 2016
Designer: Elite Marine Design Ltd
Interior Designer: Vicki McCauley (Pacific Interiors)
Builder: Lloyd Stevenson Boat Builders
LOA: 15.2m
LOH: 15.2m
Beam: 5m
Draft: 1.15m
Displacement (full): 19200kg
Max Speed: 17kt
Construction: Epoxy/wood composite
Fuel Capacity: 2900L
Water Capacity: 800L
Engines Make/HP: Cummins QSC 500
Engine RPM

Fuel Total

Speed  (knots)

L/NM

Range/NM

 

800

3.5

6

0.58

4474.3

 

1000

6.4

6.8

0.94

2773.1

 

1200

10

8.3

1.20

2166.3

 

1400

15.7

9.1

1.73

1512.8

 

1600

25.8

9.6

2.69

971.2

 

1800

37

10.5

3.52

740.7

 

2000

50.5

11.3

4.47

584.0

 

2200

64.5

13

4.96

526.0

 

2400

81.5

14.9

5.47

477.2

 

2610

96

17

5.65

462.2

 

Range is based on 2610L allowing for 10% reserve of total fuel of 2900L