Builders Choice
After more than 35 years of building boats for other people, a well respected Auckland based boatbuilder felt it was about time he did something for himself. Although not the first boat he has ever built for his own use, it is to date the biggest. It also shows just how strong custom boatbuilding still is in New Zealand.
So what does a boatbuilder who has carved out an enviable reputation for building quality custom cruisers choose for himself? The design options are obviously broad and the ability to customise a boat to exactly what he wants isn't in question.
"What we were looking for was something around 12m that not only had everything we felt we needed in a boat for our purposes, but would also fit within our budget", he said.
"The decision to go with a Bill Upfold design was not hard as I really liked his designs and having built a number of his boats in recent years I was also quite relaxed about dealing with him through all the design stages".
The design for Mazara (named after an ancient city situated at the extreme south-western tip of Sicily). It was in fact not actually drawn from a clean sheet of paper for the owner, as the hull was a refinement on already proven boats such as the 12m Elite's, Zinfandel and Hoo Roo. While the interior styling is all-new, it was a concept drawing for a 60-knot sport cruiser that caught his eye.
"I was talking to Bill and had an idea of how I would like to see the boat with a nicely raked superstructure look and when he showed me this concept he had done for a client, it was exactly the look I was after and coupled to the existing hull form, we soon had the boat we wanted".
He commented that he and his family are very pleased with the end result, with a good balance between the working, entertainment and accommodation areas in a boat that is very user friendly and relaxing.
A stylish sedan sports boat with high-speed capabilities from its moderate deadrise monohedron hull form, Mazara took two years to build as a semi-part time project. The builder is quite adamant however that if someone ordered the same boat today he would have it in the water in around 12 months.
The design criteria sorted out, the next major decision was power and with a recommended 450hp to 700hp, which would return speeds of 27 – 40 knots, the options were many.
"Again, we looked at not only the cost of installation, but also the running costs and that's why we decided on a single engine installation coupled with a bow thruster."
Mazara has an in-line six 420hp Caterpillar 3126, through a conventional shaft drive onto a Q-SPD propeller. Up front the SidePower bow thruster helps take care of close haul manoeuvring around the marinas. Maximum speed is 27 knots, which is exactly as predicted, and Mazara has a comfortable cruise around 22 knots.
The hull is a composite construction, built over CAD generated CNC cut frames with full length ply and e-glass girders, sheathed in 6mm ply, glass cloth, and a balsa core.
The superstructure and decks is built predominantly of plywood and foam. Mazara displaces 8.5 tonnes when fully laden with fuel and water.
The boat owners contacted Kim Lilley from Parkhurst Design to undertake an interior design scheme. Kim has worked on many Elites over the years and has a good understanding of the interior spaces and design of Bill Upfold's boats. The brief was to keep the interior light in colour to complement the tawa interior. A specific requirement was for a "non traditional" sole in the galley and bathroom, something that would be hardwearing yet aesthetically pleasing. For this Kardean's wood plank vinyl was chosen. Laid in plank form, it resembles natural timber flooring but does not have the vulnerability of the real thing.
Kim chose Warwick Fabrics' macrosoft sand upholstery for the saloon to enhance the tawa. Having light coloured upholstery in an area of high use meant the fabric had to be robust and easily cleaned – all the attributes of this heavy rated commercial fabric. The fabric has a built-in stain repellent. A cleaning fluid has been specially produced for this fabric and is available through retailers. The vinyl wall covering in the cabins is a soft cream colour and has a woven effect to the surface which adds texture to the colour scheme. The paint colour throughout is Dulux Whale Bay which ties the colour scheme together nicely.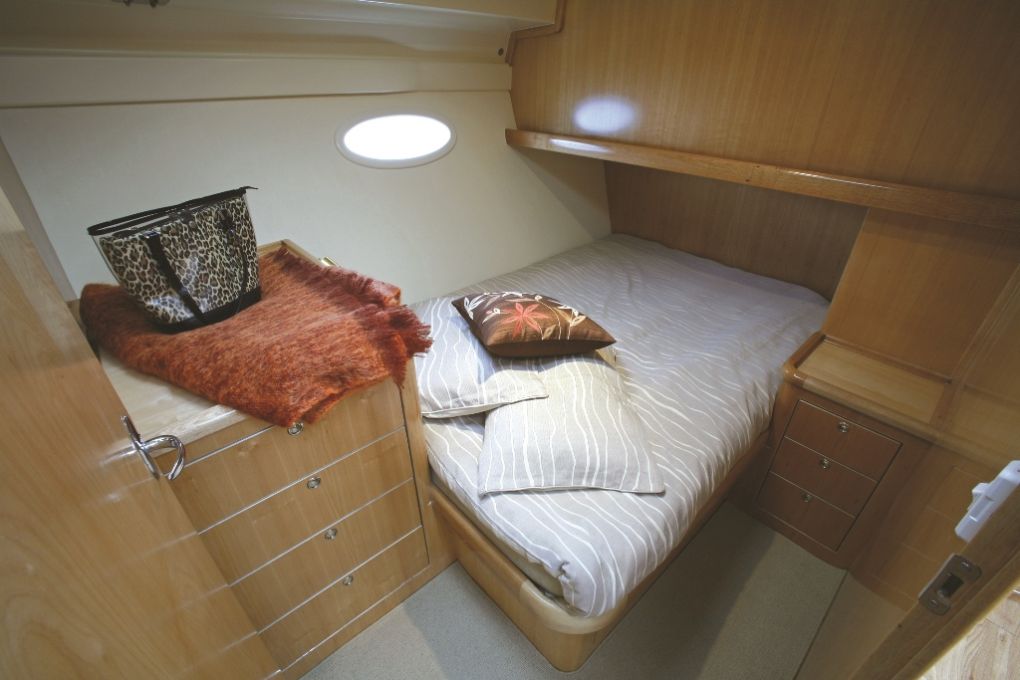 Being a custom boat there is the ability to personalise the layout and in the case of Mazara the accommodation areas have been set up to suit the owner's multiple needs. The forward cabin has been designed as an area that can sleep a couple with a small child or three mates on a fishing trip. The layout has a three-quarter double on the port side with copious storage lockers and drawers below and two large single bunks opposite. There is also the option of building the whole space with a large double berth and turning it into the master cabin. It depends on what an owner wants.
To starboard aft is a very large shower cubicle, with the head and vanity separate across the companionway to port. Both cabins share these, but the companionway can be closed off to divide both areas, providing more privacy for the forward cabin. They then also serve as an 'en-suite' for the guests.
The off white custom made timber vanity top offsets the cream high gloss bulkheads nicely, with a Gebo overhead hatch providing extra light and ventilation. The soles are finished in imitation timber planking, which looks like the real teak but is in fact a hard-wearing vinyl flooring.
The owners have chosen to put the master cabin to starboard, with a large double berth, with bedside table, drawers and dresser all finished in Tawa. Quite noticeable is the accent on detailing of the built-in furnishings from the matched timber grains to the coved beading trim.
The main saloon area of Mazara is divided between a lower galley forward, with helm station opposite, dinette area to port and lounge to starboard. Large windows and a fully featured glass rear bulkhead lets in loads of light and give the area a large appeal.
Although not yet fitted, a large dinette table was due to be installed, providing ample seated dining for six to eight. However if it's the more open living you want then there is plenty of space in the large cockpit.
Being a saloon hardtop the design concept allows for all areas to blend together as one, providing a more harmonious atmosphere, especially when underway.
The U-shaped galley is reasonably conventional in layout with the necessary equipment for easy on-board food preparation and entertaining. There is a two-burner stainless steel hob with eye-level microwave. Force 10 under-bench oven and grill and large fridge. The freezer is out in the cockpit. Good use has been made of the available space, to make the chef's job more relaxing. Large servery areas are provided and there is adequate storage space for both crockery and food. The Laminex bench top features a sand-pebble finish with high fiddles all around so items don't slide off. Opening side windows above provide the necessary ventilation when cooking.
Central steps up to the saloon main level open on gas struts for access through to the engine room under the saloon sole. With only a single engine there is plenty of working space.
The starboard side helm is generous in size to accommodate all the electronics and system controls. The two main screens are Raymarine C120 fishfinder and plotter.
"We were particularly keen for the big dual screens for ease of viewing and I wanted them directly ahead so I could see everything at a glance. The Raymarine units have proven ideal for the task and have great clarity and definition, be it spotting for a school of fish or finding our way into Te Kouma Harbour on a dark moonless night", said the owner.
Two large sliding roof hatches and drop-down electrically controlled side windows provide plenty of flow-through ventilation into the saloon. The raised nature of the helm means that you can actually stand with your head out of the sunroof opening when driving – handy when you're coming into a tight marina or picking your way into an unfamiliar anchorage.
A wide sliding door gives access to the cockpit and while many Upfold designs have the obligatory drop-down aft window, the curved nature of the rear bulkhead on Mazara meant it wasn't possible.
As the boat is going to be used for fishing, the cockpit has been designed to make things easy for fishermen. A moulded sink in the transom has hot and cold water, there's a very handy beer fridge alongside a stainless freezer and a cavernous storage area in the lazarette. There is a special custom-made sliding dive bottle rack within the lazarette, which stows six bottles. Storage lockers are plentiful, with rods and gaffs in side compartments and even a trash bin tucked away out of sight.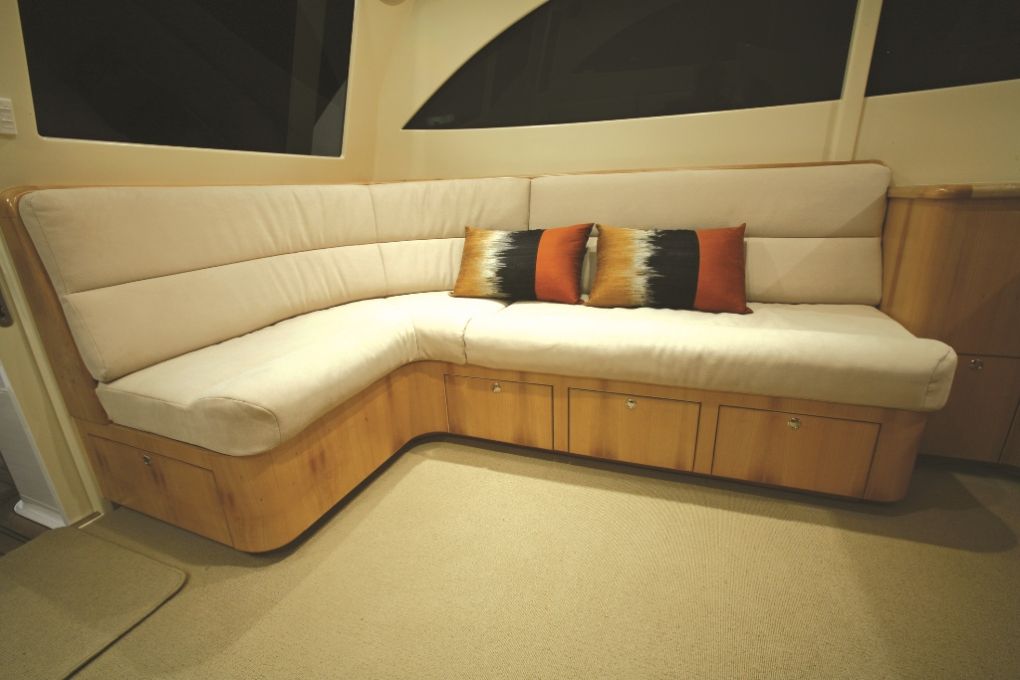 The sole is finished in genuine teak that leads through to very wide sliding transom double doors onto a small aft deck that also houses the davit for the dinghy.
Mazara will be used extensively this summer for bottom fishing and diving, as well as a cruise up the Northland coast and around the Hauraki Gulf. The fact that Mazara is a custom built boat means that the equipment list and layout plans are totally up to the owner. As you would expect when a boatbuilder builds his own boat, the finish is excellent and Mazara is certainly another fine addition to the growing fleet of Kiwi custom boats.
Boat Name: Mazara
Model Designation: Elite 12m sports sedan
Year Launched: 2006
Designer: Bill Upfold
Interior Designer: Kim Lilley
Builder: Owner
LOA: 12.0m
Beam: 4.0m
Draft: 900mm
Displacement: 8.5 tonnes
Max Speed: 27 knots
Cruise Speed: 22 knots
Construction: Epoxy GRP Composites
Fuel Capacity: 1000 litres
Water Capacity: 600 litres
Engine: Caterpillar 3126
Base Price: $NZ750,000 (approx)