Gem of a partnership
A fortuitous series of meetings, a strong desire for a Kiwi-built boat and an "incredibly enjoyable process" has resulted in the launch of Tasman Jewel, a unique 13m Elite Sport Sedan owned by a three-way partnership from the top of the South Island.
Nelson-bound Elite Tasman Jewel is the latest of eight collaborations between prolific Kiwi designer Bill Upfold and highly respected Auckland boatbuilder Allan Tongs. It is the result of one of those fortunate series of events that started with one man's desire to co-own a new Kiwi-built launch, gathered speed as he shared his dream with a fellow yachting dad and hit full throttle when that man introduced his equally keen mate.
Now, almost two years after that initial chat on the yacht club tender, the result is in the water and, when Pacific Powerboat was invited on board, it was about to head south to its new home, the Nelson marina.
While the trio knew that buying a boat from one of the big Australian, Chinese or Taiwanese manufacturers would have been quicker, and possibly cost less, they also quickly realised that their ability to influence anything other than the colour scheme would be minimal. And that was not acceptable.
Yet while having to miss the best part of two summers was unfortunate, they quickly discovered how much they all enjoyed the build process; watching their boat take shape and making the decisions that would define it as their own.
While all three greatly admired Bill's design and the overall look of the 13m Sport Sedan, they also had very definite ideas of their own.
With Nelson being among the top centres in New Zealand for sunshine hours, they wanted the additional protection of a larger cockpit overhang. That in turn led to the idea of adding an attractive curved glass windshield to the forward third or so of either side of the cockpit. Add in a permanent timber cockpit table, an electric drop-down glass window to the saloon's aft galley and a saloon door that almost entirely recesses away into the bulkhead and this is indoor-outdoor flow at is very best.
With the protective doors to the platform also recessing into the transom and the saloon having a typically sedan-like open look, there is little interruption to either view or passage from the forward companionway all the way aft to the water.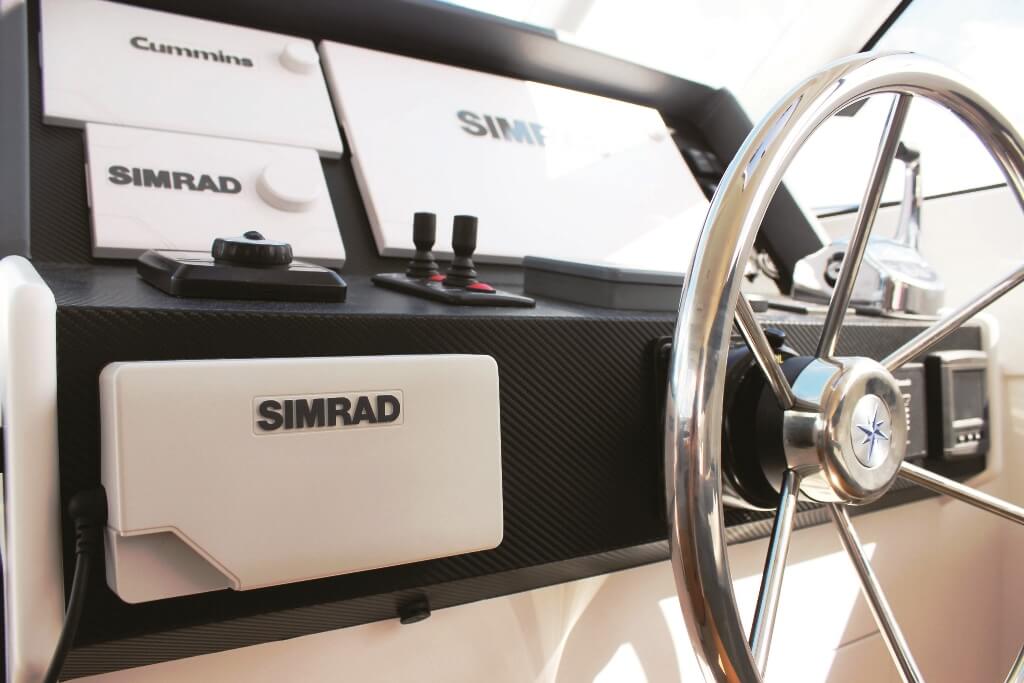 With two of the three partners being keen fishers and the third in training, the plan is to keep the seafood hunting out on the platform. As a result, this has been extended a further 400mm and fitted with a brace of small pushpits near the quarters. Stainless steel pin holders, designed to accommodate either the baitboard or the barbecue, have been positioned in both the transom and the pushpit, giving a fair degree of versatility for both the cooking and the fishing.
Also pretty versatile is the under seat refrigeration on starboard. Running off a 12v compressor, it can either be turned well down and used as a bait freezer or turned up and, depending on its setting, used as either a drinks fridge or a cooler. A narrow locker in the forward bulkhead provides an easily accessible spot to store the rods.
Over on port, the settee seat lifts up to reveal a useful stowage locker complete with space for the outboard. A cut-out down to the lazerette (which houses the deflated tender and various containers for the vessel's trash) enables the outboard to be stored upright, thus preventing oil or petrol spills and making it easy to access.
The double-gas-bottle locker and salt water washdown are positioned aft to port while its fresh water equivalent, a pull-out shower and sink are to starboard.
One of things that appealed to the three men, as it does to many Kiwi boaties, was the ability to run a single conventional shaft drive. Many offshore production manufacturers fit only IPS drives and, while these have their own undoubted advantages, there are also drawbacks. Many Kiwis don't like their perceived vulnerability and maintenance issues and, as Bill and Allan point out, they also eliminate the handy lazerette under the cockpit.
The Nelson group also favoured the "bigger is better" approach to their motive power (ie: a bigger engine working less hard) and a single shaft rather than a twin-engine installation.
As a result, Tasman Jewel is powered by a single centrally-positioned 600hp Cummins QSC diesel. This gives a top speed (at 3000rpm) of 29.3 knots and a 2200rpm cruise of 19.2 knots. With a capacity of 1200 litres, this gives Tasman Jewel a fast cruising range of over 340 nautical miles or, dropped back to 1800rpm, a range of 410 nm at 13 knots. The fitting of bow and stern thrusters has addressed any manoeuvrability issues.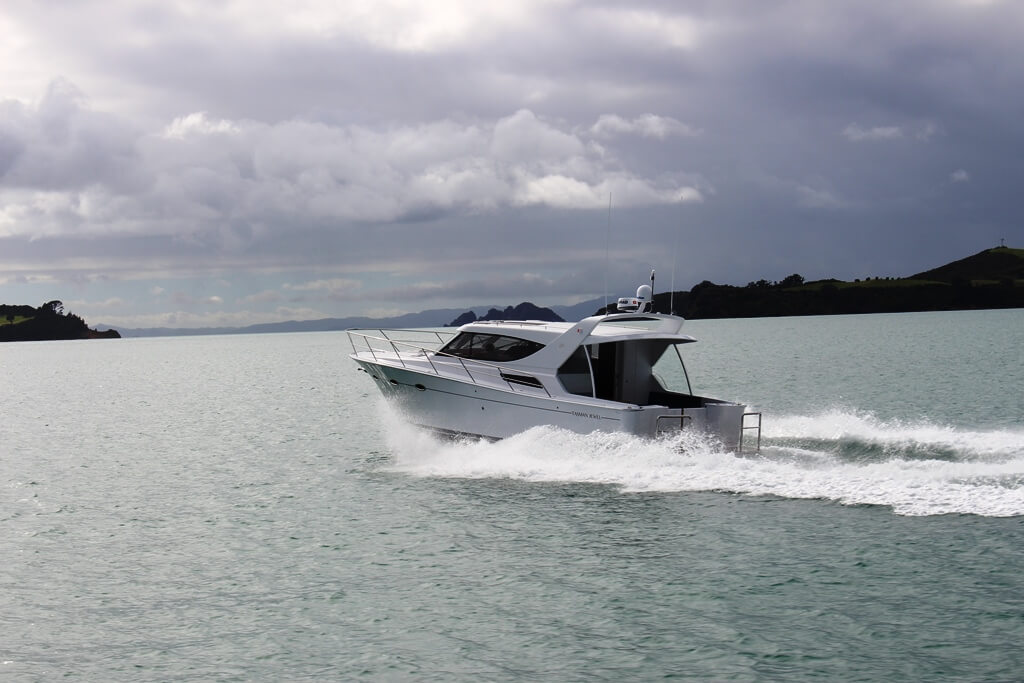 If it ain't broke…
Bill Upfold's simple and immensely practical sedan saloon style works so well that few if any of his owners see the need for changes. The Tasman trio were no exception. Apart from an insistence on Simrad electronics and a slightly longer settee (to accommodate one of the owners' 6ft 4in – 1.93m – frame), the design is standard Upfold.
There is a sailor's galley (nice and compact and ideal for working in a seaway) aft to port. Both the hob and the oven are gas, there 240v outlets for kettles, toasters, coffee machines and the like and loads of handy stowage in drawers. The worktop is hand-cut Himax and a household stainless steel fridge/freezer is handily positioned across the walkway, opposite the ship's electrical panel.
When not in port the ship's AC and DC needs are met by a pair of lithium ion batteries with the equivalent of 660a/hrs, a set of solar panels on the cabin roof and a 3000w inverter/charger generating 120amps.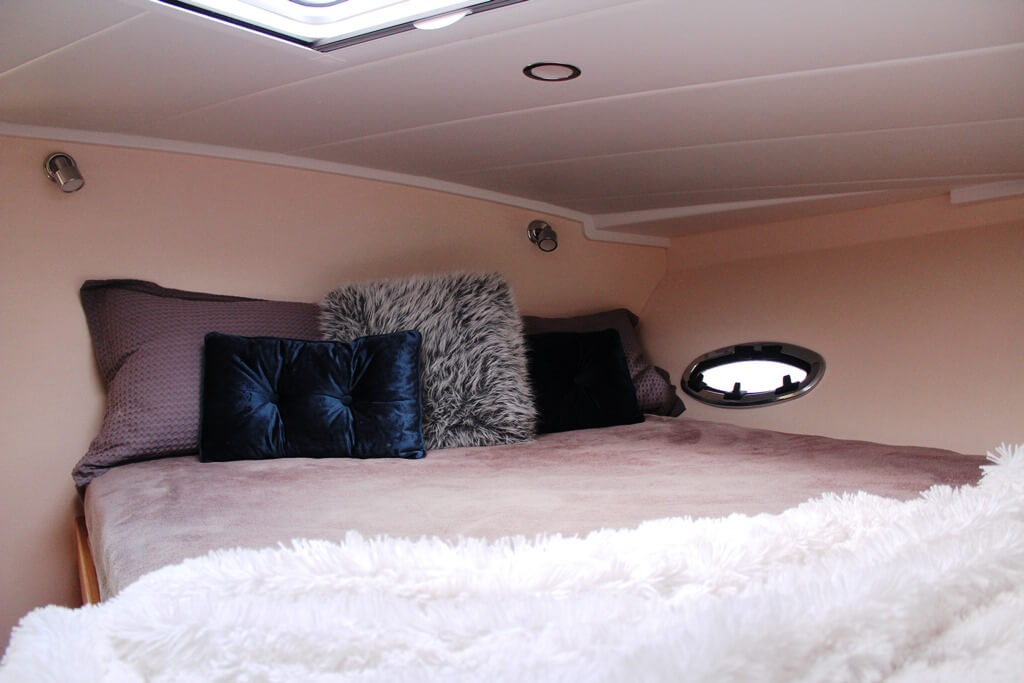 Between the fridge and the helm station is that extra long settee with a satellite-connected TV inset into the aft bulkhead.
Forward of the galley is the dinette, able to comfortably seat 5 and raised so as to give good visibility outside. As in the galley, stowage is plentiful and easily accessed in numerous drawers under the settee, the dinette and the helm station.
The helm is served by a comfortable two-person bench seat and easy to work. Electronically, the heavy lifting is done by the Simrad 16" touchscreen MFD, displaying the skipper's preference of radar, sonar and plotting displays. With Tasman Jewel's anchor system completely below deck (with the anchor out through the stem, thus keeping it within the length of the boat), the screen also shows the feed from the camera used to monitor the anchor's retrieval.
There is a separate Simrad autopilot and VHF and a Cummins digital display shows everything that is happening with the engine (speed, revs, fuel consumption, oil and water levels, etc,). There are control panels for the Zipwake automatic trim tabs, the Lofrans windlass, the Maxpower bow and stern thrusters and the Webasto diesel heater.
Apart from monitors for the holding tanks and the ship's pumping systems, there is the need for just four toggle switches. One of these is for the almost invisible windscreen wipers (cleverly hidden from view when not in use behind the windscreen mullions).
Bill's design normally has matching sunroofs above both the helm and the dinette but Tasman Jewel's owners have preferred to opt for large hatches instead. Big enough to stand in they also come complete (as do those in cabins below) with pull-out sunshades and insect screens.
One of the changes the owners wanted was a twin-cabin, rather than the more common three-cabin, layout. They also wanted both to be of a reasonable size.
As a result, there are queen-sized berths in both the focsle and forward to port with the latter probably what would be considered the main. Both berths are set against the port hull, are at least 2m long, have plenty of stowage. A good-sized opening hatch and a pair of portholes provide the necessary light and ventilation.
One of the changes the owners wanted was a twin-cabin, rather than the more common three-cabin, layout. They also wanted both to be of a reasonable size.
As a result, there are queen-sized berths in both the focsle and forward to port with the latter probably what would be considered the main. Both berths are set against the port hull, are at least 2m long, have plenty of stowage. A good-sized opening hatch and a pair of portholes provide the necessary light and ventilation.
Although this is first time either Bill or Allan have designed and built a new vessel specifically for a syndicate like this, both have been really impressed by the way it has worked.
Anyone who has spent a reasonable time around boats and boating people will have heard their share of partnership "horror stories".
Yet, as leisure time seemingly becomes more precious and many become less willing to invest in a vessel that sits idle a lot of time, such syndicates, partnerships or co-ownership of various forms is becoming more common.
Tasman Jewel's arrangement seems a particularly well thought-out and easy to manage one.
Perhaps because the three partners did not start out as close friends (although it appears a strong friendship is now developing), they have done things in a very measured way.
Although all are successful in their own way, none felt the need to dominate and all decisions were unanimous.
They admit to having "very different energies" but see that as a plus rather than a source of conflict. As in any relationship, communication has been the key and every opinion is deliberately valued.
When either Bill or Alan needed a decision or there was a question to be asked, all three were contacted at the same time. They then went away, discussed it and came back with a single answer.
The way the partnership will be run seems equally sensible, probably because one of the three is a very experienced international boat broker who has no doubt seen the very best and worst of such syndicates at work.
The three use an on-line booking system with each partner's dates on board scheduled a year in advance. Weeks of use start on Thursday and finish on a Wednesday and, if one partner is unable to use their allotted time, they simply remove it from the schedule, freeing up those dates for one of the others.
Boat Name: Tasman Jewel
Boat Design Name: Elite Sport Sedan 13m     
Year Launched: 2018      
Builder: Allan Tongs Boat builders          
Designer: Elite Marine Design           
LOA: 13m                                  
Beam: 4.3m                                   
Deadrise: 12deg at transom          
Displ (Dry) : 7200kg          
Max Speed: 29.6kt         
Construction: Epoxy timber composite                      
Fuel Cap: 1200L          
Water Cap: 900L         
Engines Make: Cummins QSC 600          
Price of Boat: POA