We're reaching the end of our seventh Med summer cruising season – a collection of magical cruising experiences and adventures taking us 15,000 miles through Italy, Sicily, Greece, over sixty Greek islands, Turkey, Albania, Montenegro and Croatia.
The US Navy is Watching Us
Our friends Simon and Bronwyn leave us at Corfu after two great weeks cruising together and my brother Charles joins us for his first visit to Envoy. It was Charles and his wife Marie who first introduced us to Med cruising when we spent some time aboard their 34ft sailing yacht, Acrobat, in Turkey where they'd sailed to from Australia and we decided to buy our own Med-based boat. Look what they started!
Checking my emails one morning I see a very official-looking one mentioning the US Navy and my first thought is that I'm in trouble for including a photo in our Blog of a US destroyer moored in Crete's Soudha Bay NATO base. But on reading the email I'm delighted to find it's from a senior officer of the US Navy's 6th Fleet Destroyer Squadron saying that he's very happy to see "one of my ships, USS Ross, appear in Envoy's Blog". I'm not allowed to name the officer but he and I have since had several exchanges of emails and it turns out he has an interest in Nordhavns and follows our Blog. We're even talking about possibly meeting up in Italy where he's based.
While the Med's summer weather is consistently fine with little rain, Autumn can bring strong winds, rain and thunder storms. We spend two perfectly tranquil nights anchored at spectacular Mourtos until the weather forecast predicts southerly winds over 30 knots with heavy rain, quickly turning to northerly winds over 30 knots. This is the kind of wind forecast it's hard to find shelter from, but nearby Igoumenitsa Creek is perfect so we head there to anchor in 14 metres (a bit deeper than we prefer) and lay out 60 metres of chain in preparation for the blow. The bottom is mud and Envoy has a heavy 40kg Delta anchor with 11mm chain and we rarely drag with this much chain out. Soon the front arrives and we have plenty of thunder and spectacular lightning plus a choppy sea whipped up by over 40-knot gusts, but we're perfectly safe.
When the rain eases we see five young people leave their charter yacht anchored nearby and head towards us in their RHIB. At first, we guess they must be needing some kind of help but when they come alongside they produce a few cans of beer and tell us they've come over for a drink. Well, we're into that and spend an enjoyable couple of hours with our new Belgian friends.
It's early October and the summer has come to a sudden end as we have several days below 20dC with more heavy showers and thunderstorms; weather which Charles is perfectly used to in Scotland.
There's many great overnight anchoring bays around Corfu and we show Charles some of these before he leaves us at Gouvia Marina.
Envoy Maintenance in Gouvia Marina
With some maintenance required we stay a few days here to take advantage of the marina's excellent infrastructure and the technicians who've worked on Envoy previously and know her systems. This is generally a big advantage when getting work done.
Our washing machine's water discharge pump has not been working for several weeks and we've been using it by siphoning the water out. Two Miel technicians find the pump's AC wire has broken away from the very fine output wire coming from the motor. They remove the pump and motor from the machine to Envoy's cockpit where there's plenty of working space to solder and secure the wires together.
One of our two independent air conditioners has a fault whereby its 120 volt seawater cooling pump is not receiving AC power from the air conditioner's control unit. Engineers in Crete were unable to resolve this but our friend Angelos finds that a TRIAC (a three terminal semiconductor device) has failed. He replaces it with a heavier duty version and all is well.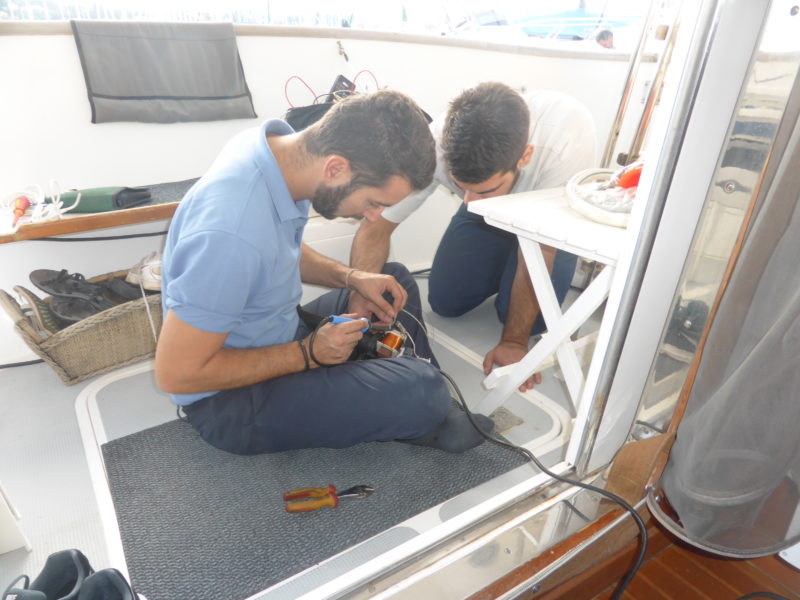 Our water maker has a small water leak from the high pressure hose going into the membrane. Angelos says this is common fault so makes up a new hose. He's reluctant to test the water maker in the marina's murky waters so we test it ourselves a few days later finding a slight leak in a different place. By now we are three hours cruising time from the marina so decide to leave this leak for him to look at when we pass through Corfu next year. Then he can also check out the whole water maker system for us at the start of the season.
A Whale 12 volt pump that empties our below-waterline main head's sink has failed. On removal it's beyond economical repair and replaced with an identical new one.
The forward head's holding tank level indicator is not working. It seems the sender float unit is stuck even though it was removed and cleaned in May. Of course this doesn't stop the head from being used so we decide to leave this until there is some need to remove the head for service, then we can locate the exact position of the sender and drill a hole through the head's deck large enough to extract and clean the sender in future as required.
Our dual-trumpet air horn is not working. We remove the air compressor to find it has rusted due to water ingress. The technician says is a common problem and a horn should have a cover to protect it from spray and rain. We virtually never use the horn and in any case have a separate aerosol-powered one so decide to leave this to be fixed during winter in Lefkas.
Envoy Cruises Back to Lefkas Marina for Winter
As we leave Gouvia Marina we load another 400 litres of diesel to top up our fuel tanks; it's always best to leave tanks fairly full with fuel stabiliser added to keep fuel in good condition during long absences from any boat. This reduces water ingress through condensation and in the case of metal tanks reduces corrosion. Our total diesel purchase this year has been a very reasonable 4,025 litres, sufficient for six months cruising most days. One of the hugely compelling qualities of a full-displacement boat like Envoy is her economy at about six to seven litres of diesel per hour. A similar sized planing vessel would use something like 150 litres per hour and even though she'd be covering around 20 miles in an hour we only need about 22 litres to cover the same distance – one seventh as much.
We cruise slowly south towards Lefkas visiting places we've mentioned in previous articles.
Anchored overnight off the town of Preveza we encounter 20 knot onshore winds with choppy seas and are woken early in the morning by fishermen who want to retrieve their net; it's not uncommon for them to lay their nets and lines throughout recognised anchoring areas which can be most unsettling.
It's now late season and there are few boats around except for some hardy souls taking advantage of the off-peak yacht charter rates and cruisers on the way to winter berths. Ashore the beach umbrellas and deck chairs are stacked away, many tavernas and shops have closed their shutters until next year and the still open ones are largely deserted.
After anchoring for the last time we let out most of our chain and during retrieval wash the salt off with fresh water to reduce corrosion during winter storage.
Pulling into the marina for winter on Sunday 23rd October gives us nine days before leaving by bus for Athens allowing ample time to complete wintering procedures and a few remaining jobs.
I say this every year – it's great and very satisfying to return to the marina after living aboard for seven months and cruising over 2,000 miles with no accidents, injuries or more than minor technical issues.
Berthing alongside Coco, a 52ft sailing yacht owned by a Scots couple, George and Anne, we hardly finish connecting water and shore power before they invite us aboard for a drink. They're sprightly mid-70 year-olds who've visited New Zealand and we Scotland, so we find plenty in common resulting in several great evenings during our time in the marina.
That same night I break a tooth biting too hard on an olive and although it's not painful I decide to get it checked in case of problems on the long journey home. The marina office recommends a dentist who sees me just an hour after my call. She's  well-qualified being a Doctor of Dentistry with a spotless surgery and charges just 50 Euros (about NZ$77) for a filling that takes about half an hour to complete. At home the charge would be more like $300 and we find that in Greece we've been well pleased by the high standard and low cost of medical treatment.
The Lefkas Marina cost works out a reasonable NZ$22 per day. Many cruisers go on the hardstand at nearby and cheaper Preveza, but we prefer the whole infrastructure, convenience and atmosphere of Lefkas.
It's always much more fun getting any boat ready to cruise for the summer than to store for the winter, but we get stuck into Envoy's winter storage process. We have this well documented and it's simply a case of spending a few days doing all the jobs and ticking them off. These include running the generator, wing engine and all sea water pumps for about 15 minutes with a mixture of fresh water and Saltoff, then introducing glycol to replace the water to reduce corrosion during the period of non-use. This is time consuming as we need to remove the top from each equipment item's water strainer and feed it using a fresh water hose. When doing this it's important to let the the equipment's pump draw the water rather than feed it from the hose at high pressure.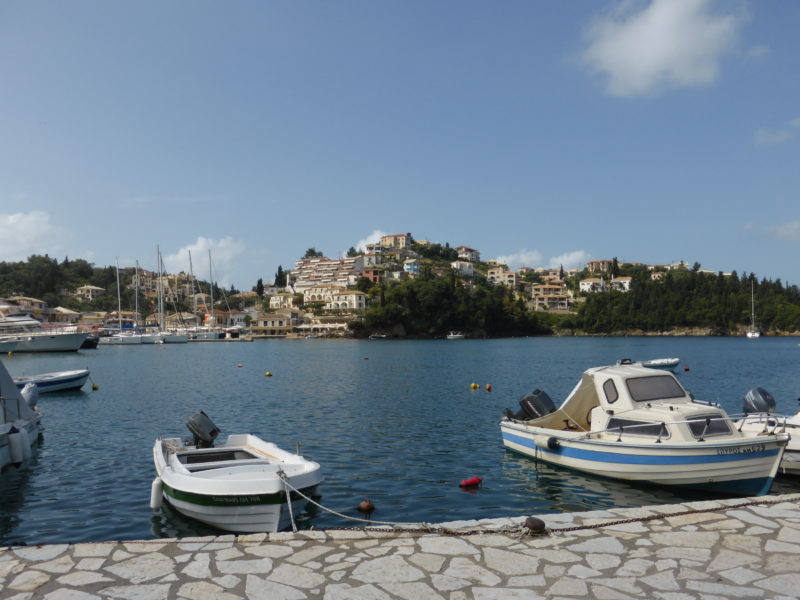 After a couple of days a cat befriends us and becomes a regular visitor, boarding Envoy every morning for a feed. We're very happy to see plenty of cats around any marina as it keeps the rodent population down.
Apart from routine season-end procedures we do some more maintenance.
Nikos, a RHIB specialist, Nikos, replaces two air valves on our large Nautica RHIB which have been marginal for a while. A special tool and some practice is needed to do this and Nikos says the old valves were close to failure. Nikos also takes away our smaller Valiant RHIB to repair a slow air leak and a transom sea water leak during winter.
We meet with Andreas from our main contractor Sailand to review several jobs to be done during winter.
These include repairing the already-mentioned dual trumpet air horn, replacing our aged and leaking domestic fresh water supply filter manifold, checking our Water Fixer u/v water purifying lamp to see if it's working, checking the brushes and bearings of our Lugger's alternator and Maxwell windlass's electric motor, checking our main Raritan head to see why it won't discharge through its seacock, priming and painting our stabiliser paravanes or "birds" as we call the underwater metal plates and re-sealing two Plexiglas deck hatches into their frames.
We also ask them to thoroughly check our Lugger main engine, Yanmar wing engine and Northern Lights generator concentrating on coolant replacement, check of cooling hoses, cleaning of air filters and servicing of sea water pumps.
Follow Envoy's 2017 adventures including a disastrous start to the season resulting from fire damage in PMB's next issue. Meanwhile, readers can access more detailed and current information from Envoy's blog: www.envoyinthemed.blogspot.com.