Designed For A Purpose
If your passion is spearfishing, but you love your fishing and also family boating, then having a purpose built boat makes sense. Barry Thompson checks out one man's answer to getting the perfect boat
Allie is Paul Spence's 16th boat and was custom designed for him by Mt Maunganui -based Hall Marine Design and built in Hamilton by Everyman Boats. At 11m overall, this is the biggest boat ever built by Everyman Boats and while it follows similar lines to their 'smaller' 9-10m models, it is in fact very much a personalised product built to exacting standards required by the owner.
Having had alloy boats before, Paul was adamant that his new Everyman had to be built extra strong and so chose 8mm bottom plate over the standard 6m, and 5mm sides. The result is a very stiff boat on the water and one that Paul says will handle anything. He also didn't want a painted hull, something that is now almost the norm on large alloy boats. "That's just another thing has to be looked after and as I use the boat for fishing and diving I didn't want the extra worry of maintaining a pristine finish".
Since launching the boat in early 2016, he and wife Sandy have made numerous diving and fishing trips to Great Barrier Island and the Mercury Islands. Paul is a well-known Kiwi spearo and has not only represented New Zealand overseas but was also a regular on the local spearfishing circuit. Today it's more about doing his own thing, but his love of spearfishing is still as high.
"Although I am no longer competing like I used to, my passion is still spearfishing, so I was looking for a boat that would suit not only my sport but also be suitable for fishing and the occasional family day out or weekend away", says Paul.
One request was for six berths, which has been achieved with the forward section split into four bunks and the dining table in the saloon dropping to a generous size double.
The 2.3m long upper and lower berths are part of the optional layout and make up the forward accommodation area. However, this whole space can be configured quite differently being a custom design. There is huge storage space under the lower berths, as well as handy shelves beside each upper berth.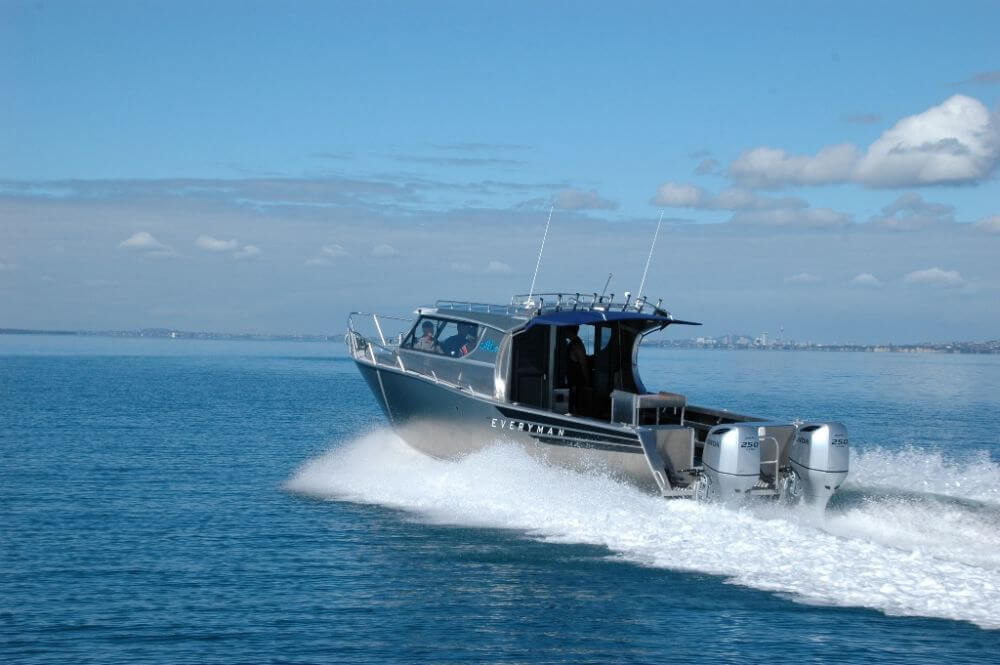 The boat also had to have an external toilet and shower compartment. "I would never have a head/shower inside as no matter what you do they smell and it's also not that practical in a boat this size, as it takes up space. The advantage of having it outside is that we were able to design a bigger than average shower space and there's room to move around and wash all your bits".
There is a very simple holding tank built in under the toilet, which is gravity flushed overboard by simply opening a gate valve. No pumps to go wrong or clog up. Very simple and very effective.
There was also a question of the overall size of the boat and although he already had a 15m marina at Gulf Harbour, Paul was looking for something around 10.5m with a wide beam. In close collaboration with the designer and builder, Paul settled on a boat of 10.8m LOH and 11m LOA, with a beam of 3.07m, deadrise of 18 deg and full load displacement of about 4500 kgs.
"It's a big, solid boat and I love it," says Paul.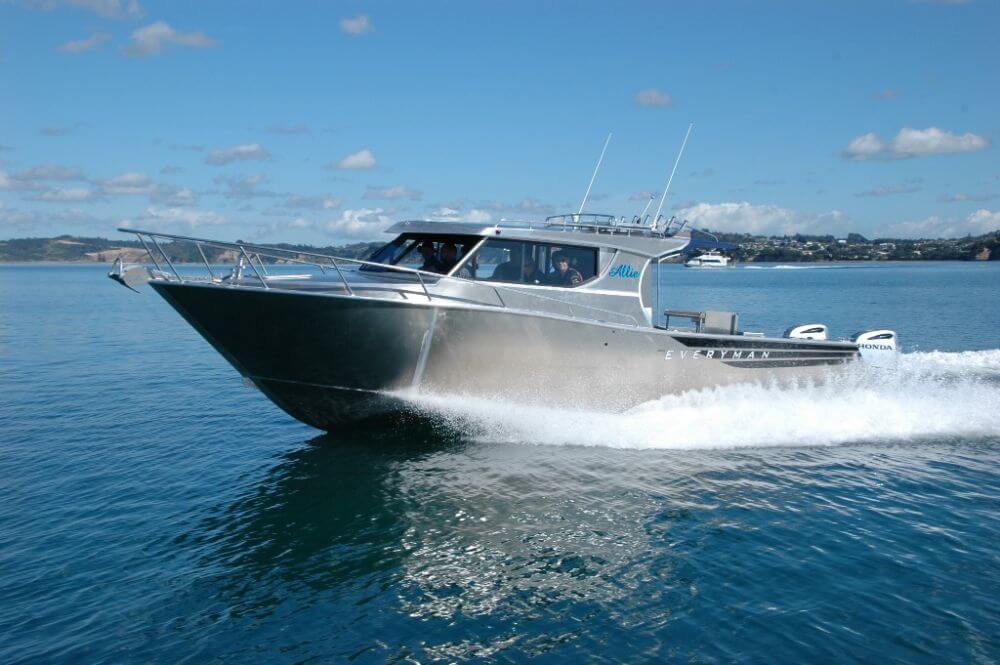 After sorting out all his special needs with builder Russell Spiers, it was then time to make a power choice. The option was simple, single diesel sterndrive or twin outboards. Not wanting to have a stern leg hanging in the water all the time, meant that the diesel sterndrive option was out. Paul also liked the simplicity of twin outboards and the fact he had the extra safety factor of two engines.
"I had priced a sterndrive at around $120,000, but then when I looked at the twin outboard option, I realised just how much more cost effective the outboards were.
"Not only did I spend nearly half for the two engines, but I also didn't have to sacrifice any space in the cockpit, plus the transom layout was perfect for diving with the space available between the two engines." says Paul.
He adds that the twin Honda 250s have proven incredibly economical and he is averaging around 55 lph for both engines @ 22 knots. Top speed is more than 40 knots, but Paul says he rarely ever goes there. Allie carries 950 litres of fuel and 400 litres of water, so the cruising range is extensive.
"It's 35nm from Gulf Harbour to Great Barrier and on a good day we get there in just over an hour and a half….as long as we don't stop for a fish under the birds on the way".
Another plus for the outboards was they can be trimmed out of the water when the boat is sitting on the marina and apart from maybe antifouling the legs, the maintenance is minimal. However, Paul decided to go one step better and now has the boat sitting on an Air Berth, so the entire boat and engines are well free of the salt water. No antifouling, no corrosion and no electrolysis issues.
"Initially I wasn't going to go to the expense of a dry berth but after I saw the Air Berth in action and realised the potential of it, I knew I had to have one", says Paul.
Driving on and off is an effortless task and only requires a few minutes of pumping air in our out of the two huge tubes. When we arrived at the marina to take the boat out for day's fishing and diving, the first thing Paul did was hit the pump-out switch on the Air Berth control. By the time we had loaded the fishing and dive gear, plus a few cold ones, the boat was sitting in the water ready to go. It was much the same when we got back. It also meant we were able to give the hull a total fresh water clean and also flush the engines.
The layout of Allie is very much what Paul wanted and the builder says that he can configure that to suit the client. With Paul's passion for diving, one of the first things required was easy water access. This has been achieved with a very wide opening between the engines and a significant drop down ladder that can be used even with full SCUBA gear. The full boarding platform is also a perfect place to toss your gear or your bag of bugs when you come back from a dive. There's also a deep wet locker so you can stow your catch.
The same wide access between the engines is carried through to the transom opening, which comes with a drop-in alloy panel, for extra safety if you have small children aboard.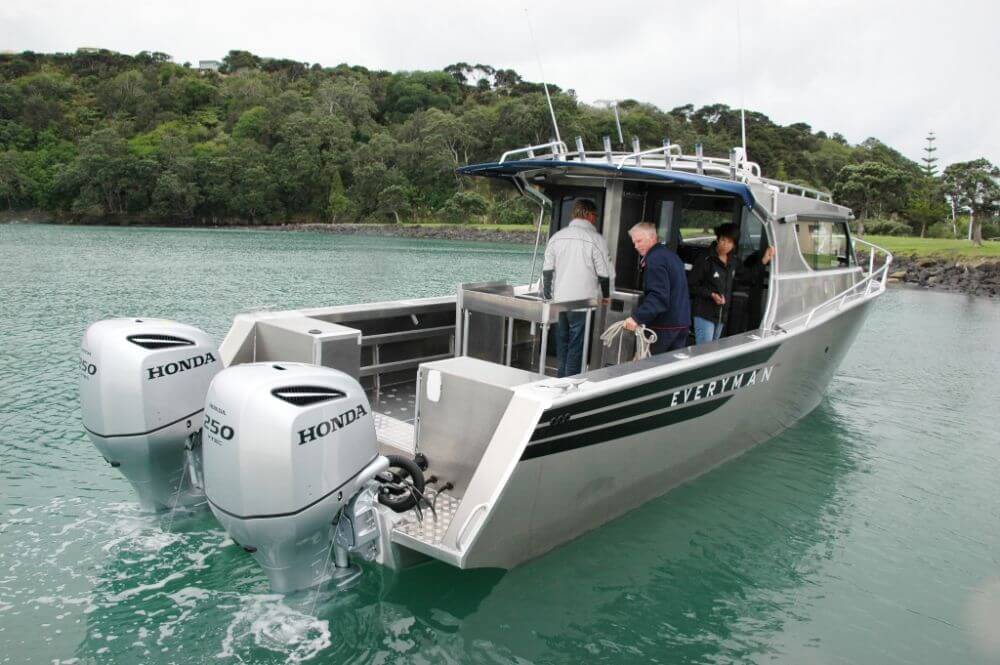 Central in the 7.5 sqm cockpit is an island bait station, with open storage under for buckets, tackle boxes and whatever you like to have close at hand when fishing. While this was designed primarily as bait prep area, Paul says that they also use it as an afternoon and evening dining table and sit on the wide coamings rather than have additional seating. Most of the filleting is on either of the wooden boards across the transom.
The four side trays (2 aside) are extra long and means you can stow the longest rods and spearguns, and there's still coaming rod holders as well as a rocket launcher on the cabin top. The wheelhouse roof not only supports the Southern Pacific Puffin tender and inflatable paddleboard but also has a 150-watt solar panel, which provides enough power to run the fridge constantly.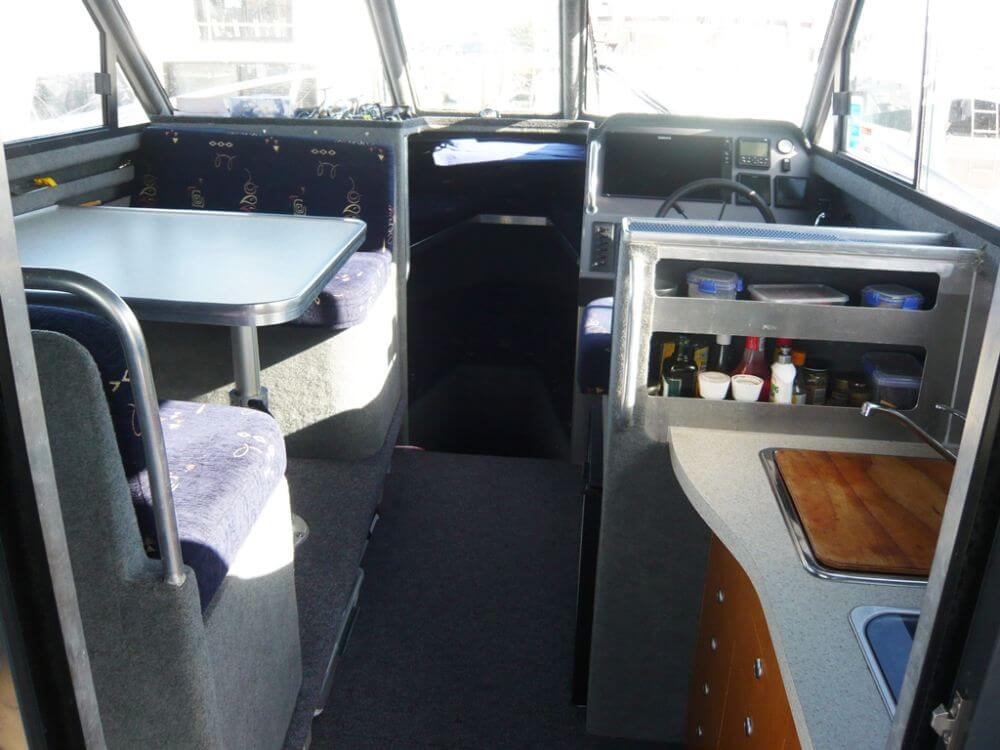 Running central under the cockpit sole (covered with non-skid tube matting) is another massive aft wet locker, with the fuel tank and water tanks forward.
The only seating in the cockpit is a cushion on the starboard side LPG bottle locker, and there's always the top of the ice box. A sunshade overhead adds some extra all-weather protection to the forward cockpit area and isn't so far back that it gets in the way of your rods.
While Paul was happy to leave the cockpit and external areas reasonably spartan, apart from the false teak decking on the coamings, the interior has been given an all-over fabric finish. It's got a warm and cosy feel to it and on the number of trips I have had on the boat, it never feels cramped, even with 4-5 people aboard. An Eberspacher heater would be a nice addition for the winter boating.
The port side table has been designed to comfortably seat four for a meal or playing cards in the evening. A pair of Hi-Tech adjustable pedestals allow you to drop the table down and with the addition of a couple of squabs, you have a 2.2m long double berth. There is four long pull out drawers beneath the raised dinette floor, plus a couple of huge storage bins under the wheelhouse sole. Add to this the room available under the dinette seats and there is plenty.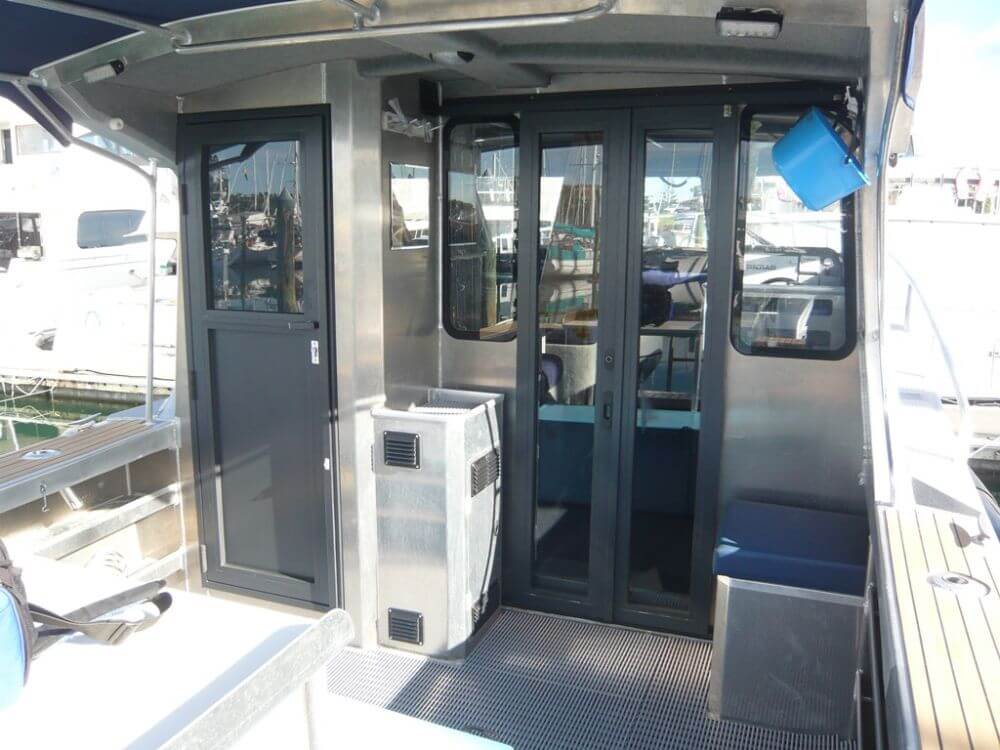 While the galley is reasonably basic, with a two burner hob and stove, it is more than adequate and according to Paul, it's all they need when away overnighting. The Formica benchtop provides plenty of servery space and the drawers beneath the storage.
The helm in Allie has been fitted out with a Simrad 16" MFD, Simrad AP20 autopilot and Garmin engine monitoring. A Simrad RS12 VHF and Fusion MSAV750 are mounted overhead. "It's a great driving position, with good vision all around and the helm seat has proven very comfortable on our trips out to Great Barrier", says Paul.
Paul says that he has been extremely happy with the boat and wouldn't change a thing. It's suitable to fish 4-6 anglers or take the same number of divers, although if Paul is overnighting, he restricts that to four. There have been plenty of big snapper and crays coming aboard and that's not likely to stop anytime soon.
Model & Model: Everyman 1080
Builder: Everyman Boats
Designer: Hall Marine Design
Priced from: ??                
Type: Hardtop                                 
Construction: Aluminium     8mm/5mm     
LOA: 11.0m
LOH: 10.80m 
Beam:  3.07m                        
Deadrise: 18 degree                             
Displacement: 4500 kgs (approx.) 
Test Power: 2 x Honda 250 4S   
Propellers: 15- ½" x 17" Lexor              
Power options: Outboard or Sterndrive      
HP Range: 400-600hp                
Fuel capacity: 950 litres
FUEL & PERFORMANCE DATA

Everyman 1080

Fuel capacity:

950

litres

 

RPM

Knots

L/h

L/NM

Range  (NM)

1000

4.4

6.2

1.500

570

1500

6.0

10.4

1.800

470

2000

7.7

15.1

2.000

420

2500

9.1

22.4

2.500

340

3000

12.4

34

2.800

300

3500

17.2

44.5

2.600

320

4000

22.6

58.7

2.600

320

4500

26.6

70.4

2.700

310

5000

31.6

107.5

3.500

240

5500

35.6

166

4.700

180

5800

37.5

170.5

4.600

180

6000

38.3

174.7

4.600

180

WOT 6100

38.8

175.6

4.600

180