Explorer is a semi-custom boat builder based in Ningbo, China and was born out of the remmants of Clipper Motor Yachts International. When Clipper closed shop a few years ago, the designs, tooling, moulds and intellectual property were purchased from the previous owner of Clipper International by three partners and rebadged as Explorer.
The Explorer range (still marketed in Australia as Clipper) starts with a 28′ trailerable cruiser and includes the Explorer 36' and 40' classics (previously promoted by Clipper),Explorer 46 and 50 flybridge sedans, the all-new 50' pilothouse, a new, huge volume 58′ pilothouse, a 60' and 62′ pilothouse and coming up, a new 75', with a classic look. A 44 pilothouse and 42 sedan are also under development.
The Explorer 50' was an evolution from Clipper and was origionally called the Clipper 48. However, the new owners of the company wanted to bring back the trawler look and so added the 'fashion plates" that cover in the side decks either side to give the boat a more traditional appearance.
One of the changes in the new Explorer 50 from the Clipper 48 is that the rear Aritex S/S saloon doors are now available as a two stage opening door compared to the previous three-stage. This has been done to allow for the new starboard side entertainment centre. However, you still have the option of the tri-door arrangement and replacing the entertainment centre with a settee.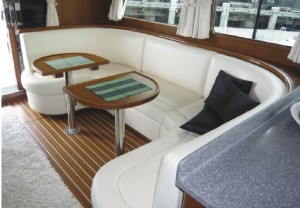 The port side U-shaped settee has been extended, with the removal of a rear storage compartment and the solid, single-piece table has been ingeniously split into two. This affords easier access to the centre of the settee and it can be quickly transformed back into a full-size table with a drop-in infill. It certainly makes better use of the lounge area and still provides a dining area for up to eight people.
The entertainment and storage areas to starboard are extensive, with drawers and cupboards plus a pop-up 32" Samsung TV all built into the solid teak cabinetry. At 300mm wide, the unit doesn't encroach too far into the high traffic area of the saloon, yet still provides a massive amount of storage space. Two floating chairs are available when required and can be tucked away out of sight if you want this area kept free.
The forward area of the saloon is divided between the galley and lower helm. While the trend for some flybridge boats seems to be for a simpler lower helm, the Explorer 50's main helm station is downstairs. "I find I still do most of my driving from the lower helm so it only seemed appropriate that that's where I positioned most of the equipment", says Gilbert. And a well stacked helm it is, with a Fusion entertainment system, twin Simrad NSS12 touchscreens, Muir auto anchor and Simrad rudder/windspeed intruments. A nice touch is the Aframosia classic helm wheel.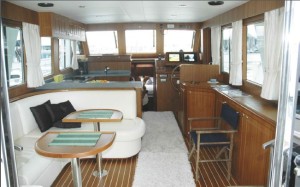 There's a large helm bench seat with a bolster arrangement if you wish to stand to drive, plus a drinks locker is built into the base. A sliding side door gives ease of access to the wide bulwalks.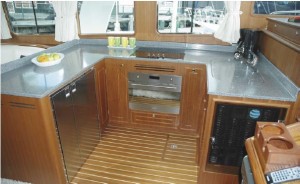 The U shaped galley opposite has a huge bench top and is ideal if you are an owner who likes entertaining on board. The greycoloured Corian bench top runs down the port side, opposite the helm, with an Isotherm fridge/freezer, Smeg four burner infared hob, twin stainless steel sink bowls, a convection microwave oven, plus dedicated spice, cutlery and condiment drawers.
While the Explorer 48 had a cupboard return above the galley and a high servery return counter, this has been removed from the Explorer 50, resulting in a much better open flow-through from the galley to the cockpit.
"We also found that the overhead lockers were a bit too high for some people and difficult to access, so by adding that space below, the galley is now a bit more userfriendly", adds Gilbert.
The Explorer 50 is a two-cabin, two bathroom boat, with the main stateroom forward and a VIP to port. The owners have private access to their own ensuite, while the second bathroom is also used as the day head. Again, Corian has been used for the vanity tops which also feature raised the Options Ceramic bowls, lower storage spaces and in the guest ensuite mirrored panels above give access to the back of the helm for ease of access.
There's a fully-moulded walk-in shower with small seat, glass door, mirrored ceiling and teak and holly on the sole in both ensuites.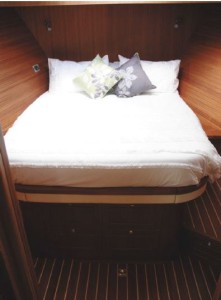 The owners' stateroom is forward with an island berth offering easy access both sides with steps up. This has been changed from the previous three steps to one which works perfectly. There are a night stands either side and hanging lockers aft, plus drawers and deep storage under the berth. This also provides service access to the bow thrusters and the dedicated winch battery.
Shiplap timber side panelling adds a more traditional presentation to the cabin, but you can go for fabric or painted surfaces if you prefer. There is also an option of three or four single berths instead of the double and then you can make the VIP the master.
As for three cabins, Gilbert feels the boat is really too small and you would also be limited to one bathroom, although there is a three-cabin layout option available.
The guest cabin to port has a convertible berth arrangement which allows for two singles or a double. Hanging lockers offer ample storage and an optional overhead hatch provides excellent natural light. Both cabins are pre-wired for a TV. Air conditioning is standard and can be individually controlled in each cabin, although Gilbert has removed this option on this boat.
The timber throughout the Explorer 50 was all teak, but there is the option of other timbers such as aframosia or ash and you can have any of it blonded, satin or high gloss. All interior soles are teak and holly with laid teak in the cockpit and on the capping rails outside. In the Explorer 50 there has been an increase in laminated corners around the timber work which takes away the obvious cut corners and joins and adds a little more quality finish to the boat.
"The boats are getting better and better all the time without a significant increase in costs, and it's the small things like the laminated corners that make the difference", says Gilbert.
The Explorer 50 offers a number of excellent outdoor areas for entertaining, fishing or simply relaxing. The large boarding platform is finished in teak, with substantial stainless steel drop-in pulpit hoops. An optional bait tank has also been fitted on this craft. Above it is a portside transom door that leads through onto a most generous-sized cockpit or outdoor living area. This has been kept free of built-in seating, with Gilbert preferring to bring in casual furniture when required.
There are side-entry doors incorporated into the wide bulwarks, which lead through to the spacious foredeck. There are fwd and aft shore power connections too. The cockpit area has also been changed a little from the Clipper 48, with the starboard-side icebox replaced with a sink unit, and to port there is now a big understairs stowage locker.
While the cockpit is certainly going to be an idyllic area in which to relax of an evening, it's more likely that if the skipper is at the helm above, those aboard will head upstairs when underway.
Access to the flybridge is via a moulded GRP and teak stairway complete with an Aritex triple-glass panel sliding cover. The duplicated upstairs helm, complete in this instance with two Springfield skipper's chairs, features the usual array of remotes and instrumentation including another Simrad NSS12 screen.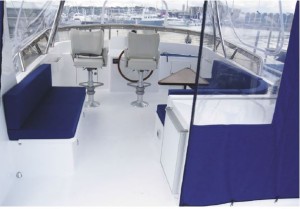 There is seating for seven guests in soft loungers either side and on the starboard side a teak triangular cockpit table around an L-shaped settee. All are well protected from the elements by a solid hardtop and clears. Aft is an open deck area which has a large fridge/freezer and icemaker to starboard and while you can have the barbecue fitted up here, Gilbert prefers to have a transommounted one in the cockpit. The large aft deck is perfect for sun worshippers but its primary purpose is still as the tender stowage area. Dedicated support blocks and securing mounts keep the tender in place and an ADC crane is used to raise and lower it.
Combining classic design and new semiplaning hulls, the Explorer range delivers both speed and fuel efficiency. With a top speed of 19 knots in planing mode and a cruising speed of 10 knots in displacement mode to conserve fuel, the Explorer 50 enjoys the best of both worlds comfortably cruising at 15kts on the plane.
Power options are Yanmar or Cummins, with our particular Explorer 50 running a pair of Yanmar 6LY3-UTP @ 380HP. The engines are, turbocharged, intercooled, wastegated, direct-injection, 24-valve, in-line-six engines with Yanmar's electronic governing system. Exhaust emissions have been reduced significantly. This new electronic control offers constant power regulation – regardless of fuel temperatures up to 50ºC and synchronises the engine speeds of the twin installations.
Explorers are built to CE and ABY classifications and comply with both New Zealand and Australian electrical standards.
As with most boats from China/Taiwan, the Explorer 50 can be optioned to suit your particular style. The strong timber finish of Gilbert's own Explorer 50 could quite as easily have been predominantly fabric. It's your call. This is also very much the case with the layout and Gilbert is more than happy to discuss various layout options with clients so that what you get in the end is what you want.
By being able to semi-customise our boats we feel we can deliver a better boat for a customer, so while I designed the layout and presentation of this boat for myself, it's very likely that the next one will be entirely different", says Gilbert. Unlike many mass produced motor yachts on the market, the full Explorer range is available with bespoke custom features as each vessel is handmade by a team of highly skilled craftsmen.