Traditionalism is alive and well and living in the form of the latest Trawler style Explorer Fly Bridge 52 Sedan. Barry Thompson went aboard to see what makes this style of a boat so attractive.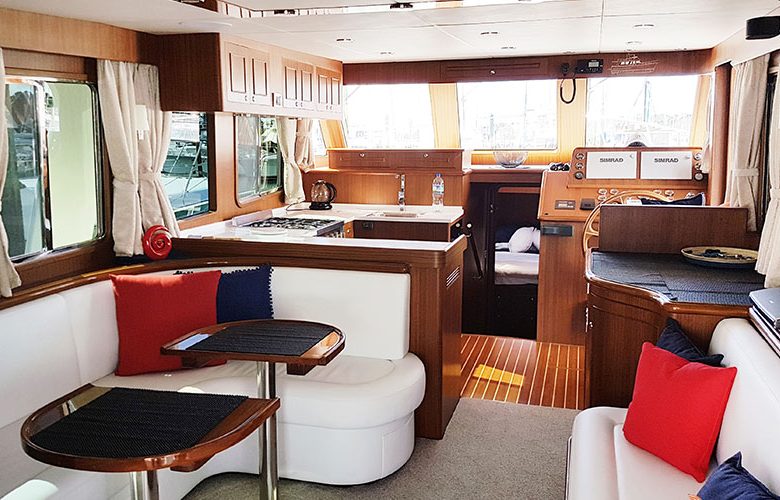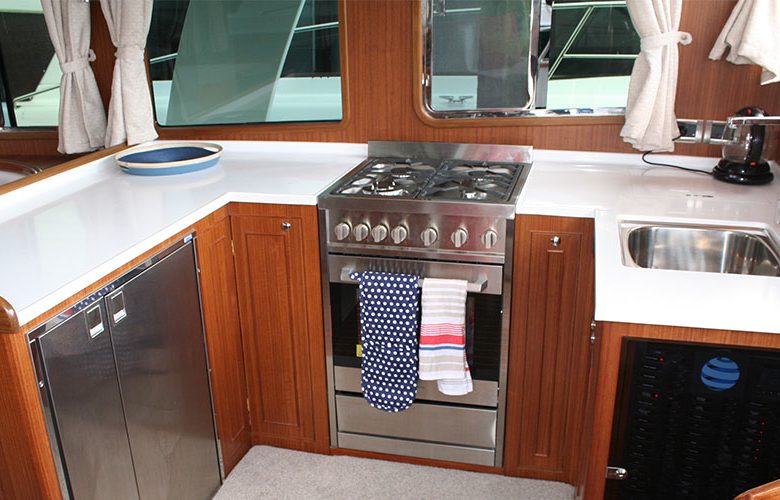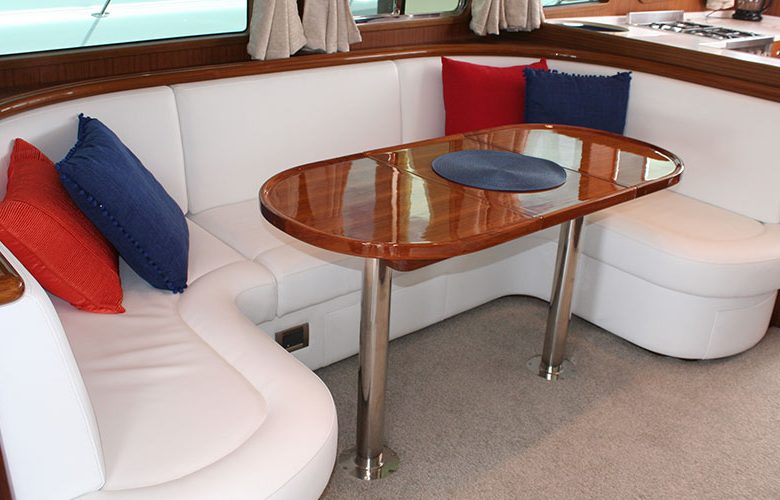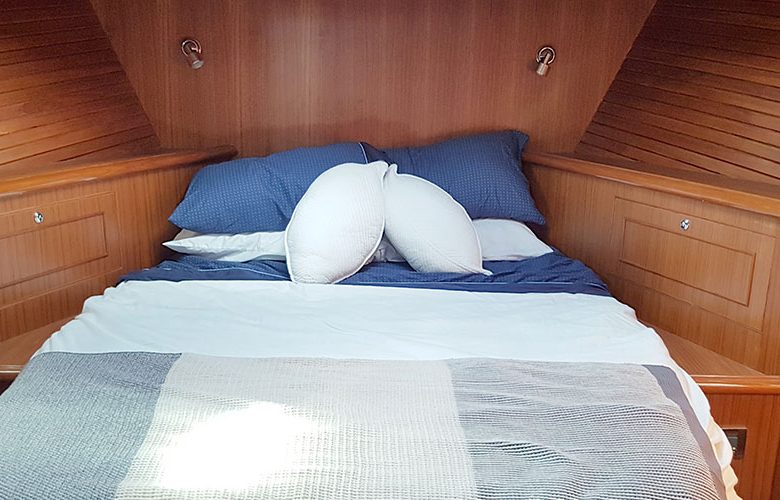 Even though the FB52 I reviewed is definitely on the market, Explorer Motoryachts importer Phil Gilbert had essentially designed the layout of the boat for his requirements.
While Phil owns the classical MY Parimar, a 72ft luxury displacement cruiser, he was looking for something smaller that he could handle himself and was more suited to the style of boating he does now.
"With Parimar it is all about long range cruising and that included a circumnavigation of New Zealand, but these days, with family and grandkids, it's more about weekends and shorter cruises, so the Explorer 52 FB is ideally suited," says Phil.
The FB52 Sedan is an evolution of previous Explorer 52s and like them has been customised. For example, in the last 52 FB, there was a pop-up TV and entertainment centre aft on the starboard side of the saloon, which has since been redesigned in the latest edition with a pull-out settee and pop-up TV behind. "We can do just about anything an owner wants, and that's the beauty of having a fully customisable boat, so our owners get what they want and not what some designer decides for them."
When Phil Gilbert talked with other Explorer owners, he realised that their usage was similar to his, with an emphasis on cruising and leisurely boating. With this in mind, the cockpit came in for some layout changes with the addition of built-in seating.
The transom has been moved aft to increase the cockpit space and has allowed for the addition of a large curved seating arrangement. Phil describes the cockpit as one for family living and it's a place where everyone seems to congregate. There's a set of wide stairs to port for easy access to the flybridge and you won't spill your drinks on the way.
Phil, like most other Explorer owners, is a keen fisherman, so the boarding platform has been extended and there is provision for all the necessary fishing accessories. A live bait tank is built into the duckboard and transom staples can be added to mount rods and a bait board. A rise and fall platform is available.
Phil added that while the bowsprit was shortened to still allow the boat to fit in a 16m berth, with the rise & fall platform added it would extend beyond that. Something to consider if space is an issue.
The previous 52FB had a two-stage door from the cockpit to the saloon, but because of the new settee arrangement, this has been changed to a 3-stage sliding door one side that opens up the entrance and works well with the natural flow through of both areas. Accordingly, they are both on the same level, divided only by a 150mm step to stop any cockpit water ingress to the saloon.
While Phil said he designed the cockpit layout for family and friends, that same style carries through to the saloon. Aft is ample loungers, a settee to starboard with pop-up TV discreetly sited behind, and a generous U-shape lounger opposite. The dining table is configured with a drop-in centre. It's an ingenious design that provides easy access to all areas of the settee, so it becomes more user-friendly and all the dinette gets used. No more having to get someone to move when you want to get out! Fully integrated Bose wifi/Bluetooth and Fusion 3 zone Bluetooth sound systems provide excellent sound.
Unlike a lot of boats these days, Phil has opted for a forward galley, which along with the helm/storage and drinks locker areas takes up about half the saloon space. With no bulkhead or overhead cabinets to get in the way, the sightlines are uninterrupted from the helm to the transom. Phil personally thinks the more user-friendly seating arrangements and the ability to have a large U shaped galley make this choice a preference.
The U-shape galley is covered with an extra large composite surface, so there's plenty of space for preparing meals or hor durve's for evening cocktails. While our boat had a free standing stainless steel gas oven, the choice is yours. Under bench provides copious storage draws and lockers as well as fridge/freezer and dish drawer spaces. With sliding side windows, you have no issues with fumes or cooking odours staying around the galley. Dedicated over hob ventilation is fitted as standard, and air conditioning is also standard but removed for this boat. A rubbish bin and storage bin areas are also in the bench top.
Another great feature of the Explorer 52FB trawler is the door alongside the helm that opens to the wide side deck. If you are running the boat short-handed or on your own, it's a bonus when docking. The full walk around side decks are wide and fitted with bulwark doors both sides for easy dismount on berths or wharves which do not have full-length fingers. Like the rest of the boat, the helm is completely custom designed, but whatever you decide you can be assured everything will fit. Phil had chosen a pair of Simrad Gen2 MFDs, but you can have what brand or number of screens you favour. Again instruments and controls are your choices. I loved the handmade wooden steering wheel, which adds to that ship like look. Seating is a two-person bench with a pullout pantry under and appropriately placed footrests. Mimic panels add that bit of class.
This is a two cabin, two bathroom boat and it works well with the available space. There is a three cabin option but you will sacrifice one of the bathrooms. Both cabins are spacious and offer plenty of storage lockers and drawer space, as well as natural light. As the rest of the boat, all high rub areas of the teak timber are finished in gloss, with the vertical panels in satin. The forward cabin or master cabin has a central island double berth with easy access both sides. You have the option of wall coverings, but I particularly like the shiplap, which suits this style of boat.
There is a private en-suite for the owner's cabin, with the VIP cabin sharing the day head duties with the other quests. Both are well equipped with a composite vanity top, Tecma FW toilets, raised bowl hand basins, and large walk-in shower stalls with glass doors.
A special feature of the VIP is it can be easily re-configured as a double or two single berths, making it a very usable cabin for the family. Both cabins are wired for TVs.
One thing is apparent from the earliest Clippers I reviewed is the quality and finish of the interiors and fittings has been raised to a much higher level. I noticed that the laminated corners had been replaced with full laminated timber mouldings and outside the teak railing has stainless steel end plates and quality handles. In previous boats all the timber ends on the cabinetry were squared off, but in the latest model, everything is now radiused. It's all about quality innovation right through. Quality at a price is very much what the new Explorer range is all about.
The main difference on the flybridge from the previous models is where the rear rails went across the rear of the roofline overhang and the tender came inside. On this model, the rails have been brought forward and the tender now sits outside. An ADC 300 does all the lifting chores and there is a return rail across with a gate, so no one falls off the flybridge.
Again there is a big accent on entertaining upstairs, so we have an isotherm fridge/icemaker and bbq unit as standard, while Phil has opted for a second freezer here over the BBQ, an L shape sofa with separate adjustable table and port side settee. Twin Springfield helm seats look after the driving positions and there is a duplication of the necessary instruments, Vessel View 4 and Simrad MFD. Both sofas serve as kids or snorers bunks and the L shape can be converted into another double if required.
The 52FB is available from the factory with a solid grp hardtop mounted on stainless steel supports with drop down clears. If you want a fully enclosed hardtop, then that's something you will have to have built in NZ. Phil reckons the boat doesn't need it as it's upstairs in good weather and downstairs to drive when it's bad. Getting an ex-factory fully enclosed hardtop to look right and fit could also be a challenge. Phil approached a well-regarded NZ retrofit installer to provide standard units to the yard, but this supplier's thinking was every boat is slightly different and windows need to be custom fitted.
This vessel is fitted with twin 425hp Cummins 6.9L diesels. The standard engine package is either twin 315 Yanmar or Cummins, which is okay if you do not want to go any faster than 15 knots at top end cruise. A 11KW Onan genset, and 2.7kw inverter provide ample 240V power, and the addition of a watermaker, dive compressor or even gyro stabilisers are more than covered with this power option. The engine room is huge, immaculate and well laid out. Phil opted for Cummins supplied underwater exhausts for this boat, and the genset is fitted standard with silent exhaust. The boat is very quiet.
Explorer is currently working on a new sedan range, which will offer an entirely new style and look to the boats we have seen before. Since 2005, Phil, through his brokerage arm, GML, has delivered over 15 models, in firstly the Clipper brand and now under the Explorer name. He regards his clients as usually mature owners who are not first-time boaties and are happy with a semi-displacement boat that cruises comfortably at 9-10 knots but with the ability to perform when time is an issue. The Explorer FB Sedan 52 will cruise at 10.8 knots @ 1800 rpm, or if you want some speed then push the throttle to 2300 rpm and you will be cruising comfortably at 15.5 knots.
Personally, I think the twin 425hp engines are a perfect choice. These allow you to maintain a higher cruise speed when loaded, in either semi-displacement or planning mode and also mean you are not running your engines up in the higher rpm/load range all the time.
If you are not in a hurry all the time and appreciate the benefits of running a semi-displacement boat with its versatility, then check out the Explorer FB Sedan 52, it might just tick all the boxes.