Saga is a tribute to the Hogan family and Garth's dedication to retaining as much of his family history as possible.
Saga has been in the Hogan family for three generations, and now after 70 years, it is back in the water and running as sweet as the day it was launched. Barry Thompson went to Wanaka to be amongst the first to experience the relaunching of this timeless classic. Although put in the water several years ago it was not fully completed, until now.
The story of Saga is not just about the boat, but it's also about the family that has owned it for over three decades and the engine that powers it. Currently owned by Garth Hogan, grandson of the designer and builder of the boat, Ted Hogan. The 5.5m Saga was built in 1951 by shipwright EB (Ted) Hogan, who worked for both Vos & Brijs and Baileys Shipyard in Auckland's hub of boatbuilding at the time, Freemans Bay. 
 "He always insisted on telling me he was a shipwright and not a boat builder as he reckoned a shipwright repaired boats as opposed to a boat builder who built them," remarked Garth.
However, he actually also built boats, including a large bridge decker called Rosalie, in which he won a trophy in 1918 at the Auckland Regatta and Saga. As the original boat had no name, – that Garth can recall – he named it Saga in memory of one of his father's flathead powered hydroplanes. Construction was carvel planking using second-hand kauri and copper nails with rovings. It originally had a wooden framed glass screen, but that has since been replaced with a retro metal framed style.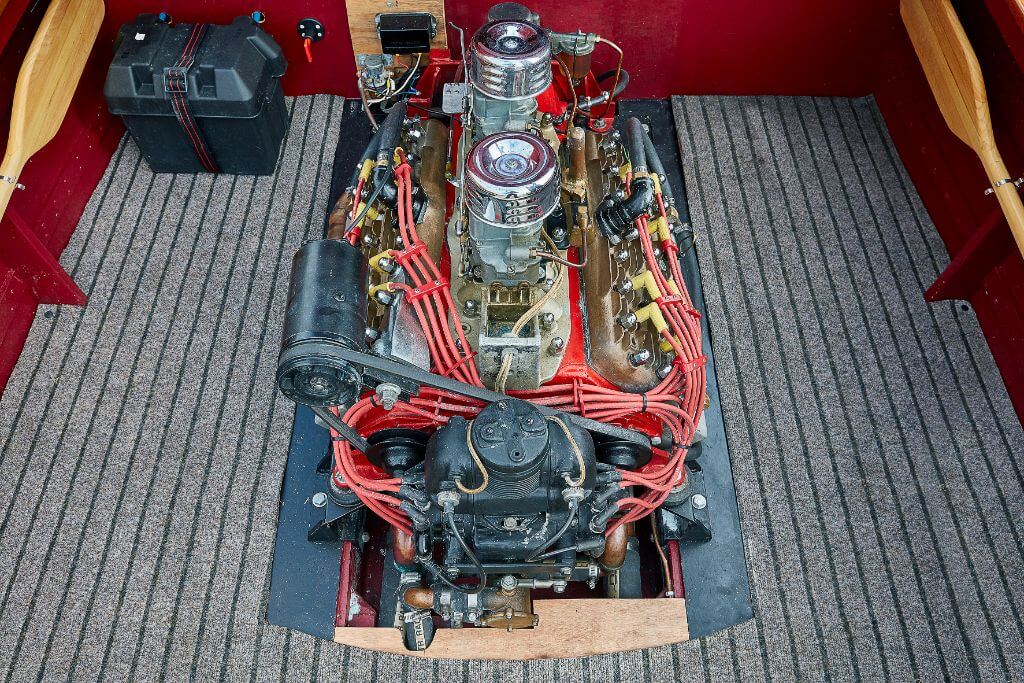 The boat was built mainly as a family runabout, but it also became a regular at speedboat racing when used as the start boat.
When Ted passed away, son Ron took over the boat, and it languished, unloved and uncared for, for many years, at Ron's towing yard in Pt Chev. Ron's love was more for building speedway cars and making them go fast. He didn't have the time to restore the old runabout, so about 20 years ago, son Garth took it home.
Garth was keen to see his grandfather's boat back on the water, but the very dilapidated hull needed serious rebuilding, so Garth sent the boat to Tim Cant, an old school boatbuilder at Pahi, on the shores of the Kaipara Harbour. He took some rot out of the bow section and repaired any broken ribs and stringers and rebuilt the interior and deck structure which was missing.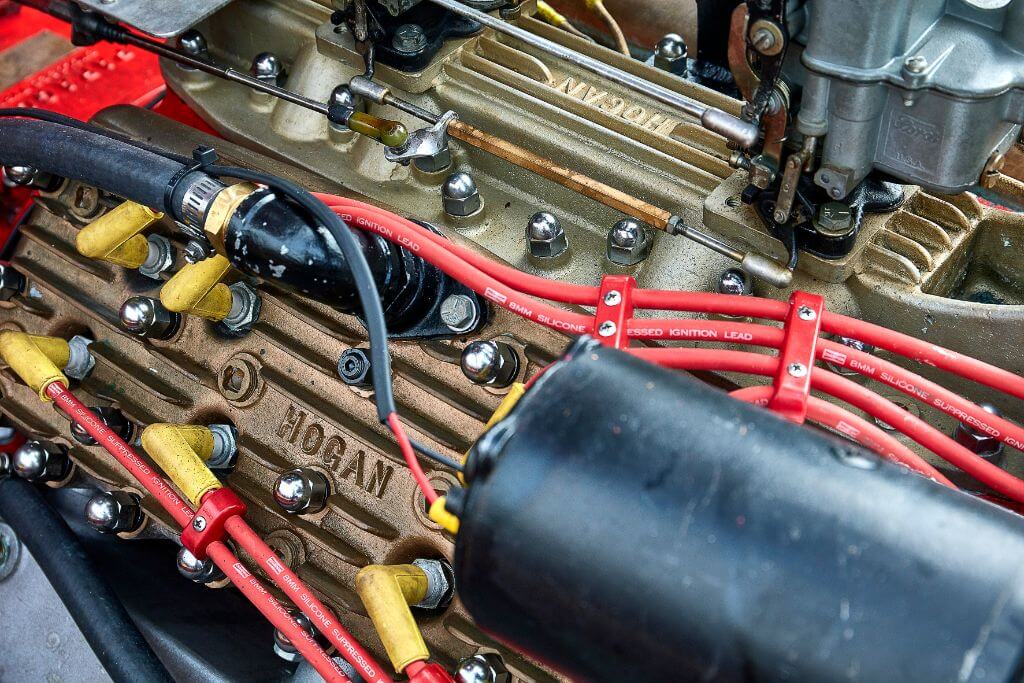 When the boat was built, it had a timber deck with canvas stretched over. The canvas was coated with a thick sediment of a linseed oil/paint mix and held fast with wooden beltings and copper clouts. This had long since rotted away, so a new deck was needed. A teak and honey oak deck was built based on the same dimensions as the previous one. It's not exactly the same, but it's the next best thing and is in keeping with the boat's original profile.
Everything about the twin cockpit layout has been retained apart from the addition of a couple of paddles and a fire-extinguisher. You just never know what's going to happen in a boat that's 70 years old.
Saga has, since day one, only been powered by a flathead Ford V8. When first launched 70 years ago, it had a stock 85hp 1937 Ford flathead through a vee drive with a rudimentary automotive clutch. Ron Hogan, Ted's son, was a brilliant engineer and even made the gearbox's reverse drive. While the standard for a V drive in those days was to use tapered helical cut gears, which required a thrust bearing, Ron used herringbone gears out of a Morris truck for what is essentially a return drive.
Ron was the guru when it came to flathead Ford V8s, and his higher-performance heads were legendary. Ron designed and manufactured these for the early Ford and Lincoln Zephyr/Continental Flathead engines in the 1950s. The Fords were V8's and the Lincolns V12's.
When Garth took ownership of the boat and had all the timber rebuilding done, his next move was to repower Saga. Naturally, it could be nothing else but a Ford V8 flathead.
"I replaced the stock 1937 with a 1946 Mercury, complete with a stroker crank, big bore pistons and my father's dual ignition heads, dual ignition magneto/distributor, plus twin carb intake manifold", says Garth. In standard form, Garth says the engines were about 100hp, with the new engine in Saga closer to 150hp. The engine was also increased from 239cuin to 276cuin.
Garth describes the engine as 'a piece of work' and would be any Ford flathead aficionado's envy. The heads on Saga's flathead V8 are the only dual ignition flatheads ever made from bronze.
"Dad used to make the heads from aluminium, which he melted down from dismantled parts off V12 Allison aircraft engines, which he brought for 5 pounds, but when they were used in a marine situation and raw water-cooled, they suffered from bad corrosion in the water jackets and only lasted 12 months", says Garth.
The solution was to cast them from bronze, which he did for a customer sometime in the mid-50s, but he never made them anymore. Garth knew of these one-off heads and, by sheer luck, managed to track them down to a guy in New Plymouth who was willing to let Garth have them at a price.
"Such was the rarity of heads and the fact that I wanted them so bad, I swapped them for a second-hand small block Chev", adds Garth.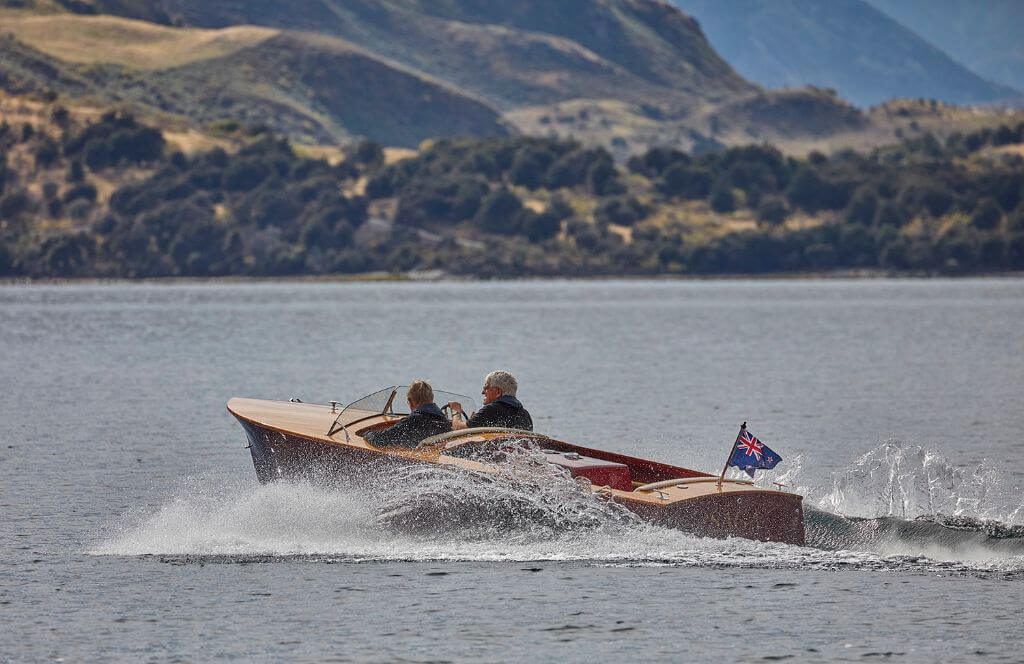 The dual magneto is also unique and was built using an Allison V12 magneto and ignition, which Ron made for a speedway car. Garth tracked down the car and brought it so that he could get the ignition. He also sourced a genuine Hogan intake manifold and even a pair of Ron's handmade exhaust manifolds. When preparing the engine for the boat, instead of the automotive clutch, which provided forward drive only, a Paragon reverse gear was added making launching and retrieving a little easier.
"The boat is in memory of my grandfather, and the engine is in memory of my father. He probably knew more about flathead Ford V8s and how to get the best out of them than anyone. When we went to Bonneville in 2006 and broke the flathead powered roadster speed record (stood at 154mph), it was a lot of Ron's technology, especially the dual ignition, that we used to get us to 189mph, a record that still stands", says Garth.
Saga is a tribute to the Hogan family and Garth's dedication to retaining as much of his family history as possible. If you want to have a close look over Saga, then it now resides in the Warbirds and Wheels Museum, in Wanaka, although who knows, on a good day, you may see it gracing the waters of Lake Wanaka with a very proud Garth behind the wheel.