FUNCTIONAL FUN
Fat Cat Boats were born out of a desire to prevent people from having to go out on the water in small, unstable boats, having something unexpected happen and seeing the sometimes tragic outcomes that resulted. Ron Czerniak checks out the latest 4500.
Fat Cat is an innovative Kiwi company that has introduced a new concept into a very crowded small boat market. Designer Blair McLay was looking for a better boat. Something safer, more seaworthy, could take a load and wouldn't risk capsising if someone moved around. Something that was self-draining to empty itself of water without the need for a bailer or forward motion. ​An unsinkable boat. It also had to be affordable.
Fat Cat is an innovative Kiwi company that has introduced a new concept into a very crowded small boat market. A large part of the solution was to move from a monohull to a catamaran platform, as the supporting buoyancy moves to the extremities rather than the middle. It also allowed to massively increase the volume and space available by spreading the hulls. This solves some objectives but creates other challenges that must be unravelled, and the answers aren't always obvious.
Blair built the prototype in his garage in 2015. He was working for the renowned Yacht Engineering firm Pure Design at the time. Roger Tweddell bought the prototype and liked the product so much he joined up with Blair, co-founding Lightning Marine (later rebranded to FatCat). A second prototype was then built and taken to the Auckland on Water Boat Show to gauge response. The feedback was excellent. As a result, moulds and tooling were made for rotationally moulded production boats.
When it comes to boat construction, all sorts of materials can be used in the assembly. Using a unique manufacturing approach to create a durable and lightweight product, Rotomolded (or rotationally moulded) polyethylene boats are a top-notch example.
Compared to traditional methods, rotomolded vessels are cheap and quick to produce, have a long lifespan, and can take a serious beating. They also happen to be 100% recyclable. A real plus!
DOUBLE SHOT
On test day, I was fortunate enough to be able to try two 4500's, the latest being the 4500 Centre Console, a bright yellow model fitted with a 40hp Parsun 2 Stroke outboard and an earlier grey coloured model, a 4500 tiller steer equipped with a Parsun 60hp 4 Stroke.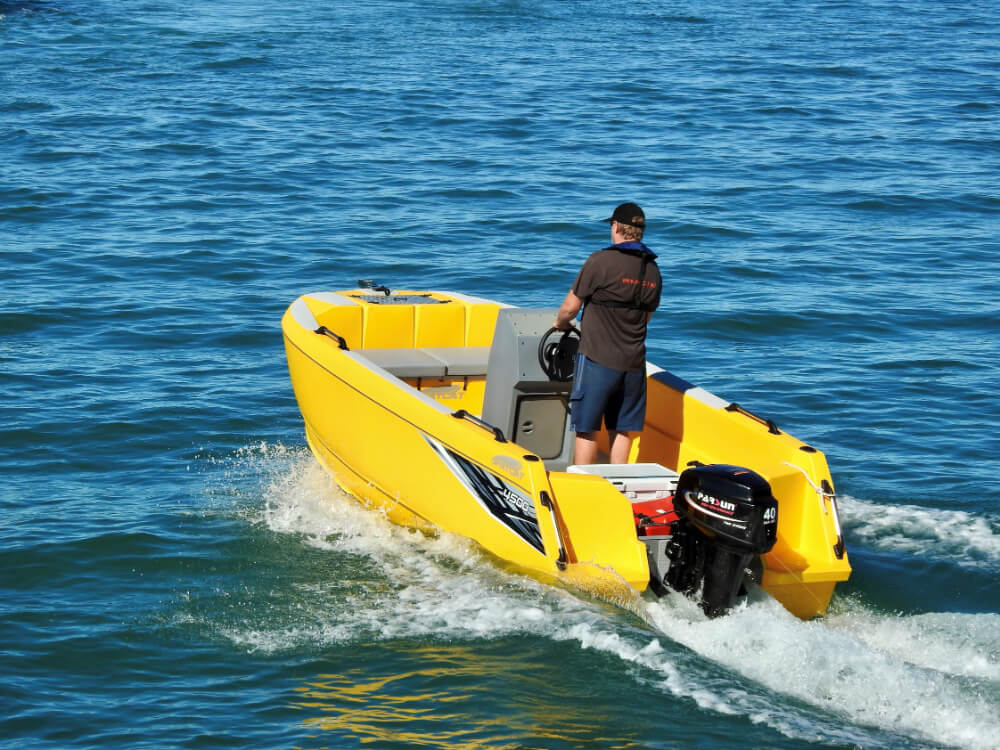 Small boats are easier to launch and retrieve, need minimal horsepower, and are cheap to buy, run, and easy to store. Of course, they have limitations too. Their small size restricts the number of occupants they can accommodate, and their use is often limited to sheltered waters in good weather.
Although this is generally true, the FatCat 4500s are an exception to the rule in several ways. While the 4500s are easy to launch and retrieve (the simple 'flatbed' trailers supplied, making retrieval especially straightforward), they can also safely occupy many people, even in the rough stuff.
With a gross weight of under 750 kg (plus extras), including engine, trailer and full fuel tank, the FatCat 4500 is comparatively light to tow and easy to manage at the ramp. The boat only weighs under 500 kg all up. Sacrificial wear plates protect the hull from damage when launching and retrieving. These can be replaced when all that dragging up the beach and over rocks starts to impact the running surface.
VOLUMINOUS CRAFT
 The FatCat 4500's are single-engine catamarans, with a beam about half as wide as long (2.05m beam, 4.6m length)! These are boats suitable for families, fishers, divers, hunters or work boats. The base boat is as rudimentary as possible but sold 'ready to go', including anchor and warp (stowed in a more than adequate anchor locker with lid and drain). There is enough room forward of the locker to mount a small capstan or drum winch, which means you have to find a place for a battery. No problem in this voluminous craft! 
There are storage lockers on either side forward, and if you need more, then a couple of chilly bins will do the job. Rod holders, a 26-litre tote tank with tie-downs, and several other standard fittings such as grab handles, seats, and optional 40 to 60 Hp outboard engines are supplied. The Fat Cat 4500 comes on a custom galvanised steel trailer. Oh, did I mention that they are available in seven colours?
The new 4500s get along well, specially fitted with the Parsun 60hp 4 Stroke, which topped out at about 26 knots. While the 40hp 2 Stroke pushed the 4500 along at a respectable speed, for the wee bit of extra money, I'd opt for the 60hp unit. The tiller model unit jumps only $1,000 to an all-in price below $29,000. The console steer equivalent tops out at under $31,000.
DRY & STABLE
The FatCat has a central 'sponson' (stability pod) under the wing deck that gets lower, wider and flatter towards the transom. This helps smooth the water flow over the propeller to avoid cavitation, which can be an issue for catamarans with only one engine. The pod is also part of the single hull mould and adds extra rigidity overall.  
A cavitation plate was also fitted to the Parsun, which Lightning Marine recommends, so no cavitation was experienced or handling issues. Whether equipped with tiller steering or console steering (centre, side or twin, all with seats), the boats are easy to steer and go where they're pointed, even in tight turns with the ride remaining almost flat. The console on production models will come with a windscreen as standard. The layout of the FatCat 4500 is straightforward, with no standardised seating or console. There are plenty of seating options available, although the boat is easily driven sitting on either side deck even without a dedicated seat.
A spray deflector has been added to the forward chines, but the 4500 is an open boat, so some spray must be expected when the wind is on or just forward of the beam. I was surprised that the boats were quite dry, even when we bounced over some intentionally generated waves as we manoeuvred the two test boats through their paces. 
The FatCat 4500's gave us a comfortable ride throughout. The polymer material flexes slightly, softening any hard bangs and deadening the sound, making these much quieter boats than their fibreglass and, especially alloy, cousins. The catamaran hull handles well, and, by moving our bodies aft, Blair and I subtly trimmed the boat for a drier ride running before the waves.
 The FatCat's stability is exceptional. While the boat's interior sides are of adequate height (0.625 m), it's such a stable platform there's little danger of toppling out. The boat is safe in other ways too. The hull is filled with about 400 litres of foam, and the plastic itself is buoyant, so sinking is impossible.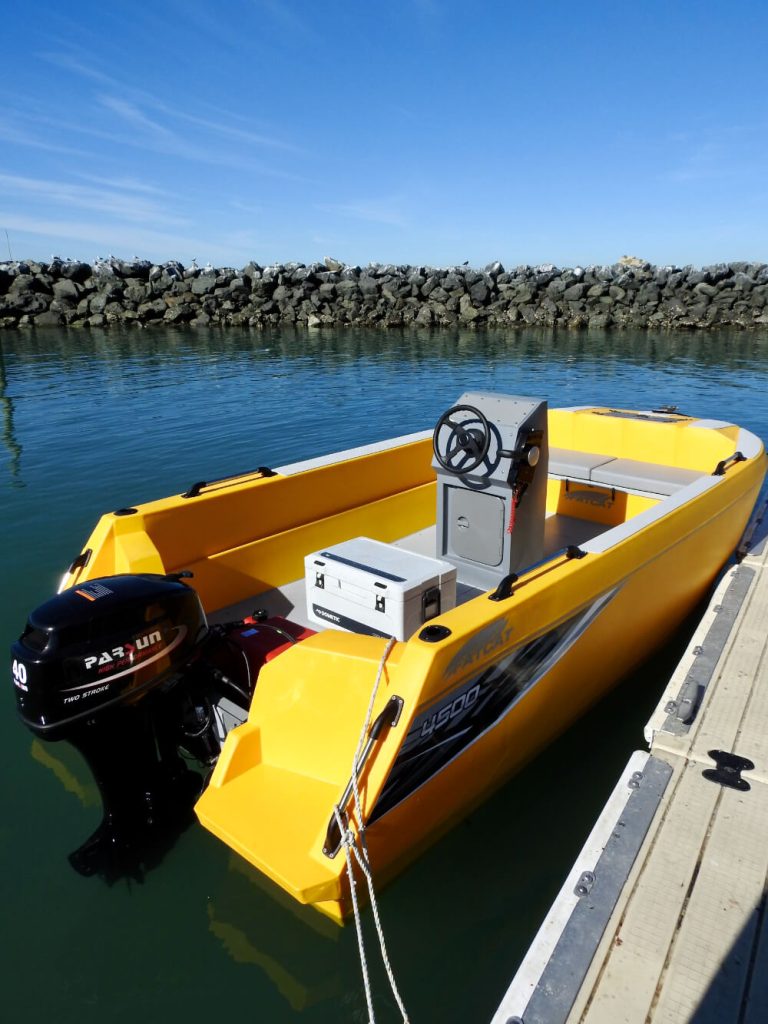 SUMMARY
With its simple, uncluttered interior design, cleaning up at the end of the day couldn't be easier, and the rugged polymer hull promises to be maintenance-free and comes with a three-year warranty.
The boats we tested were pretty much Lightning Marine's entry-level spec. Still, the company offers quite a range of accessories, including twin, single and centre consoles, bimini tops, seats, grab rails, dive ladders, rocket launchers, and many other options to pimp up a bare boat. Basic or flamboyant, with the FatCat 4500, you get the convenience of a small boat in an affordable package that offers more space than most and with built-in safety and incredibly stability.
In the second paragraph, at the beginning of this article, we asked, "Does the FatCat achieve its aims" epitomised by the following words: safer, seaworthy, load, capsizing, self-draining, unsinkable and affordable? Absolutely! And I would also add functional fun. 
Make & Model:  FatCat 4500 Fisherman and Centre Console        
Manufacturer:  FatCat by Lightning Marine         
Price as tested:  $28,695
Type:  Power Catamaran   
Construction: Rotomolded Polymer                       
LOA: 4.6m                            
Beam:  2.05m
Draft: 200 mm (motor up)
Deadrise: 15deg                
Test Power:  40hp & 60 Hp             
Top Speed: 22 & 26 knots  
Power Options: Outboard
HP Range:  40-60hp                         
Fuel capacity: 26L