It took a series of prototypes and many months of testing before Roger Tweddell and Blair McLay were happy enough with their Fat Cat 4000 to put into full production.
However, while the test boats were essentially all timber and core materials, the production version is 'plastic'. Or to be more technical, built using polyethelene.
This is the first high density polymer (HDPE) Fat Cat made in a rotational mould, with primary properties being corrosion free, UV resistant, flexible but very strong and soft to impact.
While plastic boats are nothing new, what is unique to the Fat Cat is the use of a higher grade of resin than is traditionally used in plastic boats in New Zealand. Roger says it makes for a stiffer and stronger boat all round. It takes about four hours to 'cook' the boat and then needs to cool over the 24 hours before the fitout stage.
Constructed from a single skin high density polyethelene the 210 kg hull is a single piece with side decks hot welded after. Interestingly that's about the equivalent weight of a similar sized grp or alloy powercat. There are also additional plywood floor panels glued in to make the boat even stiffer. You have the option of a plastic floor, U-Deck or even alloy cheque plate. There is around 400 litres of buoyancy built in to the hull, so should you hole  it, it will float.
The fully asymmetric hulls have an additional sacrificial wear plate aft, which is welded to the aft section of each hull. These can be replaced when all that dragging up the beach and over rocks starts to impact on the running surface.
Roger added that one of the benefits of the 'plastic' construction is that the boats are totally recyclable and what is a boat today may one day be melted down and turned into a rubbish bin. Interesting thought.
Single outboards on catamarans can have cavitation issues, caused by severe turbulence to the propeller. This has been eliminated on the Fat Cat 4000, which has a long central pod that helps providing a solid flow of clean water to the prop. The pod is also part of the single hull mould and again adds extra rigidity overall.
The layout of the Fat Cat 4000 is very simple, with no standardised seating or console. There are plenty of seating options available, although even without a dedicated seat the boat is easily driven sitting on either side deck.
Forward, the anchor locker is large enough to mount a small capstan or drum winch, but that would also mean you have to find a place for a battery. There are storage lockers either side forward and if you need more, then a couple of chilly bins will do the job.
The Fat Cat 4000 comes with four lifting rails and the side decks are wide enough to mount 3 to 4 rod holders either side.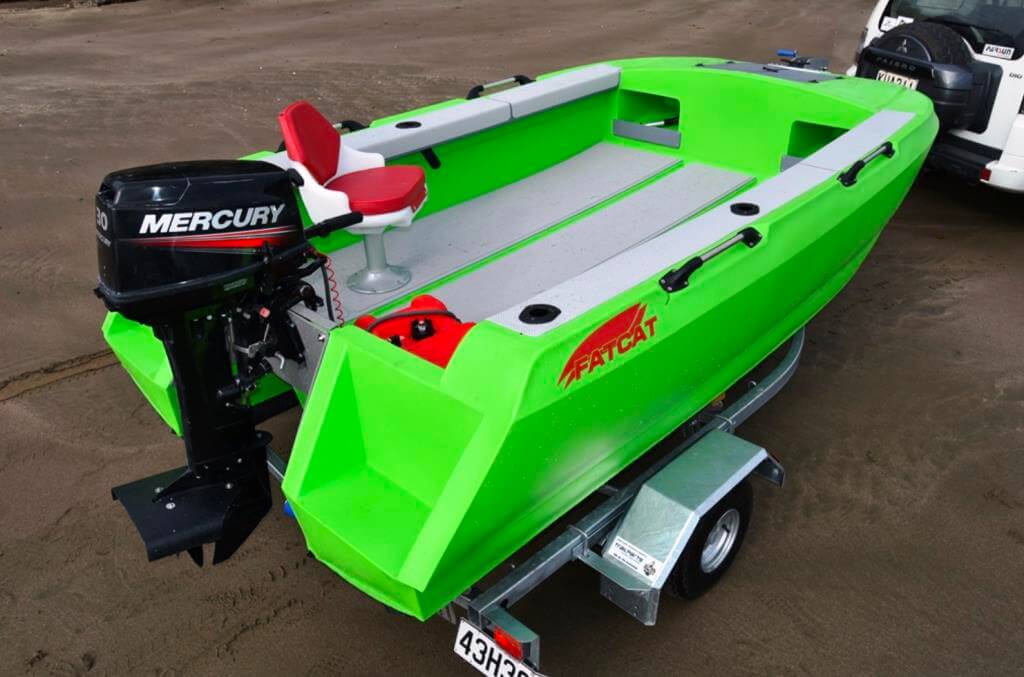 The additional stiffening at the transom allows for 20hp-40hp outboards. A 30hp 2 stroke Mercury gives the boat a top speed of around 25 knots with one up and 20-21 knots with 3-4 people.
If there is one key attribute that a power cat has over a conventional monohull it is stability and the Fat Cat is amazingly stable both underway and at rest. External beam is 1.9m and internal 1.7m, which for 3.80m overall length is a lot.
Roger says that the stability and sea handling of the boat is a major selling point. To date the company has sold Fat Cat's for tenders, diving, fishing and as a small trouble free fun boat for the kids.
At $13995 for a boat/motor/trailer package it is also exceptionally well priced. If you just want the boat on its own then $7250 will buy it.
Name: Fatcat 4000
Builder: Lightning Marine
Desigher:   Blair McLay
LOA: 3.8m
Beam: 1.95m
Hull Weight: 240kg (plus extras)
Trailerable Weight: 450kg (plus extras)
Construction: Rotomolded Polymer
Recommended Power: 15hp – 40hp
Max Outboard Weight: 100kg
Fuel Tank Capacity (Std): 24L