If you are looking for a really neat, straight forward, no nonsense boat to go fishing in, but also at a really, really good price, then I suggest you check out the new FC 430 by Fish City.
This exciting little package, sold exclusively through Fish City in Auckland and Hamilton, can be on the water complete with boat/motor/trailer for a few dollars shy of $NZ15,000!
Such was the response to the boat when released in late 2011, that Fish City had sold eight prior to Xmas and the orders are still coming.
Sales manager, Craig Archer said, "We wanted to introduce a really basic, no frills boat onto the market, but without compromising the build quality". "It also had to be at a price point that made the buying decision easy and ultimately the customer very happy", he added. The FC 430 package starts with a 4.3m (14'1") alloy hull that is fully welded with chequer plate floor and sealed underfloor buoyancy. The hull bottom, transom and deck are a very generous and robust 4mm plate, with 3mm sides. That's as good as some alloy boats over 6m and says a lot of the construction attributes. There is solid closed cell foam buoyancy under the wide side decks and coupled with the airtight buoyancy chambers under the sole, the FC 430 is virtually unsinkable.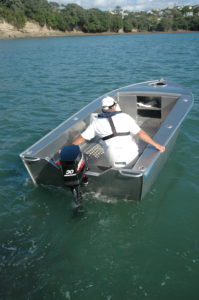 It is a super stable little boat with a generous 1.65m beam and a shallow deadrise of 12 degrees at the transom. The running surface features extra wide turned down chines for stability both at rest and underway and a gull wing shape design to assist in the softest ride possible.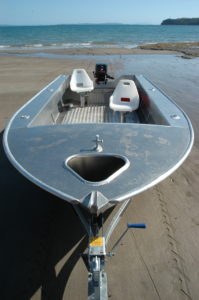 The 30cm wide flat side decks protrude outwards from the hull giving up to 13cm overhang at the widest point. This just about eliminates all but wind spray coming aboard, making this probably the driest 'dinghy' I have ever driven. You still need to remember that this is an inshore calm water boat and not designed for adverse sea conditions. However, you might be pleasantly surprised as to just what sort of sea state it can handle. In a short, breaking chop and the throttle wide open, the FC 430 offers a great ride and feels solid, without any of those 'tinnie' noises that you often find in big dinghies of this size. With one hand on the tiller and one on the natural coaming handrail, you get plenty of support when pushing the boat hard.
Fish City packages the boat with a 30hp 2-stroke Mercury outboard with tiller steer, but will fit any motor a customer requires. With 30hp the FC 430 is good for around 34mph and the builders rate the boat to 40hp, but quite honestly I can't see the need for it. It's a lot to hang onto if you are still going to stay with a tiller steer.
Weighing in at less than 350kgs, the FC 430 is nimble and easily driven. It leaps onto the plane and while still being a very shallow deadrise boat, it does handle a small chop reasonably well. We spent a morning fishing off Whangaparaoa and what struck me was the ease of everything from launching and retrieving to driving and mooching around for snapper. Unlike a big tinnie, you are more hands on and close to the fishing action.
It did everything I expected from a relatively small, open dinghy, and then some. When we got back home it was just a simple matter of pulling out the bung and giving everything a serious dousing with the hose. Quick and easy!
The layout is very much like a large open dinghy, with a tiller steer outboard arrangement, two swivelling bucket seats, one forward, one aft, a passive live bait tank, self draining open deck anchor locker, two forward storage compartments and six welded-in rod holders. With a total working space of nearly 4.5sqm there is room for four fishos without any problem. Not bad for a boat of this size.
There is space to fit a couple of tote tanks, one either side of the bait tank, but considering the exceptionally low fuel consumption of the 2-stroke 30hp, you'd probably only ever need one tank anyway.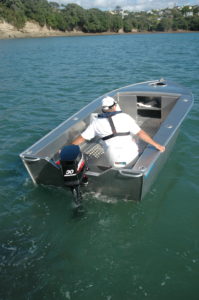 The FC 430's side decks are great for divers, with no protrusions or rails to get in the way. Six-rod holders are strategically welded into the coamings and the outside tubular extrusion is perfectly placed for a handhold for anyone sitting in the seats. Interestingly, the seats have been purposely spaced to provide the best balance for the boat when underway, as there's no trim apart from where you pre-set the engine.
The coaming heights are great for stand up fishing, which for me was knee height, and with no lower side shelves you can get right into the side of the boat and brace yourself against the coaming.
To keep your gear dry, the FC 430 has a split level storage locker under the 1.1m long foredeck, where you'll also find the open anchor locker and alloy fairlead and bollard. If you really needed it, I am sure you could fit a small electric capstan to assist with anchoring chores. There are still plenty of extras you can add if you want to 'bling' the boat a bit, such as a centre console and mechanical steering, internal rod and gaff racks, electronics, nav lights and an engine upgrade. If you decide to move up to an electric start engine the battery can be stowed either just ahead of the rear bait tank or even up in the forward locker. However, that said, it all adds to the cost and the $15,000 package may soon be a distant memory.
One thing I would add straightaway is a port side transom boarding platform and drop-down ladder. Without that addition, it's not the easiest boat to get back aboard without some help.
The single-axle Voyager trailer comes complete with LED lights, plus 12 months WOF and rego so even that's taken care of. Interestingly it doesn't have springs, but it doesn't seem to matter at all when towing. As for towing you would get away with a Mini if necessary or if you were at the holiday home, then a good size quad bike or small tractor would be all you need.
Launching or retrieving is no problem for just one person and the trailer has been especially designed for very shallow water use. Having no rear cross member, and tilt rollers aft make getting the boat on and off the trailer really easy.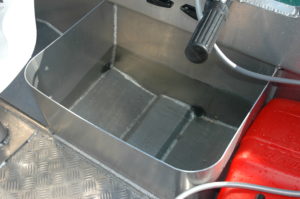 If the FC 430 isn't quite big enough for you then Fish City also has a bigger, but very similar model in the FC 500. This, which is currently under development will add another $5000 to the purchase price and it also comes standard with a Mercury 40hp. Overall either model is exceptional buying and you'd be hard pressed to find a better built, better designed and certainly better priced boat of a similar style on the market.