Freddy Foote checks out the FC610, another new boat from FC boats, this time one of their first hardtop models and takes it for a run on a glassy smooth Auckland harbour.
Released at the 2014 Hutchwilco New Zealand Boat Show, the FC610 joins what is a steadily growing line-up from FC Boats and is the company's first hard top model. A hardtop model which I think is one of the best looking boat's I've seen come to market in quite some time. Fish City Managing Director Ross Christensen says a hard top model is a natural progression for the brand. "We're still quite a young boat brand in New Zealand, and we've only been building them for 2.5 years currently.  There are three markets in New Zealand, the runabouts up to 5m in length, the smaller cuddy cabins, and the larger hard tops."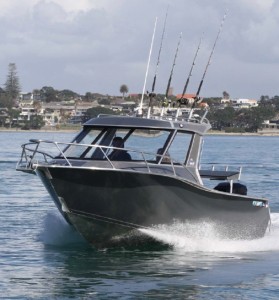 "We've concentrated on the runabouts and cuddy cabins and have done very well with those, and now driven by customer demand we have introduced the first of our hard top models."
Boat manufacturers are always in search of not only seagoing performance but the also all important stability. What I do like about the FC brand is that they build two stability systems into the vessels, of which they are some of the key selling points for the brand.
Aft there is a flooding keel, which floods when the boat is at rest, making the craft ultra stable, then when underway the water drains out quickly.
In the forward section next to the helm, there is a controllable ballast system, enabling the skipper to bring onboard the desired amount of forward ballast, and then to dump it when not needed. A simple release valve is located near the helm to control the amount of water. Extra safety comes in the form of a sealed floor and foam filled gunnels.
The FC610 can be seen as a bit of an all rounder. The type of boat where you can easily take a few blokes out and you can be at your favourite fishing spot fishing comfortably. Or throw in some dive gear and a couple of bottles, and you can dive By adding some extra seating aft, you've got a good family boat with plenty of storage forward in the cabin. What's more it weighs in at 1675kg on the trailer, meaning you don't really need a large four wheel drive to tow it around.
The FC610 boasts extended gunnels and a raised sheer line provide ergonomic access around the sides to the foredeck area also which provides further area for fishing if you so wish. FC Boats have intentionally lowered the roof height of the forward cabin to provide this area forward. A gull wing design is also incorporated into the 610 lending itself to making this boat very dry.
Our test day conditions were glassy smooth with hardly a whisper of wind, which in some ways I was hoping it might be a little rougher to really test out the hull. However, it wasn't meant to be and we were greeted with flatter than flat conditions. I have however managed to test other FC models in rougher waters and they do perform very well.
The hulls slicing through any chop with ease and the well engineered forward ballast system certainly adds another dimension for rough water performance and stability. If ballast systems are good enough for offshore racers, the same technology should be good enough for a recreational trailerboat.
Underway, there was excellent visibility forward through the curved windshield. There was plenty of headroom above to accommodate my stature (6'1"). The seated driving position was also good, allowing you sit and use the end of the bunk as a footrest. The FC610 is rated for outboards from 115hp through to 150hp. Our test boat came with an optional 150Hp Mercury Optimax direct injection two stroke.
A quick squirt of the throttle saw it hit a top speed of 40mph @ 5500rpm, covering 0.6m per litre of fuel at that speed. All fed from the sizeable 180L fuel tank. I thought the 150hp engine option was pretty good, and provided good punch out of the hole and mid range torque. If you're shopping to a budget, then an 115hp will perform adequately, though will work hard once the boat is loaded up with passengers and gear. So if you can stretch your budget, go for the 150.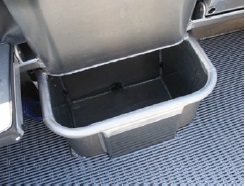 The open layout firstly sees an adequately sized boarding platform is on either side of the outboard pod with the port corner featuring an aluminium-boarding ladder. Should you be a diver, a grab rail has also been welded onto the rear of the transom to aid in re-entering the boat. Other features include a passive live bait tank low down in the centre of the transom. Passive means that it fills itself when at rest, and water can be kept locked in until you choose to discharge.
The cockpit is fairly sizeable, with long side shelves running part way along the sides, though rod storage options can be found at the bait station, rod holders in the coamings or via the rocket launcher above. Treadplate makes up the construction of the cockpit floor, and this boat has been fitted with an optional tube matting which certainly makes it a lot softer underfoot and most definitely cooler on a hot summers day.
Seating consists of a single pedestal seat at the helm, with a large removable ice chest with squab opposite, big enough to accommodate two people. A great feature of this is that if your game fishing and you want to free up space in the cockpit, simply unhinge it from the floor and stow it in the cabin.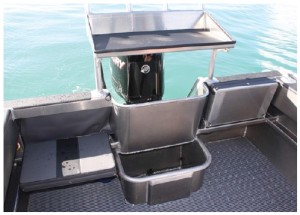 Additional seating comes in the form of fold up seats in each of the aft corners. Should you want a different seating configuration, a king/queen style arrangement can also be fitted – a better option if you're looking at a more child friendly layout. Additional seating is available in the aft corners with a lift up seating.
The helm and dash area is fully carpeted and gives the area a soft and warm feel. A Raymarine 7" multifunction display is flush mounted into the dash alongside the engine instruments, whilst further below are an array of switches for various onboard systems as well as controls for the Lenco trim tabs and Maxwell winch and a VHF radio is located down to the left.
There is also plenty of room above should you wish to fit a larger navigation display and either flush mount it or mount it on a bracket above. The dash also features twin 12v sockets, handy for keeping phones charged. Small storage shelves are on either side of the helm, a great place for keys and cell phones. A handrail runs right along the edge of the forward dash area and is great for passengers to grab onto.
Forward in the cabin there is more space to store gear out of the way underneath the bunks, which also provide somewhere for the kids to kip down for a few minutes when they've had enough of the days fishing activities. Though there are no side shelves in the cabin, there is a sizeable shelf against the forward bulkhead of the cabin to store items. Above, a large deck hatch provides access to the foredeck, and excellent access to the anchor locker, though anchoring is primarily performed from the helm.
A large t-bar dive/boarding ladder is located in the port aft corner, with an adequately sized boarding platform to help divers back onboard.
Back at the ramp, the FC610 is easily handled back onto its single axle trailer, and given the size and weight of the boat; beach launching is a possibility as well. Overall the FC610 is a great boat, excellent finish, great features, and very safe. So what does it cost? You can get an FC610 with a Mercury 115hp four-stroke or Optimax direct injection two-stroke from NZ$64,995. The finish throughout is great, the deck tread grip on top of the coamings is a nice touch, and it comes a shade under NZ$1000 to have fitted. 
This boat also came fitted with an optional gun metal grey vinyl wrap on the hull sides, which is looks fantastic, and up close it was pretty hard to tell that it was a wrap at all. This one was priced as tested at NZ$79,995 and included the Raymarine sounder/ charplotter and the optional Mercury Optimax 150hp outboard as well as a few other extra's listed down below.
The FC610 is largely a production model, but the company has a host of extra features and options available and are only too happy to customise to suit owner requirements. The 5.8m-6.2m alloy hardtop market is heavily populated with almost every leading manufacturer offering at least one model in this size range. It won't be long before the FC610 is at the top of many people's lists.