The Fireball is back! Bigger and better than before and destined to carry that most renowned of all Fi Glass brands into another whole new era, says Barry Thompson.
While the small open runabout market has for many years now been somewhat of a breeding ground for alloy boats, there have been few fibreglass contenders to pick from. Well, that's now all changed, with the release of the Fi Glass Fireball, a name that is unquestionably iconic in the Kiwi trailer boat industry. If you're an 'older' boatie like me, you will have known someone who owned a Fireball! It was arguably the most-successful boat that Fi Glass ever produced. Griff Simpson, Managing Director of Fi Glass Products, could see the need for a full bodied, well priced fibreglass runabout and decided to design a boat to fill the gap.
"What we wanted to achieve with the Fireball was to offer a budget boat, built to the highest quality, that also came in various guises, such as console and tiller steer, and with the ability to offer plenty of options," says Griff.
He adds that while he certainly sees the aluminium boat market as competition, the Fireball in its package form pushes the envelope further and provides a lot more than you get in your traditional tinnie.
The Fireball was first produced in 1968 with over 3000 were built, with the last out of the mould in the early 1980s. While the name remains the same, the hull dimensions, layout and look are very different. The original Fireball was 4.2m x 1.5m with a 14 deg deadrise. The 2014 model is 4.75m x 2.00m with an 18 deg deadrise.
I had to opportunities to test run the new Fireball, first in Auckland and a few weeks later on Lyttelton Harbour, Christchurch. Sea conditions were very similar and ideally suited a boat the size of the Fireball. In the slight to moderate sea, the Fireball showed its true heritage and was a pleasure to drive. Considering Fi Glass have been designing and building small trailer boats for over 50 years, and with having built over 15,000 boats since 1958, you get the idea that they know what they're doing!
A 10-12 knot Southerly was enough to whip the top off the occasional wave, but it made no difference to the ride and handling of this small boat. In a quartering sea, we did get a lick or two of spray over the screen, but no more than I would have expected from a boat of this size and low profile. As there is no speedo or tacho included in the base package, the best I could do was check out the handheld GPS for a speed reading. At what was about ½ throttle, the Fireball ran very comfortably at around 24 mph.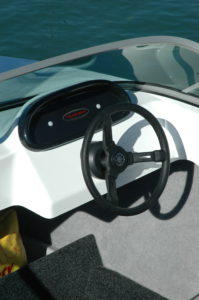 The screen is very effective and when seated to drive it certainly does the job of reflecting the wind off your face, and for me was at the right height to see over. This is a boat you sit to drive, but also when at slow speed or close manoeuvering it's just as easy to stand or kneel on the seat. All positions still leave you with controls and steering close at hand. The dash is designed for a minimal amount of gauges and anything, but a small fishfinder would need to be bracket mounted. Being well aware that I was only in a 4.75m boat, I didn't go looking for any rough water as it's not designed for big seas. This is a sheltered water boat that delivers precise handling and a lively performance from just 50hp on the transom.
It's a very easy boat to plane, with virtually no bow high attitude and doesn't require a lot of trim to get it sitting right on the water. Top speed with a Mercury 50 2 stroke was 32.5 mph. It's probably all you need, even if you are into towing water toys and skiers, but if you want to go a bit quicker, then Fi Glass rate the boat to 75hp and conversely if you are not looking at enough power for waterskiing, then the Fireball is adequate with just 40hp.
Cruising back to Half Moon Bay, after our first photo shoot and initial trials, the wind had certainly come up a few knots and the sea state was just a little harsher than when we went out. However, it made very little difference and I covered the few kilometres from Motuihe to the Tamaki River at comfortable 26 mph. Overall in the light conditions, the Fireball is a great handling boat that doesn't do anything wrong. Certainly an easy boat to drive for the first-time boatie.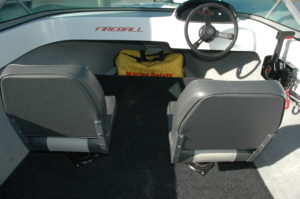 Back in the early 1970s, the Fireball was available in three versions, economy, standard and jet. Today's Fireball is available in four models; standard runabout, centre console, side console and tiller steer. The console and tiller steer version are being marketed under the Ski Angler name, another long established model from Fi Glass. Essentially the only difference is the foredeck has been removed up to the existing anchor locker, but the same hull has been retained. Seating for the centre console version includes a moulded forward facing bench seat off the front of the console and a chilly/isky bin type box seat with flat cushion for the driver and passenger.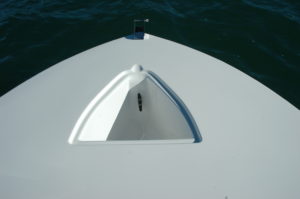 With the growing Australian market in mind, Griff says that the side console model will also included a raised casting deck forward and dedicated electric trolling motor mount to cater for the river and lake, barra and bass fishing market. The basic package for the Fireball runabout is a very attractive NZ$19995, which comes with everything you need, including motor and trailer. The standard package includes; 6-year structural hull warranty, lined cockpit sides, 500GPH bilge pump, marine carpet, Mercury 50hp 2-stroke, mechanical steering plus a Fi-Glass single axle trailer with warrant and registration.
Now if that's still not enough and you need a few more bits, such as different seating options, fishfinder, boarding ladder, auxiliary bracket, Keel Guard, VHF, carpeted sole and rod holders then just about everything is available. It's a boat that comes with very much just the basics to get you on the water, hence the price tag. But there is the ability to add as much as you want.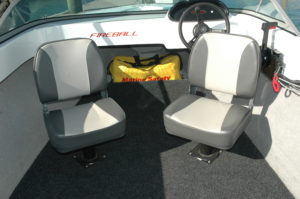 Another interesting option is the Fireball is available with a split screen, which would be a great plus when having to lean forward and do the anchoring. The foredeck has a simple open anchor locker with a stainless fairlead and plastic cleat positioned in the locker. There is the opportunity of enclosing it all in with a moulded hatch cover and it's also deep enough to use a small capstan.
The cockpit layout is simple and effective with swivelling forward seats and a moulded rear jump seat either side of the engine well. These can be fitted with cushions and backrests as one of the many options available. This goes for the forward seats also which can be changed to back to backs if you feel you want more areas to seat your passengers, or more bucket shaped singles for better back support.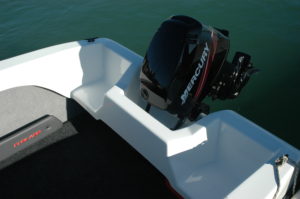 I liked the wide flat side decks that are great for sitting on when fishing. The Fireball's generous 2m beam makes it surprisingly stable at rest for a boat of this size. While no rod holders are included in the standard package, the side decks are the place to add them. Storage is limited to side trays and under the foredeck. The side panels have been kept short intentionally so that when you add the back-to-back seat option there is a maximum separation between the two seats. Twin tote tanks and battery fit under the aft deck, with a deep sump and auto bilge pump between.
Construction is solid GRP for the hull and deck mould, with a composite plastic cored transom. A non-rot material, it replaces the previous Divinycell/Klegecell foam cored transoms that Fi Glass has been using for the past 15 years. Underfloor is a fibreglass stringer grid with a timber floor sandwich either side with fibreglass. Foam filling under the floor is standard in all export models, but an option in New Zealand supplied boats.
Such has been the immediate success of the Fireball that Griff says he already has boats not only throughout New Zealand, but also in New Caledonia, Sydney and Perth. With CE certification pending, the market potential for the Fireball will increase considerably. With the ability to pack six boats in a container, they are very efficient to ship overseas. Production is currently two boats a week, but Griff says they can easily gear up for more should sales demand it.
Over 40 years ago if you wanted an economical way to get into boating then you brought a Fireball. Well, nothings changed and with the 2014 version the same criteria still applies, with a value added package that is unbeatable in the market. At no deposit and NZ$110 a week, it's a no-brainer!