While the Fi-Glass Firestar model has been around since the late 1960s, the current model is obviously a far different boat than the one first released by Fi-Glass over 50 years ago. However, it does share one very poignant link with its predecessor, being the last hull to be designed by the late Fi-Glass founder, Frank Simpson.
It was the first of his new theory about designing a hull with a variable longitudinal dead rise, with a fine entry and low planning speed. It indeed slips onto the plane very quickly, and it's a boat that will not throw up any surprises for a novice boat owner.
Set the trim to position five, and you can just about leave it there all the time without having to worry about sorting out the engine trim. The Fire star is essentially a cabin version of the Senator runabout which while they share the same hull have a completely different internal layout. Griff Simpson, MD of Fi-Glass Boats, says that following the success of the Senator, they added a cabin to the hull to open up a broader customer base. In fact, since the first of the new generation Firestar's was released in 1999, over 450 have been sold.
I have had the privilege of reviewing just about every model Fi-Glass has
produced since the early 1970s, and many of those were with Frank, either in Auckland or Christchurch, but I also got to test in the Marlborough Sounds, Queenstown and Rotorua.
Recently when I was looking through our archives and preparing to load over 800 boat reviews onto our new website, I saw a gap in our Fi-Glass list. It seems I had never reviewed the new model Fire star.
A quick trip to Christchurch soon fixed that. The plan was not only to take the latest model for a run but also a late 1960s version that Fi-Glass just happened to have in their yard. Well as they say 'the best-laid plans'. The older version was there, but the engine wasn't so all I was able to do was have a quick look over the original 4.75m runabout. But it gets worse. After spending an hour or so on Lyttelton Harbour in the 2020 Fi-Glass Firestar, I thought I would check out my images when we got back to Mr Boats yard, to see what I had shot. To my horror when I went to scroll through the pics all I got was No Card Inserted, so not one image! The card was there but not pushed into the slot, so it didn't register anything. Fortunately, Sales Manager for Mr Boats, Ian Fong and Griff kindly agreed to go back to the harbour a few days later, and we did a reshoot. Weather was better anyway, and this time the camera worked fine!
PRACTICAL & UNPRETENTIOUS
Fi-Glass has a reputation for building what I would call wholesome, well-founded family trailer boats. They are exceptionally well built, with full fibreglass inner liners, stringer grids and transoms. There isn't a hint of timber anywhere in the construction, a process that Fi-Glass pioneered back in the 1990s. The layup is very conventional, and they are built tough.
The layout of the Firestar and all Fi-Glass models is practical and unpretentious. The Firestar is all about versatility with family boating in mind, where owners will use the boat for fishing, towing water toys, and
generally have fun on the water.
It has many features of larger models in the Fi-Glass range with a layout that makes perfect use of the space. The boat carries a 2.10m beam, and with very narrow side decks, Fi-Glass has been able to maximise the internal space. The cabin features twin bunks, (optional infill) which while not long enough for adults to sleep are perfect for kids. I found it provided enough sitting headroom for me and is the ideal place to stow all the stuff you take out for a day on the water.
There are wide side trays for gear, but due to the fine bow entry and hull shape, there is no storage under the squabs. Fi-Glass have filled the shallow void and all underfloor spaces with polyurethane foam for buoyancy.
A large deck hatch provides easy access to the forepeak anchor locker should you not have an auto winch or capstan. Looking at the space available, you could easily fit a small drum winch which means you can do all your anchoring from the safety of the cockpit.
The cockpit has been configured as a compromise for those that want plenty of seating and those that want as much working space as possible for fishing. Fi-Glass offers several different seating layouts to cater to that. Our boat had the standard single pedestal swivelling helm seat and a back to back passenger seat. Plus there is a full width moulded bench seat aft which offers two dedicated side seats, plus with an infill, you can add comfortable seating for a third person. You also have the option of twin back to backs or twin pedestals.
Storage is available in a deep underfloor locker in the cockpit plus side trays as well as under the back to back seating. Rod holders either side come standard with optional rod racks also available. If you use the standard tote tanks, there is space for a couple under the aft deck, or you can go for the optional 80-litre stainless tank.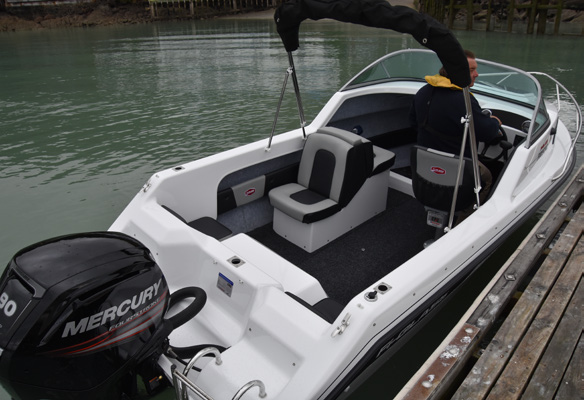 The boat is designed for outboards, 80-130hp, so the 90hp was a perfect match. What makes the 90CT a little different is the lower unit is the same as you would find on a Mercury 150, which has a higher gear ratio than the standard 90hp. This gives you exceptional pull from a holeshot. In other words, if you are going to tow a heavy single skier out of a deep water start, you will have no problems. Acceleration from idle to 5800 rpm is rapid.
I loved the driving positions, which when seated, lets you see through the perspex screen while providing perfect wind protection and when standing, leaves enough space to stand up without digging the back of your legs into the seat base. The fact that the seat has a fore/aft slider is a plus.
A boat this size doesn't require a lot of dash space, but Fi-Glass has not skimped on offering enough for all the extras you might want. We had twin Mercury Smartcraft gauges, and while there was no MFD, there is no shortage of areas to mount one. A bracket mount would be the best option.
At a smidge over $40,000, the Firestar is an exceptional value,
especially considering the standard features that it comes with. The list starts with a six year transferable structural hull warranty, closed-cell foam core transom, foam-filled underfloor buoyancy, fully lined cabin and cockpit sides, stainless bow rail, rod holders, bilge pump and UV stabilised floor carpet and more. Just add fuel, and you are boating.
There are plenty of options such as hydraulic steering, sun
canopy with clears, ski pole, boarding ladder, interior cabin
light, rod racks, bait board, underfloor fuel tank and drum
winch or capstan.
The Fi-Glass Firestar 530 Cuddy Cabin is certainly a family friendly boat that is a real all rounder and looks like being around for many more years to come. It also comes with 62 years of boat building experience and excellence.
Lyttelton Harbour was calm, with a light breeze when we ran across from the ramp to Governors Bay. Powered by a Mercury 90 CT (Command Thrust), we recorded a top speed of 34.5 knots, with two onboard and a full tote tank. The larger CT gearcase has a 2.38:1 gear ratio, which means you can run larger diameter propellers, which in our case was an 18" Inertia. At 5000 rpm we were still cruising along at 27.5 knots and 4000 rpm, 20 knots. 
The Firestar hull has a deep 21 deg deadrise aft and offers a comfortable ride in choppy water. While this is what I would describe as an inshore boat, reports are that it performs better than most in rougher seas. The boat hangs on well in tight turns with no sliding and is very predictable. Possibly a little tender at rest when you have a couple of people on
one side, but not excessive.
When Frank Simpson built his first all-fibreglass production trailer boat in 1962 under the Fi- Glass banner, he changed the way we looked at our family boating. It didn't happen overnight, but it did happen! Thousands of boats later, Fi-Glass, now under the direction of Frank Simpson's son Griff, is still producing fibreglass boats and is still one of the leading brands in the country.
Fi-Glass Products Ltd was formed in 1958 to take advantage of new fibreglass technology in the manufacture of washtubs and shower trays. However, with the expertise gained from these humble beginnings came the first Fi-Glass boat, the 3.5m Fisherman, designed by Brian Wall. It created a great deal of interest from the start, and the company grew from there.
Early Fi-Glass models such as the Regent and Firecrest were sold with plywood decks, or as hulls-only for the purchaser to finish. By 1964 these hulls had developed to a complete boat with fibreglass deck. After exhibiting at the Auckland Boat Show, orders quickly came, and production was stepped up to six boats per week. When production ceased in 1968, 364 Fire crests had been built.
In 1968 Fi-Glass released the Fireball, a boat that was so successful that the company rapidly expanded its manufacturing facilities to try and meet the demand. Over 2000 were built in various forms including a jet boat version. With better design and production facilities in place, a string of additional Fi-Glass models was produced, such as the Firestar,
the Lightning, the Regent and the very sleek Sidewinder ski/race boat. All early Fi-Glass cabin boats were a runabout with the cabin bolted on.
In 1972 the 5.8m Viscount was introduced. The Viscount was a significant step forward for the company and took advantage of the larger outboards that were by then being produced. At 5.8m it was one of the largest production trailer boats available and certainly the most popular. Ex Timaru Fi-Glass dealer Barry Ford remembers well the Viscount. "At one point we were delivering one new Viscount a day, and we just couldn't get enough product from the factory to satisfy the demand from our customers".
Well over 1500 of the Viscounts in various models were produced, with the last Viscount built in the late '90s. The 4.3m Scamp (over 1000 produced) and 7.0m Baron (350 produced) appeared in 1975 along with the next successful production model, the Dominator. Today, over 1500 Dominators have been sold in New Zealand.
In 1977 the Warrior was released and this has proven to be one of the most successful cabin boats ever by Fi-Glass. Well over 1200 units have been sold.
In 1977 Fi-Glass had a twelve-model line-up, from the 4.26m open Ski Angler to the 7.0m Baron Hardtop. Today, the line-up comprises nine models from the 4.75m Ski Angler and Fireball to the 6.40m Warrior, and a new flagship model is coming soon.